Rogers Place
Our guide to Rogers Place in Edmonton includes information on events, tickets, parking, public transportation, nearby hotels and restaurants, seating and more. Read on to find out how to get the most out of your gameday experience.
* * *
With the 2016 opening of Rogers Place, the gleaming events center on the edge of downtown Edmonton, fans of the hometown Oilers saw an upgrade to their live sports experience in a number of ways.
Not only is the new facility a significant improvement over the Oilers' previous home, the drab Northlands Coliseum (aka Rexall Place), it offers all the technological advancements you'd expect out of a recently opened venue. Rogers Arena's downtown location means fans — and visitors — can head to the center of Edmonton for big-time events rather than the less lively Northlands area, where the old building stood.
In addition, the location has also helped revitalize the area, bringing new residential, retail and entertainment options that can be enjoyed by sports fans and non-sports fans alike.
After a lengthy down period, the Oilers have shown signs of becoming a contender again, led by one of the NHL's most exciting players. But that's just one of many reasons to make the trek north to catch a game or event at Rogers Place. The Western Hockey League's Edmonton Oil Kings call the arena home as well, and it has quickly become the prime spot for concerts in the city.
Rogers Place took on a whole new role in the summer of 2020, as it served as one of the hub cities for the NHL's 2019-20 season restart and hosted the conference finals and Stanley Cup Final.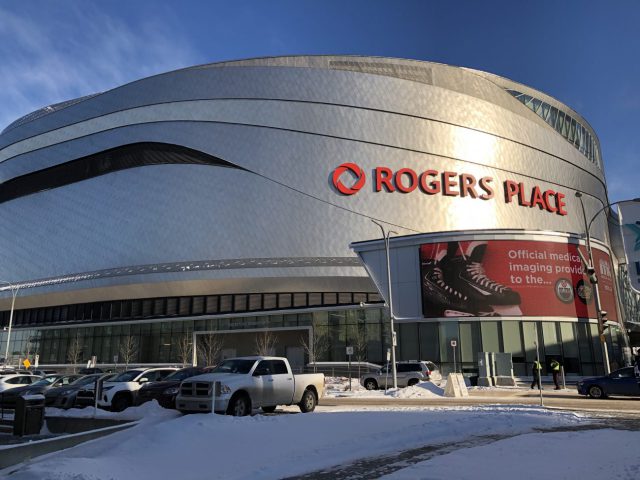 Getting to the arena
Rogers Place is just a few blocks from most of the major hotels in central Edmonton, so — weather permitting — it's an easy walk for those visiting the city and staying downtown.
For the uninitiated, though, it helps to know a little bit about Edmonton's street numbering system. Downtown is located in the northwest quadrant of the city (which is why downtown addresses all have an "NW" at the end of them). And numbered streets run both north-south AND east-west — just know that avenues run east-west, streets north-south. So yes, it's a little confusing, but not unusual for Edmonton, that Rogers Place lies at the intersection of 104 Avenue NW and 104 Street NW.
If it is too cold to walk, Edmonton, like many cold-weather cities, has a network of sheltered walkways that allow pedestrians to navigate downtown without having to venture outside. Click here for a map to see how you can use it to get to Rogers Place.
A good starting point would be the JW Marriott hotel across the street, where many fans gather before games and which provides sheltered access to the arena structure.
Edmonton's light-rail system, known as the LRT, has a station at the arena's doorstep, the MacEwen stop on the Metro line.
If you're using light rail and coming from outside the downtown area, make sure you are on the Metro line and not the Capital line, which runs along the same route through downtown and south of it but splits off just before reaching the MacEwen station.
Parking at Rogers Place
For those driving to the game, Rogers Place is surrounded by a number of private parking lots and structures scattered throughout the downtown area.
However, it does have an "official" parking area, the Ice District Central Parkade, located a block to the south. Drivers can enter via 103 Avenue NW, and after parking, can walk to Rogers Place through underground or sheltered walkways.
Patrons can purchase advance parking for all Rogers Place events, including all Oilers and Oil Kings games, through Reef Events. Depending on the event and/or day, parking passes near Rogers Place can range from less than C$10 to more than C$50, with proximity to the arena usually being the main determining factor.
Edmonton hotels near Rogers Place
• JW Marriott Edmonton Ice District – 0.1 miles away
• The Sutton Place Hotel Edmonton – 0.2 miles away
• Delta Hotels by Marriott Edmonton Centre Suites – 0.2 miles away
Search for more Edmonton hotels on Booking.com.
Map of the surrounding area
Things to do around the arena
Though just a few blocks away from Edmonton City Hall, Rogers Place is on the northern edge of the downtown area. But that's not to say there isn't much to do around the arena.
Indeed, a stated goal of the arena's construction was to spur development in the surrounding area — the powers that be went so far as to give the newly formed area a name, the Ice District — and that development continues to take shape.
Fans can have pregame fun without even crossing the street — the Grand Villa Casino flanks the east side of the arena, and within it are several restaurants, including a branch of the Canadian chain Match Eatery and Public House. The Downtown Community Arena, which the Oilers and Oil Kings use as a practice facility, is also adjacent to Rogers Place.
More businesses have been opening as construction around the Ice District continues. You can check the Ice District dining directory for the latest updates on places to eat and drink near Rogers Place.
Within the arena structure, but open to the public, is the Molson Canadian Hockey House, where fans can meet for food and drink before going into the game. It opens one hour before Rogers Place gates do on event nights.
Weather permitting, do allot some time to check out as much of downtown Edmonton as you can. If it's nice out, head south of Jasper Avenue, just a few blocks away — there you can find the North Saskatchewan River and its surrounding parkland, lauded for being the longest continuous stretch of urban parkland in North America.
Edmonton restaurants near Rogers Place
• Match Eatery & Public House – pub, 0.0 miles away
• Atlas Steak + Fish – steakhouse, 0.1 miles away
• Kindred Food + Drink – Canadian, 0.1 miles away
Search for more Edmonton restaurants on Tripadvisor.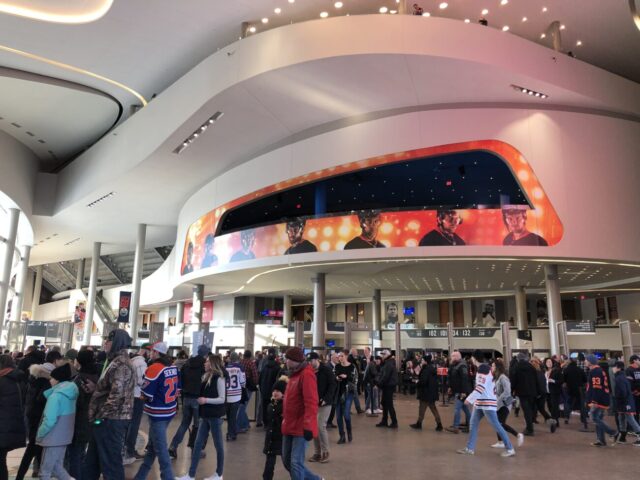 Watching a game at Rogers Place
It'll take a while before Rogers Place offers up the history of its predecessor — after all, the Oilers did win five Stanley Cups while playing at Northlands Coliseum — but what it lacks in history, it makes up for in amenities and technological advances.
There are entrances at each corner of the building, but one of the more traveled ways in is via Ford Hall — the part of the structure that spans across 104 Avenue, and where the Molson Canadian Hockey House is located. Since it's already elevated, it leads directly into Rogers Place's main concourse, where you can get small glimpses of the seating bowl as you walk around.
Below it, at street level, you'll find the statue of Wayne Gretzky that once stood outside the entrance to Northlands Coliseum before being relocated to the new arena, as well as the Oilers Hall of Fame, where replicas of the franchise's five Stanley Cups are on display.
With two levels of luxury suites below, Rogers Place's upper seating bowl may feel a little bit steep, but views of the event remain good — a little bit like you're on top of the action. If you're at the top of the seating bowl and having trouble seeing,
The arena does offer one of the largest center-hung scoreboards in the NHL, with high-definition screens, of course. The upper concourse is also above the seating bowl, so fans in those sections at Rogers Place will walk down the aisles to their seats.
Interested in a suite at Rogers Place? Buy suite tickets on SuiteHop.
Food and drink at Rogers Place
On the expansive main concourse at Rogers Place, you can begin to survey your food and drink options before heading to your seating area. Some of the more adventurous choices include tater tot poutine and sushi, and the Canadian pizza chain Pizza 73 has a prominent presence here.
You can also visit the Alberta Cuts and Alberta Smoked stands for gourmet meat selections like prime rib and brisket sandwiches. The Stack features brisket and pulled pork in one sandwich, topped with cole slaw.
In addition to Canadian beer brands such as Molson and Rickard's, there are several places at which you can order a Caesar, Canada's answer to the Bloody Mary. You can enjoy your beverages at one of two bar areas that overlook the ice, both of which offer a decent standing-room view of the game.
If you've got time to kill and money to burn, check out Studio 99 on the Loge level, a veritable shrine to Wayne Gretzky's Oilers career that also offers a pregame buffet spread for C$45.
Original publish date: September 8, 2016
Most recent update: March 9, 2023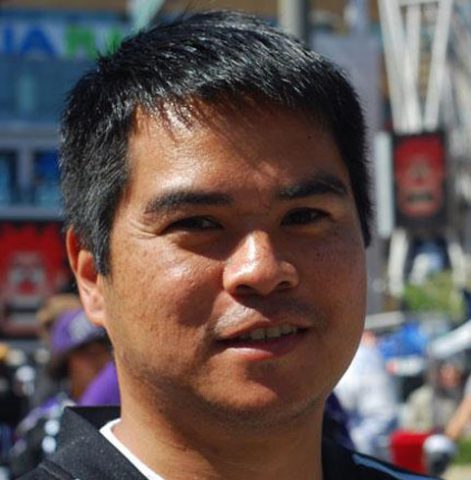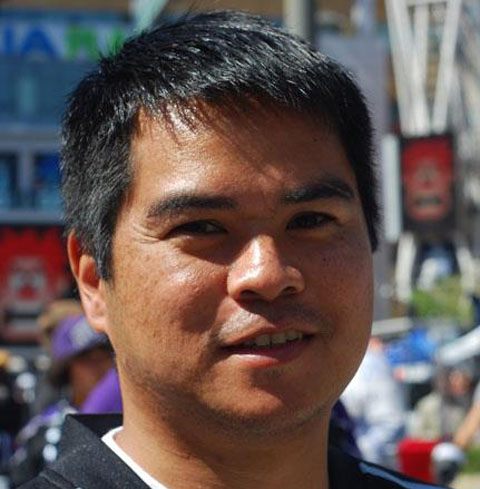 Edward de la Fuente | Itinerant Fan
I live for sports, and I love to travel. My biggest thrill is combining the two. I've been blogging about sports travel for more than a decade, and traveling for sports for twice as long.
About me | FAQ | Buy me a beer 🍺
Affiliate Disclosure
Please note that some of the links above are affiliate links, and at no additional cost to you, we earn a commission if you make a purchase. These recommendations are only for companies that we've used and have proven to enhance our sports travel experiences. To find out more about our affiliate partnerships, please read our Affiliate Disclaimer.
The Particulars
Home Teams
Edmonton Oilers
Address
10220 104 Ave. NW
Edmonton, AB T5J 4Y8
Year Opened
2016
Capacity
18,641
Upcoming Events
All times local
Iron Maiden - The Future Past Tour 2023
Saturday, September 30, 2023
7:30 pm
Get tickets at Ticketmaster »

Edmonton Oil Kings vs. Lethbridge Hurricanes
Sunday, October 1, 2023
4:00 pm
Get tickets at Ticketmaster »

Edmonton Oilers vs. Calgary Flames
Wednesday, October 4, 2023
7:00 pm
Get tickets at Ticketmaster »

Daniel Caesar Presents Superpowers World Tour - Leg 2: U.S. & Canada
Thursday, October 5, 2023
7:30 pm
Get tickets at Ticketmaster »

Edmonton Oilers vs. Seattle Kraken
Friday, October 6, 2023
7:00 pm
Get tickets at Ticketmaster »