Ball Arena
Our guide to Ball Arena in Denver includes information on events, tickets, parking, public transportation, nearby hotels and restaurants, seating and more. Read on to find out how to get the most out of your gameday experience.
* * *
Built near the beginning of the '90s-era surge in new stadium construction, Denver's Ball Arena — home of the Colorado Avalanche and Denver Nuggets — continues to stand the test of time.
The building formerly known as Pepsi Center has gone through improvements over the years to keep up with modern comforts but remains a functional but not flashy to watch a basketball or hockey game, from its amenities to its location on the edge of downtown Denver.
Ball Arena has seen the Stanley Cup raised within its walls (by the Avalanche in 2001) and the Larry O'Brien Trophy awarded (to the Nuggets in 2023). The building has also played host to the NHL and NBA All-Star Games, NCAA basketball tournament games (including the Women's Final Four), the NCAA Frozen Four and more.
After the Avs' most recent championship in 2022 and the Nuggets winning their first-ever NBA title just a year later, Ball Arena is a popular place to be for Colorado sports fans these days. And it remains a great place to watch a game, whether you're a fan of the home team or just visiting Denver.
Looking for Ball Arena event tickets? Search events on Ticketmaster.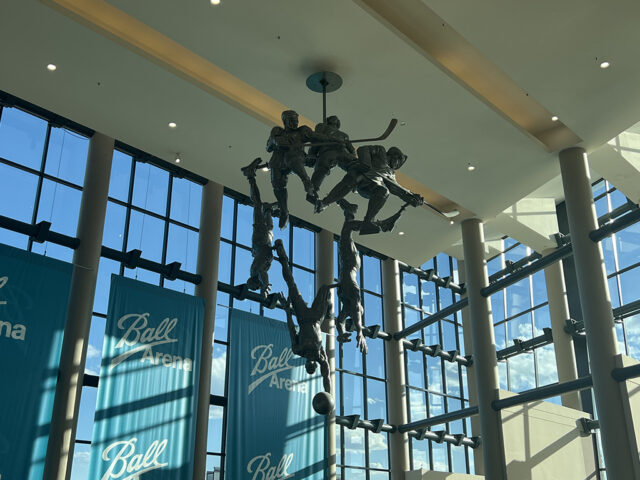 Getting to the arena
Ball Arena is located in a central part of the Denver region, just outside the popular district known locally as LoDo (shorthand for "Lower Downtown") and near a lot of the city's attractions.
A major (and wide) thoroughfare, Speer Boulevard, runs by the arena, and the majority of fans driving in for games will access it from the nearby Interstate 25 to get there. If you're heading east on Speer, turn right onto Chopper Circle and Ball Arena will be directly in front of you, with the majority of parking located to the south of it.
However, if you're visiting Denver and staying downtown, the arena is within a reasonable walking distance of many major hotels — so provided it isn't the dead of winter and snowing and/or freezing outside, getting to the game might be as simple as taking a stroll.
Denver's RTD light-rail service has a station at the arena's doorstep. Three lines (C, E and W) serve the station and it's possible to take light rail the short distance from downtown's Union Station, so it's a viable option if you want to get out of the cold or simply don't want to walk.
From the downtown area, you can take advantage of the free 16th Street Mall bus to get close to Union Station, then pay the $3 single-ride fare to ride the light rail. Or, get off the bus at Wewatta Street and head south — Wewatta will turn into Chopper Circle as it crosses Speer Boulevard.
Parking at Ball Arena
The home of the NFL's Broncos, Empower Field at Mile High, is nearby, and Ball Arena and Empower Field share several parking lots located between them. So lots are ample and you shouldn't have to park very far away for any Ball Arena event.
Expect to pay at least $35 for parking at Ball Arena for Avalanche and Nuggets games, though rates are discounted by $5 for anyone paying with a credit or debit card. Parking rates are sometimes cheaper for other Ball Arena events such as concerts.
Ball Arena's parking lots are currently sponsored by Toyota and thus are all named after Toyota vehicles, such as "Camry Lot," "Rav4 Lot" and so on.
Denver hotels near Ball Arena
• SpringHill Suites by Marriott Denver Downtown – 0.3 miles away
• Kimpton Hotel Born – 0.5 miles away
• Four Seasons Hotel Denver – 0.5 miles away
Search for more Denver hotels on Booking.com.
Map of the surrounding area
Things to do around the arena
If you're interested in seeing some of Denver's cultural sights, many of them are nearby. The Elitch Gardens amusement park is right across the street, but be aware that it is only open from April until late October or early November. It also has a water park open during the summer.
Also nearby: The Children's Museum of Denver, the Downtown Aquarium and the Museum of Contemporary Art. The Denver Sports Hall of Fame operates a museum at Empower Field, and other attractions such as the Denver Mint and the Colorado State Capitol are not far away.
But more than likely, if you're headed to the game you're looking for a place to eat and/or drink. The 16th Street Mall and surrounding blocks are your best bet for this — sports bars, chain and independent restaurants and more can be found throughout the area. Click here for a guide to restaurants nearby.
If you're near Union Station, find either Wewatta or Wynkoop streets and head southeast just a few blocks until you cross Speer Boulevard, after which the arena will be in plain sight.
Closer to the arena is a college campus — for Metropolitan State University of Denver — and the aforementioned Elitch Gardens. For restaurants, sports bars and other establishments typical of the pre- and postgame sports environment, you'll have to go a few blocks away, past Speer Boulevard, which serves as something of a border for the downtown core.
For more on visiting Denver, check out our Denver sports travel guide.
Denver restaurants near Ball Arena
• Coohills – French, 0.2 miles away
• Degree Metropolitan Food + Drink – American, 0.2 miles away
• Fogo de Chão Brazilian Steakhouse – Brazilian, 0.3 miles away
Search for more Denver restaurants on Tripadvisor.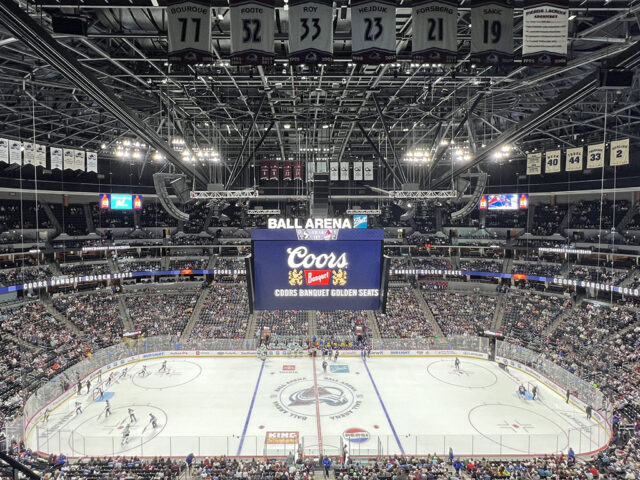 Watching a game at Ball Arena
Some of the "newer" arenas around the NBA and NHL can look like behemoths, especially from the outside, but Ball Arena does not fit this description. It's plenty big, but just not huge.
Opened in the late 1990s, near the beginning of the arena boom around the country, Ball Arena didn't come with many of the bells and whistles seen in some of its contemporary venues, but that's perfectly fine.
If you drove and parked in one of the Ball Arena lots, or if you took light rail to get in, chances are you're entering through the main entrance at the arena's southwest corner. After passing through security and getting your ticket scanned, you'll find yourself in a small atrium that houses the arena's fairly large team store. From there, ascend one of several escalators — or take the stairs — to reach the main concourse.
From there, Ball Arena's layout is fairly standard-issue, with three seating levels numbered 100, 200 and 300 — the middle is a club level, and the arena's suites can be found in between as well.
Ball Arena's upper deck seating rows don't feel that high up — particularly for hockey, upper-deck seats don't feel far removed from the action. None of the 300-level seating sections at Ball Arena go higher than 16 rows up.
If you're up high and have trouble seeing, you can always train your eye on the HD videoboard that hangs over the playing area, installed in 2013. It stretches from blue line to blue line for hockey games and from free-throw line to free-throw line for basketball games.
Interested in a suite at Ball Arena? Buy suite tickets at SuiteHop.
Food and drink at Ball Arena
The arena has also done a good job in recent years adding more local food options, though most of the choices are pretty standard stadium fare — barbecue, pizza and the like.
Check out the Denver Potato Co. stands for fries loaded with toppings like bison pastrami, the Wyncoop stands for chicken sandwiches, or the Verde Y Rojo booths for Mexican street food such as flautas.
If you're looking to have a nice drink pregame, or if you'd simply like to sit in a relaxed atmosphere, check out the Breckenridge Brewery Mountain House, a lodge-like restaurant on the arena's southeast side.
Original publish date: February 4, 2016
Most recent update: October 3, 2023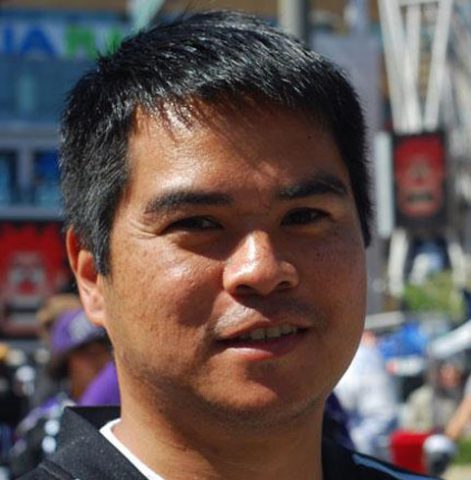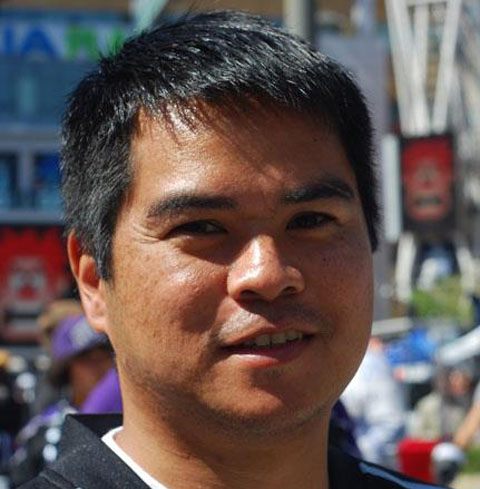 Edward de la Fuente | Itinerant Fan
I live for sports, and I love to travel. My biggest thrill is combining the two. I've been blogging about sports travel for more than a decade, and traveling for sports for twice as long.
About me | FAQ | Buy me a beer 🍺
Affiliate Disclosure
Please note that some of the links above are affiliate links, and at no additional cost to you, we earn a commission if you make a purchase. These recommendations are only for companies that we've used and have proven to enhance our sports travel experiences. To find out more about our affiliate partnerships, please read our Affiliate Disclaimer.
The Particulars
Home Teams
Colorado Avalanche
Denver Nuggets
Address
1000 Chopper Circle
Denver, CO 80204
Year Opened
1999
Capacity
18,007 (hockey)
19,155 (basketball)
Upcoming Events
All times local
Colorado Avalanche vs. Winnipeg Jets
Thursday, December 7, 2023
7:00 pm
Get tickets at Ticketmaster »

Denver Nuggets vs. Houston Rockets
Friday, December 8, 2023
7:00 pm
Get tickets at Ticketmaster »

Colorado Avalanche vs. Philadelphia Flyers
Saturday, December 9, 2023
7:00 pm
Get tickets at Ticketmaster »

Colorado Avalanche vs. Calgary Flames
Monday, December 11, 2023
7:30 pm
Get tickets at Ticketmaster »

Club Level Seating: Adam Sandler
Tuesday, December 12, 2023
7:30 pm
Get tickets at Ticketmaster »