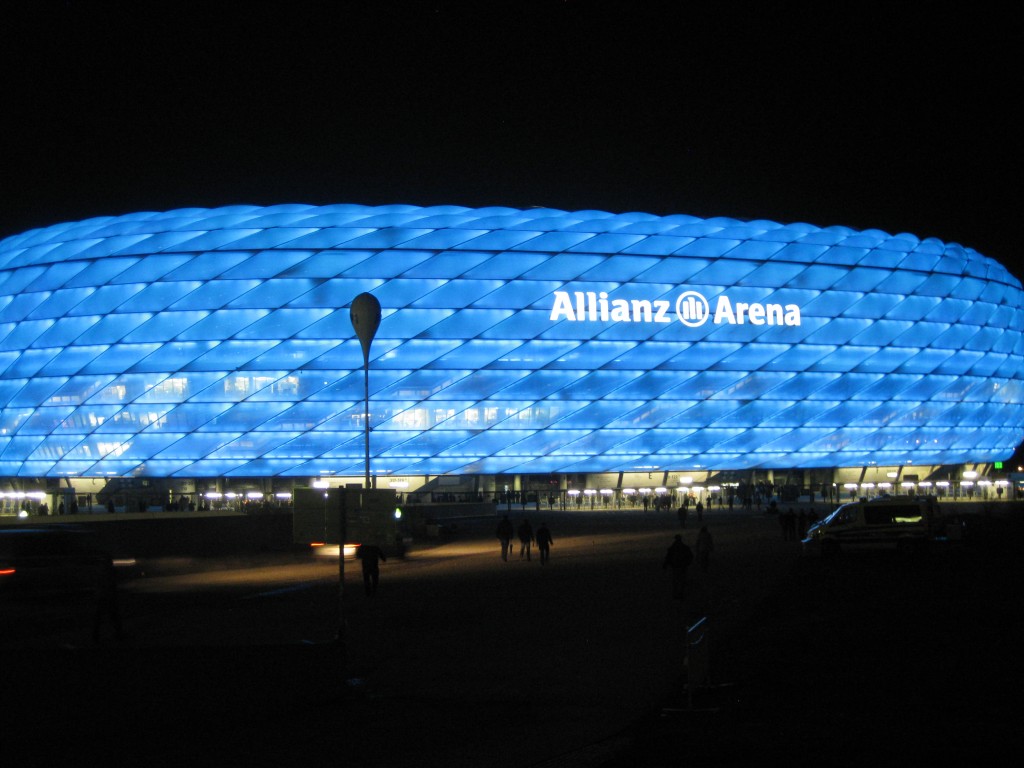 When you're into sports travel like we are, you seek out any chance you can to see sports in a place you're visiting. And yes, that goes for international destinations, too. If you're in Europe, that usually means soccer; in Germany, that means the Bundesliga; and in Munich, that usually means FC Bayern, one of the most well-known soccer clubs in the world, and its home, Allianz Arena.
So imagine my disappointment when I checked the Bundesliga schedule (or fixture list, to use soccer parlance) and saw that Bayern would not be home for the two-day window that Mrs. Fan and I would be visiting Munich during our recent trip to the Winter Olympics.
But, thanks to the European soccer system of relegation and second-tier leagues, there was another option available to us: TSV 1860 Munich, which plays in Bundesliga 2 and apparently is considered a big rival of Bayern, though it was relegated more than 10 years ago and hasn't made its way back to the top tier.
And lo and behold, they had a home match on one of the evenings we would be there.
So I rushed online to buy tickets even though the chances of me not being able to find tickets on game day were not very high. When you're traveling so many miles, you don't want to leave anything to chance.
Besides, the chance to see Allianz Arena, Munich's soccer venue, is an experience in itself. It's a beautiful facility, made even more so by the way it's lit for matches (more on that later).
I've always felt that you can learn a lot about a culture with which you aren't familiar by watching them watch sports, and after spending an evening with German soccer fans, I felt like I picked up on plenty of their customs.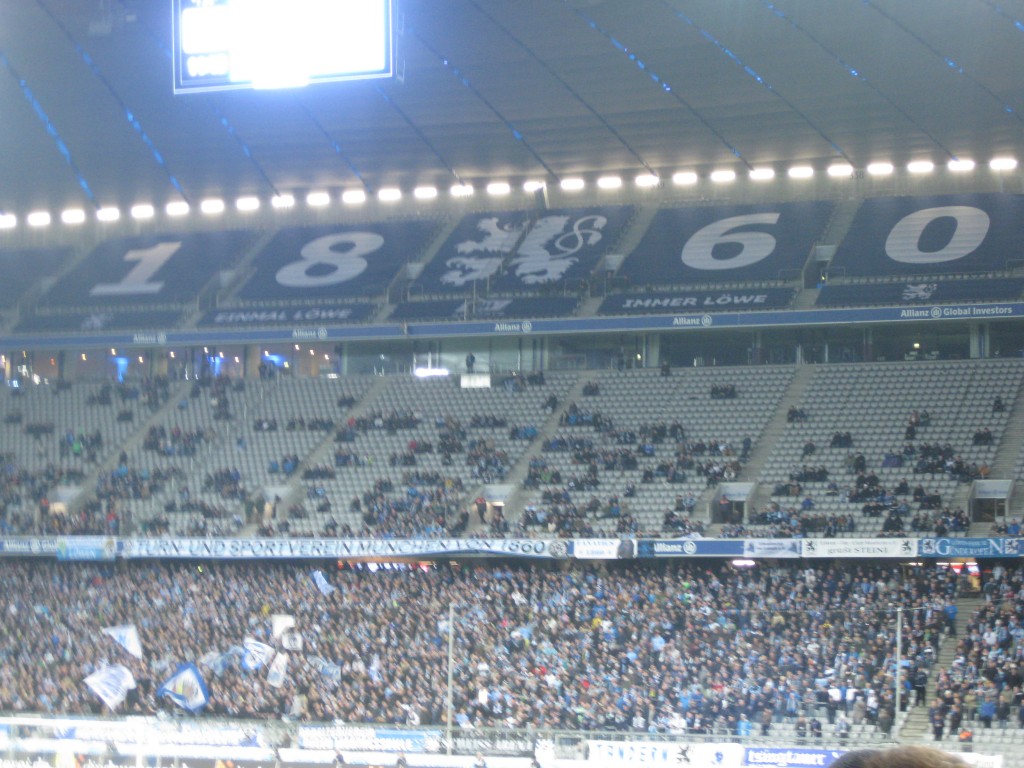 The approach
Allianz Arena, built for the World Cup in 2006 and the home of Bayern and TSV 1860 thereafter, sits outside central Munich, along the route leading to the airport.
I know this because when we arrived in Munich, we took a bus to the city center and about 2/3 of the way there, the stadium suddenly appeared on our right side, sitting there like a giant egg.
If you're visiting Munich and want to catch a game, you could certainly take a cab. But what self-respecting European city doesn't have an efficient train and/or subway? Munich certainly does, with two types of trains: The S-bahn (for surface-level trans) and U-bahn (for underground trains, aka a subway).
From Marienplatz, a major city plaza and home to city hall, the U6 line runs northbound to the arena stop at Fröttmaning (helpfully labeled on most system maps with the word "Arena" or a soccer ball).
In a country that prides itself on its efficiency, getting to a soccer match was no different. We reached the platform at the Marienplatz U-bahn station about 45 minutes before the 8:15 p.m. start, just in time to see a northbound train pull away. But there was another train literally right behind it, so it's pretty clear they up the train service for soccer matches.
Granted, I'm sure the crowd waiting for trains was not nearly what it would have been had Bayern been playing, but the frequency of trains is a pretty good sign. Once the train started moving, it reached Fröttmaning in about 15 minutes.
The build-up
Once off the train platform, it takes a surprisingly long while to get to the stadium — it looks like it's about half a mile away. Fans exit the train station, make a left turn and then walk through what's called the Esplanade (really just a long concrete walkway) to reach the venue.
Be prepared for about a 10-minute walk, and that's only if you aren't stopping to take pictures of the arena from different angles, as we were.
As kickoff time was fast approaching, most of the people walking along with us were doing so rather briskly, since for them the game trumped the whole awe factor of being at the stadium.
If you're coming by train there really isn't a whole lot but the stadium itself to distract you. There's a souvenir and a food stand right at the top of the stairs that you ascend from the train platform, but on the Esplanade there's nothing but some ticket booths.
Maybe on a weekend game involving Bayern there's live music or at least something enhancing the atmosphere, but on a weekday night game involving TSV 1860, nothing. So you might as well head inside.
The ambiance
Allianz Arena is a beautiful facility, starting from the outside. The exterior's usual color is white, but it is lit up in red for Bayern matches and blue for TSV 1860 matches, as it was on this particular night (see top photo).
Then you go inside, and it's clean (if not a tad sterile) and spacious. Again, it's hard to tell what the atmosphere would be like if the place was chock full since we didn't attend a Bayern match, but you know what they say about beggars unable to be choosers and all that.
As it was, for this match the stands were barely half full, and that was just in the lower seating bowl — the upper deck was tarped off, decorated in 1860 colors and regalia. And the official rooting sections for both teams were behind either goal, 1860's being just about full, naturally, and Fortuna's section taking up about half of the area behind the opposite net.
This created a rather weird dispersal of the crowd in that the sections behind each goal were full while the sections on either sideline were only sparsely filled. (In fact, in shopping online for tickets to this match, I nearly chose cheaper tickets behind the net only to realize that they were general admission — no seat assignment — so I decided to pay more for assigned seats.
I realized once I got to the game that had I chosen the cheaper tickets, I would've put us in 1860's cheering section and in the awkward position of being non-1860-color-wearing, non-German-speaking fans in the middle a frenzied blue-clad crowd screaming out chants in German. That would've been interesting.)
We sat in our seats from start to finish. Part of it was that we knew we couldn't buy food or souvenirs if we wanted to (To pay for services at Allianz Arena means obtaining something called an ArenaCard and filling it with money, not unlike buying a card to ride a bus or a subway.
There's no other way to buy things at the stadium, since the stands don't take credit cards or cash. I wonder how that concept would fly at a North American venue), but part of it also was the chance to take in a bit of German culture.
Let's see: German fans drink a lot of beer (surprise!), they chant like crazy (or maybe that's just soccer fans in general), and thanks to one fan in particular behind me, I learned a German swear word (I won't repeat it here but it starts with S and is comparable to the English swear word that also begins with S).
They are also very passionate about their team, which to me is a lot like getting behind your local Class-A baseball team, only I know it's a lot deeper than that. TSV 1860, and Fortuna, for that matter, brought their A-fans to this affair, and every near-miss and questionable call brought a roar that would have convinced you the stadium was full had your eyes been closed.
TSV 1860 came through early in the second half on a goal by a guy named Yuya Osako (I will not forget that name anytime soon, and not only because it was yelled out three times, as apparently is tradition in soccer when a home team's player scores), but Fortuna tied it not more than 10 minutes later, and the score remained tied the rest of the way.
As we walked out, the 1860s seemed mostly nonplussed, but definitely not happy. What's funny is that most of them obviously had plenty to drink — I counted no less than 10 people on the Esplanade pulling off to the side to relieve themselves along a short concrete wall, and numerous other, ahem, "marks" left by previous passersby.
And then there was a crush of people waiting for trains, causing an uncomfortable push-and-shove moment as we piled into a waiting car after about 15 minutes on the platform. It was probably then, for the first time in the entire process of planning out this excursion, that I was glad Bayern wasn't playing.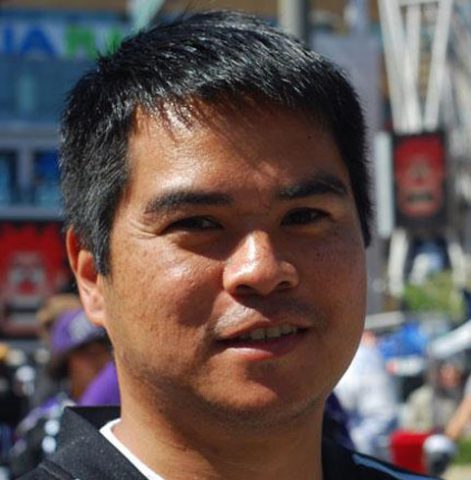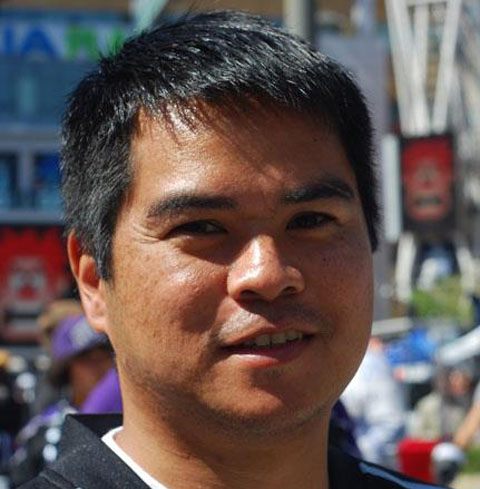 Edward de la Fuente | Itinerant Fan
I live for sports, and I love to travel. My biggest thrill is combining the two. I've been blogging about sports travel for more than a decade, and traveling for sports for twice as long.
About me | FAQ | Buy me a beer 🍺
Affiliate Disclosure
Please note that some of the links above are affiliate links, and at no additional cost to you, we earn a commission if you make a purchase. These recommendations are only for companies that we've used and have proven to enhance our sports travel experiences. To find out more about our affiliate partnerships, please read our Affiliate Disclaimer.