Prudential Center
Our guide to Prudential Center in Newark, New Jersey, includes information on events, tickets, parking, public transportation, nearby hotels and restaurants, seating and more. Read on to find out how to get the most out of your gameday experience.
* * *
There's no shortage of games and sports venues to see in the vast New York metropolitan area, and that's especially true in the NHL.
In New York they have three hockey teams to choose from, and the rivalries between them are as intense as any you'll see on the ice. Just watch the New Jersey Devils take on their crosstown foes at the Prudential Center for evidence of that.
While the Rangers and Islanders have their legions of fans, the Devils hold their own in the three-way battle — they have three Stanley Cups to their name, all won during a glorious eight-year stretch from 1995 to 2003, and they have the most recent championship of the three New York teams.
The Devils are also the only major pro team remaining to have "New Jersey" in its name after the Nets moved to Brooklyn in 2012.
There are plenty of reasons to check out the hockey season on the west side of the Hudson River, the Devils' arena being one of the foremost among them. Also the home of Seton Hall's men's basketball team and major concerts and other events, Prudential Center has a lot to offer, as does the area it's in.
For more on visiting Newark, check out our New York City sports travel guide.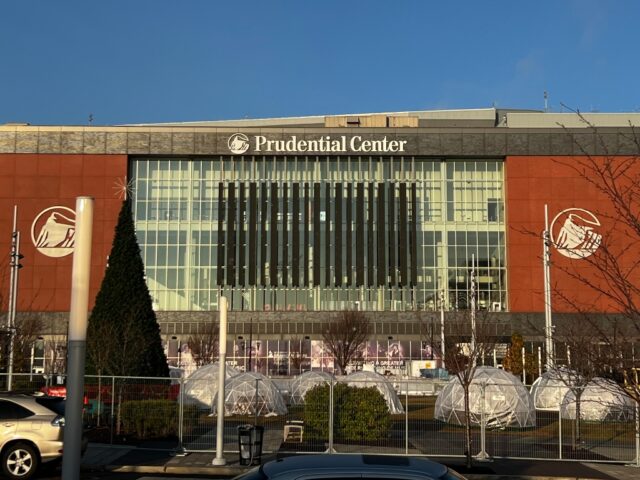 Getting to the arena
Prudential Center is one of the centerpieces of downtown Newark, an area that can be hardscrabble in spots but has been boosted somewhat by the arena's presence. It is easily accessible via public transportation and is the primary method for patrons to reach Prudential Center for an event.
Newark Penn Station (not to be confused with New York's Penn Station underneath Madison Square Garden) is a three-block walk away and served by several lines on New Jersey Transit, including the Northeast Corridor line that connects with Manhattan, as well as Newark light rail and PATH.
Note that if you're trying to get to Newark from New York City, NJ Transit, PATH and Amtrak are your choices. The New York City subway system doesn't cross over into New Jersey.
Drivers can get into downtown Newark via Interstates 78 and 280, both of which pass by on their way to connecting with the New Jersey Turnpike (I-95) a few miles to the east. Either north or southbound, you'll want to wind up on Route 21 (McCarter Highway), which passes into the downtown Newark core and runs two blocks east of the arena. You can follow the link to find more detailed directions to Prudential Center.
Parking at Prudential Center
There are a large number of surface parking lots surrounding Prudential Center and the usual array of private lots and structures on nearby blocks, as is typical of a dense urban district. It's worth paying attention to where you park and doing some planning in advance, as some lots can be several blocks away from the arena, with dimly lit areas in between.
You can purchased prepaid parking for Prudential Center events via ParkMobile, and despite its location in central Newark, there are bargains to be had — finding a rate under $10 is not out of the question depending on the day of the week and the event.
Newark hotels near Prudential Center
• Courtyard by Marriott Newark Downtown – 0.1 miles away
• Hotel Indigo Newark Downtown – 0.2 miles away
• DoubleTree by Hilton Newark Penn Station – 0.3 miles away
Search for more Newark hotels on Booking.com.
Map of the surrounding area
Things to do around the arena
Despite the pockets of hardscrabble areas around downtown Newark, as alluded to earlier, there are places around to go and enjoy yourself on game nights at Prudential Center.
Most prominently, the area around what's known as Championship Plaza, on Mulberry Street across Edison Place from the arena, is highly popular with Devils fans.
You'll find several establishments here that become busy in the hours before puck drop, including Edison Ale House, Redds Biergarten and Mercato Tomato Pie. Sadly, Dinosaur Bar-B-Que, a New York state BBQ joint that carries a strong reputation and had become a popular pregame gathering spot for Devils fans, recently closed its Newark location.
More bars, pizzerias (very popular around these parts), delis (ditto) and fast-food joints are scattered around the surrounding blocks, and you'll likely walk by something that catches your eye if you're taking transit to the game or if you park your car more than a couple blocks away.
Try walking down Broad Street just west of the arena for more options. The area of Newark in which Prudential Center is located is dotted with government buildings, so some of the restaurants in the area cater to the workaday crowd, but sports-fan haunts can be found amid it all.
Another area worth checking out is the Ironbound district, east of McCarter Highway. It's known for its excellent collection of Spanish, Portuguese and Brazilian restaurants. Head to the Ferry Street corridor to survey your options.
Note, though, that Ironbound is about a mile or more from Prudential Center depending on where you hang out before your event.
Newark restaurants near Prudential Center
• Redd's Biergarten – German, 0.1 miles away
• Edison Ale House – pub, 0.1 miles away
• Dinosaur Bar-B-Que – barbecue, 0.1 miles away
Search for more Newark restaurants on Tripadvisor.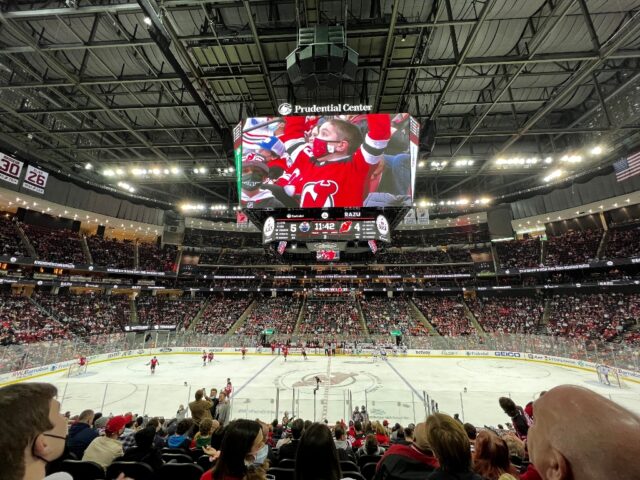 Watching a game at Prudential Center
From the outside, Prudential Center (named for the Prudential Insurance Company, headquarted in Newark) is a brick-and-glass building that fits in well with its surroundings.
The arena's front entrance along Mulberry Street is accentuated by two towers at each corner that serve as gates. The southeast corner, at Mulberry and Lafayette streets, is where you can find a statue of Devils goaltending great Martin Brodeur. From there, fans can enter and go up to what is known as the "grand concourse."
And that main level is certainly worth a spin around if you have the time. The concourse is pretty spacious and easy to move around in, even during crowded periods such as intermissions. It takes on a bit of a hotel lobby feel, but that's perfectly OK.
You can spot a few cool features as you walk around, such as a large mural depicting Devils greats from their Cup-winning heyday and a display of jerseys from New Jersey high school hockey programs.
Just above the latter is the Goal Bar, a premium-only bar with seats overlooking the ice.
Prudential Center's seating bowl is fairly standard except for the presence of an additional deck along the sidelines. This level, with sections numbered in the 200s, allows for more seating with a closer angle to the event floor — meaning fewer seats at Prudential Center that have that feeling of being far away from the action.
You can find standing-room spots to watch the game along the ends in Prudential Center's upper level, as well as numerous stools and tables for dining if you'd rather chow down before heading to your seat.
Garden State touches are apparent throughout Prudential Center's seating bowl. You'll hear quite a bit of native son Bruce Springsteen's music over the loudspeakers. If the Devils win, ushers will high-five fans as they walk out.
Interested in a suite at Prudential Center? Buy suite tickets on SuiteHop.
Food and drink at Prudential Center
Prudential Center has revamped its concessions options in recent years and now offers items like chicken biscuit sliders and Cuban sandwiches, so it's definitely worth walking around to survey your options before heading to your seating area.
If you're looking for a Jersey-specific food experience, check out the Bayonne Diner (diners are a state icon), or the Boardwalk stand that serves favorites from the Jersey Shore, such as corn dogs and funnel cake fries. Prudential Center also has a sit-down restaurant called The Rock Bar & Grill.
Included in Prudential Center's beer selection are brews from state breweries such as New Jersey Beer Company, Jersey Girl Brewing and Forgotten Boardwalk, which offers its Funnel Cake Boardwalk Ale.
Original publish date: February 4, 2016
Most recent update: March 9, 2022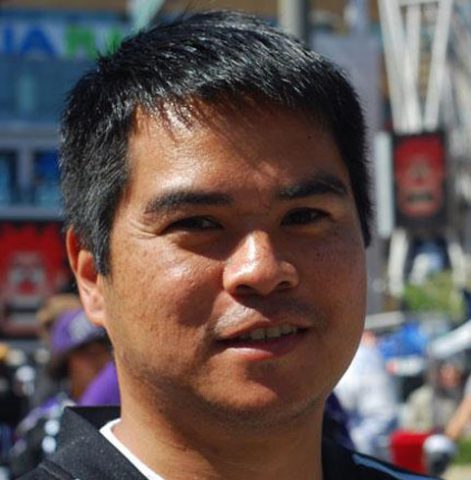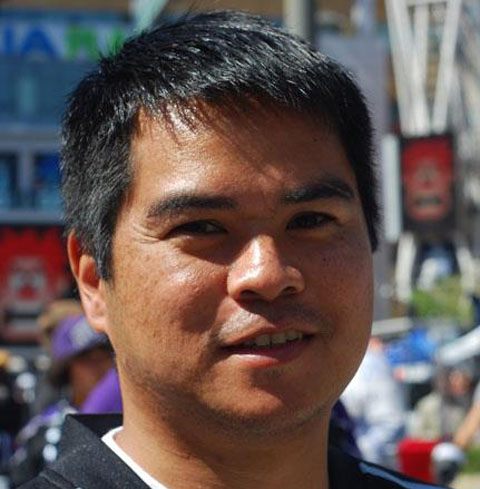 Edward de la Fuente | Itinerant Fan
I live for sports, and I love to travel. My biggest thrill is combining the two. I've been blogging about sports travel for more than a decade, and traveling for sports for twice as long.
About me | FAQ | Buy me a beer 🍺
Affiliate Disclosure
Please note that some of the links above are affiliate links, and at no additional cost to you, we earn a commission if you make a purchase. These recommendations are only for companies that we've used and have proven to enhance our sports travel experiences. To find out more about our affiliate partnerships, please read our Affiliate Disclaimer.
The Particulars
Home Teams
New Jersey Devils
Seton Hall Pirates
Address
25 Lafayette St.
Newark, NJ 07102
Year Opened
2007
Capacity
17,625
Upcoming Events
All times local
2023 FINAL X - USA Wrestling Beat the Streets' Annual Benefit
Saturday, June 10, 2023
2:00 pm
Get tickets at Ticketmaster »

Cirque Du Soleil Corteo
Thursday, June 15, 2023
7:30 pm
Get tickets at Ticketmaster »

Cirque Du Soleil Corteo
Friday, June 16, 2023
7:30 pm
Get tickets at Ticketmaster »

Cirque Du Soleil Corteo
Saturday, June 17, 2023
3:30 pm
Get tickets at Ticketmaster »

Cirque Du Soleil Corteo
Saturday, June 17, 2023
7:30 pm
Get tickets at Ticketmaster »