Climate Pledge Arena
Our guide to Climate Pledge Arena, home of the Seattle Kraken and Storm, includes information on events, tickets, parking, public transportation, nearby hotels and restaurants, seating and more. Read on to find out how to get the most out of your gameday experience.
* * *
In the fall of 2021, the NHL arrived in Seattle in the form of the expansion Kraken, and with it, Climate Pledge Arena came to life.
The building once known as the Seattle Center Coliseum is already fully entrenched in the hearts and minds of local sports fans. Opened in 1962, it was the home of the beloved SuperSonics, the NBA franchise that broke hearts by bolting for Oklahoma City in 2008.
The WNBA's Storm gave fans plenty of reason to visit the building, but an extreme makeover remained badly needed. Finally, the NHL's expansion provided the impetus.
With that, the Coliseum got a much-needed renovation — it basically was rebuilt from the inside out, with only the familiar roof remaining — as well as a new name, Climate Pledge Arena, selected after Amazon purchased the naming rights.
The excitement over the Kraken in these parts has been palpable, from the reveal of their name to the NHL expansion draft in July 2021, when the team finally picked up players they could call their own.
The inaugural season of the Seattle Kraken proved to be a raucous one, with full seating bowls at Climate Pledge Arena every night. The team's first playoff berth — and postseason series win — in 2023 only further endeared the team to the market. As a result, expect tickets to be difficult to come by — and expensive on the secondary market — for some time.
The Kraken also brought major sports back on a regular basis to Seattle Center, which includes the Space Needle and many of the city's popular museums and attractions. It's located just north of downtown, on the other side of the central city area from the other two major pro sports venues, T-Mobile Park and Lumen Field.
In addition to the Storm, major college basketball events take place on a frequent basis inside Climate Pledge Arena. And the arena has brought renewed hope that the NBA will return to Seattle and join the Kraken and Storm.
Looking for Climate Pledge Arena event tickets? Search events on Ticketmaster.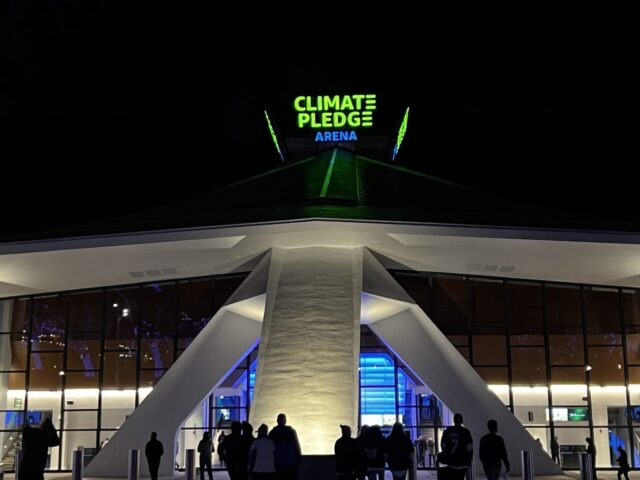 Getting to the arena
Located just north of downtown at the south edge of the bustling Queen Anne neighborhood, Climate Pledge Arena is close to the center of the action in Seattle whether you're a local or a tourist. The problem with that is, traffic and a somewhat disjointed public transportation infrastructure can make getting to the game on time a challenge.
Seattle has an ever-expanding light rail system, known as Link, that can be used to get to the airport, much of downtown, the other sports venues and more. But it does not have a direct link to Seattle Center and Climate Pledge Arena, so while you can use it to get close depending on where you're coming from, you'll need to transfer for the rest of the journey.
For that, the primary option is the Seattle Center Monorail, which connects Seattle Center with the Westlake Center shopping mall downtown. Westlake is a reasonable walk from most downtown hotels and also has a Link stop underneath it, making for an easy connection.
Riders pay $6 round-trip to use the monorail. Note that you'll need an Orca card (usable on all Sound Transit trains, buses and ferries) to ride. The journey takes about three minutes — ending a short walk from the arena — and features recordings, set to dramatic music, of Seattle Kraken players exhorting you on as you get closer, giving the ride an amusement park-like feel.
If you're driving from outside central Seattle, you'll likely be on Interstate 5; just follow signs to Seattle Center to make your way toward Climate Pledge Arena. You'll likely wind up on Denny Way, a major east-west avenue that is notorious for heavy traffic whether there is an event or not — fair warning.
Parking at Climate Pledge Arena
The number of attractions at Seattle Center means that parking is plentiful in the area surrounding Climate Pledge Arena. There are few high-capacity options, though, so you'll have to rely on the existing network of independently operated lots and structures, with varying price points depending on the usual factors (proximity, size, etc.).
Climate Pledge Arena has two nearby parking structures, one underneath the arena and another just south, on First Avenue at Thomas Street. More parking exists east of Seattle Center, including a garage at Fifth Avenue and Harrison Street.
You can buy parking passes for Climate Pledge Arena events in advance via Ticketmaster.
Seattle hotels near Climate Pledge Arena
• The Mediterranean Inn – 0.2 miles away
• Homewood Suites by Hilton Seattle Downtown – 0.3 miles away
• Hyatt House Seattle Downtown – 0.3 miles away
Search for more Seattle hotels on Booking.com.
Map of the surrounding area
Things to do around the arena
For visitors who are unfamiliar with Seattle, then there's nothing wrong with spending time at Seattle Center before a Climate Pledge Arena event. The Space Needle is the centerpiece, of course, but the campus also includes the Pacific Science Center, Museum of Pop Culture and Seattle Children's Museum.
But in a sports-fan context, the main attraction other than the arena itself is the Seattle Center Armory, a food hall that is typically abuzz with activity, like live music and sponsor booths, before Kraken games and other events at Climate Pledge Arena.
In fact, if you've taken the monorail to Seattle Center, you're basically funneled into the Armory after disembarking, so you might as well check it out if you're hungry and have some time on your hands. The various food stands there offer items like BBQ, kebabs, tacos and more.
For a little more sophisticated look at things to do, venture north and/or west of the arena into Queen Anne, a neighborhood that has grown more well-known to visitors over the years but remains more of a hangout for locals.
A number of food spots and bars can be found in the surrounding blocks. Try walking a block west to Queen Anne Avenue to survey a selection of eateries, including a location of beloved Seattle hamburger joint Dick's Drive-In.
Meanwhile, foot traffic around the arena continues to grow thanks to an influx of new, high-density residences nearby, bringing the promise of more businesses in the coming years.
For more on visiting Seattle, check out our Seattle sports travel guide.
Seattle restaurants near Climate Pledge Arena
• Agave Cocina & Tequilas – Mexican, 0.2 miles away
• Taylor Shellfish Oyster Bar – seafood, 0.2 miles away
• Moon Tree Sushi and Tapas – Japanese, 0.3 miles away
Search for more Seattle restaurants on Tripadvisor.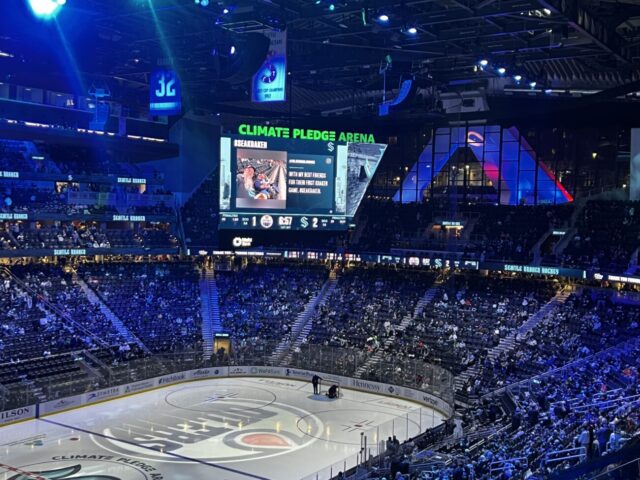 Watching a game at Climate Pledge Arena
Those with a recollection of what KeyArena was like will barely recognize the new joint if not for the familiar roof. The inside was gutted and rebuilt, and now features all the modern comforts that fans have come to expect at new facilities.
The building's footprint now extends beyond the roof, and a lobby called the Alaska Airlines Atrium gives fans more concourse space to roam about. Patrons also enter Climate Pledge Arena on the upper level, and anyone holding a ticket for the club or lower level of the seating bowl will have to descend via escalator to get there.
Renovated venues often give away telltale signs that new spaces were basically constructed around old bones, and it's no different here.
At Climate Pledge Arena, it's most conspicuous when looking out at the seating bowl. The ends are set apart from the rest of the upper deck — particularly sections 118-123, called Mount Baker Hall, which has an exclusive arena entrance and concourse.
Another quirky area of Climate Pledge Arena's seating configuration to be mindful of is that sections 211-217 have a press gondola hanging over it, so you won't be able to see the overhead videoboards (yes, plural — more on that in a second). TV screens are attached to the back of the gondola, though.
The name Climate Pledge Arena is meant to bring attention to the issue of climate change, and large green displays along both sides of the lower concourse also explain the goal further. Two of the arena's VIP clubs are also in this area, and can be used to access the most exclusive seats close to the ice.
One of Climate Pledge Arena's defining features is the dual set of videoboards, unique among major North American arenas. The Kraken and their fans have taken to calling them "the twins," and while they might be a strange sight at first, the idea behind them is to improve sight lines. Unlike at other arenas with large HD videobards, you don't find yourself focusing on them while play is in progress, which is a good thing.
Meanwhile, HD screens are just about everywhere on the concourses, and they're used to strong effect during Kraken games of making you feel like you're in an aquarium — or at least in an ocean-like environment where the mythical kraken are supposed to lurk.
The theme of underwater creatures continues throughout, from the team store called "The Lair" on the lower level to videoboard transitions with animated water splashing. Though in our opinion, the PA announcer yelling out "Release … the … Kraken!" every time the team takes the ice is a bit much.
Interested in a suite at Climate Pledge Arena? Buy suite tickets on SuiteHop.
Food and drink at Climate Pledge Arena
The concessions at Climate Pledge Arena are filled with recognizable names to Seattleites, including Ballard Pizza, Shaq's Big Chicken, Din Tai Fung and Metropolitan Grill.
Burgers are plentiful on the Climate Pledge Arena food menu, with several stands operated by local chain Lil Woody's — they're hard to miss thanks to front-facing grills that project the aroma of grilling meat out onto the concourses. There are also two stands serving Impossible (meatless) burgers on the lower level.
This being Seattle, you can also find Starbucks — but not with baristas making drinks. It lends its name to one of four marketplaces with Amazon "Just Walk Out" technology, meaning patrons insert a credit card to gain access, select their items and then just leave, with the items getting scanned upon exit.
Beer options are everywhere, with bars including the Modelo Cantina on the lower level and the Coors Light Center Ice Bar on the upper level. Brews available include selections from Hop Valley Brewing, which makes an "official" beer for the Kraken — an IPA called the Kraken Stash.
Original publish date: August 8, 2021
Most recent update: October 16, 2023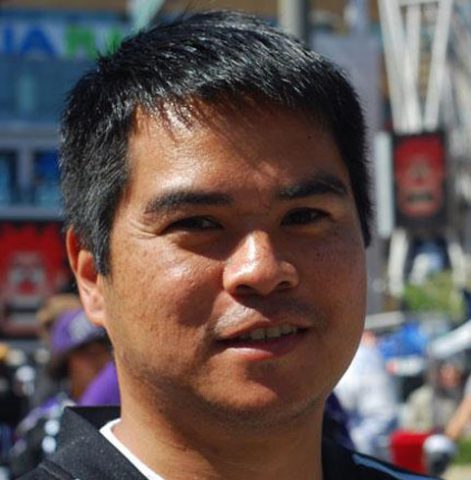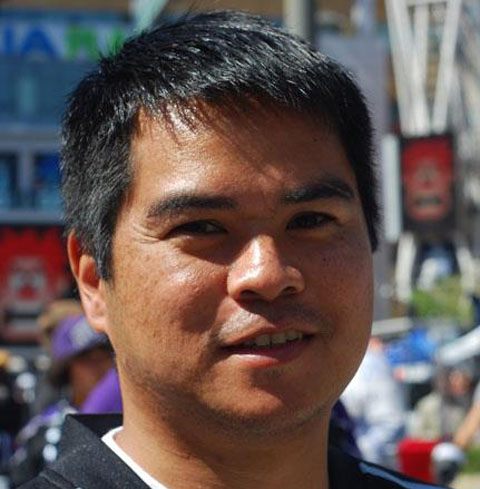 Edward de la Fuente | Itinerant Fan
I live for sports, and I love to travel. My biggest thrill is combining the two. I've been blogging about sports travel for more than a decade, and traveling for sports for twice as long.
About me | FAQ | Buy me a beer 🍺
Affiliate Disclosure
Please note that some of the links above are affiliate links, and at no additional cost to you, we earn a commission if you make a purchase. These recommendations are only for companies that we've used and have proven to enhance our sports travel experiences. To find out more about our affiliate partnerships, please read our Affiliate Disclaimer.
The Particulars
Home Teams
Seattle Kraken
Seattle Storm
Address
334 1st Ave. North
Seattle, WA 98109
Year Opened
1962
Capacity
17,100
Upcoming Events
All times local
Climate Pledge Arena Tours
Wednesday, December 6, 2023
8:00 pm
Get tickets at Ticketmaster »

Seattle Kraken vs. New Jersey Devils
Thursday, December 7, 2023
7:30 pm
Get tickets at Ticketmaster »

Enrique Iglesias, Pitbull, Ricky Martin: The Trilogy Tour
Friday, December 8, 2023
7:00 pm
Get tickets at Ticketmaster »

Seattle Kraken vs. Tampa Bay Lightning
Saturday, December 9, 2023
7:00 pm
Get tickets at Ticketmaster »

Seattle Kraken vs. Minnesota Wild
Sunday, December 10, 2023
6:00 pm
Get tickets at Ticketmaster »