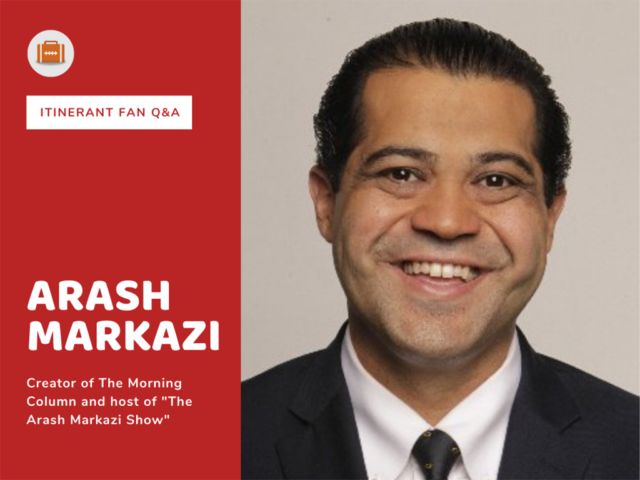 Arash Markazi is a pretty busy guy these days. The sports media veteran recently launched two new ventures: A daily newsletter, called The Morning Column, as well as his own sports talk show, "The Arash Markazi Show," on Southern California radio station The Mightier 1090.
And he's covering a crazy time in Los Angeles sports, from the Lakers and Dodgers each winning championships within the span of a month to the Rams and Chargers playing in the new but empty SoFi Stadium and USC and UCLA belatedly starting the college football season.
Arash has had reporting and columnist stints at Sports Illustrated, ESPN and the Los Angeles Times during his distinguished career. I'm fortunate to go pretty far back with him, as we're both graduates of the journalism school at USC and were colleagues for several years at ESPN.
He recently spent time with Itinerant Fan to discuss the state of sports spectating during the pandemic in a wide-ranging Q&A. He also gave his thoughts on the SoCal sports scene and reminisced about his own favorite sports traveling adventures.
The result is the first installment of what will be a regular Q&A series featuring sports and travel enthusiasts and professionals. Check out my conversation with Arash below.
And if you haven't already, you can subscribe to his newsletter on Substack and follow him on Twitter and Instagram.
Note: This conversation has been lightly edited for clarity and length.
Before we start, how are things going right now? I know you're pretty busy with the new newsletter. I subscribed — good stuff so far.
Yeah, Substack has really been sort of like a great tool for a lot of journalists who want to kind of break out and do things on their own. And for me, I have a talk show now. So it allows me to write columns when I want to write them, but also Monday through Friday, I put the show that's on 1090 on a podcast. So that's really, really cool.
And since I launched it, Los Angeles sports is obviously doing really well with the Lakers winning the NBA Finals and the Dodgers winning the World Series. So it's kind of in a good time.
You were at the World Series a few weeks ago. What was it like having the stands a quarter full? Would you call it strange? What was the experience like?
I mean, it was really surreal, because it wasn't just a normal game. You've probably seen crowds in Tampa or for like a Marlins game where there's not a lot of fans. And for 11,500 to be a sellout for a World Series game in a brand new, billion-dollar stadium, it was just weird to see that.
But at the same time, it was kind of nice to be at a sporting event with fans because since March, I have not seen that or covered that. So walking to Globe Life Field for Game 1 of the World Series was really kind of interesting. Because the streets were packed, the bars were packed, and the people were going to the game. And so you had a sold-out crowd of 11,500, which was about 20 percent capacity.
But then outside of the stadium, you had bars and pubs and places were packed. And there were so many Dodger fans, and I know a lot of them flew to Texas, because that that was going to be the only time that they got to see their team this entire year.
It's coming up on midnight in Arlington, Texas but #Dodgers fans outside of Globe Life Field are not ready to call it a night. #WorldSeries pic.twitter.com/BLYUjVSHPz

— Arash Markazi (@ArashMarkazi) October 26, 2020
I saw some videos where you were recording the celebrations after the Dodgers would win a game there. I feel like sports is one of those things where the emotions come out — they tell you to wear a mask, but you can't help but yell and whatnot when you're happy about something. Would you ever say you felt unsafe?
Yeah, I mean, I guess the unsafeness comes from where no one's wearing a mask or no one's social distancing. So that's a bit of an issue. So I definitely always wore a mask. I tried to keep distance. But obviously, if you watch some of those clips, I wanted to capture the emotions of the crowd. So I put myself in the middle of that.
I think to your point, when your team wins a World Series game, or when they finally do clinch the World Series, the emotions take over and you kind of forget that you're in the midst of this pandemic, and you just take your mask off, you hug and kiss your friend or your family member, or whatnot. So I get it.
It was interesting, some of the responses on social media. There were some people who were like, "Oh, that's awesome." But there were just as many people saying, "Where's your mask? Where's your six feet?"
I think it makes sense why Major League Baseball had the World Series in Texas. I was hoping that it would be in California, but this enabled Major League Baseball to have some semblance of normalcy — although it's not normal, it gave them a crowd and gave them people having a good time outside the park.
So how does Globe Life Field look? I like to pride myself on saying I've been to every current ballpark. I had already made plans to go this summer, and then the pandemic happened, so I haven't gone. I'd love to know how it is.
It's fantastic. So what they call it outside is Texas Live! — It's not unlike where we used to work [ESPN's Los Angeles headquarters at L.A. Live, across the street from Staples Center], where they have bars and restaurants and places to go hang out. In the park itself is fantastic.
I guess my only critique, and you may feel the same way, is as nice as they are — and they have club seats and suites and all this great stuff — there's not that character to it that you would hope that it would have.
So it reminds me a lot of the Houston Astros' Minute Maid Park. So it's a fine ballpark. There's nothing wrong with it. But there's nothing that makes it like unique that, you know, you're in Arlington. That would be my one critique, but it was fantastic.
So the Dodgers are world champions, the Lakers are world champions here in L.A. But as you know, we can't have a parade. So do you have a sense of when you think there will be some sort of celebration for either of these teams?
We're not going to be back at a place to have a parade until next year. And if the Lakers and or Dodgers don't win the championship next year, I just think it's going to be hard to say, all right, that season didn't go as planned, but now we're gonna have a parade in 2021 for what we did in 2020.
I get that that's the right thing to do, because those guys deserve a parade. But I mean, the fact of the matter is a year from now, half the team could be gone, or a good portion of the team could be gone. I just don't see the fans and the players being in the mindset of having a celebration.
Let's just say, for example, Anthony Davis gets hurt first game of next season, and they don't make it out of like the first round. I just don't know if they're going to be in the mindset to have a parade and I get that they're celebrating what they did in 2020.
But that's why I suggested in my column that they have a drive-in rally. Have some kind of a celebration before next season begins. So that would be coming up pretty soon, because December 1st or 2nd is the opening of training camps. And obviously spring training opens in February. So it would have to be at some point this month. But I don't think that that will happen.
For the most part, this would be a made-for-TV event. For the Dodgers, when they had the drive-in viewing parties for the World Series, they had about 2,000 cars. And I think that's a good number: 1,000 for one screen, 1,000 for the other. Instead of a screen though, you would have a stage with the Lakers and the Dodgers. You would have a crowd there just to have a crowd, but for the most part, it would be for the people of Los Angeles watching at home.
So have you thought about tweeting at the mayor, at [Los Angeles mayor Eric] Garcetti or somebody and saying, like, here's my idea, and what do you think?
Well, I know a lot of them follow me. It wouldn't be Garcetti's call. I think the Dodgers and the Lakers would have to kind of come together and say, let's have a drive-in rally. But from what I've been told, they want to do it properly. And they don't want to do it like this.
What that Alex Collins 13-yard rushing touchdown sounded like at SoFi Stadium. pic.twitter.com/YMDxfi2FLf

— Arash Markazi (@ArashMarkazi) November 15, 2020
You've also seen some games at SoFi Stadium. What's your impression of it?
SoFi's amazing. It's the first indoor-outdoor venue in the NFL, and to see that thing come up from the ground from the beginning where they broke ground has been really cool to see. 
I mean is just so big, it is massive. When you walk in, you're on the sixth floor, to give you an idea of how deep into the ground this facility is built. Because when you're driving to it, it's not this massive stadium like AT&T Stadium where you cannot miss it. Unless you're a couple of blocks away, you can't really see it.
I'll be at Allegiant Stadium [in Las Vegas] at some point this month, which I'm really excited to see. The thing about those things about those stadiums is we've never been there before. So the fact that there's no fans is weird, but we also have no point of reference.
What was weird was to be at the first USC game of the year [vs. Arizona State on November 7]. To drive to the Coliseum, and there's nobody there. There's no crowds there. There's no hot dog vendors, there's no T-shirt vendors, there's no hundred-dollar parking, and then you park your car and you walk to to the Coliseum. And there's no crowds. There's no tailgating, there's no students, there's no parents. And then you walk into to the stadium and there's no Song Girls, there's no Trojan marching band. There's no Traveler, there's no student section,
It's a college football game, but everything that makes a college football game so unique and so great, was stripped away. So I think that had something to do with not only the 9 a.m. kickoff time, which was crazy, but that just it was just an odd first game for both teams. So that one was unique. Hopefully by the time we're done with this season, and before we get into next season, we will be at a place where we can have some semblance of a crowd.
Could you sense at the USC game that there was no energy?
Oh yeah. The crowd noise, it just sounded fake. For whatever reason, at the World Series, the mix of the real crowd and the fake crowd kind of worked. At the Coliseum, it just sounded fake. It just sounded like someone was like blasting the volume on something.
But also, it was a 9 a.m. kickoff. It's cloudy and drizzly. It began to rain. These kids are tired. You know, Joe Biden got elected right before kickoff. So maybe that's something that they heard about or something. So a lot was going on. It did seem like, man, this team's not even up yet. Like they're still sleeping.
They are piping in crowd noise and music at the Coliseum but there are no fans, no Trojan Marching Band, no Song Girls and no Traveler. pic.twitter.com/zTh4kAHo9d

— Arash Markazi (@ArashMarkazi) November 7, 2020
Do you have a sense of when things would start feeling normal again at sporting events? Is that a way off still? Or do you think we're starting to get close to it?
I think we're way off. I think we may get to a place where what happened at the World Series like becomes the new normal around the country. But until there's like a widely distributed, widely available vaccine, and we're at a place where we feel safe to leave the house — and again, a lot of people have, but in terms of like, you can go to gyms again, you can go to amusement parks. I think that will coincide with the widespread availability of a vaccine.
I don't think it's gonna happen until the spring and then at that point, it's like, I'm hoping by next football season, so September of 2021. That'll be the beginning of the college football season and the NFL season. That would be my hope.
I know you're an Arsenal fan. I only started getting into the Premier League about three or four years ago, but I'm at the point where I watch it fairly regularly. But I have not chosen a team to support. I am waiting for a team to, like, move me. So that's kind of the basis for this question. How did you come to support Arsenal?
You become a fan organically, I think. So for me, it was a couple reasons. I was at USC at the time, and I did a spring break in London. And I went to an Arsenal match in North London at Highbury. And it was just mesmerizing, mesmerizing.
I also have family in Holland and Dennis Bergkamp was on the team. And he scored like an amazing goal in that game. And so it's your first Premier League game, you get a Bergkamp jersey, he has an amazing goal. They're a really good team, they're a competitive team, they have a lot of great history. So that's just the team you adopt.
 

 

 

View this post on Instagram

 

 
And they win the double that year for me, which was great. So they beat Manchester United. And it was one of those seasons where you're like, OK, this is my team. And so that's why it's kind of almost has to come to you organically — whether it's a game, a player a match, something's gonna happen while you're watching to make you say like, that's my player, that that's my team.
Thierry Henry is a player that I just love so much. And he gave me so many great moments. And then what tends to happen is, when we get back to normal, you may even plan some of your travel around seeing your team play. When Arsenal and Barcelona played in the Champions League Final [in 2006], I flew to Paris. I was like, I don't know when they're gonna go back and they haven't been back to the Champions League Final since. 
Have you been to the the Emirates?
I have. So Highbury [Arsenal's home ground until 2005] was so special because of just it was just like an old classic unique building. I mean, the Emirates is like a lot of the football stadiums we have in the U.S. now in terms of suites and club seats and luxury boxes, and it's very pristine and nice. And that's all good. But Highbury had a certain character to it that I love so much. I'm so grateful and thankful that I got to go to a few matches there before they moved.
To wrap this up, I want to ask you, like, if you go all the way back through every time you've ever stepped in a stadium, whether it's been as a journalist or a fan, what was the the most memorable sporting event you've attended and why? Something that says, "Wow, I'm so glad I was there for that."
One that I kind of look back on now is that 2010 NBA Finals, it's the Lakers and the Celtics Game 7. You know, just because of the significance of a Game 7, Lakers-Celtics. That was cool. So that's one.
The other one was for you know, the two Kings championships [in 2012 and 2014] because you know, the fact that they won at home. I think anytime your team wins at home, it's nice. Like if you're a beat reporter or if you travel a lot, like it's nice to see your team win on the road. But when you can enjoy it with your fellow fans, that is a cool experience.
So, No. 1 is the 2010 finals only because of just the significance of it. And I still contend, there's a lot of great statues you could make of Kobe, but you know, two of the ones that I really think of are from that Game 7, where he has his arms like outstretched at the scorer's table. And it's just such a powerful moment. And then the other one is where he puts up the number five. And so that's you know, signifying his five championships in Los Angeles. So that was one of those, like, I leave, I left the building that night saying like, I'm so thankful that I was there.
I can tell you what my No. 1 event is. It was the Bush Push game [USC vs. Notre Dame in 2005].
Not only was I there for that game — and sometimes I forget because I probably should have put this higher — but the play before, Matt Leinart fumbles the ball out of bounds. And when he fumbled the ball out of bounds, it hits my leg.
Oh, really?
Yeah, if you look at the replay again, my head was shaved. And I'm wearing a gray sweater and jeans. And so when he jumps towards the end zone and gets hit, the ball pops out and it hits my leg. I'm looking up at the clock and the clock is going down. And I know no matter what, that's not right, because the ball, A, hit my leg and B, it's at my feet.
So [USC assistant coach] Brennan Carroll runs down the sideline, and he's calling a timeout, but there's no timeouts and he doesn't need to call a timeout because they get us situated. But then [Notre Dame fans] mob the field. I'm like, wait, the game's not over. So when they get back on the field, and they're inside the 1-yard line, but they don't have any timeouts. And it looks like he's about to spike it. I mean, Pete [Carroll] is kind of saying spike it, and I'm like — that team had so much moxie. They were gonna go for it, I just knew it.
But yeah, that game. You're 100 percent right. It should be one. I had Kobe and the Lakers on my mind, but that has to be up there for sure.
Yeah, I put you on the spot with that question. I say that game because I was in the end zone stands where the final touchdown was scored. And that happened right in front of me and the whole rest of the night driving back to Chicago afterwards, me and my friends were just like, "Wow, I can't believe we just saw that." Yeah, I've never felt anything like that before or since.
That's a great point. This is up there too — I don't like this game, but I did think like, how lucky I was to have been at the Rose Bowl game where Texas beats USC. You know, I was right there when Vince Young ran for the game-winning touchdown.
And I'm like, uh, I don't like to watch this play or the end of this game. But I'm so thankful because like, it's generally regarded as one of, if not the greatest college football game of all time.
Yeah, you put games like that in a different place in your memory bank.
Exactly. You respect it, but you don't like love it. Like, I'm not gonna watch that game again. And sometimes if it's on TV, like, I'll watch the first three and a half quarters and then change the channel.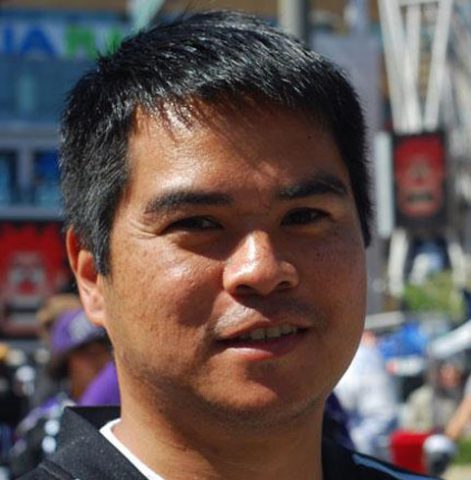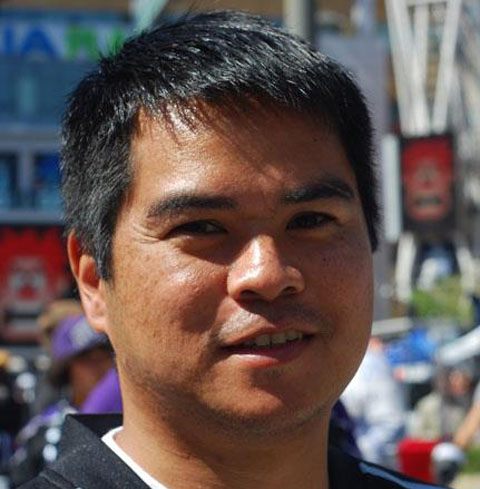 Edward de la Fuente | Itinerant Fan
I live for sports, and I love to travel. My biggest thrill is combining the two. I've been blogging about sports travel for more than a decade, and traveling for sports for twice as long.
About me | FAQ | Buy me a beer 🍺
Affiliate Disclosure
Please note that some of the links above are affiliate links, and at no additional cost to you, we earn a commission if you make a purchase. These recommendations are only for companies that we've used and have proven to enhance our sports travel experiences. To find out more about our affiliate partnerships, please read our Affiliate Disclaimer.