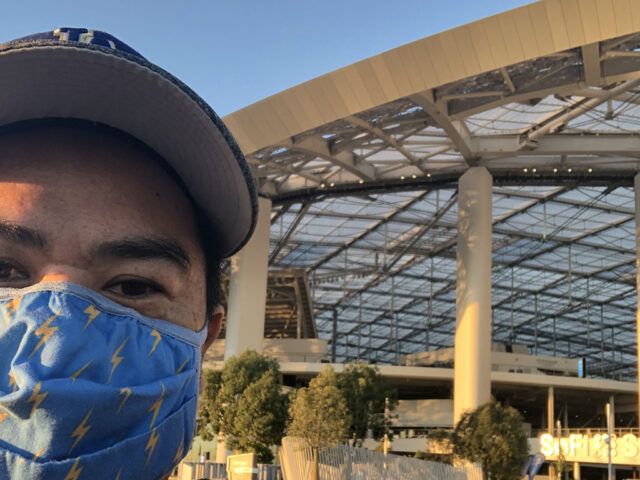 For me, one of the big disappointments of the pandemic's effect on sports is that SoFi Stadium, the gleaming new football stadium for the Los Angeles Rams and Chargers, is closed to fans for the 2020 season, denying us even a glimpse of a palace we've been waiting to experience for a long time.
Beyond the fact that this was another new stadium for me to check out — and one that's supposed to be the new crown jewel of NFL venues, at that — I was planning to make plenty of visits this year. I purchased Chargers season tickets and hoped to make at least half of the home games, and on top of that I intended to check out at least one Rams game as well.
So yes, I planned to get to know SoFi really well this year. But as we all know, 2020 had other plans.
Other than a quick drive-by, I hadn't had much opportunity to see the stadium. The grounds surrounding it remain closed to the public as construction continues around it (which sort of makes you wonder what the plan had been if the stadium had been able to open under normal circumstances).
But then, an opportunity: A few weeks back, I received in my email an invitation to visit the stadium's team store, called The Equipment Room. Necessary protocols called for visitors to make appointments for one-hour time slots, and there were only five available days on which to visit.
I'm never one to get excited about a chance to buy team gear, but this was an exception. It was not difficult to see this for the true opportunity it presented: The chance to see as much of SoFi Stadium as the powers that be would allow, and to step onto the stadium grounds.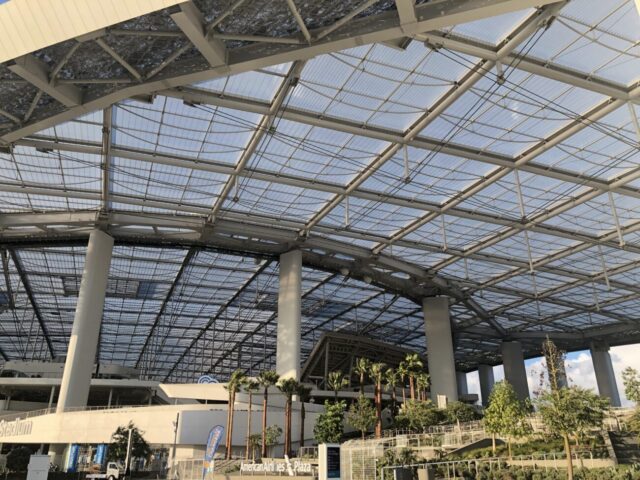 Anticipating the big visit
Securing a timeslot to visit the SoFi Stadium store involved signing onto Ticketmaster at a prescribed onsale time and selecting free tickets for your selected time. It was not unlike buying tickets for a high-demand event, except there was no purchasing involved.
There was, however, a little anxiety. When I signed on to the platform and the onsale time arrived, it showed me no ability for any day or any timeslot. A small part of me though it was a glitch, but I was more convinced that all of the available slots had sold out so quickly that I was out of luck.
After about 15 minutes of refreshing, I was about ready to give up when slots appeared magically, to my great relief. I grabbed a one-hour slot on Saturday afternoon.
A few days later, I drove to Inglewood, about 20 miles from where I live, and arrived almost an hour before my scheduled time. This is what happens when you're still programmed to think that driving anywhere relatively far in Southern California will involve tons of traffic.
Not willing to risk any headaches that might arise from trying to enter too early, I killed time by shopping at a nearby Target, then entered the grounds five minutes before my appointment time.
At the gate to the parking lot, I was screened for temperature by a weary attendant who responded to my "How's it going?" greeting with, "Eh, I've been better." That was my first indication that the stadium team store was doing a pretty brisk business.
I was directed to a lot close to the stadium perimeter that was filled with about 50 cars; I couldn't help but notice that at least five had dealer license frames from the San Diego area, which I guess is a pretty good indication that not everyone down there dumped the Chargers when they left town.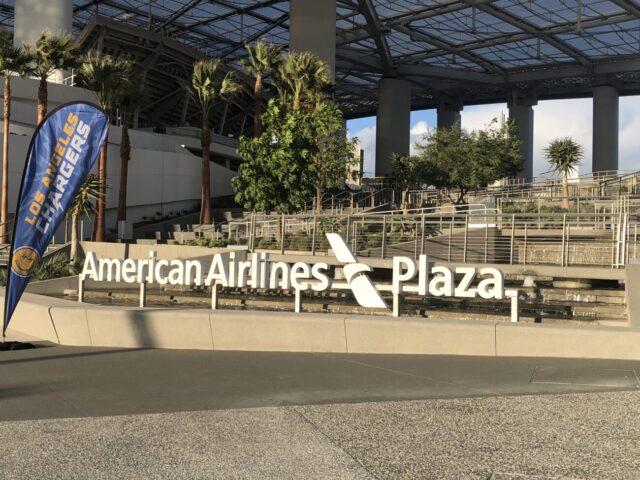 My first glimpse of SoFi Stadium
At this point, getting out of the car, I got my first real glimpse of SoFi Stadium, which was really cool. Even on a quiet afternoon, the building looked imposing and fun to approach. I was on the south side, where the roof canopy extends to cover an outdoor plaza called the American Airlines Plaza.
I got my first sense of the whole indoor-outdoor stadium concept; in essence, the roof is only there as a covering, but the sides are open-air, so wind can easily flow into the seating bowl.
And, because the stadium is in the flight path of airplanes approaching nearby Los Angeles International Airport, it was sunk much deeper into the ground than most comparable stadiums. About half the seating bowl is actually under street level.
As I approached, signs and a helpful but unnecessarily stern security guard directed me through a maze of walkways that made the approach to the store about twice as long as it would have been had I taken the most direct route. I suppose this was an opportunity to take in some of the stadium grounds, but other than a large man-made lake nearby, there wasn't a whole lot of interesting stuff to see.
Finally, I made it to the doorstep of the stadium, where a few Chargers employees were waiting. They scanned my ticket, and I entered into what turned out to be the upper floor of the two-story store.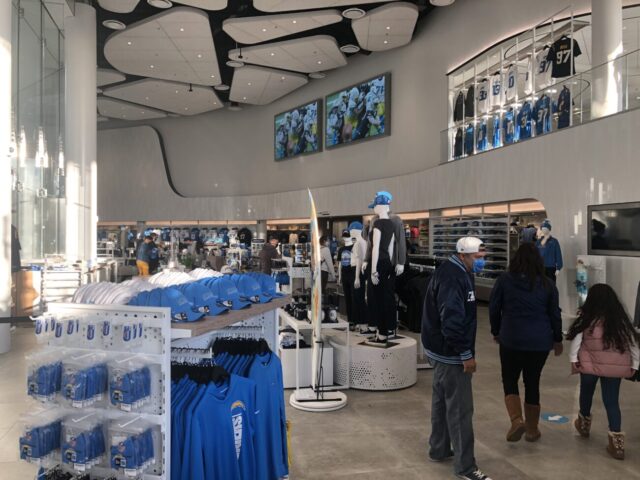 Inside the team store
The Equipment Room, which as it turns out also serves as the store for Rams gear (obviously, the inventory on display will turn over depending on which team is at home), is as nice as you'd expect for an in-stadium team store at a new venue. It's big and full of just about all types of gear, including an entire wall filled with racks of every T-shirt imaginable.
Every patron who had accepted the invite to come to the store would be getting a 10 percent discount on their purchase, so that was plenty of incentive to buy things.
My only problem was that I had nothing in mind that I really wanted, so I hemmed and hawed for a while, even as the same store clerk asked me three times if there was anything specific I was looking for. Meanwhile, there were plenty of folks stocking up on jerseys, gear for their kids, and so on — ie. expensive stuff.
I finally settled on a Chargers-branded workout shirt and a small souvenir helmet, and headed to the checkout at the side of the store facing into the stadium. And therein lay the rub. The real prize for me was waiting at the exit, when patrons would have to walk briefly on the concourse to exit the stadium.
I paid for my gear — about $50 after the discount — and then headed out to see what I could see.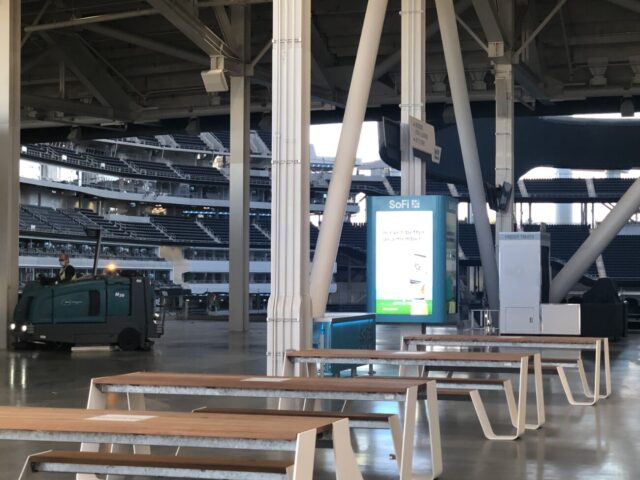 The tiniest of glimpses into SoFi Stadium
OK, so in the end there wasn't much to see. Fencing kept anyone from getting deep enough into the concourse to see the field. I could see the oculus scoreboard, but of course it was off. A guy driving a motorized floor cleaner around as I was looking inside gave off that after-hours feeling of "nothing to see here."
I craned my neck in an attempt to see section 329, where my season tickets are located. It were one level above where I was, but the section was just around the corner and thus out of view.
From where I was, I could glimpse just a couple of SoFi Stadium's concession stands. One was clearly labeled "Olvera Tacos," a nod to Los Angeles' famous Olvera Street but not seemingly connected to any popular culinary entities.
In essence, I really couldn't experience a whole lot. But I was under the roof, on site, and as I've said often during this time when travel and attending games are out of reach, you take what you can get. I was still grateful for the opportunity.
And yes, I still felt that way even after the same kind but stern security guard denied me the opportunity to walk over to the man-made lake and take a nice picture, as though there was something dangerous or off-limits there. I guess I have to save some things for when I can make a truly proper visit.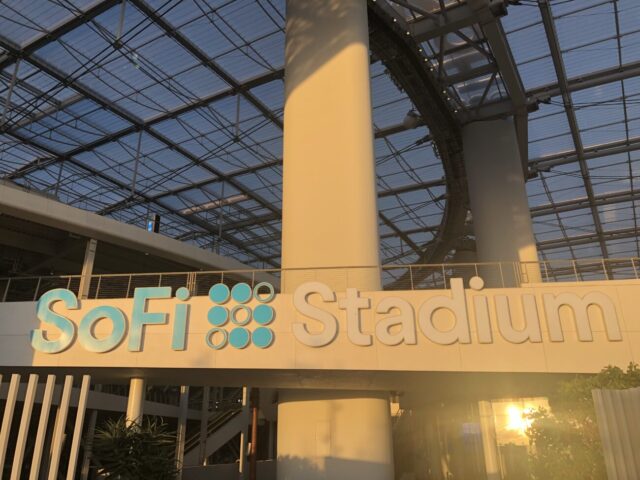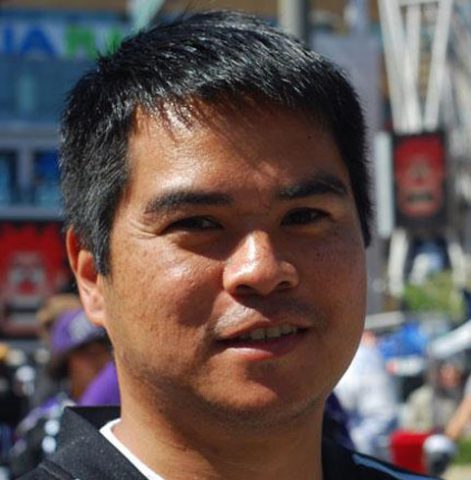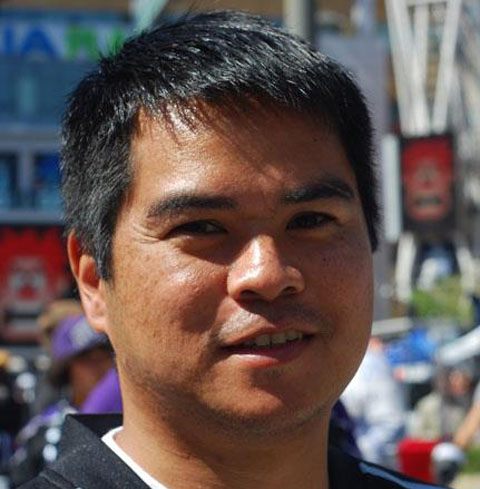 Edward de la Fuente | Itinerant Fan
I live for sports, and I love to travel. My biggest thrill is combining the two. I've been blogging about sports travel for more than a decade, and traveling for sports for twice as long.
About me | FAQ | Buy me a beer 🍺
Affiliate Disclosure
Please note that some of the links above are affiliate links, and at no additional cost to you, we earn a commission if you make a purchase. These recommendations are only for companies that we've used and have proven to enhance our sports travel experiences. To find out more about our affiliate partnerships, please read our Affiliate Disclaimer.