Bank of America Stadium
Our guide to Bank of America Stadium in Charlotte includes information on events, tickets, parking, public transportation, nearby hotels and restaurants, seating and more. Read on to find out how to get the most out of your gameday experience.
* * *
Situated on the edge of Charlotte's center city, Bank of America Stadium — home of the Carolina Panthers — manages to offer the best of both worlds when it comes to football spectating: it's near most of the hotels, attractions and amenities of a downtown region while still giving fans plenty of space to spread out and tailgate before heading inside.
In North Carolina, the home of fine barbecue, that second point surely is important. But Bank of America Stadium, as much as any other venue in the NFL, offers a model for how a massive, 70,000-seat football stadium can coexist in a downtown area while still providing the amenities (parking, tailgating) that football fans have come to expect.
Besides, downtown Charlotte is an area worth exploring for any visitor, sports fan or not, and there's plenty around town to do before the game.
The Panthers have been the stadium's primary resident for more than 20 years now, and the Carolinas region has hung on their many ups and downs, including the franchise's second Super Bowl appearance after the 2015 season.
With major college football (such as the annual Duke's Mayo Bowl and ACC championship game) and international soccer often coming to town, Bank of America Stadium has become the major events destination for anyone wanting to take in big-time sports in the South.
And the venue gained a new tenant in 2021, when expansion Major League Soccer franchise Charlotte FC moved in.
Looking for Bank of America Stadium event tickets? Search events on Ticketmaster.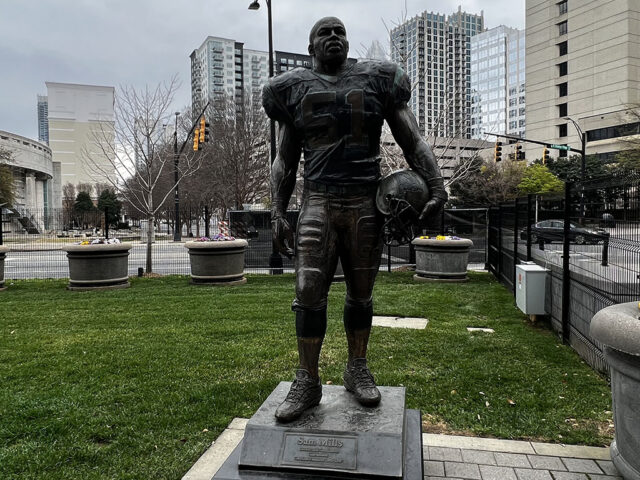 Getting to the stadium
Located in what's known as Uptown (which is what folks in Charlotte call what others might call "downtown"), Bank of America Stadium sits alongside Interstate 277 as it snakes around central Charlotte, with I-77 running nearby as well. There are several exits along both routes that can be used to access the stadium; you can find detailed driving directions here.
For visitors, most of the major hotels in downtown Charlotte are within reasonable walking distance; follow Mint or Church streets southwest toward the stadium to get a sense of the pregame scene as you stroll.
If you'd rather cut down on the walking, Charlotte's light rail service (known as Lynx) operates between downtown and the city's South End. The closest station to the stadium is Stonewall, about four blocks away.
Parking at Bank of America Stadium
Most of the available event parking for Bank of America Stadium is in the surrounding blocks, in the form of both surface parking and structures. You can find a parking map here.
While the Panthers run most of the surrounding lots, they also encourage parking in private lots farther away. Uptown in particular has a number of private structures that offer cheaper rates than the lots near the venue.
Looking for parking at Bank of America Stadium? Buy parking on SpotHero.
Charlotte hotels near Bank of America Stadium
• Residence Inn Charlotte Uptown – 0.2 miles away
• Kimpton Tryon Park Hotel – 0.3 miles away
• Home2 Suites By Hilton Charlotte Uptown – 0.4 miles away
Search for more Charlotte hotels on Booking.com.
Map of the surrounding area
Things to do around the stadium
Walking along the streets leading up to Bank of America Stadium is a treat in itself, as it's not uncommon to see tailgate parties set up for blocks on the walk up to the stadium.
But if you don't have an RV or a grill handy, the Carolina Panthers hold two pregame parties for fans: the Panthers Lair (on the corner of Mint and Morehead streets south of the stadium) and the Panthers in the Park (at Romare Bearden Park, two blocks northeast of the stadium along Mint Street). More information can be found here.
There are also quite a few choices for restaurants and bars in the blocks surrounding the stadium. The Dog House, a bar and grill operated by a local radio station on game days, is the closest establishment and a favorite among fans (many of whom will watch the game from there if they don't have tickets).
For other establishments, head toward the intersection of Trade and Tryon streets, considered the center of Charlotte Uptown — you'll find plenty of restaurants and bars in the surrounding area.
Or, if you want to get to know a different sport that means a lot to folks in these parts, check out the NASCAR Hall of Fame, located about five blocks from the stadium along Martin Luther King Jr. Boulevard.
Charlotte restaurants near Bank of America Stadium

• Halcyon, Flavors from the Earth – American, 0.2 miles away
• Mellow Mushroom – pizza, 0.2 miles away
• Mimosa Grill – American, 0.3 miles away
Search for more Charlotte restaurants on Tripadvisor.
Watching a game at Bank of America Stadium
Walk around outside Bank of America Stadium and you'll find the Carolina Panthers franchise loves to put up statues. There are statues of team owner Jerry Richardson, beloved former player Sam Mills and former GM Mike McCormack.
In addition, there are six panther statues, two each "guarding" the stadium's three main entrances, and the bases of each are adorned with names of patrons who have purchased personal seat licenses for the stadium (the Panthers being one of the pioneering franchises when it comes to PSLs).
Bank of America Stadium is a big facility, capable of seating more than 70,000. Opened before the current wave of uniquely designed stadiums, it can best be described as a big concrete bowl — there's nothing wrong with that necessarily, though many have described the stadium as fortress-like, and they're not wrong.
What it does mean is that sight lines for football at Bank of America Stadium are about as good as they come, and even if you're in the very top rows of the seating bowl, you at least have two huge videoboards, one behind each end zone, with which to keep track of the action — the new boards were installed as part of a major renovation in 2014.
Looking at one of the boards also gives you a decent view of the Charlotte skyline rising beyond the eastern corner of the stadium.
More renovations came in 2020 to make the venue more soccer-friendly as Charlotte FC prepared to move in.
Interested in a suite at Bank of America Stadium? Buy suite tickets on SuiteHop.
Food and drink at Bank of America Stadium
Concessions options don't get too adventurous, though the presence of beloved regional chains Bojangles (chicken and biscuits) and Krispy Kreme (donuts) help reinforce the southern feel.
Carolina BBQ is represented as well, in a stand called JJR's BBQ Shack (named after Jerry Richardson) that serves a pulled pork sandwich, among other items. A beef brisket sandwich called the Hog Molly is also served at stands around the stadium.
Beer fans can head to the Craft Beer Zone on the 100 level, which boasts a wall of taps from numerous breweries. Well-known, national craft breweries such as Golden Road and Goose Island share space with regional favorites such as The Olde Mecklenburg, Wicked Weed and New Sarum Brewing.
Original publish date: February 4, 2016
Most recent update: September 1, 2023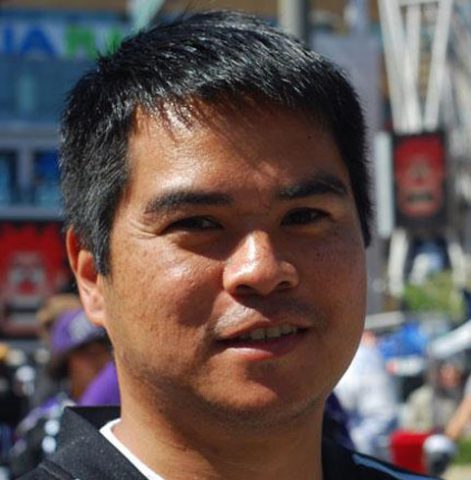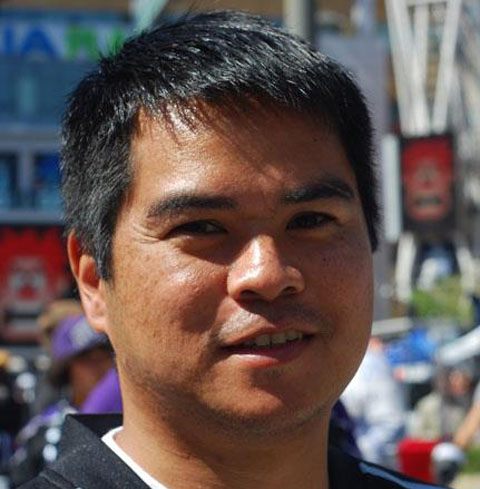 Edward de la Fuente | Itinerant Fan
I live for sports, and I love to travel. My biggest thrill is combining the two. I've been blogging about sports travel for more than a decade, and traveling for sports for twice as long.
About me | FAQ | Buy me a beer 🍺
Affiliate Disclosure
Please note that some of the links above are affiliate links, and at no additional cost to you, we earn a commission if you make a purchase. These recommendations are only for companies that we've used and have proven to enhance our sports travel experiences. To find out more about our affiliate partnerships, please read our Affiliate Disclaimer.
The Particulars
Home Teams
Carolina Panthers
Charlotte FC
Address
800 South Mint St.
Charlotte, NC 28202
Year Opened
1996
Capacity
75,412
Upcoming Events
All times local
2023 Panthers Vault Access - FALCONS
Sunday, December 17, 2023
12:00 am
Get tickets at Ticketmaster »

Carolina Panthers vs. Atlanta Falcons
Sunday, December 17, 2023
1:00 pm
Get tickets at Ticketmaster »

Carolina Panthers vs. Green Bay Packers
Sunday, December 24, 2023
1:00 pm
Get tickets at Ticketmaster »

2023 Panthers Vault Access - PACKERS
Sunday, December 24, 2023
1:00 pm
Get tickets at Ticketmaster »

Duke's Mayo Bowl: North Carolina vs West Virginia
Wednesday, December 27, 2023
5:30 pm
Get tickets at Ticketmaster »