Busch Stadium
Our guide to Busch Stadium includes information on events, tickets, parking, public transportation, nearby hotels and restaurants, seating, food and more. Read on to find out how to get the most out of your gameday experience.
* * *
We like visiting stadiums and arenas around the country for many reasons but one of the most prominent is the ability to see what makes a region tick. We believe that if you look closely enough at a team, its fan base, and, yes, its stadium, you can really get a feel for a region's tastes, its styles, its beliefs, and quite simply, its personalities.
So what does Busch Stadium say about fans of the St. Louis Cardinals?
Well, folks are definitely polite, befitting the Midwest feel. They're proud as well — having witnessed two championships in a six-season span, they have 11 titles overall to boast about.
But "loyal" is the word that most easily comes to mind. These fans love their team — and that's not a unique statement, sure, but St. Louis' love affair with the Cardinals truly delves into the realm of fervent devotion.
There's a reason this place has picked up the nickname "baseball heaven," and while other markets can argue the merits of their team and their fans, they would have a hard time topping the devotion Cardinals fans show their team.
With the "new" Busch, opened in 2006 to replace its cookie-cutter predecessor, you have a veritable shrine to the team, with nods to its history both subtle and obvious at every turn, and very distinctive to the region in which it's situated.
For more on visiting St. Louis, check out our St. Louis sports travel guide.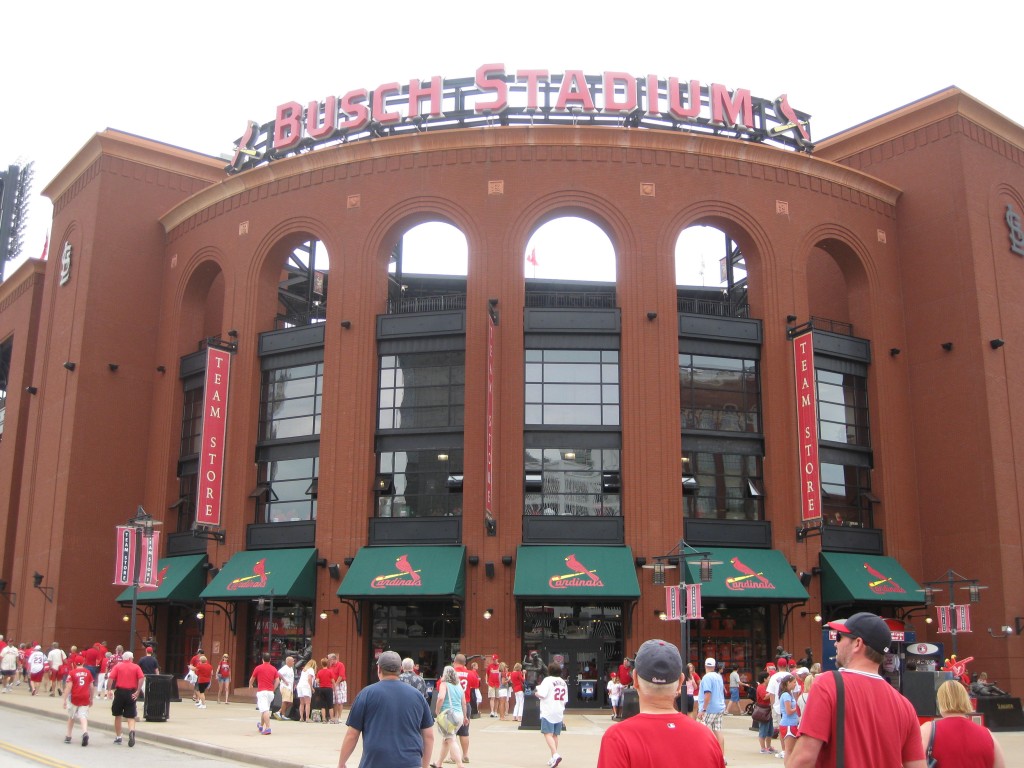 Getting to the ballpark
Busch Stadium is ideally located in downtown St. Louis, with Interstate 64 running right by it, two other interstates close by and the glorious Gateway Arch within shouting distance.
In short, if you see the Arch and you're on an interstate, you shouldn't have much problem finding the ballpark. Depending on your direction of travel, exits marked "Stadium" will help you get close.
For those who'd rather skip the burden of driving into downtown and parking for a game at Busch Stadium, there's an attractive alternative. St. Louis' Metrolink light rail system consists of two lines that converge and run along the same tracks going through downtown.
The Stadium station serves Busch Stadium and is located right across 8th Street from the ballpark's third-base gate (though it's below street level, so look out for the signs with the Metro's block-M logo).
A single-ride fare costs $2.50 but it's worth it to pay $7.50 for a one-day pass, which serves two purposes if you're a visitor: 1) it allows you to avoid the crush of Cardinals fans trying to buy a ticket after the game, and 2) it encourages you to see a little bit more of St. Louis than just the area around the ballpark.
Also, taking the train gives you the option of staying in a cheaper hotel outside the downtown core and then riding to Busch Stadium. Though there are plenty of hotels downtown and within walking distance of Busch Stadium, you can expect the rates there to be significantly higher than lodging options outside the central city area, and even more so during Cardinals homestands.
Parking at Busch Stadium
If you are driving, there are plenty of parking options around downtown and in the immediate vicinity of Busch Stadium, mostly in independently owned lots on the other side of I-64. The sizable St. Louis Parking Company operates a number of these lots, which you can find information about here.
Look just south of I-64 along 7th Street for less-trafficked parking options for Busch Stadium events. These lots sometimes offer cheaper rates than the more visible structures north of the highway (usually $10 or less) but are a comparable walking distance away.
St. Louis hotels near Busch Stadium
• The Westin St. Louis – 0.1 miles away
• Live! by Loews – St. Louis – 0.1 miles away
• Hilton St. Louis at the Ballpark – 0.2 miles away
Search for more St. Louis hotels on Booking.com.
Map of the surrounding area
Things to do around the ballpark
It's downtown, so there's plenty to see, do, eat and drink around the ballpark before the game. One option: Go visit the Arch, which is a popular option for baseball fans and casual visitors to the city alike.
Since Busch Stadium's opening in 2006, the neighborhood surrounding the ballpark has received an influx of food, drink and nightlife options, so if you're looking for some good eats or a nice watering hole before first pitch, it pays to get to the area early and walk around a bit.
The Cardinals themselves capitalized on this several years back by constructing the Ballpark Village across Clark Avenue from Busch Stadium. Continuing the trend of having entertainment districts for fans to mingle prior to sporting events, Busch Stadium's version contains no less than 12 places where you can stop and eat or drink, ranging from stands to sit-down joints.
The Cardinals Hall of Fame Museum is located within the Ballpark Village — it's part of Cardinals Nation, which features a two-story restaurant, a pro shop and a rooftop deck where fans can buy tickets to a seating area and watch the game without entering Busch Stadium, similar to the rooftop bleachers at Chicago's Wrigley Field.
Next to the Ballpark Village is the Live! by Loews hotel, which offers more options in the way of food, drink and nightlife next to Busch Stadium.
Rather stay away from the hustle and bustle of the Ballpark Village? Just try walking a few blocks in any direction to see a number of nearby restaurants. You'll find the most options heading north into the core of downtown St. Louis, or west toward Enterprise Center.
St. Louis restaurants near Busch Stadium
• Budweiser Brew House at the Ball Park – pub, 0.1 miles away
• Fox Sports Midwest Live! – pub, 0.1 miles away
• Clark Street Grill – American, 0.1 miles away
Search for more St. Louis restaurants on Tripadvisor.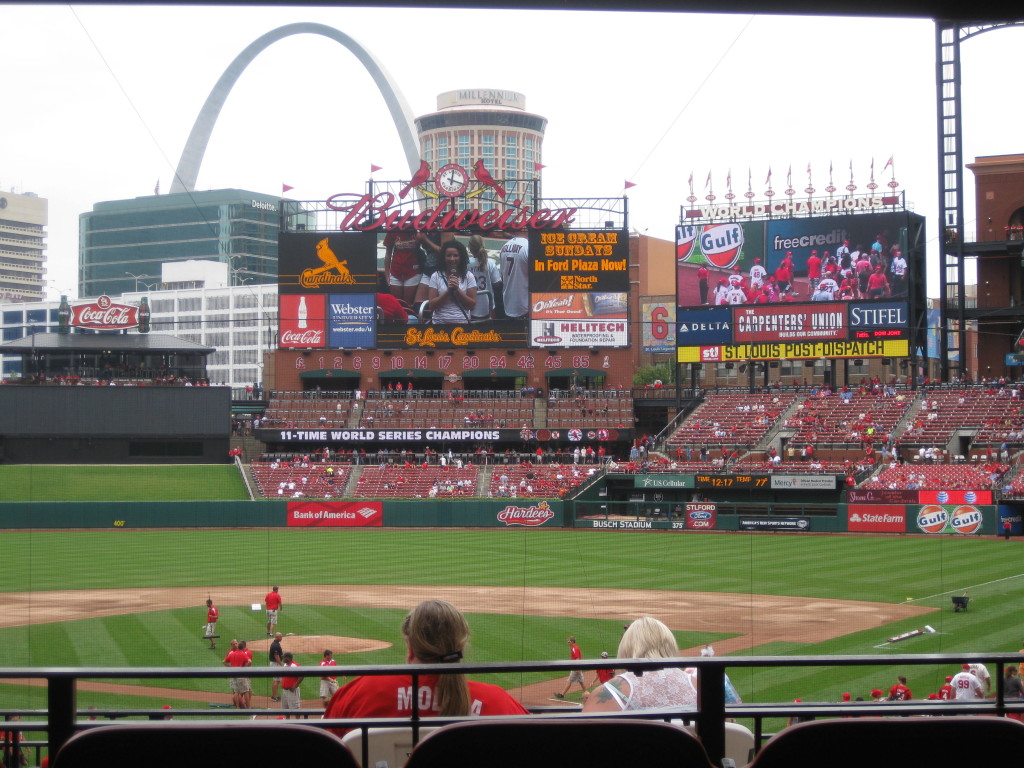 Watching a game at Busch Stadium
Just a good look at Busch Stadium as you're approaching reveals quite a lot about it and its place in St. Louis architecture.
This is particularly true at the third-base gate, as fans enter under a distinctive arched walkway. It's easy to think that the design was meant to mimic the Arch, but it's actually a nod to the Eads Bridge, a historic structure that crosses the Mississippi River just north of downtown. The Arch gets its own nod in the image cut into Busch Stadium's outfield grass — and also the quite stunning view of the real thing beyond the right-center field seating.
Before heading inside, be sure to walk Busch Stadium's perimeter to check out all the statues of Cardinals greats, from Stan Musial to Bob Gibson to Ozzie Smith to Rogers Hornsby — more than 10 in all.
It seems a lot of new-era ballparks were built with cozy seating bowls, but with Busch Stadium this is not the case, and that's quite all right. It feels big for a 45,000-seat stadium, and if you sit in the 400 level, it might feel high — but not so much that you couldn't make out things happening on the field.
Busch Stadium also offers a number of standing-room only spots around the seating bowl, and other than having to look over the row of fans in front of you, visibility is generally not an issue. They're scattered around the ballpark, so if you feel like stretching your legs, you don't have to feel like you're going to miss significant chunks of the game.
Food and drink at Busch Stadium
The food selection is one of the areas in which Busch Stadium really shines. Loaded hot dogs, build-your-own nachos, smoked chicken legs, specialty burgers — the selection is quite wide.
There are a few good unique-to-St. Louis and unique-to-ballpark food items at Busch Stadium, too, if you look hard enough. The "Bratzel" (a bratwurst wrapped in pretzel dough), mini donuts served in a Cardinals batting helmet, knishes (meat or potato fillings encased in pastry dough) — all worth sampling.
Oh, and Budweiser beer, of course, this being St. Louis and Busch Stadium. But the beer selection isn't limited to just Bud, as Leinenkugel's, Pabst, Goose Island and several other brands are available. Visit the 1764 Craft Pub on the 100-level concourse (near Section 141) to find the widest selection of craft beers.
Original publish date: February 4, 2016
Most recent update: March 18, 2023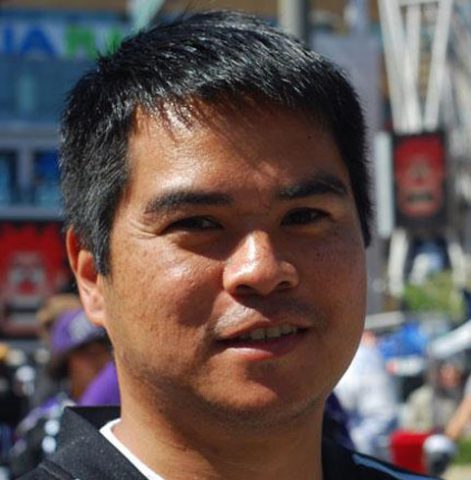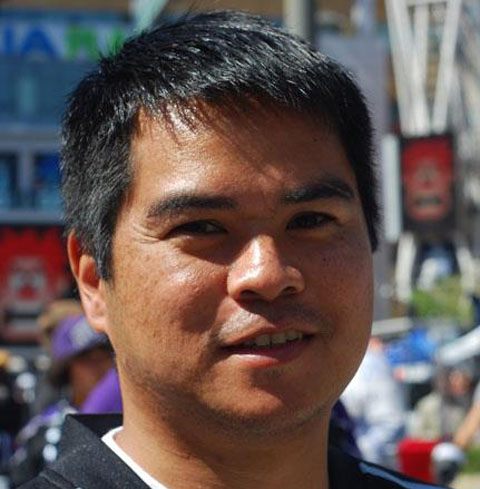 Edward de la Fuente | Itinerant Fan
I live for sports, and I love to travel. My biggest thrill is combining the two. I've been blogging about sports travel for more than a decade, and traveling for sports for twice as long.
About me | FAQ | Buy me a beer 🍺
Affiliate Disclosure
Please note that some of the links above are affiliate links, and at no additional cost to you, we earn a commission if you make a purchase. These recommendations are only for companies that we've used and have proven to enhance our sports travel experiences. To find out more about our affiliate partnerships, please read our Affiliate Disclaimer.
The Particulars
Home Teams
St. Louis Cardinals
Address
700 Clark St.
St. Louis, MO 63102
Year Opened
2006
Capacity
45,494
Upcoming Events
All times local
St. Louis Cardinals vs. Cincinnati Reds
Friday, September 29, 2023
7:15 pm
Get tickets at Ticketmaster »

St. Louis Cardinals vs. Cincinnati Reds
Saturday, September 30, 2023
6:15 pm
Get tickets at Ticketmaster »

St. Louis Cardinals vs. Cincinnati Reds
Sunday, October 1, 2023
2:15 pm
Get tickets at Ticketmaster »