Barclays Center
Our guide to Barclays Center in New York includes information on events, tickets, parking, public transportation, nearby hotels and restaurants, seating and more. Read on to find out how to get the most out of your gameday experience.
* * *
It's hard not to notice how fiercely independent Brooklyn is as you walk through it. Sure, it is one of the five boroughs that make up New York City, and many parts of Brooklyn still ooze that New York feel.
But just look around for a bit and you'll quickly notice just how much you see the word "Brooklyn," as though it is its own city. And so it figures that it would have its own arena — Barclays Center, home of the Brooklyn Nets.
It sure feels like you'll see the word "Brooklyn" in Brooklyn more than you'll see the word "Manhattan" in Manhattan, "Queens" in Queens, and so on. The most clear-cut example of this, of course, is now the Nets.
Previously they were the New York Nets and the New Jersey Nets, but once they moved into the sparkling new Barclays Center in 2012, they became not the New York Nets again, but the Brooklyn Nets. Sure, it was partly a nod to the Brooklyn Dodgers, the last pro sports team to call the borough home, but it's also another indication of Brooklyn's strong identity.
And the arena the Brooklyn Nets call home seems to fit right in with their home borough — nestled in one corner of the very busy intersection of Flatbush and Atlantic Avenues, it is not easy to miss. It's a quite distinctive and quite flashy building (more on that later), yet it manages to blend into the surrounding neighborhood more than overwhelm it.
You get the feeling that, were Barclays Center in Manhattan, it would get lost amid the tall buildings. Here, though, it's just right, and that feeling only increases when you go inside.
Since its opening, Barclays Center has become a hub for other big events. It serves as the home of the WNBA's New York Liberty, and it's also the site of the annual Atlantic 10 men's basketball tournament.
The arena also had a somewhat ill-fated stint as a hockey venue, hosting the New York Islanders for several seasons before the franchise moved back to Long Island and eventually, to the new UBS Arena.
Looking for Barclays Center event tickets? Search events on Ticketmaster.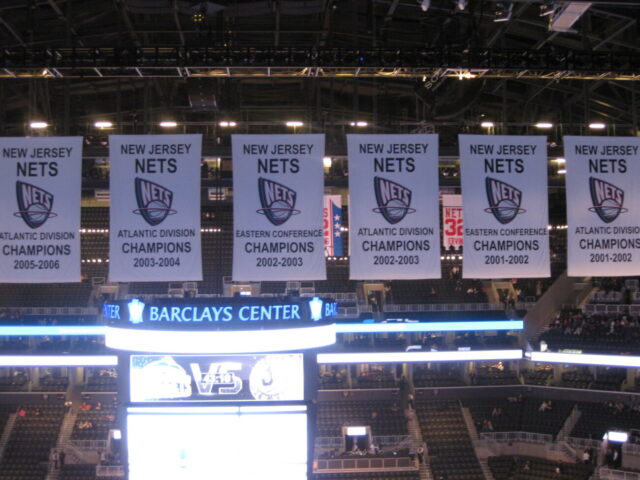 Getting to the arena
Barclays Center is darn near impossible to miss. And you'd have to be super-inattentive to miss it if you're arriving by subway, which for my money is the only way to attend a sporting event in New York proper.
The Atlantic Avenue-Barclays Center station is served by no less than eight subway lines coming from many different parts of the city. The station is big (the Long Island Rail Road also stops at this terminal, for those fans heading in from the east), and depending on which line you're on, your walk may be surprisingly long.
But there are signs everywhere pointing the way to Barclays Center, and if you follow the directions and ascend the right staircases/escalators, you will emerge at street level with the arena staring you right in the face.
If you're driving in, get ready for a slog through Brooklyn streets. Though Barclays Center is located at a major intersection, of Atlantic and Flatbush avenues, it's not close to any highways, and during rush hour, getting anywhere quickly is difficult.
Parking at Barclays Center
Like almost anywhere in New York City, parking around Barclays Center is quite limited and mostly available through independent garages in the surrounding blocks.
Expect to pay at least $25 for a pass, and much higher if you get within a block or two of the arena. Barclays Center does offer advance-purchase parking through ParkWhiz.
Brooklyn hotels near Barclays Center
• EVEN Hotel Brooklyn – 0.4 miles away
• Holiday Inn Brooklyn Downtown – 0.4 miles away
• Fairfield Inn & Suites by Marriott New York Brooklyn – 0.4 miles away
Search for more Brooklyn hotels on Booking.com.
Map of the surrounding area
Things to do around the arena
As mentioned previously, Barclays Center occupies a major intersection in Brooklyn, with a major shopping center, the Atlantic Terminal Mall, across Atlantic Avenue and blocks of smaller shops, including a Modell's and a couple other sports souvenir shops, on the other side of Flatbush Avenue.
The mall has a few chain eateries — namely a Buffalo Wild Wings and a McDonald's, among others you'd typically find in malls — and big-box stores like Best Buy and Target.
Besides, Brooklyn is a big borough with a lot of very cool neighborhoods worth visiting such as Williamsburg and Park Slope, and they're within a 5- to 10-minute subway ride away (technically, Park Slope begins on the other side of Flatbush Avenue from the arena). So there's really no need to hang out in the vicinity of Barclays Center to have a good time before an event.
If it's your first time attending an event at Barclays Center, your time is probably better spent gawking at the beautiful plaza in front of the arena, particularly the oculus display that lights up the rest of the plaza with messages and ads and has become one of the most distinctive features of the arena.
For more on visiting Brooklyn, check out our New York City sports travel guide.
Brooklyn restaurants near Barclays Center
• Patsy's Pizzeria – pizza, 0.1 miles away
• Broccolino Italian Restaurant – Italian, 0.1 miles away
• McMahon's Public House – pub, 0.1 miles away
Search for more Brooklyn restaurants on Tripadvisor.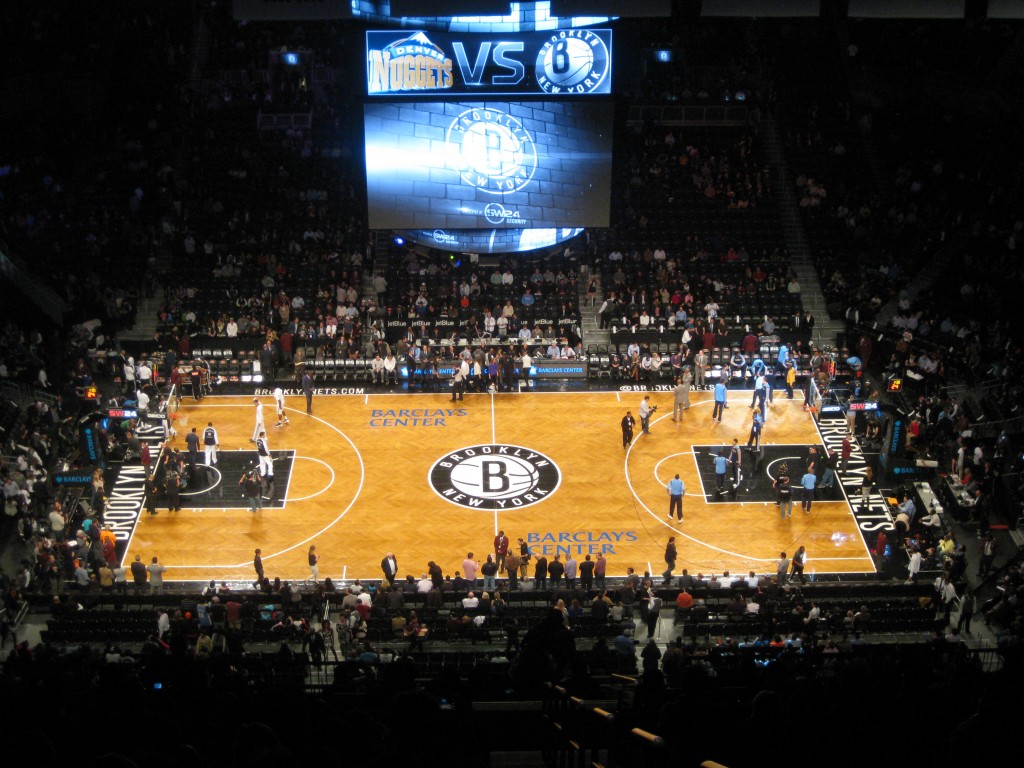 Watching a game at Barclays Center
Walk into Barclays Center through its main entrance and the first thing you'll notice is that you can see into the seating bowl.
It's a big opening, first of all, and they fill it very well with a big display of some sort — on the night we visited, because it was Jewish Heritage Night, there was a giant menorah — and, perhaps fittingly since Jay Z has his stamp all over this place, a DJ stand.
Of course, what it also means is that a larger-than-usual percentage of the seats in the arena, at least the ones above the lowest seating bowl, are along the sidelines rather than at the ends. At least for basketball and Brooklyn Nets games, the sight lines throughout the seating bowl at Barclays Center are top-notch.
That goes even if you're at the very top of the arena. Sure, the players were tiny, but it was tough to complain about the view — with one exception.
Many arenas, including this one, have a contiguous last row in the upper deck. If you're seated right at the aisle, you have a pretty clear view of Barclays Center's event floor — as long as nobody's walking up the aisle. But when it's high traffic and filled with late-arriving patrons, then you can expect your view to be obscured for longer than you'd probably like.
Wherever your seats are, though, do yourself a favor and walk around at some point. Even the concourses are nice at Barclays Center — wide and clean, with a few interesting displays that pay homage to Brooklyn's history, including sports teams of the past.
Interested in a suite at Barclays Center? Buy suite tickets on SuiteHop.
Food and drink at Barclays Center
Whatever your appetite for spending money is, the concessions have you covered, with a pretty wide-ranging menu, featuring items ranging from chicken parmesan sandwiches to Asian dumplings and Cuban sandwiches, and some good local fare.
Nathan's Famous offers its hot dogs here, and celebrity chef David Chang's Fuku stand sells fried chicken sandwiches.
Both concourses are filled with bars where you can stop and get a draft beer or a cocktail — nearly all of them are named after a different brand of alcoholic beverage. But for a family-friendly drink stop, head to the Hershey Bar for made-to-order milkshakes.
Original publish date: February 4, 2016
Most recent update: November 3, 2023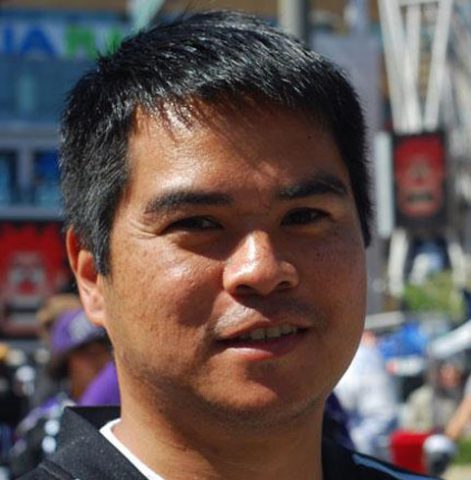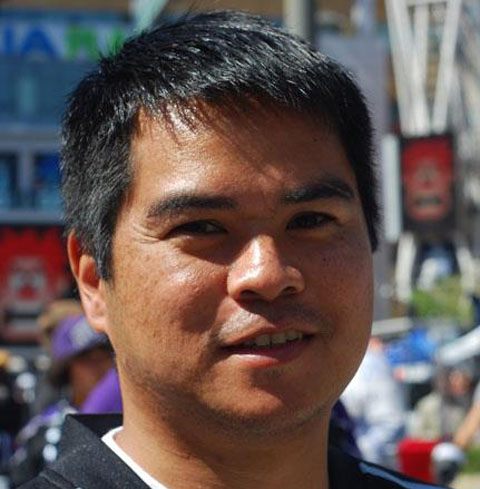 Edward de la Fuente | Itinerant Fan
I live for sports, and I love to travel. My biggest thrill is combining the two. I've been blogging about sports travel for more than a decade, and traveling for sports for twice as long.
About me | FAQ | Buy me a beer 🍺
Affiliate Disclosure
Please note that some of the links above are affiliate links, and at no additional cost to you, we earn a commission if you make a purchase. These recommendations are only for companies that we've used and have proven to enhance our sports travel experiences. To find out more about our affiliate partnerships, please read our Affiliate Disclaimer.
The Particulars
Home Teams
Brooklyn Nets
New York Liberty
Address
620 Atlantic Ave.
Brooklyn, NY 11217
Year Opened
2012
Capacity
17,732
Upcoming Events
All times local
Brooklyn Nets v. Washington Wizards (Friday Night Live)
Friday, December 8, 2023
7:30 pm
Get tickets at Ticketmaster »

Jonas Brothers: FIVE ALBUMS. ONE NIGHT.
Saturday, December 9, 2023
7:00 pm
Get tickets at Ticketmaster »

NABC Brooklyn Showcase
Sunday, December 10, 2023
11:30 am
Get tickets at Ticketmaster »

Madonna - The Celebration Tour
Wednesday, December 13, 2023
8:30 pm
Get tickets at Ticketmaster »

Madonna - The Celebration Tour
Thursday, December 14, 2023
8:30 pm
Get tickets at Ticketmaster »