Globe Life Field
Our guide to Globe Life Field in Arlington, home of the Texas Rangers, includes information on events, tickets, parking, public transportation, hotels and restaurants near the stadium, seating and more. Read on to find out how to get the most out of your gameday experience.
* * *
The Texas Rangers moved into a new stadium in 2020, but they didn't go far. Globe Life Field offers plenty of familiarity to go with the bells and whistles expected of a new ballpark.
Start with the name, which isn't change much from the name of the Rangers' old home stadium, Globe Life Park (now Choctaw Stadium). The location is pretty much the same as well — in the Dallas suburb of Arlington, just across the street from the old park and not far away from the Dallas Cowboys' home, AT&T Stadium.
The big difference, of course, is the retractable roof, much needed for the Dallas Metroplex's swelteringly humid summers.
The Rangers cited weather and the resulting attendance woes as the reason for building a new stadium despite Globe Life Park's relatively young age (it opened in 1994), and it received approval for public funding despite strong opposition.
Globe Life Field quickly took its place as the centerpiece of a redeveloped sports district that includes the Texas Live! entertainment complex and a repurposed old ballpark that hosts soccer and football games (it was the home for Dallas' short-lived XFL franchise).
When Globe Life Field finally opened to fans amid the COVID-19 pandemic in 2020, it was for MLB's centerpiece event — the playoffs. The ballpark hosted the National League Division and Championship Series, as well as the entire World Series between the Dodgers and Rays, that year.
As the Rangers try to climb back into the ranks of championship contenders, their new park is well worth a visit for ballpark chasers and casual fans alike.
For more on visiting the Dallas area, check out our Dallas/Fort Worth sports travel guide.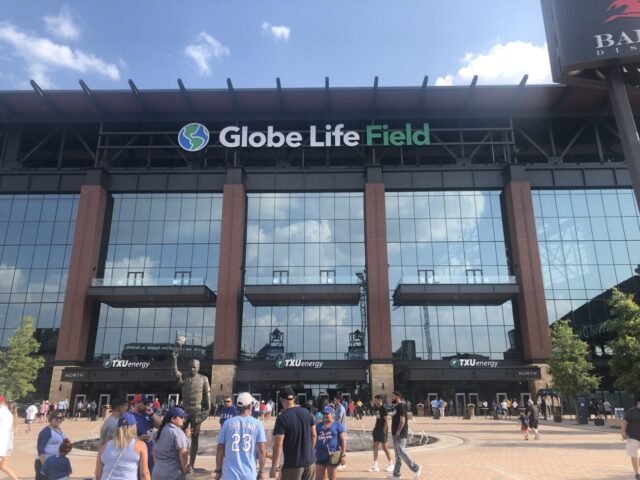 Getting to the ballpark
If you had ever visited the Rangers' old stadium during its day, then getting to Globe Life Field will feel somewhat familiar. The new place is just to the south of the old one, on the other side of Randol Mill Road. And if you know where AT&T Stadium is, Globe Life Field is located about a half-mile to the east.
For the uninitiated, though, it helps to have some knowledge of Arlington's location in the Metroplex. Though it's generally located between Dallas and Fort Worth, it is closer to the latter; if you're flying into town, the larger Dallas-Fort Worth International Airport is more convenient to Arlington than Dallas Love Field.
From there, it's a matter of navigating yourself to Arlington. Interstate 30 (Tom Landry Freeway) is the closest highway route to Globe Life Field, running east-west about a mile to the north. Exit at Ballpark Way for your most direct route to the park, though adjacent exits in either direction can help you avoid traffic if that exit gets too congested.
If you're looking for a public transit option to get to the game, you're out of luck. The Dallas/Fort Worth area is notoriously car-dependent; Dallas has a light rail system that is growing, but currently comes nowhere near Arlington. If you don't have a car, you'll have to rely on rideshare services to get you to your event at Globe Life Field.
Parking at Globe Life Field
Like the other sports stadiums in Arlington, Globe Life Field takes advantage of numerous parking lots for Rangers games and other events — both next to the park and in the surrounding blocks within a two-mile radius.
General-admission parking at Globe Life Field starts at $20 for lots to the north of the old ballpark and can get as expensive as $30 the closer you get. Currently, Toyota sponsors the lots, so most of them have names of the company's car models such as Sienna, Highlander and Tundra.
Budget parking hunters can also use one of a number of private businesses near Globe Life Field for cheaper rates. Try heading east on Randol Mill Road or south on Stadium Drive to find independent parking for Globe Life Field events.
Arlington hotels near Globe Life Field
• Live! by Loews – Arlington, TX – 0.3 miles away
• Sheraton Arlington Hotel – 0.5 miles away
• Courtyard Dallas Arlington/Entertainment District – 0.7 miles away
Search for more Arlington hotels on Booking.com.
Map of the surrounding area
Things to do around the ballpark
Arlington's reputation as an entertainment destination has grown over the years, thanks not just to its sports venues but also to the presence of a major amusement park, Six Flags Over Texas, and a handful of cultural sites.
But for the entirety of the Rangers' existence in Arlington, first at the old Arlington Stadium and then at Globe Life Park, there hasn't been much in the way of entertainment options catering specifically to the sports fan.
With Globe Life Field, that has changed with the construction of Texas Live!, located immediately north of the ballpark. The complex contains a number of restaurants and bars, as well as a hotel/convention center (Live! by Loews) and a live performance venue.
Of course, this is most fans' first option when considering where to spend their pregame time, but you could also find a number of restaurants closer to the Tom Landry Freeway and near Six Flags. Most of these options are of the chain/family variety but could be worth your time before a Rangers game or other Globe Life Field event.
Arlington restaurants near Globe Life Field
• Lockhart Smokehouse – barbecue, 0.1 miles away
• Sports and Social – American, 0.2 miles away
• Troy's – pub, 0.2 miles away
Search for more Arlington restaurants on Tripadvisor.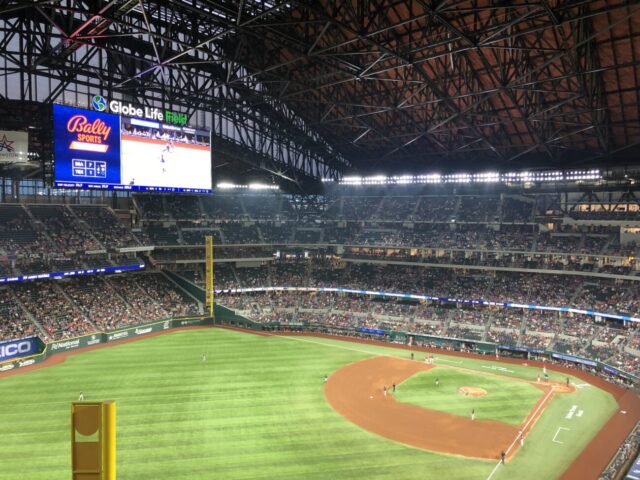 Watching a game at Globe Life Field
Texas Live! serves as a sort of front porch to the ballpark, as fans can walk through it to get to the northwest entry adjacent to left field. But there are gates on all sides (the west side, over which the roof hangs when it's not covering the diamond, has just VIP entrances), and for fans who are approaching from the south, there are easy ways to get in as well.
Before you head in, look around the ballpark for a number of statues that have been added, including one of favorite son Nolan Ryan tipping his cap, one of Rangers great Ivan Rodriguez squatting behind the plate and one of former Rangers Neftali Feliz and Bengie Molina celebrating the team's first American League pennant in 2010.
Once inside, Globe Life Field resembles its predecessor in a lot of ways, from brick archways to spacious concourses, a baseball-friendly seating bowl and plenty of reminders of the Rangers' long history.
The one difference, of course, is the roof, which protects fans from the elements during the hot and humid summers and allows for air conditioning to course through Globe Life Field's seating bowl.
In that respect, it certainly makes the Globe Life Field experience a comfortable and pleasurable one. In terms of ballpark ambiance, though, it's still finding its footing.
It's difficult to identify a defining visual feature that compares to the white-accented office building in the outfield of the old joint. And the exterior resembles a warehouse more than it does a ballpark, which has drawn plenty of criticism.
If you're not into comparing Globe Life Field to its ballpark peers, though, it's a decent-looking and perfectly serviceable facility, especially once you go inside.
The two large videoboards, especially the one that hangs over right field, seem like the perfect accoutrements for a ballpark in the modern age. The roof is partially made up of transparent ETFE panels, allowing for natural light to enter into the seating bowl.
Other than a handful of sections in left-field that integrate with the ballpark's support columns to create a terrace-like feel, the seating bowl at Globe Life Field is pretty standard for baseball.
Food and drink at Globe Life Field
At their old stadium, the Rangers built a reputation for offering large and somewhat audacious concessions items, and they've carried that over to the food selection at Globe Life Field as well.
You can find long items like the Boomstick, a two-foot hot dog, and the Fowl Pole, a two-foot chicken tender. This being Texas, barbecue is readily available in items like brisket nachos and brisket egg rolls.
Check out the various Barrel Up stands around the park for your best sense of beer selection. The usual suspects are available, but check out offerings from Texas-based Legal Draft Beer Co. (located in Arlington) and Karbach Brewing.
For the latter, head up to the upper deck in left field for the Karbach Brewing Sky Porch, where you can have a brew, play patio games and watch the game from a unique, albeit far-away, perch.
Original publish date: February 4, 2020
Most recent update: March 23, 2023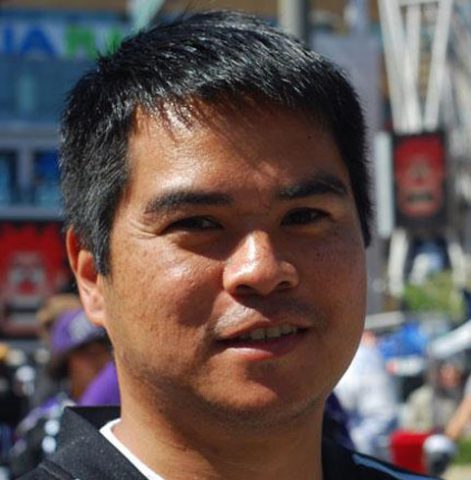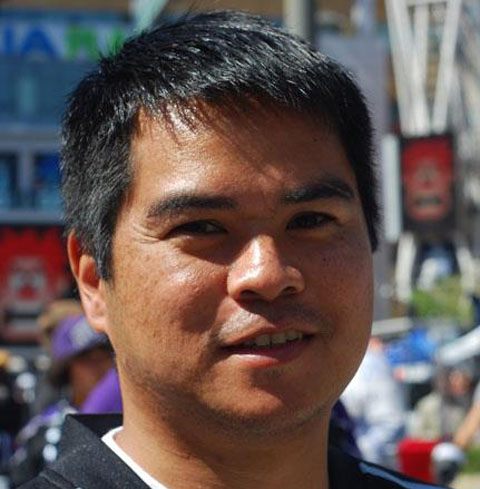 Edward de la Fuente | Itinerant Fan
I live for sports, and I love to travel. My biggest thrill is combining the two. I've been blogging about sports travel for more than a decade, and traveling for sports for twice as long.
About me | FAQ | Buy me a beer 🍺
Affiliate Disclosure
Please note that some of the links above are affiliate links, and at no additional cost to you, we earn a commission if you make a purchase. These recommendations are only for companies that we've used and have proven to enhance our sports travel experiences. To find out more about our affiliate partnerships, please read our Affiliate Disclaimer.
The Particulars
Home Teams
Texas Rangers
Address
734 Stadium Drive
Arlington, TX 76011
Year Opened
2020
Capacity
40,300
Upcoming Events
All times local
P!NK: Summer Carnival 2023
Friday, September 29, 2023
6:30 pm
Get tickets at Ticketmaster »

RBD - Soy Rebelde Tour 2023
Saturday, September 30, 2023
8:00 pm
Get tickets at Ticketmaster »

Kane Brown: In The Air Tour
Saturday, September 14, 2024
6:30 pm
Get tickets at Ticketmaster »