Caesars Superdome
Our guide to the Caesars Superdome in New Orleans includes information on events, tickets, parking, public transportation, nearby hotels and restaurants, seating and more. Read on to find out how to get the most out of your gameday experience.
* * *
In New Orleans, home of many iconic places and structures, the Superdome — home of the New Orleans Saints — still stands out as an instantly recognizable building in the skyline of the Big Easy.
In the sports world, its legendary status is secure thanks to a history that includes eight Super Bowls, five Final Fours, countless important college football games and, of course, many New Orleans Saints games. And big events continue to come, the latest being the NCAA men's Final Four in 2022.
And you can no longer talk about the Superdome's history without mentioning what happened during Hurricane Katrina in 2005, or how the rehabilitation of the stadium and the return of the Saints a year later helped revitalize a downtrodden city.
Whether your travels to New Orleans are sports-focused or are simply there to see everything the city has to offer, seeing the Saints or any other event at the Superdome is a worthy item to have on your Big Easy itinerary.
The world's largest fixed-dome stadium also got a new naming sponsor for 2021, as it is now known as the Caesars Superdome.
Looking for Caesars Superdome event tickets? Search events on Ticketmaster.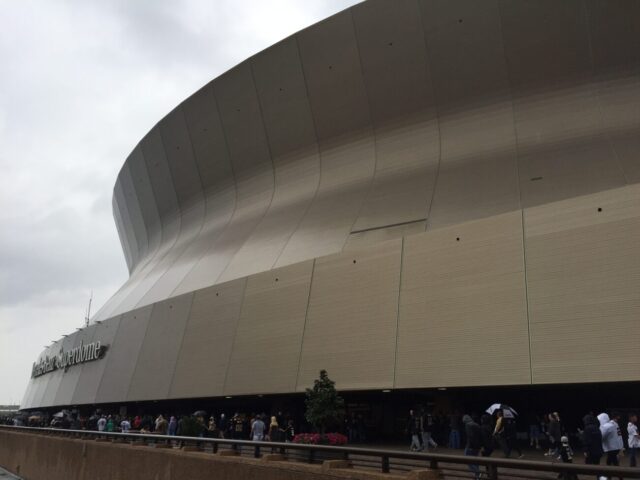 Getting to the stadium
The Superdome (originally known as the Louisiana Superdome before Mercedes-Benz bought the naming rights in 2011) is a huge structure that's easy to spot from many angles when approaching the downtown area. And because it has been home to so many high-profile events, it's easy to recognize whether you're an avid sports fan or not.
Interstate 10 runs right by the facility as it makes a 90-degree turn while cutting through the city's Central Business District — follow signs for nearby exits as you approach. (Coming from the west, the Superdome-Claiborne Avenue exit is most prominent, and the stadium is directly in front of you.)
If you're visiting, chances are you're staying in a hotel. Most of central New Orleans' major hotels are located between the popular French Quarter and the Superdome — the closest one is the Hyatt Regency, practically next door — and are within relatively easy walking distance (read: a mile or less). Girod or Poydras streets offer the most direct access.
If you don't feel like hoofing it, riding one of the city's famed streetcars to the game is a viable option. The Loyola-UPT line runs along Loyola Avenue, just a couple blocks east of the stadium, and has several stops that are convenient.
Parking at the Superdome
The Superdome is surrounded by a number of parking garages (most of which are attached to the building) and lots that service both the dome and the adjacent Smoothie King Center.
Note that cash is not accepted if you're purchasing parking upon arrival at the Superdome, but parking permits can also be bought in advance.
If you're looking to save money on parking for a Superdome event, you can stash your car in one of the many independent parking lots around the Central Business District. You'll have to walk farther to get to the stadium, of course, but you are in better position to take advantage of the area's many nightlife and restaurant options.
Looking for parking at Caesars Superdome? Buy parking on SpotHero.
New Orleans hotels near the Superdome
• Hyatt Regency New Orleans – 0.3 miles away
• Hyatt House New Orleans Downtown – 0.3 miles away
• Holiday Inn New Orleans-Downtown Superdome – 0.4 miles away
Search for more New Orleans hotels on Booking.com.
Map of the surrounding area
Things to do around the stadium
There are so many great reasons to visit New Orleans, and football is just one of them. Even if your main reason for visiting is to see a game, you'll find there's plenty of time and opportunity to enjoy everything else the Big Easy has to offer.
Just stroll down Bourbon Street on a gameday and you'll find Saints colors, jerseys of that day's opposing team and even a few random NFL jerseys. And the same goes for college football, college basketball or any other event happening at the Superdome.
If you're looking for a good pregame option for eating or drinking, you have dozens if not hundreds of options in the French Quarter and Central Business District, including nearly all of the places you've likely heard of if you've spent any amount of time planning a trip to New Orleans — Mother's, Pat O'Brien's, Acme Oyster House and Cafe Du Monde, to name just a few.
Keep in mind that the deeper into the French Quarter you get, the farther you'll have to walk to get to the Superdome for your event. If you are north of Canal Street, count on a walk of at least a mile; if you're close to the Mississippi River, boarding the streetcar becomes an attractive option.
There are a handful of restaurants closer to the Superdome, including establishments that cater to sports fans and other patrons stopping in before Superdome events. But if you're looking for "famous" eateries, you'll have to head to the French Quarter.
For more on visiting New Orleans, check out our New Orleans sports travel guide.
New Orleans restaurants near the Superdome
• Vitascope Hall – American, 0.1 miles away
• Borgne – American, 0.2 miles away
• Walk-On's Sports Bistreaux – American, 0.2 miles away
Search for more New Orleans restaurants on Tripadvisor.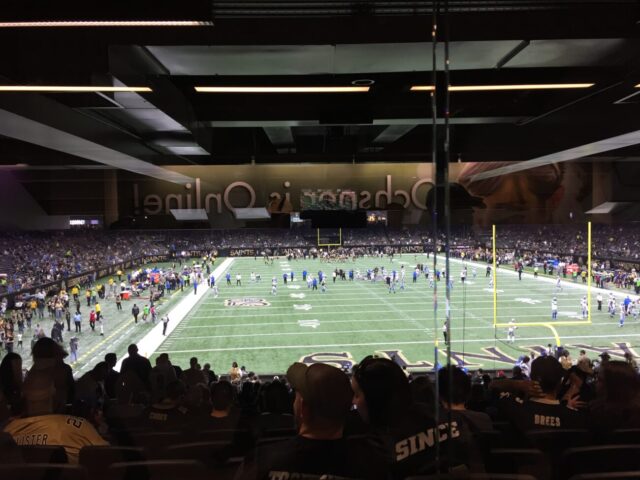 Watching a game at the Superdome
Despite fairly limited space for parking around the stadium, there's still plenty of tailgating going on. For Saints games, they utilize a plaza just east of the Superdome, next to the Hyatt Regency, called Champions Square, for pregame parties and other events — admission is free and the festivities include live music, food and drink and more.
In addition, next door is a private party area the team has christened "Club XLIV," in homage to the Saints' lone Super Bowl championship, that is accessible to groups for a fee.
You'll have to go up either steps or a ramp to reach the plaza surrounding the Superdome. Look out for the "Rebirth" statue that the team placed in the plaza's southeast corner in 2012, depicting Steve Gleason's famous blocked punt.
Once you're inside the dome, you'll be able to appreciate the sheer size of it. Any stadium that has a level of sections numbered in the 600s must be pretty big, and you'd be right to assume that the uppermost seating areas at the Superdome are both really high and really far away.
In fact, the Superdome's highest rows are so high up that there are two concourses for the 600 level, and escalators are available for patrons seated in row 20 or higher so that you don't have to hoof it up steep aisle steps.
The Superdome's round shape means the highest seating rows are at least only along the sidelines, so what you lose in distance from the field you at least make up for in being closer to the 50-yard line.
If you still have trouble seeing, at least you can catch some of the action on the gigantic new HD screens installed behind each end zone prior to the 2016 season. Meanwhile, the concourses are surprisingly narrow, even on the main level, leading to the crowded feel.
There are four different concourse seating levels at the Superdome, with the majority of the attractions being on the 100 level, including the Saints team store and Saints Hall of Fame (both between Gates A and B).
Interested in a suite at the Caesars Superdome? Buy suite tickets on SuiteHop.
Food and drink at the Superdome
The stadium's concessions options aren't exactly diverse but do include a few New Orleans staples among the usual hot dogs and pizza.
You can get alligator po'-boys, fries topped with roast beef "debris," beer-can chicken bowls and Cubano sandwiches. Look for the Parish Grill or King's Table stands to find food choices beyond the typical stadium fare.
For local craft beer selection, check out the choices from NOLA Brewing or Dixie Brewing Company.
Original publish date: February 4, 2016
Most recent update: August 24, 2023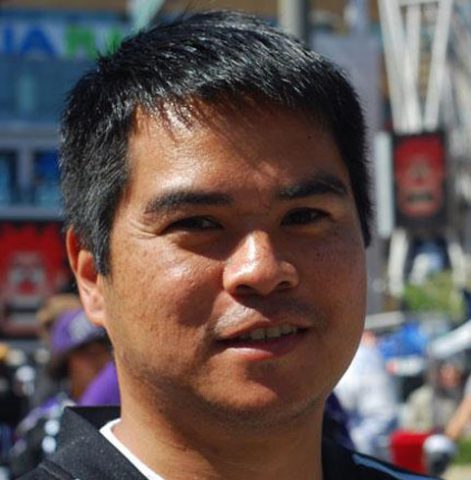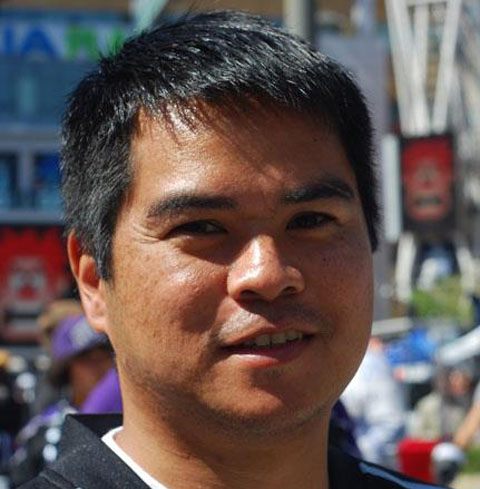 Edward de la Fuente | Itinerant Fan
I live for sports, and I love to travel. My biggest thrill is combining the two. I've been blogging about sports travel for more than a decade, and traveling for sports for twice as long.
About me | FAQ | Buy me a beer 🍺
Affiliate Disclosure
Please note that some of the links above are affiliate links, and at no additional cost to you, we earn a commission if you make a purchase. These recommendations are only for companies that we've used and have proven to enhance our sports travel experiences. To find out more about our affiliate partnerships, please read our Affiliate Disclaimer.
The Particulars
Home Teams
New Orleans Saints
Address
1500 Sugar Bowl Drive
New Orleans, LA 70112
Year Opened
1975
Capacity
76,468
Upcoming Events
All times local
New Orleans Saints vs. Detroit Lions
Sunday, December 3, 2023
12:00 pm
Get tickets at Ticketmaster »

2023 LHSAA Prep Classic - ANY Game Thursday, Dec. 7, 2023
Thursday, December 7, 2023
12:00 am
Get tickets at Ticketmaster »

2023 LHSAA Prep Classic - ANY Game Friday, Dec. 8, 2023
Friday, December 8, 2023
12:00 am
Get tickets at Ticketmaster »

2023 LHSAA Prep Classic - ANY Game Saturday, Dec. 9, 2023
Saturday, December 9, 2023
12:00 am
Get tickets at Ticketmaster »

New Orleans Saints vs. Carolina Panthers
Sunday, December 10, 2023
12:00 pm
Get tickets at Ticketmaster »