Cameron Indoor Stadium
Our guide to Cameron Indoor Stadium, home of the Duke Blue Devils, includes information on events, tickets, parking, nearby hotels and restaurants, seating capacity and more. Read on to find out how to get the most out of your gameday experience.
* * *
If you're a college basketball fan, you almost certainly have Duke's Cameron Indoor Stadium on your list of places to visit.
And why not? The history of Duke's storied men's basketball program is an allure in itself. Even though the architect of all that glory, coach Mike Krzyzewski, is now retired, the Blue Devils continue to be one of the sport's blue blood programs and promises to be elite for the foreseeable future.
Coach K is honored with his name on the court at Cameron Indoor Stadium, which offers an intimate seating capacity, a close-knit on-campus feel and an atmosphere that exemplifies what college hoops is all about.
Duke's women's basketball program is not that far behind, and enjoys similar student body and community support.
Plus, a visit to Cameron means heading to Durham, one of the three "college town" areas that make up North Carolina's Research Triangle. And stepping on the Duke campus can be a treat in and of itself.
Looking for Cameron Indoor Stadium event tickets? Search events on Ticketmaster.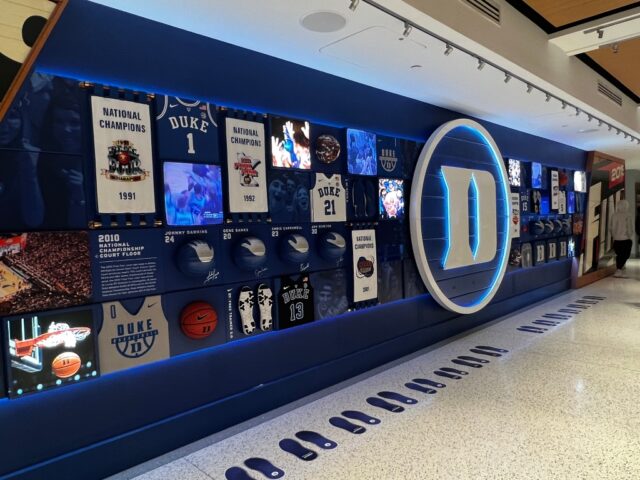 Getting to the arena
If you've never been to the Raleigh/Durham region, think of the three college cities — Raleigh, Durham and Chapel Hill — as points on a pyramid. Durham is the top point, and while it's a pretty large city by itself (big enough to host a Triple-A baseball team) Duke University is a large presence.
Visitors to the area who arrive via Raleigh/Durham International Airport have a drive of about 15 miles to Durham and the Duke campus. From the airport grounds, head west on Interstate 40, then north on Interstate 885 before following North Carolina state route 147 toward Duke.
The Blue Devils' sports facilities occupy the southern part of Duke's sprawling campus. Cameron Indoor Stadium is nestled amid several larger facilities, including the football team's Wallace Wade Stadium and the Jack Coombs baseball field.
On basketball game days at Cameron Indoor Stadium, there will be plenty of signs and traffic cops guiding fans toward the proper parking areas.
The Research Triangle doesn't have much in the way of public transportation, and thus if you're looking to attend a Duke basketball game and don't have a car, you'll have to rely on rideshare services.
The designated gameday rideshare dropoff/pickup spot is in the parking lot at the corner of Union Street and Towerview Road, across from the Duke Student Wellness Center and a short walk north of Cameron Indoor Stadium.
Parking at Cameron Indoor Stadium
Several on-campus parking lots and structures are utilized for Duke basketball games at Cameron Indoor Stadium. For general parking, most options can be found north of the arena and are accessible by taking Erwin Road, turning onto Research Drive or LaSalle Street and getting onto Circuit Road.
General parking rates begin at $25 and can be purchased in advance on Duke's website (note: it requires creating an account).
Follow the link to find a map for men's basketball parking and traffic patterns.
For women's basketball games at Cameron Indoor Stadium, the Science Drive Garage along Cameron Drive is the primary parking spot for fans. Parking is free.
Durham hotels near Cameron Indoor Stadium
• JB Duke Hotel – 0.2 miles away
• Washington Duke Inn & Golf Club – 0.4 miles away
• AC Hotel by Marriott Durham – 0.8 miles away
Search for more Durham hotels on Booking.com.
Map of the surrounding area
Things to do around the arena
With Cameron Indoor Stadium situated deep within Duke's campus grounds, there won't be much to do in the immediate vicinity, but that's OK.
For nearby restaurants, do what the Dookies do and head over to the typical student hangouts. Erwin Street, which serves as something of a dividing line between the campus and student residences, boasts a row of eateries that typically bustle with student activity.
Or, depending on what time of day the event at Cameron Indoor Stadium is, on-campus eateries are an option. Visit The Plaza on the center of campus, north of Towerview Road, for a cluster of food purveyors as well as the university bookstore.
Farther away, 9th Street is a popular off-campus stomping ground for many Duke students. The corridor is located on the other side of State Route 147, about 1 1/2 miles away from Cameron Indoor Stadium.
Though frequented more by the general Durham community rather than the Duke student population, the shopping district along Durham-Chapel Hill Road about three miles south of campus offers numerous restaurants, many of the chain variety.
As the name suggests, the main road is a major connector between the cities of Durham and Chapel Hill, home of Duke's archrival, the University of North Carolina. The two campus are separated by just 11 miles.
For more on visiting Durham, check out our Raleigh/Durham sports travel guide.
Durham restaurants near Cameron Indoor Stadium
• Namu Restaurant & Coffee Bar – Asian, 0.4 miles away
• Pomegranate Kitchen – Persian, 0.4 miles away
• Bob Evans – American, 0.4 miles away
Search for more Durham restaurants on Tripadvisor.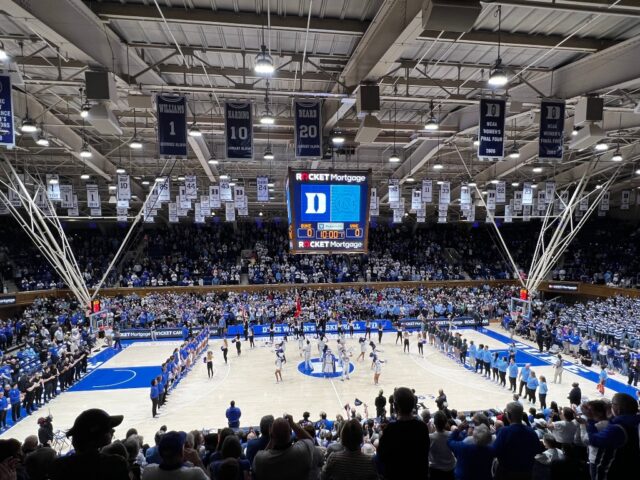 Watching a game at Cameron Indoor Stadium
Put Cameron Indoor Stadium just about anywhere else, and it will look and feel like any ol' midsize-capacity, historic college basketball gym. It's the success of the Duke men's basketball program over the last four decades — and the fact that its home arena hasn't grown much despite the consistently growing demand — that makes Cameron a special place to visit.
Even after Coach K's retirement, the "Cameron Crazies" — the Duke students that fill up the student seating sections — still line up outside Cameron Indoor Stadium hours before tipoff, and sometimes days in advance if the game is big enough, to secure their places inside.
Like many other buildings on Duke's campus, Cameron Indoor Stadium's exterior is done in the English Gothic style, and walking up to its main entrance invokes the feeling of approaching a small castle.
Fans enter one of four arched doorways into a small atrium, where athletic department and sponsorship tables are typically set up, but the back walls are full of displays to Duke basketball's storied history — including pieces of Final Four floors and other artifacts from championship seasons.
If you'd like a deeper dive into the program's history, the Duke Basketball Museum is located at the back side of Cameron Indoor Stadium. The museum is free to visitors and typically open Mondays through Saturdays from 10 a.m. to 4 p.m., with adjusted hours if there is a football or men's basketball game taking place. Visit the museum's website for information on hours on the day you plan to visit.
As for gamedays, Cameron Indoor Stadium's seating setup is pretty basic — after all, a 9,000-capacity venue doesn't demand anything intricate.
Sections 17-20, are accessed by walking in at floor level, and are mainly reserved for students, the Duke band and important people to the program. Meanwhile, Sections 1-16 surround the gym and require fans to walk up staircases, some fairly narrow, to reach their seats.
Once you're in your seat, the quaintness of Cameron Indoor Stadium's atmosphere really hits you, and it's quite unique for a major college basketball program. The overhead videoboard is modern but small, while the baskets extend from the ceiling instead of being mounted on stanchions on the floor.
The number of banners — both to commemorate championships and great players — fill up the rafters and are a testament to both Duke basketball's rich history and the small size of the arena.
Food and drink at Cameron Indoor Stadium
At a college facility, not to mention one with as small a capacity as Cameron Indoor Stadium, you might not expect the food selection to be anything special. However, there are a few pleasant surprises.
The North Carolina fast food chain Bojangles has a presence at Cameron, with several booths offering chicken tenders and sandwiches. Carolina BBQ sandwiches are also available at Hog Heaven stands. These stands, and other selections such as pimiento cheese sandwiches, can be found in the Hall of Honor, an atrium adjacent to sections 13-16.
The usual sporting-event staples, like hamburgers, hot dogs, peanuts and popcorn, can be purchased at numerous food windows along the upper concourse.
Original publish date: November 5, 2023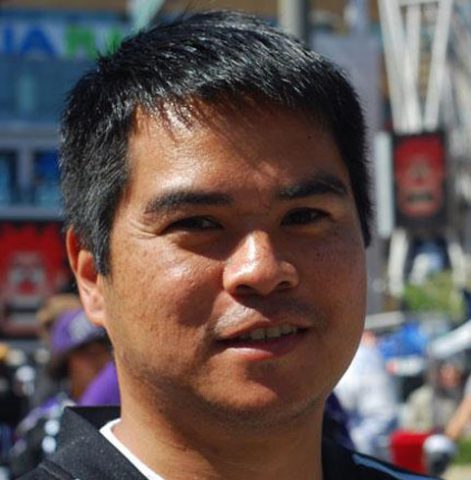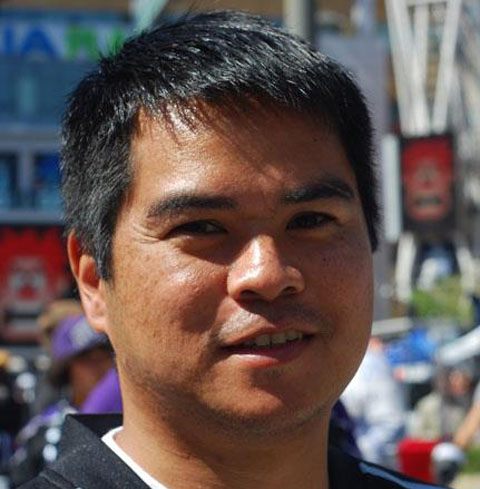 Edward de la Fuente | Itinerant Fan
I live for sports, and I love to travel. My biggest thrill is combining the two. I've been blogging about sports travel for more than a decade, and traveling for sports for twice as long.
About me | FAQ | Buy me a beer 🍺
Affiliate Disclosure
Please note that some of the links above are affiliate links, and at no additional cost to you, we earn a commission if you make a purchase. These recommendations are only for companies that we've used and have proven to enhance our sports travel experiences. To find out more about our affiliate partnerships, please read our Affiliate Disclaimer.
The Particulars
Home Teams
Duke Blue Devils
Address
115 Whitford Drive
Durham, NC 27708
Year Opened
1940
Capacity
9,314
Upcoming Events
All times local
Duke Blue Devils Mens Basketball vs. UNC Charlotte 49ers Mens Basketball
Saturday, December 9, 2023
2:15 pm
Get tickets at Ticketmaster »

Duke Blue Devils Womens Basketball vs. Florida Gulf Coast Eagles Womens Basketball
Sunday, December 10, 2023
12:00 pm
Get tickets at Ticketmaster »

Duke Blue Devils Mens Basketball vs. Hofstra Pride Mens Basketball
Tuesday, December 12, 2023
7:00 pm
Get tickets at Ticketmaster »

Duke Blue Devils Womens Basketball vs. Toledo Rockets Womens Basketball
Wednesday, December 20, 2023
7:00 pm
Get tickets at Ticketmaster »

Duke Blue Devils Womens Basketball vs. Coppin State Eagles Womens Basketball
Thursday, December 28, 2023
7:00 pm
Get tickets at Ticketmaster »