Guaranteed Rate Field
Our guide to Guaranteed Rate Field in Chicago includes information on events, tickets, parking, public transportation, nearby hotels and restaurants, seating, food and more. Read on to find out how to get the most out of your gameday experience.
* * *
The Chicago White Sox are the polar opposites of their intracity rivals, the Cubs, in many ways, and you can count their stadiums among the reasons why.
While Wrigley Field gets lauded (and rightfully so) for being an old-timey, brick-and-steel structure nestled in a trendy neighborhood, the White Sox's Guaranteed Rate Field is a concrete stadium in a far less vibrant area, lacking both the history and charm that makes Wrigley so celebrated.
And don't get us started on the name changes. What once was the second coming of Comiskey Park gave in to corporate naming rights and became U.S. Cellular Field, and then Guaranteed Rate Field in 2016 to the chagrin of many.
Other than the name, blame circumstance for the yard's lack of charisma — it was constructed just before asymmetrical, retro ballparks became all the rage, dooming it to become viewed as a concrete relic even before it could celebrate a decade of existence.
Still, watching a game at Guaranteed Rate Field isn't all bad. South Siders, like their team, are rarely about flash and gimmicks — with them, what you see is what you get. As long as you're not all about fancy bells and whistles, you'll be able to enjoy a night at this ballpark as much as any other in the majors.
For more on visiting Chicago, check out our Chicago sports travel guide.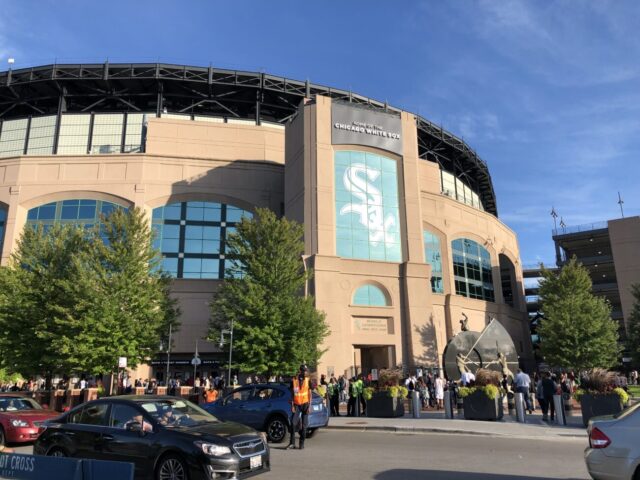 Getting to the ballpark
Access to Guaranteed Rate Field isn't much of a problem, what with a major highway and the CTA train, known around town as the "L," running right by it.
For "L" riders, the closest station to Guaranteed Rate Field is Sox/35th (conveniently named for the uninitiated) on the Red Line, which runs through the Loop area and also goes to Wrigley Field. The station is along the Dan Ryan Expressway so riders just need to go up to street level and cross Wentworth to reach the park.
You can also reach the park via the Green Line; disembark at 35th-Bronzeville-IIT, though know it's a walk of about three extra blocks.
Interstate 90, aka the Dan Ryan Expressway, is the primary route of choice for drivers coming from the Loop, Near North or other points north; exit at 35th Street to get to the ballpark, which you'll undoubtedly have spotted on the approach from at least a couple miles away. Follow the link for more detailed driving directions.
Parking at Guaranteed Rate Field
Parking lots for Guaranteed Rate Field are available on both the north and south sides of 35th Street once you pass Wentworth Avenue (that includes Lot G, on the opposite side of the elevated train tracks that run just west of the park).
Parking in a Guaranteed Rate Field lot typically costs $27, but advance purchase permits are available at a small discount, and parking rates fall to $17 for Sunday games. Credit cards are also accepted at fare booths when you enter. You can follow the link for parking information at Guaranteed Rate Field and to purchase permits in advance.
Chicago hotels near Guaranteed Rate Field
• Chicago South Loop Hotel – 1.1 miles away
• Home2 Suites by Hilton Chicago McCormick Place – 1.6 miles away
• Hampton Inn Chicago McCormick Place – 1.6 miles away
Search for more Chicago hotels on Booking.com.
Map of the surrounding area
Things to do around the ballpark
With residential neighborhoods, a high school and a church nearby, you might assume there isn't a whole lot to do in the way of places to get food or hang out around Guaranteed Rate Field before first pitch.
Indeed, the ballpark doesn't have the developed entertainment districts a lot of other venues have, but that's perfectly OK because you can find some sports-fan hangouts with a neighborhood feel if you're willing to venture a few blocks away — see the restaurant list at the end of this section.
The relative lack of options shouldn't be much of a problem, though, especially if you choose to take the L in. Just hang out in one of the city's more vibrant areas and then hop on the train. Unless it's a weekend day or a big game for the White Sox, crowds aren't usually a problem for those riding to the game.
If you've parked in a Guaranteed Rate Field lot along 35th Street, you'll probably notice the structure directly across the street. The Chicago Sports Depot, a large retail store devoted to sports merchandise for all of the Windy City's teams.
Next door is the ChiSox Bar and Grill, a fairly large sports pub where you can eat, drink, catch other games and so on. Both establishments are open whether it's a gameday or not. The building containing the restaurant is attached to Guaranteed Rate across the street via two pedestrian bridges, so you can ascend the nearby staircase to enter the park.
While you're in the area, take a look at the parking lot just north of the Chicago Sports Depot. Just off the curb is a marker in the asphalt noting the spot of home plate at the old Comiskey Park, the venue the White Sox called home for 80 years before building the current digs across the street.
Chicago restaurants near Guaranteed Rate Field
• ChiSox Bar and Grill – pub, 0.1 miles away
• 35th Street Red Hots – fast food, 0.2 miles away
• Cork & Kerry at the Park – bar, 0.3 miles away
Search for more Chicago restaurants on Tripadvisor.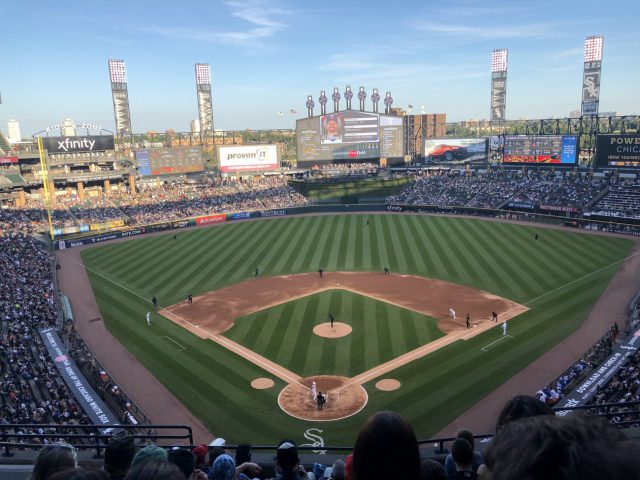 Watching a game at Guaranteed Rate Field
The White Sox have a long and rich history, even if it didn't include a championship team for quite a long time. The crosstown Cubs' 108-year curse that ended in 2016 overshadowed the fact that it took the Sox 88 seasons to overcome their own drought with their 2005 World Series win.
Meanwhile, the Sox's fans tend to be more of the blue-collar type, especially in comparison to their North Side rivals. Both factor greatly into the gameday experience at Guaranteed Rate Field, ranging from the arrangement of the seating bowl to the food.
The most common complaint about the ballpark when it first opened was an unusually steep and high upper deck, but the White Sox addressed the issue in 2004 by removing eight rows of seats from the upper sections, as well as installing a shade canopy. Now, seating in what's known as the 500 level at Guaranteed Rate Field is a perfectly fine experience on par with most other ballparks.
The new ballpark's most obvious tribute to the old one is the main scoreboard behind center field, known as the "exploding scoreboard" for the fact that it lights up and fireworks shoot from it whenever a Sox player homers or the team wins (the term was coined by former team owner Bill Veeck, who first had such a scoreboard installed at the old Comiskey).
Speaking of the outfield, the concourse behind the bleachers is popular before and during games. There's a party patio above it, in center field, as well as the Bullpen Sports Bar below it (in right field, at field level), a kids' play area in left field, several statues of White Sox greats (the twin statues of Nellie Fox and Luis Aparicio turning a double play is our particular favorite) and mementos like a shower from the old Comiskey (yes, it works!).
In fact, if you get tired of watching the game from wherever your seating area is, venture out into Guaranteed Rate Field's outfield concourse, buy a cold one and have a merry old time.
Don't be deterred at all by sternly worded signs throughout the upper deck warning 500-level ticket holders that they can't access any lower levels. During a recent visit, we headed down during the middle innings, walked in like we knew what we were doing and made no eye contact with any ushers, and no one was the wiser.
Food and drink at Guaranteed Rate Field
In a food town with as much to offer as Chicago does, the concessions options at Guaranteed Rate Field don't disappoint. But they stick to the meat-and-potatoes of local cuisine, so items such as Chicago-style hot dogs, Italian and Polish sausages, deep dish pizza and Italian beef sandwiches are all available.
If you are in Guaranteed Rate Field's outfield concourse, be ready for some long lines at the more popular food stands, especially the ice cream stands if it's a warm day or evening. But it's a communal atmosphere and fans and vendors are alike are usually cheerful in this area.
Like its counterpart Wrigley Field, Guaranteed Rate Field's beer selection is heavy on Anheuser-Busch brands — including Goose Island, a well-known Chicago-based brewery. Smaller regional brands such as Half Acre and 3 Floyds are available, and unlike Wrigley, so is longtime Chicago favorite Old Style.
For the best selection of beer in the ballpark, head to the Craft Kave in right field, where a large bar and a seemingly endless fridge full of beer cans await ballpark beer fans.
Original publish date: February 4, 2016
Most recent update: March 18, 2023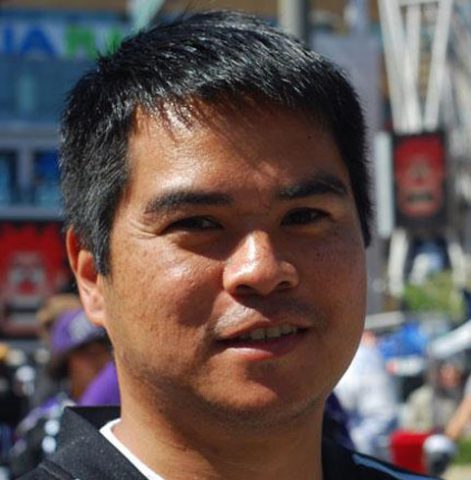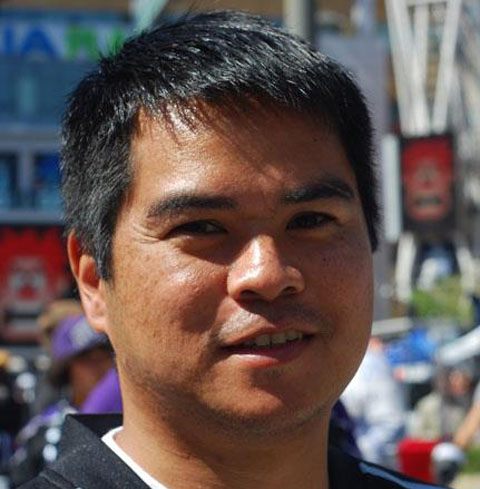 Edward de la Fuente | Itinerant Fan
I live for sports, and I love to travel. My biggest thrill is combining the two. I've been blogging about sports travel for more than a decade, and traveling for sports for twice as long.
About me | FAQ | Buy me a beer 🍺
Affiliate Disclosure
Please note that some of the links above are affiliate links, and at no additional cost to you, we earn a commission if you make a purchase. These recommendations are only for companies that we've used and have proven to enhance our sports travel experiences. To find out more about our affiliate partnerships, please read our Affiliate Disclaimer.
The Particulars
Home Teams
Chicago White Sox
Address
333 W. 35th St.
Chicago, IL 60616
Year Opened
1991
Capacity
40,615
Upcoming Events
All times local
Chicago White Sox vs. Philadelphia Phillies
Sunday, December 31, 2023
6:10 pm
Get tickets at Ticketmaster »