Emirates Stadium
Our guide to Emirates Stadium in London includes information on events, tickets, parking, public transportation, nearby hotels and restaurants, seating and more. Read on to find out how to get the most out of your gameday experience.
* * *
Part of the fun of visiting many of the grounds in English soccer is to see how well the stadium incorporates itself within the existing neighborhood.
Understandably, this is sometimes dependent on how old the facility is. But then you visit a newer one like Emirates Stadium, the home of Arsenal F.C., and you come to realize that even newer grounds can be designed to fit right in with the community around it.
Yes, Arsenal is a beloved part of the North London neighborhood in which it's located — so much so that the nearby Underground station is named, simply, "Arsenal," and its old ground, rather than being torn down, was redeveloped to serve the community in a different way (more on both of those below).
Matchdays at Emirates Stadium is when that big-event feel comes into play, of course, with seemingly the whole surrounding area keyed up to watch the Gunners in action.
And the ground does a great job of conveying that atmosphere, as well as portraying the history of one of the country's most successful and popular clubs.
Open since 2006, Emirates Stadium holds up well against the modern stadiums of the Premier League as well.
Buy tickets for Emirates Stadium events on LiveFootballTickets.com.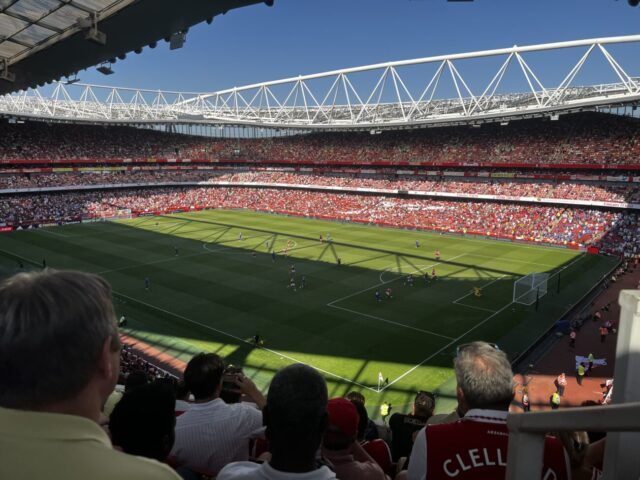 Getting to the stadium
Located just a few miles north of central London, Emirates Stadium is one of the easiest Premier League grounds to reach (the stadium for Arsenal's North London rival, Tottenham Hotspur, is several more miles to the north).
As with most points of interest around London, the city's famed Underground subway system is the best way to get to Emirates Stadium, especially if you're a visitor unfamiliar with the area.
There are two stations located on the Piccadilly Line, which leads into central London; if your starting point is a Tube stop in central London, you're likely no more than a single transfer away.
The Arsenal station is about a quarter-mile walk from the north end of stadium, but fair warning that it requires a walk up a flight of steps to access a pedestrian bridge, which crosses over train tracks to connect fans with the stadium grounds. (Elevators, or "lifts" in British parlance, are available.) Meanwhile, the Holloway Road station can be used to access the south end.
Other methods for getting to Emirates Stadium include the London Overground (which, as the name suggests, employs surface-level trains). The Highbury & Islington station is about a 15-minute walk from the ground.
Parking at Emirates Stadium
As with many grounds around London, parking at Emirates Stadium is extremely limited due to the density of the surrounding neighborhood. Parking permits can be obtained through Arsenal, though they are very limited and must be booked in advance of the event you're attending at Emirates Stadium.
If you're willing to drive around, there are small parking lots and car parks that service fans on matchdays, but due to street closures around the stadium, none are particularly close. To avoid the headache altogether, it's best advised that you park at a rail station and use either the Underground or Overground for an event at Emirates Stadium.
London hotels near Emirates Stadium
• Best Western London Highbury – 1.0 miles away
• Hilton London Angel Islington – 1.3 miles away
• Doubletree by Hilton London Angel Kings Cross – 1.6 miles away
Search for more London hotels on Booking.com.
Map of the surrounding area
Things to do around the stadium
If you have an appreciation of Arsenal's long and rich history, or you simply want to experience a matchday atmosphere in its finest form, get to Emirates Stadium early and spend some time walking the surrounding area.
While you can get a sense of the pageantry by disembarking the tube at Holloway Road, emerging from the Arsenal station deposits you right in the middle of the Highbury neighborhood where the club originally put down its roots.
Fans coming out of the stadium will want to turn right to walk to the stadium, and along the way, the street — closed to vehicular traffic on matchdays — will be lined with souvenir stands and food stalls to serve the masses of supporters making the march to Emirates Stadium.
However, for a sense of history — and if the foot traffic allows for it — make a left out of the stadium and walk a short distance. Around the corner is a large block of apartments known as Highbury Square.
This is the redeveloped former ground for Arsenal, known as Highbury, which was in use until 2005 and saw some of the club's most triumphant moments — including the undefeated 2003-04 campaign that is still frequently referenced today.
Beyond the matchday food stalls that line the nearby streets, there aren't that many full-service restaurants nearby — after all, this is a mostly residential neighborhood. For full-service eats and drinks, your best bet is to head south of the stadium grounds or to walk along Holloway Road, where there are a number of chain restaurants, cafes and grocery stories within about a mile radius.
London restaurants near Emirates Stadium
• Little Wonder Cafe – British, 0.1 miles away
• Xi'an Impression – Chinese, 0.1 miles away
• Alcedo Bistro & Bar – British, 0.3 miles away
Search for more London restaurants on Tripadvisor.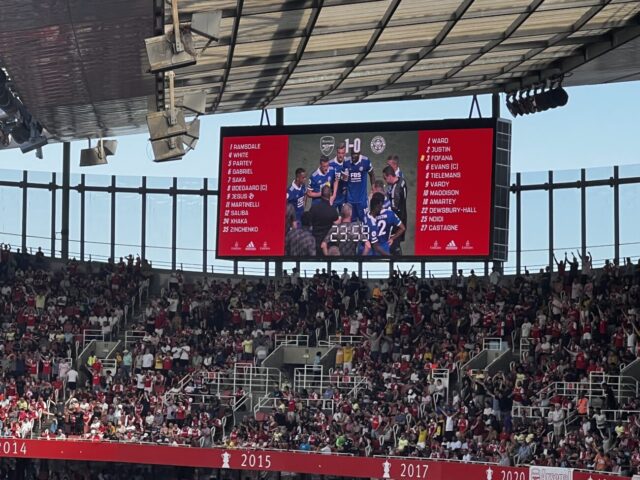 Watching a game at Emirates Stadium
If you're making the walk across the pedestrian bridge from Arsenal station, the stadium will emerge before your eyes, giving you a sense of its size and stature. From there, if you have the time before kickoff, spend a little bit of time walking around the stadium's perimeter to take in as many of the tributes to the club's history as you can.
Among the things worth checking out or taking pictures of: Statues of club greats like Herbert Chapman, Tony Adams and Thierry Henry; bronze cannons representing the club's name; the large Arsenal team store on the south end; and large displays on the stadium façades depicting past players or moments.
The venue has numerous gates around its perimeter, each with letter designations. Ticketholders for Emirates Stadium events are assigned a gate based on their seating location, and must pass through tall turnstiles for entry — note for the claustrophobic, these turnstiles are very narrow by most reasonable standards.
Also worth noting: Arsenal employs a ticketing system in which season ticket members are issued a membership card, which they scan to gain entry. If you have not paid for a membership and have obtained a ticket from a member or other source, you'll need to have either a mobile or a paper ticket with a scannable code to pass through the turnstiles.
Perhaps more so than most other large football grounds in England, Emirates Stadium has the feel of an NFL stadium, with a wide main concourse, ramp systems to get from level to level and ample food and drink stands. Walk around for a bit and you'll see at least several signs displaying the team motto, "Victoria Concordia Crescit" — Latin for "Victory grows out of harmony."
Meanwhile, the seating bowl at Emirates Stadium might not be quite as large as most NFL venues, but it is configured similarly. And with the wavy appearance of its upper deck, the Emirates bears resemblance to at least one of its contemporaries in American football: Denver's Empower Field at Mile High.
Emirates Stadium's seating bowl is almost completely covered by an overhang, shielding supporters from the elements during the dreary winter months of the Premier League season.
The seating area designated for the most fervent Gooners is called the RedSection, located at Emirates Stadium's north end (known as the North Bank). Meanwhile, away supporters are given a block of seats in the lower tier at the south end (referred to as the Clock End).
Wherever your seating area is at Emirates Stadium, you should have a good view of at least one of the four videoboards positioned above each corner of the seating bowl. Typical of football matches in England and around Europe, these boards during play are used strictly to show the score, time and current lineups for both clubs.
Food and drink at Emirates Stadium
Both on the lower and upper tiers at Emirates Stadium, food and drink stands are plentiful. Full-service bars can be found throughout the main concourse — beers familiar to British residents are plentiful, but so is Budweiser for American fans.
As far as food, Emirates Stadium's concessions options largely resemble British pub fare, with pasties, sausage rolls and kebabs widely available. However, the menu also contains items familiar to American stadiumgoers, such as hot dogs, nachos and burgers.
The stadium also offers a "Fans First" menu similar to happy hour, offering discounted beverage prices to supporters who enter the stadium for the first hour after gates open, and up to 60 minutes after the match ends.
Original publish date: December 22, 2022
Most recent update: October 31, 2023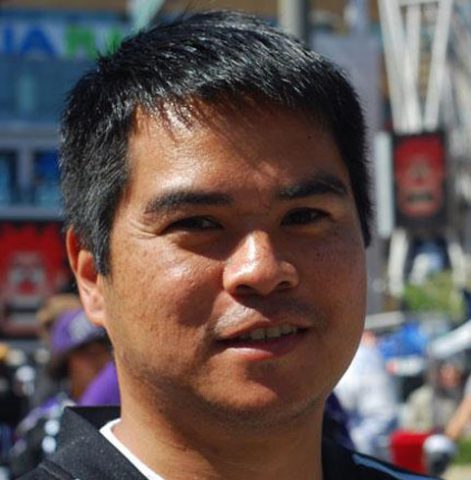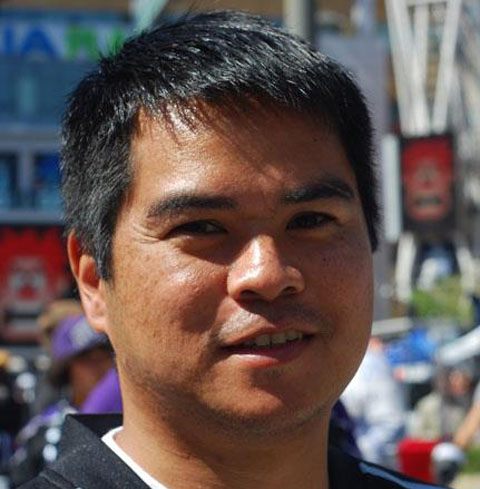 Edward de la Fuente | Itinerant Fan
I live for sports, and I love to travel. My biggest thrill is combining the two. I've been blogging about sports travel for more than a decade, and traveling for sports for twice as long.
About me | FAQ | Buy me a beer 🍺
Affiliate Disclosure
Please note that some of the links above are affiliate links, and at no additional cost to you, we earn a commission if you make a purchase. These recommendations are only for companies that we've used and have proven to enhance our sports travel experiences. To find out more about our affiliate partnerships, please read our Affiliate Disclaimer.
The Particulars
Home Teams
Arsenal FC
Address
Hornsey Road
London N7 7AJ
United Kingdom
Year Opened
2006
Capacity
60,260