SAP Center at San Jose
Our guide to SAP Center at San Jose includes information on events, tickets, parking, public transportation, nearby hotels and restaurants, seating and more. Read on to find out how to get the most out of your gameday experience.
* * *
Sometimes it's easy to forget about SAP Center and San Jose in the sports and events landscape, despite the presence of the NHL's Sharks.
Despite being the largest city in the Bay Area by population, San Jose sometimes gets short shrift in terms of perception compared to its neighbors, San Francisco and Oakland. A possible reason for this: San Francisco and Oakland are more prominently mentioned in the sports world, with both cities boasting multiple representatives among the major leagues.
San Jose has had some skin in the game for more than 25 years now, though, with the Sharks carrying the banner for the South Bay. And while there are undoubtedly fans of the Bay Area's other teams in Silicon Valley, the Sharks hold a special place in their hearts because they actually play their games there.
The arena now known as SAP Center at San Jose has served the region's hockey fans well for more than two decades, and in turn the team has rewarded the fans' faith with a consistently competitive team, one that holds its own in a fierce rivalry with California's other two hockey teams down south.
One thing that's missing, though: a championship. The Sharks came tantalizingly close to the Stanley Cup in 2016, losing in the finals, but the playoff run only heightened the love for hockey around these parts. And the Shark Tank remains one of the more unique environments in which to watch hockey.
SAP Center is a hub for other big events that hit the South Bay, including NCAA basketball tournament games, MMA events and concerts. The arena has served as a frequent host for the annual U.S. Figure Skating Championships.
Looking for SAP Center at San Jose event tickets? Search events on Ticketmaster.
Getting to the arena
SAP Center is on the edge of downtown San Jose, separated from the district by the Guadalupe Freeway (Route 87) that cuts through on its way to the nearby Mineta San Jose International Airport.
The adjacent freeway makes it easy to reach the arena, though, as Route 87 connects with Interstates 280 and 880 and U.S. 101, all major freeways that run through San Jose.
The Bay Area's well-known BART train system doesn't reach San Jose, but the South Bay has its own rail transit system known as VTA. You can use it to get to SAP Center events from adjoining cities such as Sunnyvale, Mountain View and Milpitas; use the Green Line and get off at San Jose Diridon station, a block from the arena.
If you're flying into the Bay Area with a Sharks game or other SAP Center event as the primary reason for your visit, be sure to use San Jose International Airport. It's just two miles to the north of the arena, and getting to downtown is relatively easy via VTA or a short ride in a taxi or rideshare.
Parking at SAP Center
Once in the area, drivers will find a large parking lot surrounding SAP Center and a few smaller ones nearby. Expect to pay $30 and up for parking in these lots.
Additional parking can be found in private lots and structures around downtown San Jose, particularly east of the Guadalupe Freeway. Parking deals can be had ($20 and below) if you're willing to walk a half-mile or more to SAP Center.
You can use the ParkMobile app to purchase parking in an SAP Center lot or another downtown lot in advance.
San Jose hotels near SAP Center
• AC Hotel by Marriott San Jose Downtown – 0.3 miles away
• Hotel De Anza – 0.4 miles away
• Hyatt Place San Jose Downtown – 0.6 miles away
Search for more San Jose hotels on Booking.com.
Map of the surrounding area
Things to do around the arena
Downtown San Jose has come into its own as a nightlife and entertainment district, and it certainly gets busy on days of SAP Center events with plenty of establishments to choose from.
To survey your options, try walking down Santa Clara Street east of the arena and the Guadalupe Freeway, where many high-end restaurants await. For cheaper options, try looking for spots along the light-rail route (near St. James Park) and close to the San Jose State University campus.
A few highly regarded options: Ike's Love and Sandwiches, a wildly popular sub spot that originated in the Bay Area; La Victoria Taqueria, a Mexican food institution near SJSU; Original Joe's, an upscale Italian restaurant with a long history in San Jose; and Henry's Hi-Life, a steak-and-rib joint a couple blocks from the arena.
Also, you can check out San Pedro Square, a shopping district that during hockey season is decked out in Sharks colors and hangs banners with the names and numbers of each player above the street.
A lot of change is coming to the area as well. Google recently reached an agreement with the Sharks and the arena that would allow it to develop a campus nearby.
For more on visiting San Jose, check out our San Francisco Bay Area sports travel guide.
San Jose restaurants near SAP Center
• Henry's Hi-Life – steakhouse, 0.3 miles away
• Paesano Ristoranto Italiano – Italian, 0.3 miles away
• Firehouse No. 1 – Pub, 0.5 miles away
Search for more San Jose restaurants on Tripadvisor.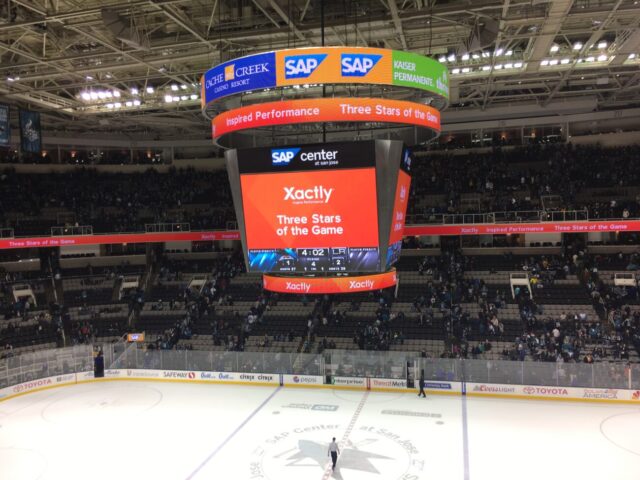 Watching a game at SAP Center
SAP Center remains well-maintained despite surpassing its three-decade mark, which for many arenas can mean the end of its usefulness. However, the arena's age shows in its footprint, which is noticeably small compared to other facilities around the NHL.
Its glass atrium at the corner of Santa Clara and Autumn streets is the most popular point of entry for fans, who pass through into a well-lit lobby that leads to the main concourse via stairs and/or escalator.
And by "main concourse," we mean "concourse," because here there's only one. SAP Center is one of those arenas where both the upper and lower seating bowls can be accessed via the same concourse, which can make for crowded passageways from time to time (ie. at game's end).
But SAP Center's design has an advantage in that the seating bowl doesn't feel overly big, with good sight lines from even the uppermost rows — which aren't very high at all in comparison to its contemporaries. (The press box was clearly a construction afterthought here, though, as it's perched in the rafters above the upper deck.)
That feeling prevails in other parts of the arena, too. You might feel as though SAP Center is tiny compared to its hulking contemporaries, and you wouldn't be wrong.
As a result, there's not a whole lot to explore around the building. It's perfectly functional — go in, grab some food and beer, head to your seating area and enjoy your event — but if you're looking for an arena experience, SAP Center just doesn't have much to offer in comparison to other arenas around the NHL.
Though no major renovation plans have been revealed for the arena, one significant upgrade has been made: A new overhead scoreboard was introduced for the 2022-23 NHL season, bringing the technology somewhat in line for a arena located in the heart of Silicon Valley.
Food and drink at SAP Center
SAP Center's concessions setup has undergone a small overhaul in recent years, with the previous lineup consisting largely of chain restaurants such as Gordon Biersch, Panda Express, Togo's Sandwiches and Round Table Pizza giving way to a more locally focused menu.
You can find a few gems, such as clam chowder in a bread bowl and Mission-style burritos, both Bay Area originals. Sushi, chicken sandwiches and Hawaiian rice bowls are also readily available. No matter where your seating area is, there's likely an interesting concessions area nearby at SAP Center.
Be sure to look above you as you're walking along, as there are food and drink stands — as well as craft beer bars — above the concourse, accessible by stairs at two corners of the arena.
Original publish date: February 4, 2016
Most recent update: October 12, 2023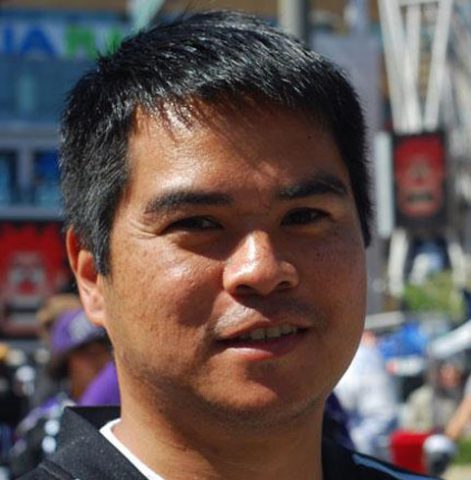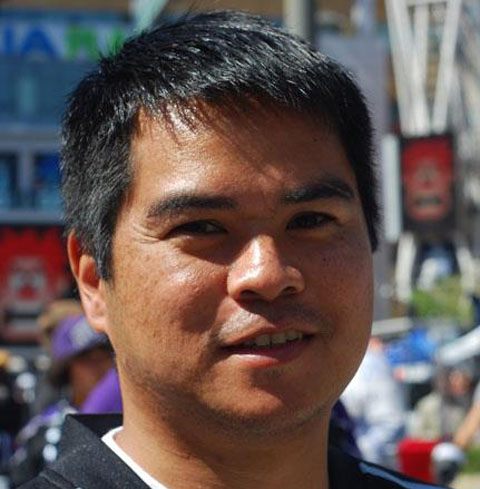 Edward de la Fuente | Itinerant Fan
I live for sports, and I love to travel. My biggest thrill is combining the two. I've been blogging about sports travel for more than a decade, and traveling for sports for twice as long.
About me | FAQ | Buy me a beer 🍺
Affiliate Disclosure
Please note that some of the links above are affiliate links, and at no additional cost to you, we earn a commission if you make a purchase. These recommendations are only for companies that we've used and have proven to enhance our sports travel experiences. To find out more about our affiliate partnerships, please read our Affiliate Disclaimer.
The Particulars
Home Teams
San Jose Sharks
Address
525 W. Santa Clara St.
San Jose, CA 95113
Year Opened
1993
Capacity
17,496
Upcoming Events
All times local
SAP Center Suites and Penthouse Lounge Enrique, Pitbull, Ricky
Wednesday, December 6, 2023
7:00 pm
Get tickets at Ticketmaster »

Enrique Iglesias, Pitbull, Ricky Martin: The Trilogy Tour
Wednesday, December 6, 2023
7:00 pm
Get tickets at Ticketmaster »

Marca Registrada
Saturday, December 9, 2023
8:00 pm
Get tickets at Ticketmaster »

San Jose Sharks vs. Winnipeg Jets
Tuesday, December 12, 2023
7:30 pm
Get tickets at Ticketmaster »

San Jose Sharks vs. Los Angeles Kings
Tuesday, December 19, 2023
7:30 pm
Get tickets at Ticketmaster »