Scotiabank Arena
Our guide to Scotiabank Arena in Toronto includes information on events, tickets, parking, public transportation, nearby hotels and restaurants, seating and more. Read on to find out how to get the most out of your gameday experience.
* * *
It stands to reason that Scotiabank Arena in Toronto, home of the Maple Leafs and Raptors, is one of the more important buildings in the North American pro sports landscape.
Here's why: Toronto is considered the epicenter of professional hockey in North America, and it's a well-deserved title. After all, the Hockey Hall of Fame is located there and the NHL has offices in the city (remember that whenever there's a video review in an NHL game these days, it's said that "Toronto is looking at it"). And, of course, the Maple Leafs are one of the league's Original Six franchises.
With the presence of the Raptors, you can also say that Toronto is the epicenter of Canadian professional sports, since the Raptors are currently Canada's only NBA franchise (the same is true of the Blue Jays and MLB). So with all that said, Scotiabank Arena is more than a worthy venue to visit.
And Toronto's sports cred was on full display during the Raptors' run to the 2019 NBA championship, with the streets and the "Jurassic Park" plaza overflowing with fans on playoff game nights.
Beyond that, though, Scotiabank Arena is an anchor building in one of the more fascinating cities to visit in North America, if not the whole world. It's smack dab in the middle of downtown Toronto, right in the shadow of the CN Tower and on top of the always-busy Union Station. It often hosts major international events, such as the inaugural World Cup of Hockey.
And Scotiabank Arena took on a new role in the summer of 2020 when Toronto was named a "hub city" for the NHL's return to play. It served as the arena for Eastern Conference qualifiers as well as for the first and second rounds of the Stanley Cup playoffs.
Really, with all those qualities to it, it's tough to turn down an opportunity to visit Scotiabank Arena. Here's a guide to making the most of the experience.
Looking for Scotiabank Arena event tickets? Search events on Ticketmaster.
Top photo credit: JHVE / Shutterstock.com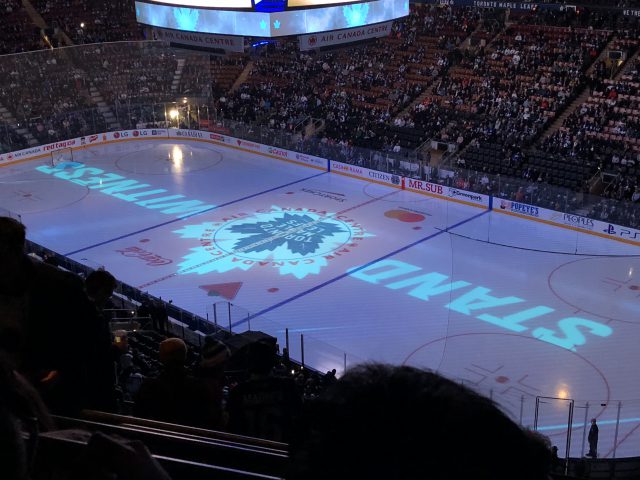 Getting to the arena
Because of its downtown location, Scotiabank Arena (which moved on from its longtime name, Air Canada Centre, in 2018) is easy to access for any visitor to the city — and for many residents as well — thanks to numerous high-rise apartment buildings and hotels nearby and sprinkled throughout the central city.
Walking is fairly simple thanks to Toronto's street grid pattern. Look for either Yonge (pronounced young) Street, which runs north-south, or Front Street, which runs east-west — both are major streets which meet about two blocks away from the arena, right where the Hockey Hall of Fame is located.
From there, find signs for the arena, or failing that, for Union Station — if you're on the north side of the station, you just have to pass through it to get to the venue on the other side.
Even if you find yourself in the throes of a harsh Canadian winter, Toronto has you covered. Use the city's PATH walkway system, accessible from many of the city's downtown hotels, to keep yourself underground and, more importantly, sheltered as you make your way down to Scotiabank Arena.
Toronto's subway system is fairly simple to use for tourists and has a stop at Union Station, at the bottom of the "U" on the Yonge-University line, aka Line 1. Union Station is also a major stop for a number of regional train lines that can be used to reach the game from the city's outskirts and beyond.
Parking at Scotiabank Arena
If you must drive, there are numerous parking garages and lots within easy walking distance of Scotiabank Arena. However, the only accessible parking garage that provides sheltered access to the arena is located one block away at 15 York Street.
The closer you get to Scotiabank Arena, the more you can expect to pay for parking — as high as C$35 for general event parking at some structures.
Scotiabank Arena does have its own garage, located underneath the building, but access to it for events is limited to suite holders and arena employees.
Toronto hotels near Scotiabank Arena
• The Westin Harbour Castle, Toronto – 0.2 miles away
• Delta Hotels by Marriott Toronto – 0.2 miles away
• The Strathcona Hotel – 0.3 miles away
Search for more Toronto hotels on Booking.com.
Map of the surrounding area
Things to do around the arena
Unsurprisingly, the blocks surrounding Scotiabank Arena are dotted with restaurants, bars and restaurant-slash-bars that will happily cater to sports fans or patrons attending other events.
In general, the closer to Scotiabank Arena the establishment is, the more crowded it will be prior to the game (and, likely, the pricier it will be as well). But even up to several blocks away, you can find good eating and drinking spots.
If it's your first time visiting Toronto and you're staying in a downtown hotel, be sure to budget some time to see some of the sights near Scotiabank Arena. The CN Tower is just two blocks away, for example — while tickets to ascend the tower can be pricey depending on your budget, the views you can get from the observation deck are worth the trip.
The CN Tower is part of a collection of attractions that includes the the Ripley's Aquarium of Canada and the Toronto Railway Museum, as well as Rogers Centre, the home of the Toronto Blue Jays.
Of course, if you're in town to see hockey, you must go visit the Hockey Hall of Fame, where you're sure to see something pertaining to your favorite team. At the very least, go to get your photo taken with the Stanley Cup, a copy of which is usually on display during museum opening hours.
Don't forget to check out another piece of Toronto hockey history about a mile away, at the corner of Church and Carlton streets. The Maple Leafs' former home, Maple Leaf Gardens, still stands and now holds athletic facilities for a local university as well as a grocery store. Check out our Venues Past post on Maple Leaf Gardens for more on visiting the building.
For more on visiting Toronto, check out our Toronto sports travel guide.
Toronto restaurants near Scotiabank Arena
• RS – Real Sports – pub, 0.1 miles away
• The Fox on Bay – pub, 0.1 miles away
• Miller Tavern on Bay – steakhouse, 0.1 miles away
Search for more Toronto restaurants on Tripadvisor.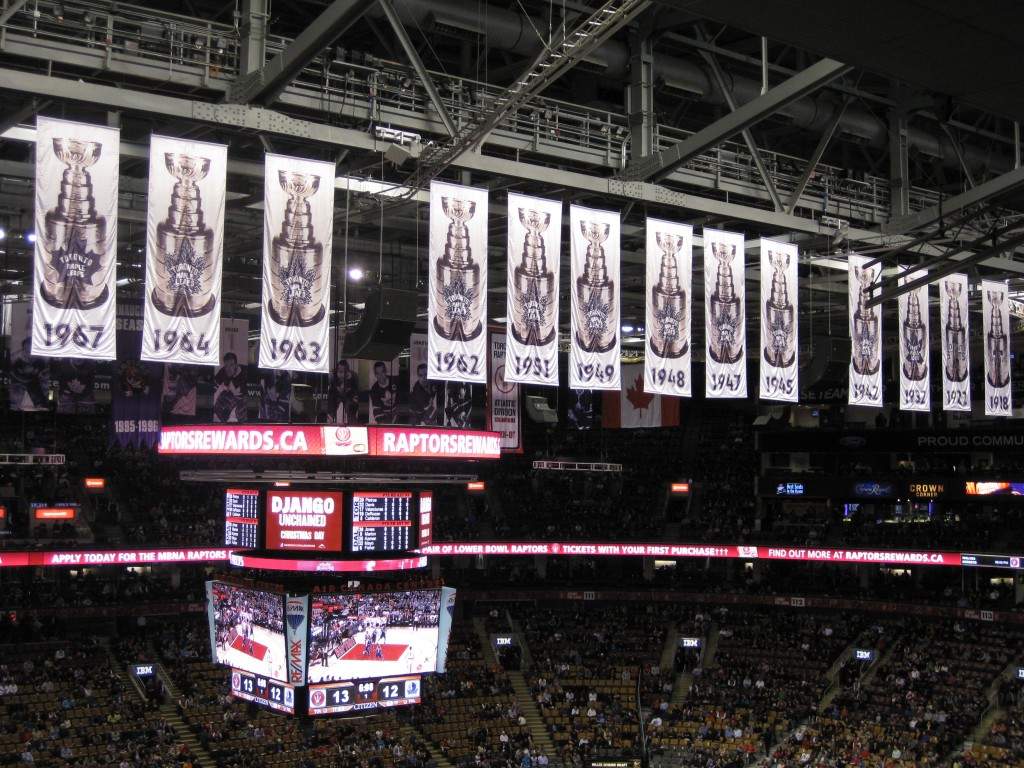 Watching a game at Scotiabank Arena
Despite the history of the Maple Leafs and the downtown Toronto location, Scotiabank Arena is really a run-of-the-mill events center in terms of layout, seating bowl and features. However, steps have been taken to improve the fan experience in recent years, and there's plenty worth exploring.
Before entering, head just west of the arena to what's known as Maple Leaf Square. This is the area that fills up with fans for both Maple Leafs and Raptors playoff games (as mentioned previously, the Raptors have taken to calling the plaza "Jurassic Park" when fans gather for their games). The fans are able to watch the game on the large screen on the arena's facade.
Also in Maple Leaf Square is an elaborate Maple Leafs statue display called Legends Row, depicting some of the team's greats such as Darryl Sittler, Syl Apps, Mats Sundin and Wendel Clark, as though they are all standing on the bench on in the same game.
Scotiabank Arena's seating bowl is pretty standard as arenas go, with the exception of the ends, where several levels of suites are stacked on top of each other in place of what would normally be the cheap seats.
The lower rows of Scotiabank Arena's 300 seating level don't feel high up at all, so if you can stomach what would likely be high prices on the secondary market for a Maple Leafs game (and the Leafs are always a hot ticket in Toronto no matter how well they're doing), splurge if you can.
Be mindful, though, that some spots close to the suites at each end could come with obstructed views.
Interested in a suite at Scotiabank Arena? Buy suite tickets on SuiteHop.
Food and drink at Scotiabank Arena
It's hard NOT to find something good to eat or drink at the arena. Many Canadian standards are there, such as Tim Hortons, Mr. Sub and Pizza Pizza — all three have stands in one food court on the 100-level concourse. In addition, you can find items such as poutine, shwarma and grilled cheese sandwiches.
There's also a brewpub within the arena, and another beer garden called the Draught Deck in between the 100 and 300 levels — two of many bar areas that can be found on the concourses.
In fact, if you're ascending between Scotiabank Arena's two main seating bowls above Gate 6, on the side facing Maple Leaf Square, you must pass through the Draught Deck in order to get from escalator to escalator. Just try to resist stopping and getting a cold one while you're there.
Original publish date: February 4, 2016
Most recent update: November 3, 2023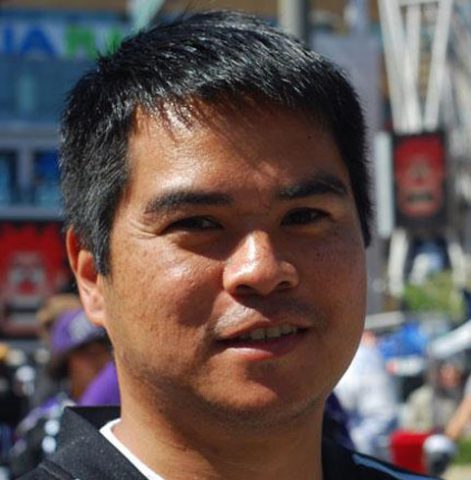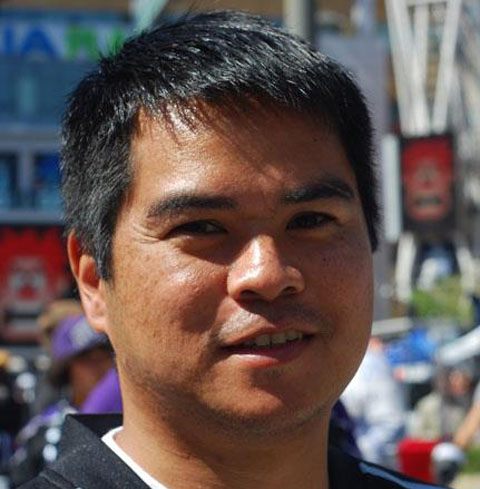 Edward de la Fuente | Itinerant Fan
I live for sports, and I love to travel. My biggest thrill is combining the two. I've been blogging about sports travel for more than a decade, and traveling for sports for twice as long.
About me | FAQ | Buy me a beer 🍺
Affiliate Disclosure
Please note that some of the links above are affiliate links, and at no additional cost to you, we earn a commission if you make a purchase. These recommendations are only for companies that we've used and have proven to enhance our sports travel experiences. To find out more about our affiliate partnerships, please read our Affiliate Disclaimer.
The Particulars
Home Teams
Toronto Maple Leafs
Toronto Raptors
Address
40 Bay St.
Toronto, ON M5J 2X2
Year Opened
1999
Capacity
18,819 (hockey)
19,300 (basketball)
Upcoming Events
All times local
Toronto Maple Leafs vs Boston Bruins
Saturday, December 2, 2023
7:00 pm
Get tickets at Ticketmaster »

Trans-Siberian Orchestra - The Ghosts Of Christmas Eve
Sunday, December 3, 2023
3:00 pm
Get tickets at Ticketmaster »

Trans-Siberian Orchestra - The Ghosts Of Christmas Eve
Sunday, December 3, 2023
7:30 pm
Get tickets at Ticketmaster »

Toronto Raptors vs Miami Heat
Wednesday, December 6, 2023
7:30 pm
Get tickets at Ticketmaster »

Toronto Maple Leafs vs Nashville Predators
Saturday, December 9, 2023
7:00 pm
Get tickets at Ticketmaster »