Paycom Center
Our guide to Paycom Center in Oklahoma City includes information on events, tickets, parking, public transportation, nearby hotels and restaurants, seating and more. Read on to find out how to get the most out of your gameday experience.
* * *
A visit to Paycom Center, the home of the Oklahoma City Thunder, is one of the most unique experiences in the NBA.
Why? Well, it's interesting to check out markets that have just one team in the "big four" professional sports leagues. Typically the city's love for the team is rabid, thanks largely to the team not having to compete with another one for attention.
And if the team is a championship contender and boasts one or two bona fide star players, the adoration is only that much stronger.
The NBA has quite a few teams that match the above description, but Oklahoma City might be the clearest example. It did such a good job supporting the displaced New Orleans Hornets for two seasons that it got its own franchise just a year later (albeit at the expense of poor Seattle).
Since then, the Thunder have enjoyed periods of time as one of the league's more closely followed teams — it went all the way to the NBA Finals in 2012 and has done its best to try to remain in contention despite plenty of roster turnover in recent years.
OKC and Oklahoma City Thunder fans get plenty of national television exposure these days, and home games at Paycom Center can be tough to get into. But it's worth making a visit to see what it's like watching pro basketball in Oklahoma.
And Paycom Center (known previously as Chesapeake Energy Arena and Ford Center) has become a hub for major events that pass through Oklahoma City, from the NCAA basketball tournament to pro wrestling, MMA, bull riding and more.
Looking for Paycom Center event tickets? Search events on Ticketmaster.
Top photo credit: Katherine Welles / Shutterstock.com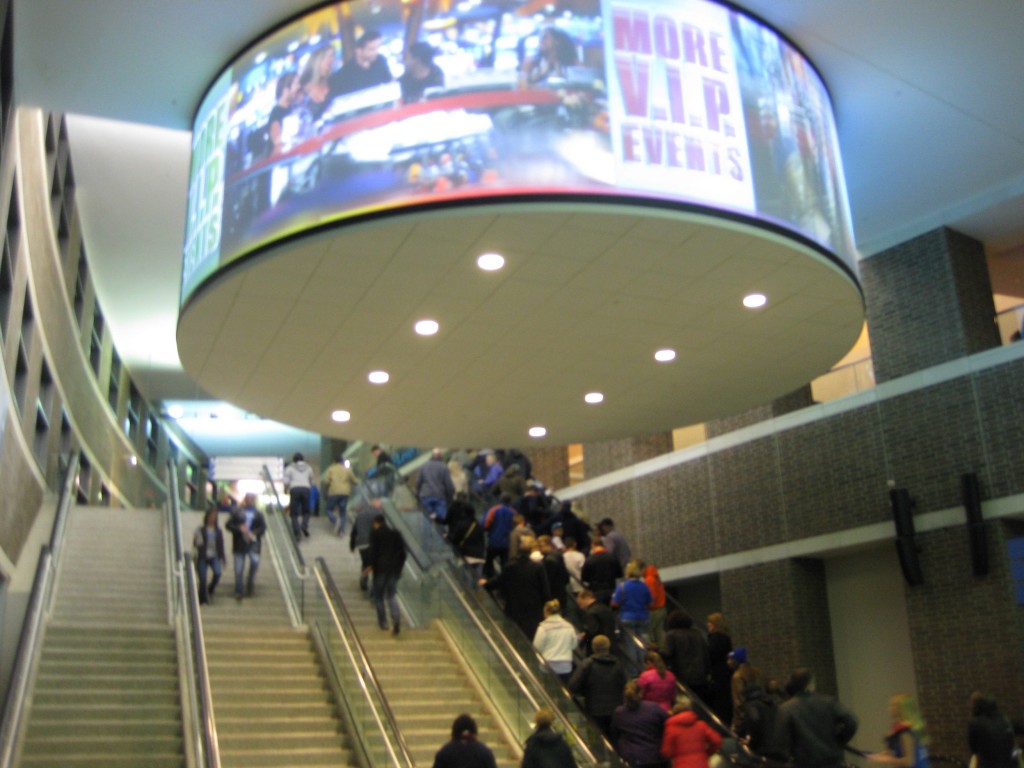 Getting to the arena
Paycom Center sits in what can be best described as the south edge of downtown Oklahoma City, along a major drag called Reno Avenue.
The business core and the few tall buildings you'll find in Oklahoma City are within a few blocks, as is a more lively section of the city known as Bricktown (more on that below).
As of 2018, OKC has a public transit option in the Oklahoma City Streetcar, serving two routes that run in loops around the central city. Use the Arena stop on either line to get to Paycom Center. A single-ride fare for the system costs $1, or you can pay $3 for a 24-hour pass.
The city's Amtrak station is also close by, at the corner of Reno and E.K. Gaylord, but it's not a practical mode of transportation for an event at Paycom Center unless you've decided to travel from Fort Worth for it.
Parking at Paycom Center
With Interstate 40 not far away, access to the area is not hard, and neither is parking for Paycom Center events. There are lots and structures all around, including an underground garage at the Cox Convention Center across the street that costs $8 to enter.
More surface parking lots are located just west of Paycom Center along Reno Avenue.
Oklahoma City hotels near Paycom Center
If you're a visitor to Oklahoma City and you're staying downtown, then it's easy to get to Paycom Center — just walk. Most major hotels in the downtown area are within a few blocks of the arena, the most convenient of which being the Courtyard Marriott just next door, no crossing of streets needed.
• Courtyard by Marriott Oklahoma City Downtown – 0.1 miles away
• Fairfield Inn & Suites by Marriott Oklahoma City Downtown – 0.2 miles away
• Colcord Hotel – 0.2 miles away
Search for more Oklahoma City hotels on Booking.com.
Map of the surrounding area
Things to do around the arena
Downtown Oklahoma City isn't a hoppin' place when compared to many American big-city downtowns, but there are plenty of places to find pregame activity if you know whee to look.
Just a block east of the arena, on the other side of the Amtrak tracks, you'll find Bricktown and a much more lively nightlife scene. There are many, many restaurants and bars here, including Mickey Mantle's Steakhouse, Bricktown Brewery and Earl's Rib Palace, all of which are happy to cater to basketball fans and are typically bustling on Paycom Center event nights.
There's also a Sonic Drive-In, located right next to the headquarters of the fast food chain.
If it's still daylight, Bricktown is a cool area to take a stroll through. The city's minor-league ballpark is there, as is the Oklahoma Sports Hall of Fame. And the small canal that winds through it makes for a picturesque place to walk.
There are also a few tributes to notable Oklahoma City natives, including statues of Mickey Mantle and Johnny Bench outside the ballpark and a street christened "Flaming Lips Way" — yes, named after the rock band, which formed in OKC.
Oklahoma City restaurants near Paycom Center
• Flint – American, 0.2 miles away
• Mahogany Prime Steakhouse – steakhouse, 0.3 miles away
• Bricktown Brewery Restaurant – pub, 0.3 miles away
Search for more Oklahoma City restaurants on Tripadvisor.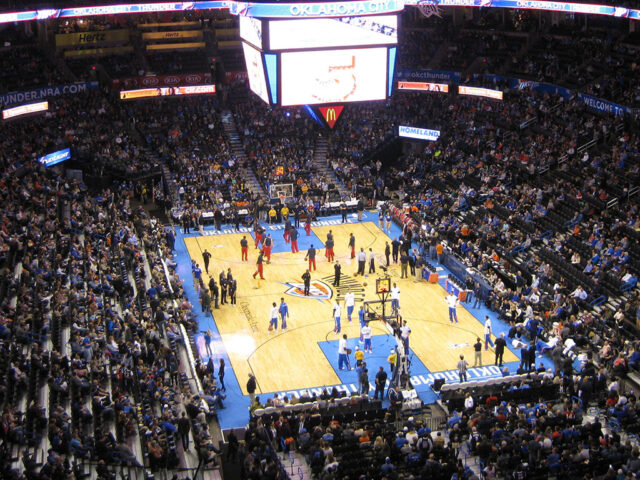 Watching a game at Paycom Center
Most sports venues around the country do a pretty good job taking on the personality of the city it's in and the fan base that regularly fills it, but Paycom Center and Oklahoma City are just about a perfect fit for each other.
Paycom Center is nice but not audacious, the amenities plush but not exorbitant, the layout and seating bowl straightforward and uncomplicated. And just like most people you'll meet in Oklahoma City, the staff is exceedingly polite and helpful.
There are a couple things about the Thunder game experience that are uniquely Oklahoman, or at least regional. First, along with the pregame national anthem, they also will hold an invocation, which is not something you'll often see at a major sporting event. If you're visiting, it's a pretty stark reminder that you're in the Bible Belt.
Then, when the game begins, everyone remains standing. You'll find versions of this custom around the college game — here, the idea is to continue standing until the Thunder scores a point. Sometimes this takes a few minutes, so don't be surprised if the fans around you don't sit down immediately after tipoff.
The upper deck seating area at Paycom Center for Thunder games has been christened "Loud City." The view isn't great, though sight lines are OK. Considering the popularity of the Thunder, it's sometimes difficult to drop in and find tickets for any other part of the arena for less than $100.
And despite many changes to the makeup of the Thunder over the years, from the star-laden days of Kevin Durant and Russell Westbrook to a younger, less competitive squad, the seating bowl at Paycom Center remains one of the most raucous in the NBA.
Interested in a suite at Paycom Center? Buy suite tickets at SuiteHop.
Food and drink at Paycom Center
The concessions scene at Paycom Center is pretty standard stadium fare. Hot dogs and bratwursts, tacos and nachos, chicken wings and Philly cheesesteaks are all prevalent. Local pizza outlet Mazzio's operates a stand at the arena.
The arena has two full-service restaurants, the Budweiser Brew House and Old No. 7, across the hall from each other on the main concourse by Section 116.
You can survey your beer options at carts and stands throughout Paycom Center on all seating levels. Oklahoma City has a vibrant craft beer scene and this is reflected in the beer selection, as you can find beers from Skydance Brewing, Marshall Brewing, Twisted Spike and Vanessa House — all based in Oklahoma.
Original publish date: February 4, 2016
Most recent update: October 26, 2023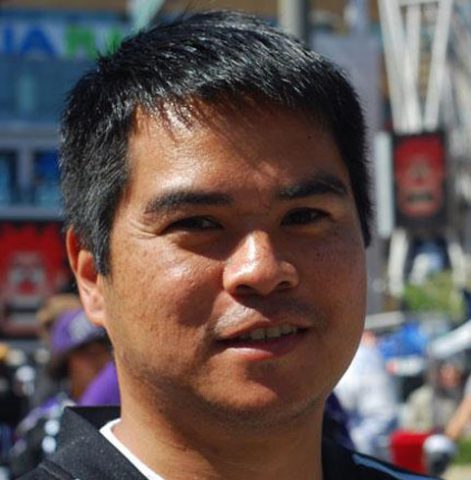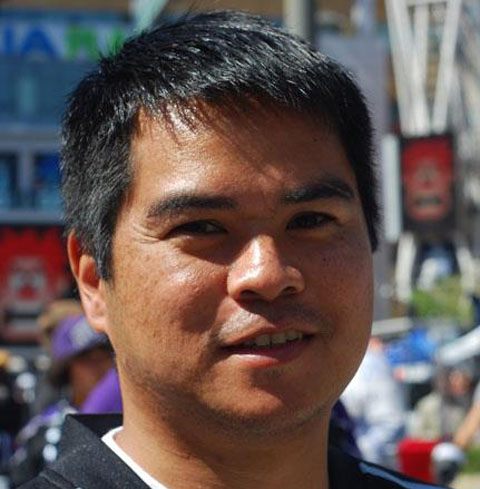 Edward de la Fuente | Itinerant Fan
I live for sports, and I love to travel. My biggest thrill is combining the two. I've been blogging about sports travel for more than a decade, and traveling for sports for twice as long.
About me | FAQ | Buy me a beer 🍺
Affiliate Disclosure
Please note that some of the links above are affiliate links, and at no additional cost to you, we earn a commission if you make a purchase. These recommendations are only for companies that we've used and have proven to enhance our sports travel experiences. To find out more about our affiliate partnerships, please read our Affiliate Disclaimer.
The Particulars
Home Teams
Oklahoma City Thunder
Address
100 W. Reno Ave.
Oklahoma City, OK 73102
Year Opened
2002
Capacity
18,203
Upcoming Events
All times local
Cody Johnson and Friends
Saturday, December 2, 2023
7:30 pm
Get tickets at Ticketmaster »

Oklahoma City Blue vs. Birmingham Squadron
Sunday, December 3, 2023
2:00 pm
Get tickets at Ticketmaster »

Oklahoma City Blue vs. Birmingham Squadron
Tuesday, December 5, 2023
12:00 pm
Get tickets at Ticketmaster »

Oklahoma City Blue vs. Rio Grande Valley Vipers
Wednesday, December 6, 2023
12:00 pm
Get tickets at Ticketmaster »

Trans-Siberian Orchestra - The Ghosts Of Christmas Eve
Thursday, December 7, 2023
7:00 pm
Get tickets at Ticketmaster »