Gainbridge Fieldhouse
Our guide to Gainbridge Fieldhouse in Indianapolis includes information on events, tickets, parking, public transportation, nearby hotels and restaurants, seating and more. Read on to find out how to get the most out of your gameday experience.
* * *
As anyone who has seen the movie "Hoosiers" certainly knows, Indiana's first love when it comes to sports is basketball. And Indiana's first major professional sports franchise, naturally, was a hoops team.
You'll be reminded of that quickly when visiting Gainbridge Fieldhouse, home of the NBA's Indiana Pacers and WNBA's Indiana Fever.
The Pacers began existence as a member of the old American Basketball Association (that 1970s outlaw league with the red, white and blue ball), then was folded into the NBA when the ABA folded. They've been a resident of downtown Indianapolis since the late 1970s, plying their trade at Market Square Arena before moving into their current digs in 1999.
The arena got a new name in 2021, changing over from Bankers Life Fieldhouse. Regardless of what it's called, Gainbridge Fieldhouse is seen as one of the gold standards for NBA venues, and it has proven to be a top-notch venue for concerts and other big events.
It's worth a trip to Indianapolis to see why, as well as to see what the rest of the city has to offer.
For more on visiting Indianapolis, check out our Indianapolis sports travel guide.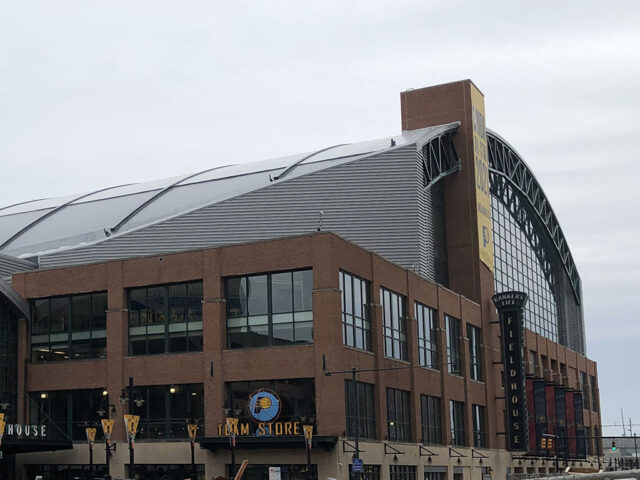 Getting to the arena
Located downtown, Gainbridge Fieldhouse isn't difficult to get to from most parts of the Indianapolis area, as it's within walking distance of many of the downtown attractions as well as most of its major hotels.
It does get cold in Indianapolis during NBA season, and unfortunately, the arena isn't connected to the city's skywalk system that keeps pedestrians sheltered.
You can get to within a few blocks, however, and after that it's a not-so-terrible walk down Georgia Street, a lively street that typically gets even more lively when there's a game going on (more on that in the section below).
For drivers into the central city, Gainbridge Fieldhouse is not far from the interchange between Interstates 65 and 70 — note that the two routes share the same road for several miles as they run a north-south path just east of downtown. Whichever downtown exit you use, you'll have to travel several blocks into the downtown core to reach the arena.
Parking at Gainbridge Fieldhouse
Parking is plentiful around Gainbridge Fieldhouse, primarily at the Virginia Avenue Garage just to the northwest, which connects to the arena via a pedestrian bridge.
A number of smaller structures and lots stand on the surrounding blocks, particularly near the Indiana Convention Center a few blocks west on Maryland Avenue. Advance-purchase parking for Gainbridge Fieldhouse events is available via ParkWhiz.
Parking can sometimes be found along the downtown streets as business workers clear out in the evening. On Sundays, street parking in downtown Indianapolis is free, so it's worth bargain-hunting if you don't mind walking a few blocks to your event at Gainbridge Fieldhouse.
Indianapolis hotels near Gainbridge Fieldhouse
• Hyatt Place Indianapolis Downtown – 0.1 miles away
• Hampton Inn Indianapolis Downtown Across from Circle Centre – 0.1 miles away
• Homewood Suites by Hilton Indianapolis Downtown – 0.1 miles away
Search for more Indianapolis hotels on Booking.com.
Map of the surrounding area
Things to do around the arena
Gainbridge Fieldhouse is part of a busy district of downtown Indianapolis (known locally as the Wholesale District) that includes Lucas Oil Stadium, home of the Colts, as well as many establishments and attractions that cater to the sports fan.
For pregame eating and/or drinking within walking distance of the arena, your best bet is Georgia Street, which extends west from the arena beginning at Pennsylvania Street and includes a number of establishments, both chain and independent. Many of these restaurants do brisk business on nights of Gainbridge Fieldhouse events and can get plenty busy, especially as the start time gets closer.
The Midwest burger chain Steak 'n Shake, which is headquartered in Indianapolis, operates a location a few blocks away on the corner of Illinois and Maryland streets.
If you're looking for a specifically Indy experience, check out St. Elmo's Steak House on Illinois Street — one of the most well-known restaurants in the city. You can also sample an Indiana favorite, the pork tenderloin sandwich, at one of two downtown spots — Loughmiller's Pub and Coaches Tavern.
A little lesser known to out-of-towners is the stretch of Virginia Avenue about a mile southeast of Gainbridge Fieldhouse, which contains some of Indianapolis' most acclaimed restaurants such as Milktooth, Bluebeard and Repeal. The area has become as much a destination for cocktail lovers as for foodies.
Indianapolis restaurants near Gainbridge Fieldhouse
• Kilroys Bar & Grill – pub, 0.1 miles away
• Pier 48 Fish House & Oyster Bar – seafood, 0.1 miles away
• Prime 47 – steakhouse, 0.1 miles away
Search for more Indianapolis restaurants on Tripadvisor.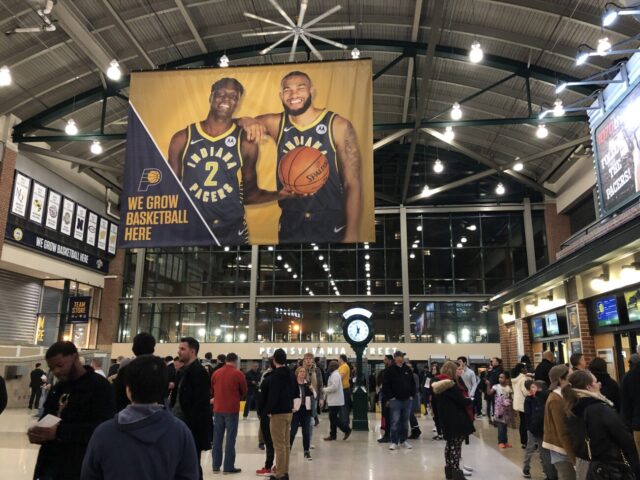 Watching a game at Gainbridge Fieldhouse
Gainbridge Fieldhouse provides an ideal setting for basketball-watching throughout its seating bowl. The building was designed primarily for basketball — meaning, it doesn't have the larger event space that combo basketball-hockey arenas have — and named "Fieldhouse" in deference to the hoops gyms around Indiana, many of which have been given the same label.
Even the farthest seats from the court don't feel irritatingly far, though it's easy to get the impression that Gainbridge Fieldhouse has a cavernous feel — three levels of seating and an arched roof contribute to that perception, almost as if you're watching the game in a domed stadium.
Those who do feel far-removed from the action in the upper reaches of Gainbridge Fieldhouse's seating bowl have the benefit of the 50-foot-long, center-hung videoboard, installed before the 2012-13 season, to keep track of game action.
If you enter on the northwest side of the arena, at the corner of Pennsylvania and Chesapeake streets, you'll be greeted by a large, glass-lined atrium. The lobby partly resembles the entrance of a movie theater, with large banners depicting every current Pacers player.
The area evokes the feel of an old-timey train depot with brick-walled ticket windows and a large analog clock. The large, two-story Pacers team store is also in this area.
Walk around the concourse a little bit and you'll find little displays dedicated to Pacers history, such as ones dedicated to franchise legends like Reggie Miller and a timeline of team jerseys over its history.
The main concourse is split up into different pavilions with sponsor names. One is sponsored by the nearby Indianapolis Motor Speedway, so you can do a little brushing up on Indy 500 history while you debate your food options.
Interested in a suite at Gainbridge Fieldhouse? Buy suite tickets on SuiteHop.
Food and drink at Gainbridge Fieldhouse
The concourse pavilions are also where you can find most of Gainbridge Fieldhouse's concessions options. The aforementioned Midwest burger favorite Steak 'n' Shake operates stands, and the pork tenderloin sandwich is available at the "Homestead Favorites" stand.
An effort has been made to bring locally made food items onto the menu at Bankers Life Fieldhouse, so you can find regional outlets like Los Arroyos (tacos), Bru Burger Bar and Ben's Soft Pretzels throughout the arena.
Indy's craft beer scene is represented well at Gainbridge Fieldhouse. Head to the Craft House & Bar on the main concourse, or the Indiana Ale House & Bar on the balcony level to survey your options.
Sun King Brewery, based in nearby Carmel, sponsors the Sun King Brew Deck, also on the balcony level. Its beers can be purchased at stands throughout the arena.
Original publish date: February 4, 2016
Most recent update: March 10, 2023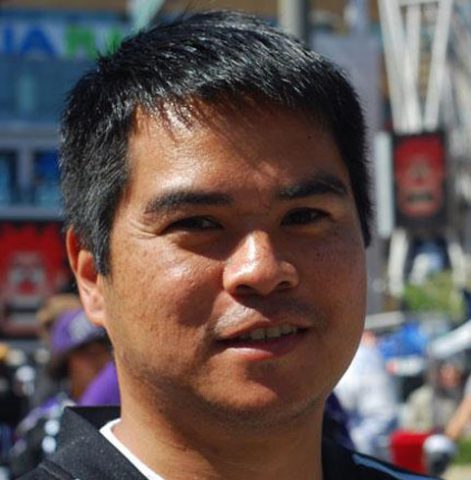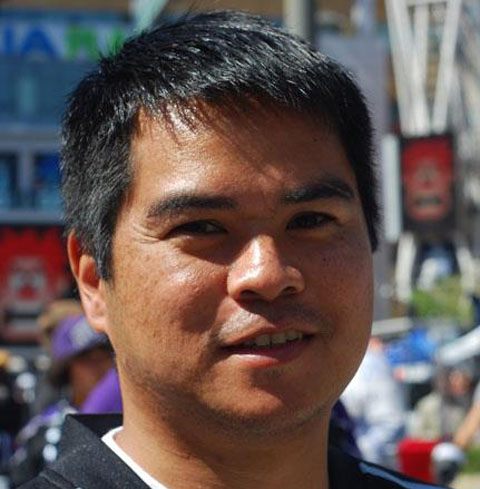 Edward de la Fuente | Itinerant Fan
I live for sports, and I love to travel. My biggest thrill is combining the two. I've been blogging about sports travel for more than a decade, and traveling for sports for twice as long.
About me | FAQ | Buy me a beer 🍺
Affiliate Disclosure
Please note that some of the links above are affiliate links, and at no additional cost to you, we earn a commission if you make a purchase. These recommendations are only for companies that we've used and have proven to enhance our sports travel experiences. To find out more about our affiliate partnerships, please read our Affiliate Disclaimer.
The Particulars
Home Teams
Indiana Pacers
Indiana Fever
Address
125 S. Pennsylvania St.
Indianapolis, IN 46204
Year Opened
1999
Capacity
18,165
Upcoming Events
All times local
Luis Miguel Tour 2023
Friday, October 6, 2023
8:00 pm
Get tickets at Ticketmaster »

WWE Presents Fastlane
Saturday, October 7, 2023
7:30 pm
Get tickets at Ticketmaster »

Eagles - The Long Goodbye
Monday, October 9, 2023
7:30 pm
Get tickets at Ticketmaster »

Eagles - The Long Goodbye
Tuesday, October 10, 2023
7:30 pm
Get tickets at Ticketmaster »

Indiana Pacers vs. Atlanta Hawks
Monday, October 16, 2023
7:00 pm
Get tickets at Ticketmaster »