Lucas Oil Stadium
Our guide to Lucas Oil Stadium in Indianapolis includes information on events, tickets, parking, public transportation, nearby hotels and restaurants, seating and more. Read on to find out how to get the most out of your gameday experience.
* * *
Though basketball is undoubtedly king in Indiana, there's plenty of room for football in the Indiana sports fan's heart. And when it comes to football in the Hoosier State, fans have a palace to flock to in Lucas Oil Stadium on the edge of downtown Indianapolis, home of the Colts.
The stadium was designed with a loving nod to hoops in mind (to see how, just compare Lucas Oil Stadium to any building with "Field House" in its name). But it's all football inside, and it is often cited as one of the NFL's best stadiums.
For evidence of that, look no further than the list of big events that have already been staged at Lucas Oil Stadium in its short history: Super Bowl XLVI, the Big Ten championship game every year since 2011, and the annual and ever-growing NFL scouting combine.
Oh, and it actually isn't all football, as fans who attended the 2010, 2015 and 2021 NCAA basketball Final Fours can attest. Since Indianapolis is the home of the NCAA's headquarters, and Indiana has a rich tradition of supporting college athletics, you can expect more Final Fours and other major events to come to Lucas Oil Stadium in the future.
For more on visiting Indianapolis, check out our Indianapolis sports travel guide.
Getting to the stadium
With a spot next to the huge Indiana Convention Center and close to where Interstates 65 and 70 converge as they cut through downtown, Lucas Oil Stadium is fairly easy to get to and unmistakable amid the Indianapolis skyline.
The best exit off either route is West Street, which runs north-south through downtown; if approaching from the north on I-65, you'll have to travel through downtown on West Street to get to the stadium.
If you're visiting Indy for an event, you have a wide selection of hotels in the downtown area to choose from, including no less than four directly across the street from Lucas Oil Stadium. Many other brand-name hotels are located in the blocks between the convention center and Bankers Life Fieldhouse, the home arena for the NBA's Indiana Pacers.
So hoofing it to the game shouldn't be difficult — unless, of course, it's chilly outside, but in that case the city has you covered with its series of skywalks that allow pedestrians to walk around without having to brave the elements. Lucas Oil Stadium is connected to the skyway via an underground connector.
Parking at Lucas Oil Stadium
Once you're in the vicinity of Lucas Oil Stadium, parking is ample, with surface lots south and north of the stadium and numerous structures scattered throughout the blocks directly to the north.
If you're visiting for a single game, or you're looking to save money, try using one of the many downtown parking lots and structures within a short walk (one mile radius or less) of Lucas Oil Stadium. If you want to pay $20 or less for parking, you'll almost certainly have to go for this option. For a downtown Indianapolis parking map, click here.
Indianapolis hotels near Lucas Oil Stadium
• Holiday Inn Express Hotel & Suites Indianapolis Dtn-Conv Ctr Area – 0.1 miles away
• Holiday Inn – Indianapolis Downtown – 0.2 miles away
• Crowne Plaza Indianapolis-Dwtn-Union Station – 0.3 miles away
Search for more Indianapolis hotels on Booking.com.
Map of the surrounding area
Things to do around the stadium
There's quite a bit to do around downtown Indianapolis, an area that has seen quite a bit of development in recent years thanks in part to the construction of Lucas Oil Stadium and the expansion of the Indiana Convention Center. And on Colts game days, of course, the area is teeming with football fans.
You'll find most of what's worthwhile in the blocks north of South Street between West Street and Delaware Street. Georgia Street between Capitol and Pennsylvania is a particularly popular street among sports fans. If you're staying in a downtown hotel, it's likely you'll pass by a few of these establishments on your way to Lucas Oil Stadium.
There are quite a few familiar-name restaurants around (Buffalo Wild Wings, Hooters, Steak 'n' Shake and The Old Spaghetti Factory, just to name a few) but also a few local haunts worth checking out.
One definitely worth considering, at least if you have deep pockets and/or an appreciation of Indianapolis history, is St. Elmo's Steak House on Illinois Street — arguably the most famous restaurant in the city. Or, try an Indiana specialty, the pork tenderloin sandwich, at one of two downtown establishments — Loughmiller's Pub and Coaches Tavern. Click here for more info on nearby restaurants.
For their part, the Colts host a pregame party called "Touchdown Town" outside Lucas Oil Stadium's north gate, complete with the usual bells and whistles — cheerleaders, live music, games, etc. Or, if you'd prefer to set up (or join) a tailgate, your best bet is to stake out the lot south of the stadium.
If sightseeing is your thing, the NCAA Hall of Champions, the Indiana Statehouse and the Soldiers and Sailors Monument are all within walking distance.
Indianapolis restaurants near Lucas Oil Stadium
• Tavern on South – steakhouse, 0.2 miles away
• Slippery Noodle Inn – bar, 0.3 miles away
• Harry and Izzy's – American, 0.4 miles away
Search for more Indianapolis restaurants on Tripadvisor.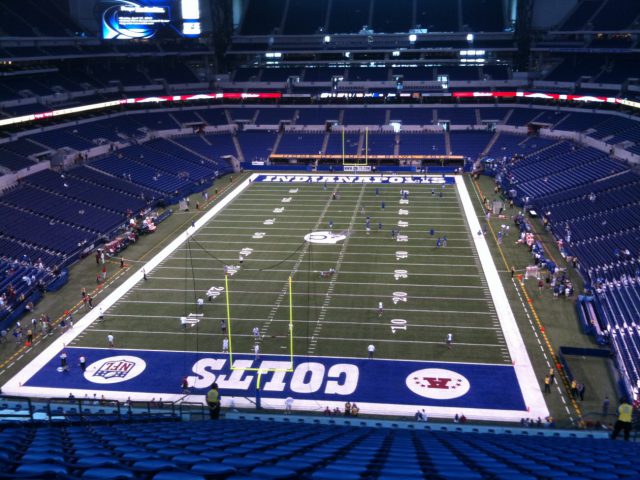 Photo credit: BellaEatsBooks/Flickr
Watching a game at Lucas Oil Stadium
It's unusual to see a building the size of Lucas Oil Stadium with a largely brick exterior, but that's just one of the architectural features that sets the stadium apart.
As alluded to above, the "field house" feel is achieved thanks not only to the brick but also to the gabled roof, much like you'd see on a house. The roof is retractable, its panels sliding down from the center apex, and coupled with the large windows on both ends of the stadium (the ones on the north end are capable of sliding open), the venue can achieve an open-air feel on days when the weather is appropriate.
An added bonus is that when the window on the north side of Lucas Oil Stadium is open, you can get a nice, clear view of the downtown Indianapolis skyline depending on where your seating area is.
The roof helps reinforce the illusion of size, despite the fact that the Colts hang banners from the roof supports in the same way teams do at arenas. But Lucas Oil Stadium's seating bowl is comparable to most NFL venues, with three primary levels of seats and a luxury suite level mixed in. Two large videoboards are stationed in opposite corners of the stadium.
In addition, the seating configuration at Lucas Oil Stadium is such that an appreciable majority of seats are on the sidelines — after all, there can't be much in the way of seating tiers blocking the windows. However, the seating level numbers do go up into the 600s, and with some of the uppermost sections containing more than 25 rows, the nosebleeds can feel high and somewhat removed from the action.
Befitting such a large venue, Lucas Oil Stadium's concourses are large and generally easy to move around in, taking on a sort of convention-hall feel. In tribute both to the stadium's title sponsor and to the home of the Indy 500, there are race cars, pictures of cars and drivers and race-themed concession stands scattered throughout the building.
Interested in a suite at Lucas Oil Stadium? Buy suite tickets on SuiteHop.
Food and drink at Lucas Oil Stadium
Speaking of concessions, Lucas Oil Stadium's food menu features Midwest comfort food items such as the pork tenderloin sandwich and pot roast sandwich. For more adventurous items, you can find the banh mi sandwich, duck nachos and even kombucha.
Lucas Oil Stadium's beer selection covers the full spectrum, from widely available Bud, Miller and Coors to Shock Top and Blue Moon. Get the True Blue Lemonade cocktail for a Colts-specific drink.
Original publish date: February 4, 2016
Most recent update: May 19, 2022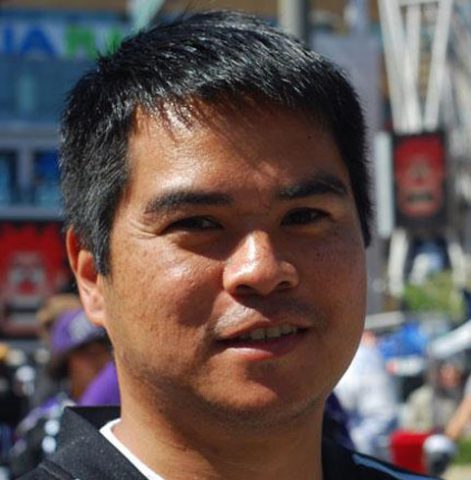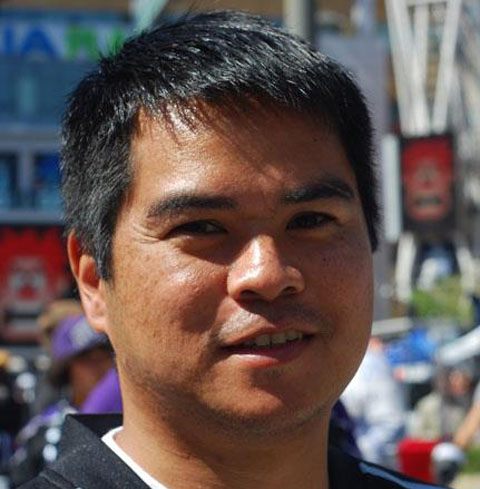 About Edward de la Fuente | Itinerant Fan
I live for sports, and I love to travel. My biggest thrill is combining the two. I've been blogging about sports travel for more than a decade, and traveling for sports for twice as long. To find out more, check out our About page.
Affiliate Disclosure
Please note that some of the links above are affiliate links, and at no additional cost to you, we earn a commission if you make a purchase. These recommendations are only for companies that we've used and have proven to enhance our sports travel experiences. To find out more about our affiliate partnerships, please read our Affiliate Disclaimer.
The Particulars
Home Teams
Indianapolis Colts
Address
500 South Capitol Ave.
Indianapolis, IN 46225
Year Opened
2008
Capacity
67,000
Upcoming Events
All times local
Lucas Oil Stadium Tour
Friday, September 30, 2022
11:00 am
Get tickets at Ticketmaster »

Lucas Oil Stadium Tour
Friday, September 30, 2022
1:00 pm
Get tickets at Ticketmaster »

Lucas Oil Stadium Tour
Friday, September 30, 2022
3:00 pm
Get tickets at Ticketmaster »

Indianapolis Colts v Tennessee Titans
Sunday, October 2, 2022
1:00 pm
Get tickets at Ticketmaster »

Lucas Oil Stadium Tour
Friday, October 7, 2022
11:00 am
Get tickets at Ticketmaster »