Lincoln Financial Field
Our guide to Lincoln Financial Field in Philadelphia includes information on events, tickets, parking, public transportation, nearby hotels and restaurants, seating and more. Read on to find out how to get the most out of your gameday experience.
* * *
Philadelphia needs not do anything to prove itself as a passionate sports town, and for evidence of that you can attend a home game for either the Phillies, Flyers or 76ers. But truth be told, Philly fans really save their greatest passion for the city's NFL team, the Eagles — as any sold-out Sunday at Lincoln Financial Field can attest.
For proof of this, you can attend a home game of one of the three teams mentioned above, at Citizens Bank Park or Wells Fargo Center. Depending on how close you are to football season, chances are at least 50-50 you'll hear someone break out an "E-A-G-L-E-S! Eagles!" at an opportune moment.
Yes, Philadelphia LOVES its Eagles. And of course, to really get a sense of that, you'll have to go see an Eagles home game.
Lincoln Financial Field was opened in 2003 to replace the venerable but aging Veterans Stadium, and since then it's been ground central for a fan base that endured a long drought between championships (the Eagles' win in Super Bowl LII clinched their first NFL title since 1960) but remained fervently loyal throughout.
At any Eagles game at the Linc, you'll find loud and fervent (some would say intimidating) Eagles backers, but you'll also find a beautiful stadium in which to watch football.
The stadium is busy on fall Saturdays as well as the city's most prominent college football program, the Temple Owls, hold home games there. And Lincoln Financial Field is a regular host of one of the most celebrated events in college football, the annual Army-Navy game.
Looking for Lincoln Financial Field event tickets? Search events on Ticketmaster.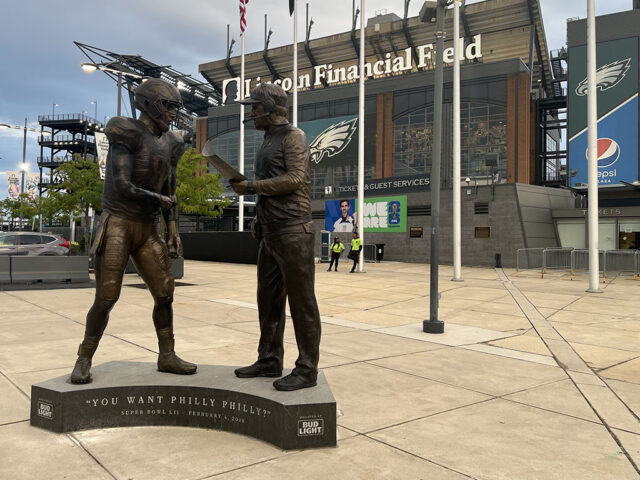 Getting to the stadium
Like the city's other pro sports venues, Citizens Bank Park and Wells Fargo Center, Lincoln Financial Field is located in the Sports Complex area of town, a few miles south of Center City via Broad Street.
The stadium is tucked into a plot of land along Interstate 95 as it winds its way across the Schuylkill River and toward Philadelphia International Airport — if you're driving along I-95 between the airport and Center City, the Linc is REALLY hard to miss, as the opening credits of a certain TV series set in Philly shows.
The most common access points for drivers are the Broad Street/Pattison Avenue exit off I-95 and the Broad Street and Packer Avenue exits off I-76 (aka the Schuylkill Expressway), though as you can imagine, all of them get rather clogged around gametime.
If you'd rather not drive, the Broad Street Line of Philly's SEPTA subway system has its southern terminus at the corner of Broad and Pattison streets (don't let the corporate-sponsored name, NRG Station, fool you). Once you emerge from the station, expect a 10-minute walk across a few parking lots to get to the stadium. SEPTA usually increases its service for big events at the Sports Complex.
Parking at Lincoln Financial Field
Because of all the venues being clustered together, there's plenty of parking around, Expect the closest lots to be filled up with tailgaters by as much as four hours before the game, while stragglers utilize the lots around Wells Fargo Center and Citizens Bank Park.
General admission parking rates for Lincoln Financial Field currently stand at $40, but are typically cheaper for Temple football games and other events; you can view a parking map here.
One important note if you've come to Lincoln Financial Field planning to tailgate: The parking lots north of Pattison Avenue and west and north of Citizens Bank Park are off-limits to tailgaters. Head to the public lots around Wells Fargo Center or east of the Linc for tailgate-friendly cash parking.
Looking for parking near Lincoln Financial Field? Buy parking on SpotHero.
Philadelphia hotels near Lincoln Financial Field
• Live! Casino & Hotel – Philadelphia – 0.3 miles away
• Courtyard by Marriott Philadelphia South at The Navy Yard – 0.4 miles away
• Penrose Hotel Philadelphia – 1.2 miles away
Search for more Philadelphia hotels on Booking.com.
Map of the surrounding area
Things to do around the stadium
Tailgating is certainly where it's at here, as it is at nearly all NFL venues. The most intense tailgating scenes tend to take place in the lots between the Linc and Wells Fargo Center, though truthfully fans in just about every lot bring their best tailgate game.
But if you haven't come equipped to tailgate, there are a few options nearby. The most prominent is Xfinity Live, a sports-themed cluster of restaurants and bars built on the site of the old Spectrum arena, just north of Wells Fargo Center along Pattison Avenue.
Among the establishments at Xfinity Live, you can find an outlet of cheesesteak stalwart Geno's Steaks as well as an outlet of Chickie's and Pete's, a local sports bar that also has a presence at each of the venues inside the Sports Complex (more on them below).
On the other side of Citizens Bank Park, the Live! Hotel and Casino recently opened and also provides a pregame dining and entertainment options to fans descending on the Sports Complex.
If you're willing to venture a little farther out than that, you'll find two places well known to local Philly fans: The original location of Chickie's and Pete's, famous for its crab fries, and the Philadium, a favorite tavern for sports fans. Both establishments are located along Packer Avenue, just west of Broad Street.
Chickie's and Pete's also offers a free shuttle between its restaurant and the Sports Complex during Lincoln Financial Field events — you can find parking at the stadium, take the shuttle to the restaurant, then return for the game.
For more on visiting Philadelphia, check out our Philadelphia sports travel guide.
Philadelphia restaurants near Lincoln Financial Field
• 1100 Social – pub, 0.2 miles away
• Broad Street Bullies Pub – pub, 0.2 miles away
• PBR Philly – pub, 0.2 miles away
Search for more Philadelphia restaurants on Tripadvisor.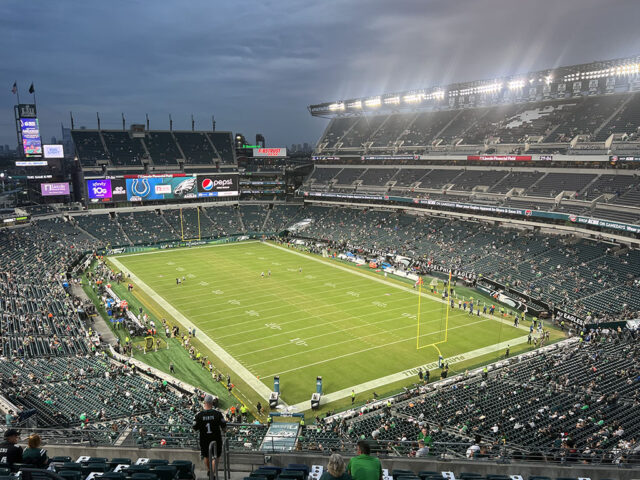 Watching a game at Lincoln Financial Field
Eagles fans will tell you that Lincoln Financial Field doesn't have the character of the old Vet — a pretty expansive club seating level and a large number of suites inside the new stadium are the two biggest differences between the venues — but these are Eagles fans we're talking about, so the passion is there no matter what the stadium is like.
Now, a lot has been said and written over the years about how visiting fans may be treated there, and if you're going to root for the visiting team, you certainly do have to exercise caution that you don't unnecessarily rankle the masses (as is the case at several other NFL stadiums), but oftentimes it's a case of a few drunken fools giving everyone else a bad rap.
If you're really concerned about the fan atmosphere, or if you're bringing young children to the game, you could try getting tickets for Lincoln Financial Field's family seating in Section 217 (in the southeast corner of the upper deck), where alcohol is prohibited.
Regardless, you should be able to enjoy what Lincoln Financial Field does have to offer: Wide concourses, good sight lines regardless of seating area and a wide selection of food and drink that offers a pretty good representation of Philadelphia cuisine as a whole — more on the latter below.
Like most NFL stadiums, the "cheap seats" (the upper decks on the east, west and north sides) at Lincoln Financial Field can have faraway views of the field or event floor. But at least the south side of the stadium, behind one of the end zones, can have a nice view of the Center City skyline from beyond the stadium.
Before you get to your seating area, though, start off by entering the grounds on Lincoln Financial Field's north side. After the turnstiles you'll enter what's known as the HeadHouse Plaza, where the Eagles typically hold pregame festivities including live music, games and more.
Also on the stadium's north side is the "Philly Special" statue depicting coach Doug Pederson and quarterback Nick Foles deciding to call the defining play of the Eagles' Super Bowl LII victory.
By all accounts it was initially meant as a temporary installation paid for by Bud Light, but the statue's popularity meant it has become a permanent feature. Originally placed in HeadHouse Plaza, it has since been moved to the walkway by Lot K. Stop to take a quick picture of it (or with it) before entering the north gates.
You can buy standing-room only tickets for Eagles games at Lincoln Financial Field, with designated standing areas scattered around the stadium. Popular viewing points include the main concourse leading to HeadHouse Plaza and the ramp structures in the stadium's northwest and southwest corners.
You'll need to stake out spots as soon as the stadium gates open; if you can't find a good spot, there's always the big screen in the plaza.
Interested in a suite at Lincoln Financial Field? Buy suite tickets on SuiteHop.
Food and drink at Lincoln Financial Field
The concessions options at the Linc have good variety offer a lot of what visitors to Philly tend to seek out around town.
Cheesesteak favorite Tony Luke's operates stands selling both the cheesesteak and the lesser-known Philly favorite, the roast pork sandwich. Chickie's and Pete's sells its popular crab fries (crinkle fries dusted with Old Bay seasoning), and if it's warm outside, Rita's Water Ice is available.
There are also a few less Philly-centric choices available, including Fuku (celebrity chef David Chang's fried chicken sandwiches), the Quick and Carmichael BBQ sandwich stand named after Eagles legends Mike Quick and Harold Carmichael, and the Philly Fry stand that serves fries topped with cheesesteak meat or even crab meat.
Though beer prices at Lincoln Financial Field are notoriously expensive, there are a few good brews to be had during a game. In 2019, the team introduced the Fly-PA beer made by Goose Island, available on draft throughout the stadium.
Original publish date: February 4, 2016
Most recent update: August 30, 2023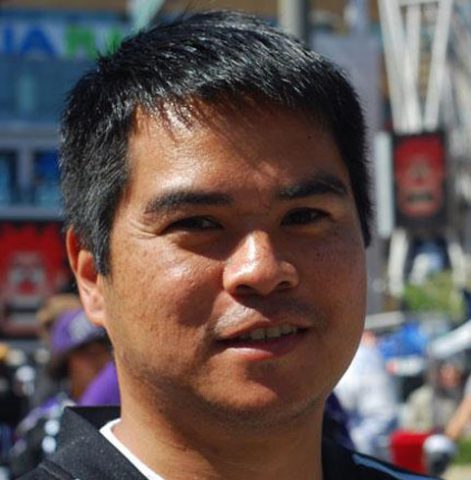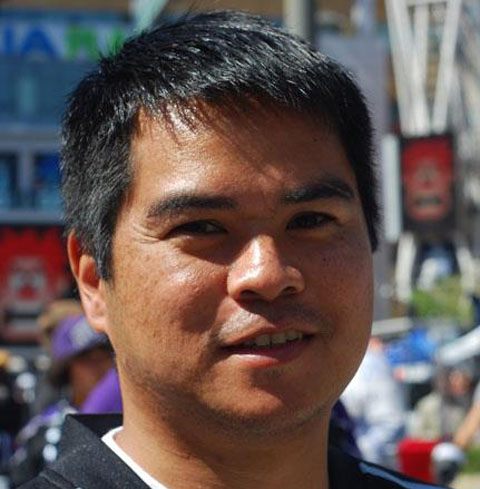 Edward de la Fuente | Itinerant Fan
I live for sports, and I love to travel. My biggest thrill is combining the two. I've been blogging about sports travel for more than a decade, and traveling for sports for twice as long.
About me | FAQ | Buy me a beer 🍺
Affiliate Disclosure
Please note that some of the links above are affiliate links, and at no additional cost to you, we earn a commission if you make a purchase. These recommendations are only for companies that we've used and have proven to enhance our sports travel experiences. To find out more about our affiliate partnerships, please read our Affiliate Disclaimer.
The Particulars
Home Teams
Philadelphia Eagles
Temple Owls
Address
1020 Pattison Ave.
Philadelphia, PA 19148
Year Opened
2003
Capacity
69,176
Upcoming Events
All times local
Philadelphia Eagles vs. Washington Commanders
Sunday, October 1, 2023
1:00 pm
Get tickets at Ticketmaster »

Temple University Owls Football vs. UTSA Roadrunners Football
Saturday, October 7, 2023
2:00 pm
Get tickets at Ticketmaster »

Mexico Vs. Germany
Tuesday, October 17, 2023
7:30 pm
Get tickets at Ticketmaster »

Temple University Owls Football vs. SMU Mustangs Football
Friday, October 20, 2023
7:00 pm
Get tickets at Ticketmaster »

Philadelphia Eagles vs. Miami Dolphins
Sunday, October 22, 2023
8:20 pm
Get tickets at Ticketmaster »