Canadian Tire Centre
Our guide to Canadian Tire Centre in Ottawa includes information on events, tickets, parking, public transportation, nearby hotels and restaurants, seating and more. Read on to find out how to get the most out of your gameday experience.
* * *
Since NHL hockey returned to Canada's capital in the early 1990s, Ottawa has embraced the Senators as their own. And since 1996, fans of the Sens have been watching their team in a beautiful building that was once known as the Palladium, and now goes by Canadian Tire Centre after cycling through a series of corporate sponsors.
Like many of the country's NHL arenas, Canadian Tire Centre is big and spacious and has great sight lines for hockey, and is a functional events center for concerts and other things that come to the region.
There's only one major fault with it — it's nowhere near Ottawa's city center. In fact, it's more than 25 kilometers away, and it wasn't even within Ottawa city limits until redrawn boundaries made the suburb of Kanata part of Ottawa proper in 2001.
The distance makes getting to the arena a challenge for residents and visitors alike, and it's a primary reason why Senators ownership has begun looking into building a new arena closer to the city center. However, many logistical and political hurdles remain before the project can come to fruition.
Until that comes to pass, the Sens are stuck with Canadian Tire Centre, and that isn't all bad. There are certainly things to like about the fan and event experience, even if getting there from downtown isn't the most appealing part of it.
Looking for Canadian Tire Centre event tickets? Search events on Ticketmaster.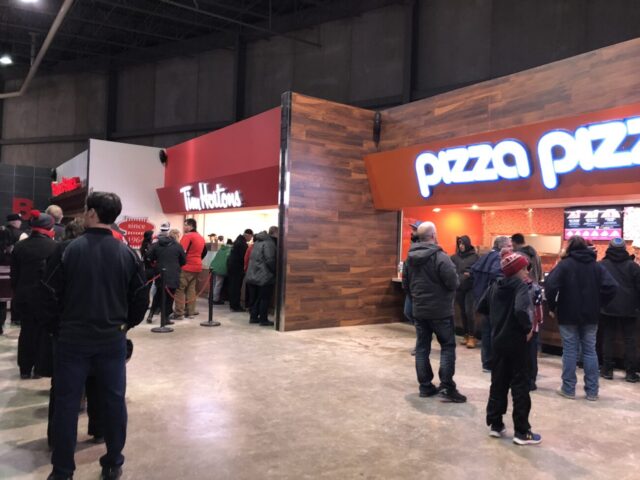 Getting to the arena
Canadian Tire Centre may be far from downtown, but at least you can travel most of it via highway. Route 417, aka the Trans-Canada Highway, offers a fairly straight shot from the downtown core to Kanata, and the arena basically has its own exit on Palladium Drive.
Once off the highway, you'll find a suburban landscape with auto dealerships, an outlet mall and a Costco, among other things, and a big ol' arena smack dab in the middle of it all.
For those without cars, there is an alternative. OC Transpo, the city's bus service, operates a network of bus lines (all of which have route numbers in the 400s) from different areas of the city to the Canadian Tire Centre. A single fare on an OC Transpo bus costs C$3.55.
Parking at Canadian Tire Centre
Parking at Canadian Tire Centre is plentiful, with several large lots surrounding the venue. Expect to pay C$15 and up depending on how close your selected lot is to the arena — note that some of the closer lots are reserved for passholders only. Canadian Tire Centre also offers prepaid parking passes.
If you'd rather not pay for parking at Canadian Tire Centre, fans are known to seek out free parking both west of the arena at the Palladium Auto Park complex, as well as the office park and Costco shopping center to the east, at Silver Seven Road.
Know that for either of these options, you're facing a walk of close to a mile — or sometimes more than one mile — on what could be a bitterly cold winter evening.
Ottawa hotels near Canadian Tire Centre
• Wingate by Wyndham Kanata West Ottawa – 0.7 miles away
• Fairfield Inn & Suites by Marriott Ottawa Kanata – 0.9 miles away
• Holiday Inn & Suites Ottawa Kanata – 1.5 miles away
Search for more Ottawa hotels on Booking.com.
Map of the surrounding area
Things to do around the arena
There isn't much to do in the surrounding area before events at Canadian Tire Centre, at least not in terms of what sports fans traditionally look for. Kanata is suburbia in every sense of the word, and the area definitely reflects that.
There's always the option of hanging out in downtown Ottawa before going to your event at Canadian Tire Centre. Ottawa is routinely mentioned on lists of best places to visit in Canada, but the vast majority of its attractions are in the central city area. If you're planning on taking OC Transpo to the game, doing this becomes more viable.
If you're staying downtown, make sure you spend some time checking out the city's major attractions, such as Parliament Hill, the National Gallery of Canada and other national museums. For cultural options, check out ByWard Market, where you can eat a favorite Ottawa treat, the beaver tail — a long piece of fried dough covered with sweet toppings.
And if you're visiting in wintertime and conditions are right, the Rideau Canal, which passes just east of downtown on its way to the Ottawa River, may be frozen over and open to skaters. Skating on the canal is a rite of passage for visitors and residents of Ottawa alike.
If you do want to head to the arena early, you could stop by the nearby Tanger Outlets. Opened in 2015, it offers mostly fast-food options, but if you'd like to go shopping pregame, they've got you covered.
A little farther up the highway, off Terry Fox Drive (named after a Canadian sports hero — look up his story if you're not familiar with him), there's a cluster of shopping centers where you'll find a better selection of restaurants and bars, including a steakhouse and a gastropub or two.
This area, about three kilometers from the arena, is your best bet for pregame or postgame action in close proximity.
Ottawa restaurants near Canadian Tire Centre
• The Crazy Horse Stonegrill Steakhouse & Saloon – steakhouse, 1.0 miles away
• Central Bierhaus – pub, 1.2 miles away
• Aperitivo – Mediterranean, 1.3 miles away
Search for more Ottawa restaurants on Tripadvisor.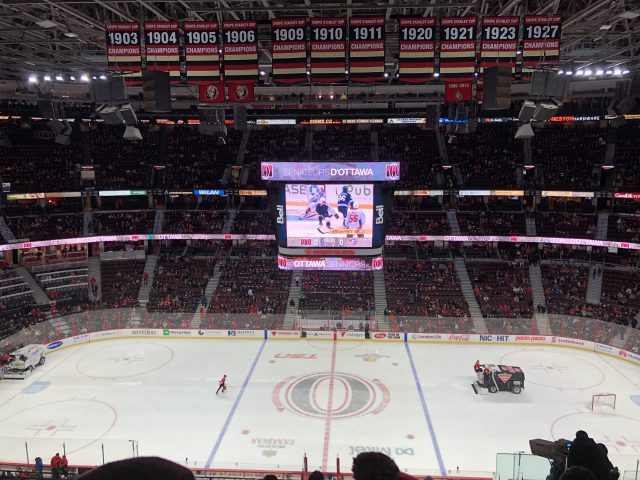 Watching a game at Canadian Tire Centre
Once inside, you'll find a fairly standard-issue hockey arena, at least for Canada. Capacities tend to be pretty large for Canadian NHL arenas, and it's no different at Canadian Tire Centre, which has a seating bowl that can hold nearly 20,000.
That makes for a pretty far vantage point in the upper reaches, and unlike most arenas, there's a concourse at the very top that makes for a decent standing-room viewing section if you feel like stretching your legs while the action is going on. (The Senators do sell standing-room tickets in this area, but only when the game approaches a sellout.)
More recently, the Senators have taken to tarping off some of the seats in the highest seating rows behind the nets at Canadian Tire Centre after being plagued by some well-documented attendance issues, even while the Senators embarked on a playoff run in 2017 that ended a goal short of the Stanley Cup Final.
When you arrive and enter — likely on the arena's east side, where a large plaza greets visitors — you'll still have to ascend a flight of stairs to get to the main concourse.
And if it's a cold night (which, of course, it often is during hockey season in Ottawa), don't count on taking off your overcoat once you get through the initial entrance doors. It's still drafty inside, and the concourse area, with concrete floors and walls, is surprisingly not as well-appointed as most other modern arenas.
Expect to run into plenty of traffic on your way to your section as well, as Canadian Tire Center is one of those venues where both the upper and lower seating bowls empty out into the same concourse.
Interested in a suite at Canadian Tire Centre? Buy suite tickets on SuiteHop.
Food and drink at Canadian Tire Centre
The arena's food selection includes the usual sports-venue staples, with a few Canadian twists. For example, Smoke's Poutinerie, a well-regarded Canadian chain, operates two stands dishing out their poutine (that's french fries with gravy and cheese curds on top, for the uninitiated).
There's also Pizza Pizza, a chain that seems to have stands at every sports venue in Ontario, and Tim Hortons. A popular Chinese restaurant in Ottawa, Golden Palace, serves its egg rolls at several stands around both the lower and upper concourses.
For drinks at Canadian Tire Centre, head to the Ledge on the upper concourse (behind the 400 level seating area) for that pub experience inside the arena, and you can get the popular Canadian cocktail, the Caesar, at any of the handful of bars around the arena, such as Bert's on the main concourse.
Original publish date: February 4, 2016
Most recent update: November 3, 2023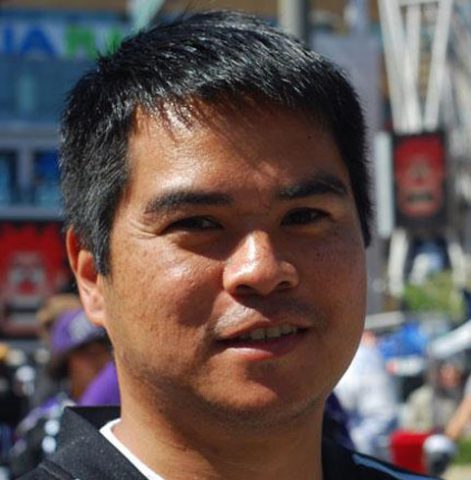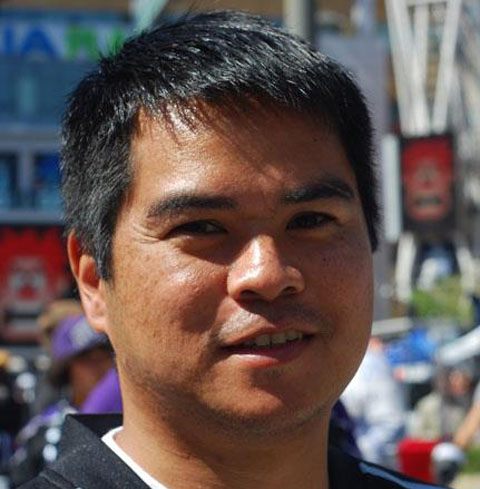 Edward de la Fuente | Itinerant Fan
I live for sports, and I love to travel. My biggest thrill is combining the two. I've been blogging about sports travel for more than a decade, and traveling for sports for twice as long.
About me | FAQ | Buy me a beer 🍺
Affiliate Disclosure
Please note that some of the links above are affiliate links, and at no additional cost to you, we earn a commission if you make a purchase. These recommendations are only for companies that we've used and have proven to enhance our sports travel experiences. To find out more about our affiliate partnerships, please read our Affiliate Disclaimer.
The Particulars
Home Teams
Ottawa Senators
Address
1000 Palladium Drive
Ottawa, ON K2V 1A5
Year Opened
1996
Capacity
19,153
Upcoming Events
All times local
Ottawa Senators vs. Toronto Maple Leafs
Thursday, December 7, 2023
7:00 pm
Get tickets at Ticketmaster »

Ottawa Senators vs. Carolina Hurricanes
Tuesday, December 12, 2023
7:00 pm
Get tickets at Ticketmaster »

Ottawa Senators vs. Pittsburgh Penguins
Saturday, December 23, 2023
7:00 pm
Get tickets at Ticketmaster »

Ottawa Senators vs. New Jersey Devils
Friday, December 29, 2023
7:00 pm
Get tickets at Ticketmaster »

Ottawa Senators vs. Buffalo Sabres
Sunday, December 31, 2023
6:00 pm
Get tickets at Ticketmaster »