LoanDepot Park
Our guide to LoanDepot Park, home stadium of the Miami Marlins, includes information on events, tickets, parking, public transportation, nearby hotels and restaurants, seating and more. Read on to find out how to get the most out of your gameday experience.
* * *
Of Major League Baseball's current collection of 30 ballparks, LoanDepot Park might be its most polarizing. Not many baseball traditionalists like the home stadium of the Miami Marlins — not with its retractable roof and garish architecture, which flies in the face of the brick-and-steel formula most newly built ballparks employ.
And if you ask around, you might be surprised to find that a lot of South Florida locals don't like it, either — not at the cost incurred on the local government, and at the expense of a venerable, much-loved venue in the Orange Bowl, which was razed to make way for the new stadium.
Despite all that, there are things to like about LoanDepot Park (formerly known as Marlins Park until a 2021 name change), and plenty of reasons to see an event there. It's a nice facility, especially on the inside, with plenty of features to keep you entertained as you walk around and as you watch the game.
And the more you think about it, the more you realize the Marlins' stadium fits right in with the culture of Miami, which likes to stand out in its own unique way. And hey, you're watching a franchise that, despite its fair share of ups and downs, has won two World Series titles in nearly 30 years of existence, a fact that's easy to overlook.
LoanDepot Park does get used for other major events, such as the 2017 MLB All-Star Game and matches in the World Baseball Classic, not to mention international soccer matches and, for a period of time, a college football bowl game.
For more on visiting Miami, check out our Miami sports travel guide.
Top photo credit: Christopher Lopez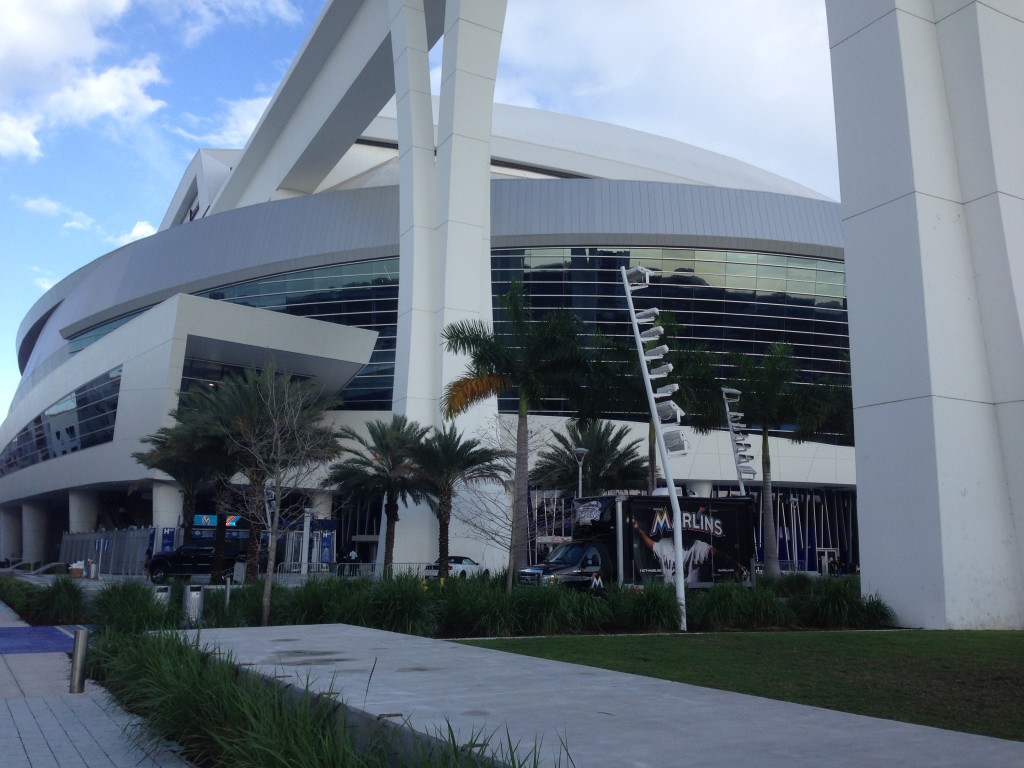 Getting to the ballpark
LoanDepot Park is visible for miles — nestled in a neighborhood just a few miles west of downtown Miami (technically part of Little Havana), the Marlins' stadium is easily the biggest building around.
Actually getting there, though, is a bigger issue. Because it's nestled in a neighborhood, the network of streets surrounding it is mostly residential and thus narrow, ill-equipped to handle the influx of traffic that a large-scale sporting event produces. One wonders how the neighborhood functioned when the Orange Bowl existed, but at least there are fewer football games than baseball games over the course of a season.
In short, you'll have to plan ahead and leave early to see a Marlins game or any other LoanDepot Park event, especially if you think it's going to be a well-attended one.
For drivers, the most common approach is via the Dolphin Expressway (Route 836), which heads west from downtown; exit at either 12th Avenue or 17th Avenue.
Public transportation, generally an afterthought in Miami, is an option as well. Miami's Metrorail service has two stops (Civic Center and Culmer) within reasonable walking distance. The Marlins also operate a shuttle between the Culmer station and the park on game days.
Parking at LoanDepot Park
Parking lots dot the landscape among the residences and small businesses, but the most common and visible spots are the four parking garages that stand on the immediate perimeter of LoanDepot Park. There's a chance they'll fill up with each game, though, and the Marlins encourage purchasing a spot in advance through their website — expect to pay at least $15 if you go this route, as opposed to $20 and up for drive-up rates on the weekends.
If you don't want to pay that much for parking, or you're the adventurous sort that doesn't like to think about this sort of stuff until you get there, you can try scanning the neighborhood for available parking lots and/or street spaces, but you might not want to do this if you don't know the area well.
Miami hotels near LoanDepot Park
If you're visiting Miami primarily to see an event at LoanDepot Park, you'll find it's likely most convenient to stay in a hotel downtown. Cheaper lodging options can also be found at around Miami International Airport. Neither area is that close to LoanDepot Park, but there aren't many hotels in the immediate vicinity, and those that are there aren't really within walking distance.
• SpringHill Suites Miami Downtown/Medical Center – 0.8 miles away
• Life House, Little Havana – 0.9 miles away
• Selina Miami River – 1.2 miles away
Search for more Miami hotels on Booking.com.
Map of the surrounding area
Things to do around the ballpark
Though you'll probably want to arrive early to beat traffic, you won't likely find much to do around the ballpark unless you have drugstore errands to run or are craving fast food. The heart of Little Havana isn't far away, though, so you could spend your pregame time there before heading to the ballpark.
And downtown Miami is a little more than two miles away, so if you're staying in a hotel there, spending time nearby before making the drive over to LoanDepot Park isn't a bad idea.
(Even though it doesn't seem much farther, don't go to Miami Beach, though, unless you give yourself at least an hour to get to the ballpark before first pitch. Seriously — traffic can be brutal going in and out on a daily basis.)
Before heading inside, take a moment to look at what appeared to be random letters embedded in the plaza — turns out they're the original letters from the old "Miami Orange Bowl" sign.
One of the defining features of the park's interior — the garish "Homer" home run sculpture that used to stand just beyond the left-center field wall — was relocated to outside the park in 2020.
Miami restaurants near LoanDepot Park
• Wendy's – fast food, 0.2 miles away
• Batting Cage Sports Bar & Lounge – pub, 0.3 miles away
• Crust – Italian, 0.8 miles away
Search for more Miami restaurants on Tripadvisor.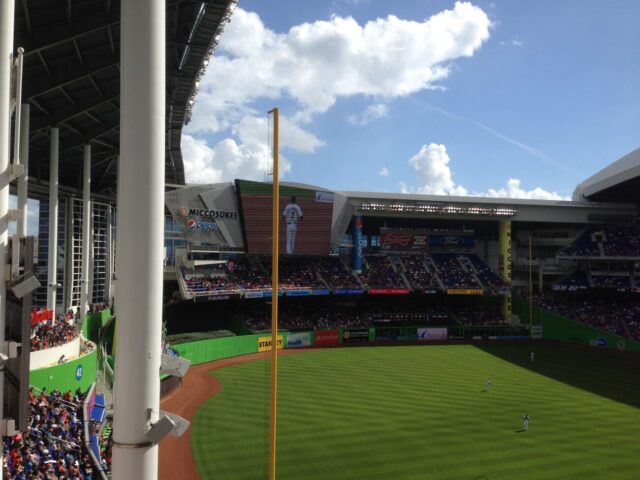 Watching a game at LoanDepot Park
OK, so there isn't much to see outside the park. But if it's your first visit, it's a good idea to reserve some time for walking around.
Within LoanDepot Park you'll find big, spacious concourses, a fairly cozy seating bowl as ballparks go and a few cool features, such as a bobblehead "museum" (really a large display full of bobbleheads from around the majors, complete with a vibrating case so that the heads constantly bobble) and a large mural paying tribute to the late, great Orange Bowl. You can also walk around the outfield concourse and get a glimpse at the panels that open up to let in air on not-so-hot days.
So yes, it isn't that traditional baseball experience, but if you're not having a good time at Marlins Park, you're probably not trying. Befitting the Miami Beach vibe, there are a few club-like areas in which you can spend your time — a few spots are exclusive to season-ticket members, but some suites and club spaces are accessible.
Sadly, the Clevelander, one of Miami's most famous clubs, decided to move out of the Marlins' stadium after the 2019 season.
For the regular Joes sitting in standard spots, LoanDepot Park's seating bowl offers little in the way of surprises. The Marlins have one of the smallest stadiums in MLB in terms of capacity, but LoanDepot Park still has enough features to compel you not to linger in your seating area the entire game.
From good standing-room spots to party porches in the outfield, the ballpark promotes a social atmosphere. One of those standing-room areas was installed in left-center field, replacing the relocated home run sculpture.
Food and drink at LoanDepot Park
There's plenty of good food options at LoanDepot Park, and it's worth doing a little exploring to find something that fits your mood. As you can imagine, Cuban and other Latin dishes are plentiful at LoanDepot Park, including cuban sandwiches, tacos, tortas, ceviche, and more.
The Marlins have also introduced a lower-price concession menu, labeled the $3 o $5 Menu (305 being Miami's area code). Standard stadium fare such as hot dogs, popcorn and pretzels cost $3, while 12-ounce beers and pork tacos are $5. Note that only two stands in LoanDepot Park offer these prices, on the Promenade (main) seating level next to Sections 13 and 37.
Beer fans can also visit the Biscayne Bay Brew Hall, an in-ballpark brew pub on the Promenade level. Biscayne Bay Brewing Company serves its Marlins Lager in this space, which also offers pub-style food items.
Original publish date: February 4, 2016
Most recent update: March 17, 2023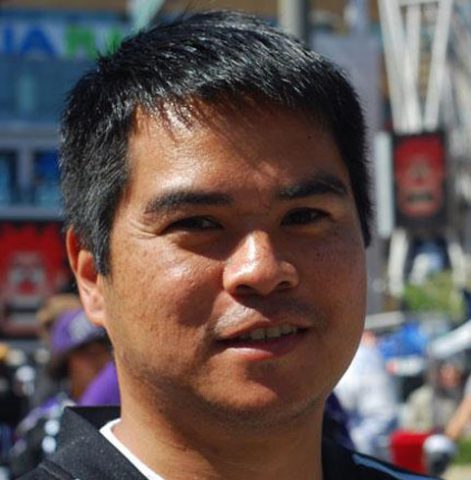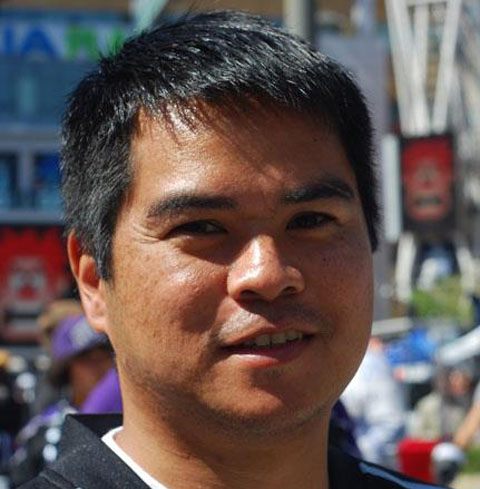 Edward de la Fuente | Itinerant Fan
I live for sports, and I love to travel. My biggest thrill is combining the two. I've been blogging about sports travel for more than a decade, and traveling for sports for twice as long.
About me | FAQ | Buy me a beer 🍺
Affiliate Disclosure
Please note that some of the links above are affiliate links, and at no additional cost to you, we earn a commission if you make a purchase. These recommendations are only for companies that we've used and have proven to enhance our sports travel experiences. To find out more about our affiliate partnerships, please read our Affiliate Disclaimer.
The Particulars
Home Teams
Miami Marlins
Address
501 Marlins Way
Miami, FL 33125
Year Opened
2012
Capacity
36,742
Upcoming Events
All times local
Monster Jam
Saturday, February 24, 2024
7:00 pm
Get tickets at Ticketmaster »

Monster Jam
Sunday, February 25, 2024
3:00 pm
Get tickets at Ticketmaster »

Miami Marlins vs. Pittsburgh Pirates
Thursday, March 28, 2024
12:00 am
Get tickets at Ticketmaster »

Miami Marlins vs. Pittsburgh Pirates
Friday, March 29, 2024
12:00 am
Get tickets at Ticketmaster »

Miami Marlins vs. Pittsburgh Pirates
Saturday, March 30, 2024
12:00 am
Get tickets at Ticketmaster »