Target Field
Our guide to Target Field in Minneapolis includes information on events, tickets, parking, public transportation, nearby hotels and restaurants, seating and more. Read on to find out how to get the most out of your gameday experience.
* * *
Since 2010, the Minnesota Twins have been in constant running for having the best ballpark in the majors, with the gleaming Target Field on the edge of downtown. The park certainly is a strong contender for best view beyond the outfield fence, what with the neon Twins sign and the downtown Minneapolis skyline in the distance.
Considering where the Twins used to play, the plastic-fantastic indoor Metrodome, Target Field has been a significant improvement in a lot of ways — and that's after considering the fact that it doesn't have a roof, making for frequently chilly environments for early-season games.
Target Field had its first moment in the spotlight when it hosted the 2014 MLB All-Star Game. Since then, the Twins have reached the postseason a handful of times, helping to shed even more light on its beautiful ballpark.
And it has also welcomed a handful of prominent non-baseball events, such as when the Minnesota Wild hosted the NHL Winter Classic in January 2022.
Indeed, the Twins franchise has come a long way since it was being considered for contraction, and its stadium stands as an enduring symbol of the team's resurgence.
For more on visiting Minneapolis, check out our Minneapolis/St. Paul sports travel guide.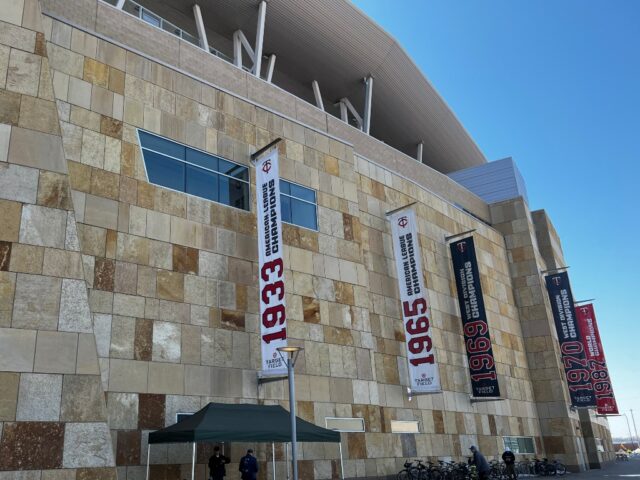 Getting to the ballpark
In Minneapolis, the fact that all of three its pro sports venues (excluding the Wild's Xcel Energy Center since it's in St. Paul) are downtown make it easy on the region's sports fans. Target Field was built on the edge of downtown, separated from all the tall buildings by Interstate 394 — but it's difficult to tell because the highway is practically covered as it passes by the ballpark.
I-394 is actually a spur route that takes drivers from nearby Interstate 94 and ends just east of the ballpark, at 3rd Street North. If you pass this way, exit just before the terminus at 6th Street North and you'll be right next to Target Field.
If you'd rather not drive but still need to reach downtown Minneapolis, take advantage of the Twin Cities region's Metro Light Rail system, which runs two lines that converge downtown and end at Target Field. It's a good option if you'd rather stay at a hotel outside the downtown core, or if you wanted to do a park-and-ride to Target Field, as many hometown fans do.
Use the Green Line to get to the ballpark from downtown St. Paul or anywhere between; the Blue Line will get you there from southern suburbs such as Bloomington (where the Mall of America is located) as well as Minneapolis/St. Paul International Airport. A single adult fare costs $2 during non-peak times and $2.50 during rush hour, but it pays to buy an all-day pass for $5 and avoid the crush of fans trying to buy fares after the game.
By the way, if you're staying in a downtown Minneapolis hotel you're likely within comfortable walking distance of Target Field. For example, the intersection of 7th Street and Nicollet Mall — where the Mary Tyler Moore statue stands — is just four blocks from the ballpark.
Parking at Target Field
Once you exit the highway, you have your choice of numerous parking structures in the area.
The reason why the highway is mostly covered next to Target Field is because several parking structures, or ramps, span across it. Known as the A, B, C and Hawthorne Ramps, they are all available for fans coming to the ballpark. Depending on the day of the week and the game, expect the cost to range between $12 and $20; you can also purchase parking in advance via ParkWhiz.
Drivers also have the option of heading east into downtown and finding parking at one of the numerous structures in the area, all within a short walk of Target Field and typically cheaper (in the $5-12 range).
Minneapolis hotels near Target Field
• Loews Minneapolis Hotel – 0.2 miles away
• Hampton Inn & Suites – Minneapolis/Downtown – 0.3 miles away
• AC Hotel by Marriott Minneapolis Downtown – 0.3 miles away
Search for more Minneapolis hotels on Booking.com.
Map of the surrounding area
Things to do around the ballpark
Most of the restaurants, bars and hotels that give downtown Minneapolis such a vibrant scene, especially in the summer, are very close to Target Field.
Even if you've parked in one of the aforementioned ramps adjacent to the ballpark, it doesn't take much effort to walk a few blocks to one of the many hangouts in the area, enjoy a few drinks or an early dinner and then head back to the game.
From Target Field, try walking into downtown via North 7th Street or North 5th Street, past the Target Center, the Minnesota Timberwolves' home arena. The presence of two sports venues means that numerous sports bars have set up shop nearby, and all do a pretty brisk business before Twins games.
This area, while apparently a part of downtown, also represents the edge of an up-and-coming neighborhood known as the Warehouse District (technically, this is the area in which Target Field is located).
The district is also known as the North Loop, and if you're looking for a spot that's lesser-known to visitors and just off the beaten track from the hustle and bustle of downtown, this would be it.
Just head northeast on North 5th Avenue or North 6th Avenue, as opposed to southeast toward the Target Center, to see more options. Many of the city's popular brewpubs and some of its most acclaimed restaurants, such as Spoon and Stable and Borough, are within a mile radius of the ballpark.
Minneapolis restaurants near Target Field
• Pizza Luce – pizza, 0.2 miles away
• Kieran's Irish Pub – pub, 0.2 miles away
• Cowboy Jack's – American, 0.2 miles away
Search for more Minneapolis restaurants on Tripadvisor.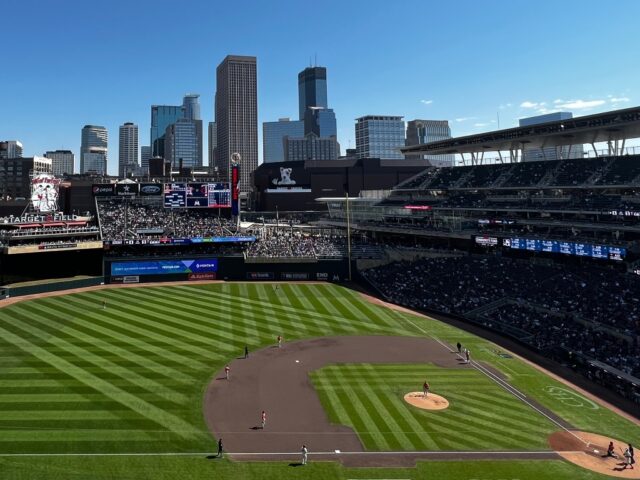 Watching a game at Target Field
You may go into your visit thinking that as one of the majors' more recently built ballparks, Target Field doesn't have a lot of features to offer that differentiate it from its peers. For the most part, you'd be right, but at the same time there's still plenty worth seeing that makes it the perfect venue for its location.
In essence, the designers didn't try too hard to give Target Field some unique quirk, and that's a good thing. Starting with your approach to the ballpark, you'll see that they didn't bother with the brick-and-steel exterior that so many other parks use, and instead used glass and limestone to give it a distinctive look.
Before you go inside, check out Target Plaza on the right-field side from the ballpark — if you're walking from the downtown/Target Center side of the highway, you'll pass through it since it's part of the overpass. Plaques commemorating Twins greats line the fencing of the plaza, and statues of team legends Harmon Killebrew, Rod Carew and Kirby Puckett stand in the space.
Go inside — through Gate 34, numbered as such in honor of Puckett — and the theme of Target-heavy signage will continue . The name of the Minneapolis-based corporation is all over the place, after all.
You'll find that the main concourse can get pretty crowded in spots, as the layout and the many features around the park are conducive to fans walking about. In right field, just past the entry turnstiles, is the "Gate 34 Experience," which includes lawn games like cornhole and miniature golf as well as a two-story bar space.
Target Field's seating bowl is well-designed and has great sight lines from just about all angles, even in the upper deck. Sit along the third-base side for that great view of downtown Minneapolis, which has to rank among the top views in the majors.
The batter's eye in center field is fashioned to give off a country lodge feel that's so common in Minnesota, and just above it is a large neon sign of the "Twins shaking hands" logo. In case you didn't know, the two men in the logo have names, reflected in the name of the bar located just underneath the sign: Minnie and Paul's.
If you feel like stretching your legs, you can get out of your seating area and explore several different parts of Target Field without giving up your view of the field. For example, just below Minnie and Paul's is a standing-room vantage point where you can watch relievers warming up in the two bullpens.
Closer to the left-field foul pole, the Summit Brewing Pub (on the club level) and Budweiser Rooftop (on the upper concourse) provide more party spaces.
And make sure you look up to see another unique feature of Target Field, the canopy that shelters the uppermost rows of the seating bowl. Rather than having exposed steel beams holding up metal sheeting, the canopy is fashioned to look like an airplane wing, and the stadium's lights are nestled within.
Food and drink at Target Field
If you explore the concessions at Target Field, you'll find that the Twins do a great job honoring not only their franchise greats, but also the stars of Minnesota's food scene as well.
For the former, Tony Oliva has his own stand serving Cuban sandwiches, and Kent Hrbek has a pub named after him, one of many sit-down bars and restaurants you can find throughout the park.
Meanwhile, some of Minnesota's greatest hits can be found throughout the concourses. Fried cheese curds, Kramarczuk's sausages, Murray's steak sandwiches and Izzy's ice cream are all local favorites worth trying, and many of these items are available in various spots around Target Field's seating bowl.
As for beers, check out options from local breweries such as Summit and Grain Belt at the various "Minnesota Brews" stands.
Original publish date: February 4, 2016
Most recent update: April 9, 2023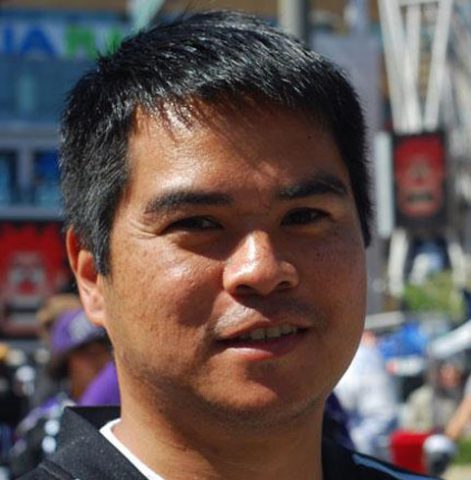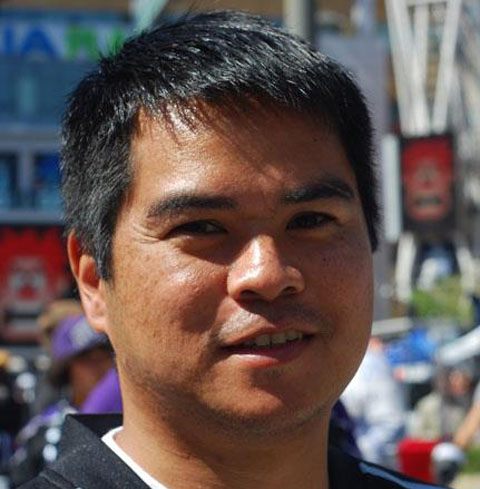 Edward de la Fuente | Itinerant Fan
I live for sports, and I love to travel. My biggest thrill is combining the two. I've been blogging about sports travel for more than a decade, and traveling for sports for twice as long.
About me | FAQ | Buy me a beer 🍺
Affiliate Disclosure
Please note that some of the links above are affiliate links, and at no additional cost to you, we earn a commission if you make a purchase. These recommendations are only for companies that we've used and have proven to enhance our sports travel experiences. To find out more about our affiliate partnerships, please read our Affiliate Disclaimer.
The Particulars
Home Teams
Minnesota Twins
Address
1 Twins Way
Minneapolis, MN 55403
Year Opened
2010
Capacity
39,504
Upcoming Events
All times local
AL Wild Card: TBD at Minnesota Twins Home Game 1
Tuesday, October 3, 2023
12:00 am
Get tickets at Ticketmaster »

AL Wild Card: TBD at Minnesota Twins Home Game 2
Wednesday, October 4, 2023
12:00 am
Get tickets at Ticketmaster »

AL Wild Card: TBD at Minnesota Twins Home Game 3 (If Necessary)
Thursday, October 5, 2023
12:00 am
Get tickets at Ticketmaster »

Minnesota Twins vs. Cleveland Guardians
Thursday, April 4, 2024
12:00 am
Get tickets at Ticketmaster »

Minnesota Twins vs. Cleveland Guardians
Saturday, April 6, 2024
12:00 am
Get tickets at Ticketmaster »