Rogers Arena
Our guide to Rogers Arena in Vancouver includes information on events, tickets, parking, public transportation, nearby hotels and restaurants, seating and more. Read on to find out how to get the most out of your gameday experience.
* * *
If you've never been to Vancouver, you may find yourself surprised to see just how vibrant it is, especially in its downtown core. Rogers Arena, home of the Vancouver Canucks, plays a prominent role in this vibe.
Tall buildings abound, including numerous residential high-rises, and the streets are teeming with pedestrians during the waking hours. And all of this hustle and bustle is surrounded by unmatched natural beauty thanks to the nearby bodies of water and the mountains in the distance.
So with all of that at your disposal, why would you want to go inside to see a hockey game? Well, this is Canada, of course, and that's what the locals do. Also, it's known to rain a lot around these parts.
But really, the city's hockey culture is worth experiencing. Vancouverites love their Canucks, even if the team has yet to deliver a title despite a couple close calls over the years, and there's no better way of observing this relationship than seeing a game at Rogers Arena.
Looking for Rogers Arena event tickets? Search events on Ticketmaster.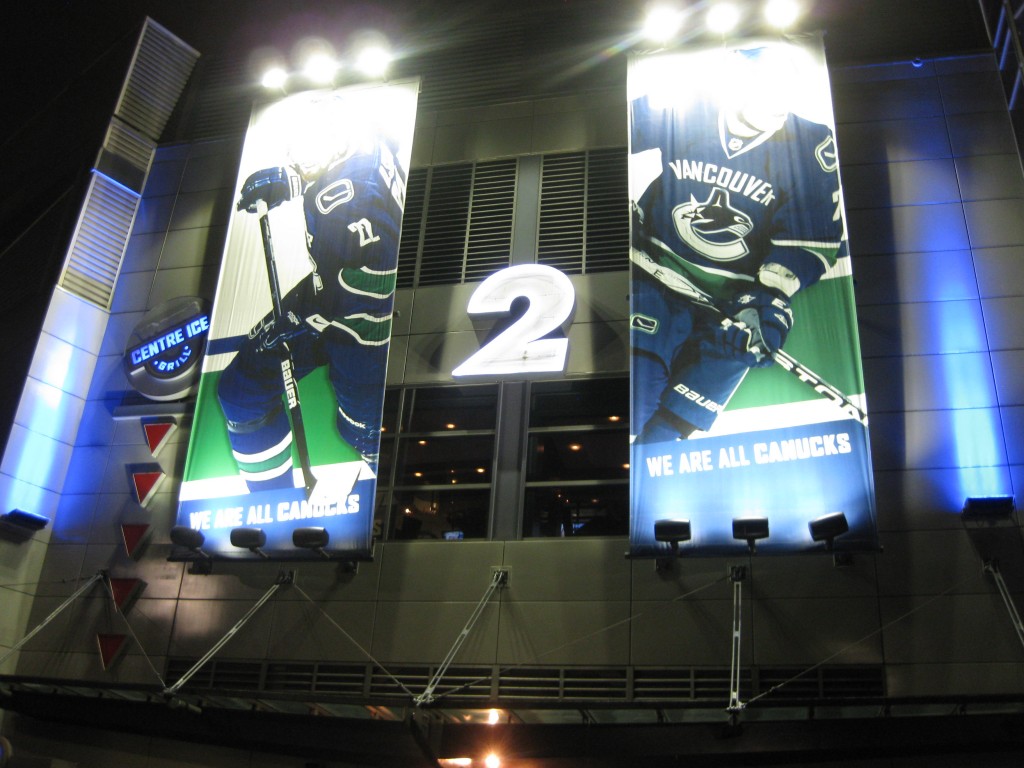 Getting to the arena
Rogers Place, formerly known as General Motors Place, sits in the eastern part of downtown Vancouver, near the city's very large and historically significant Chinatown.
Downtown is pretty big as far as walking distances are concerned, but if you can handle a walk of a mile to a mile and a half (or, keeping with the Canadian convention, up to two kilometers), then you can probably just hoof it from most hotels within the downtown area.
If you approach from the center of downtown (ie. from the west), you may have a hard time locating Rogers Arena. That's because the building is obscured by a number of nearby tall buildings, including one practically right over it. Walking east on Georgia Street toward the arena, you'll see the much larger BC Place stadium first; Rogers Arena will be to the left, across the street.
If you're on Dunsmuir Street, which passes the arena's north side, you can spot it a little better, but a network of bridges and all the tall buildings still makes it more difficult than it might seem.
Vancouver's SkyTrain system, which was expanded for the 2010 Winter Olympics and thus runs to many different parts of the city, can be used to get to Rogers Arena from different parts of the city. The lines are somewhat disjointed, though, so you'll have to pay close attention to the line that you're on.
The Expo and Millennium lines run right by the arena via the Stadium-Chinatown stop — it's a quick two-stop jaunt from the Burrard station, the closest stop to the downtown center. If you're on the Canada line, you can either get off at Vancouver City Centre and walk about half a mile (a straight shot down Georgia Street) or continue on to Waterfront, where you can transfer to the lines that'll take you to the arena's doorstep.
Parking at Rogers Arena
Drivers who arrive via Route 1A (aka the Georgia Viaduct) can access one of a handful of large surface parking lots east and south of Rogers Arena. A number of parking lots used for Rogers Arena events also surround BC Place. Parking rates begin at C$30 for Canucks games and other Rogers Arena events.
Rogers Arena also has a parkade located under the arena, but it is unavailable for patrons on event nights.
Vancouver hotels near Rogers Arena
• Sandman Hotel Vancouver City Centre – 0.2 miles away
• Georgian Court Hotel, BW Premier Collection – 0.2 miles away
• Hampton Inn & Suites by Hilton – Vancouver Downtown – 0.3 miles away
Search for more Vancouver hotels on Booking.com.
Map of the surrounding area
Things to do around the arena
Vancouver's downtown beckons, with its plethora of bars, restaurants and other entertainment options. Rogers Arena is technically on the edge of downtown, but other nearby neighborhoods present spots for fans to hang out before Canucks games or arena events.
Many downtown Vancouver hangouts can be found along Georgia Street, or at least within a few blocks of it. But for a larger selection, you'll have to wander past the distinctive Vancouver Public Library about four blocks west, which might be a little bit too far depending on your tolerance for walking and/or straying from the arena.
A better bet for sports bar-type restaurants is the Gastown/Chinatown neighborhood to the north, with plenty of establishments to choose from on Beaty Street about three blocks away from Rogers Arena.
In addition, the stretch of Main Street between the Georgia Viaduct and Pacific Central Station, a short distance east of the arena, is lined with restaurants.
For a uniquely Vancouver pregame experience, hop on the Aquabus — a fleet of small boats that serve a series of docks around False Creek, the body of water south of downtown.
You can use it to reach points of interest like Granville Island's public market, Stamps Landing and The Village (used as the athletes' village during the 2010 Winter Olympics). The Plaza of Nations stop is located near BC Place and is about a quarter-mile from Rogers Arena.
For more on visiting Vancouver, check out our Vancouver sports travel guide.
Vancouver restaurants near Rogers Arena
• Tako – Korean/Mexican, 0.1 miles away
• Moxie's Grill & Bar – American, 0.2 miles away
• Frankie's Italian Kitchen & Bar – Italian, 0.3 miles away
Search for more Vancouver restaurants on Tripadvisor.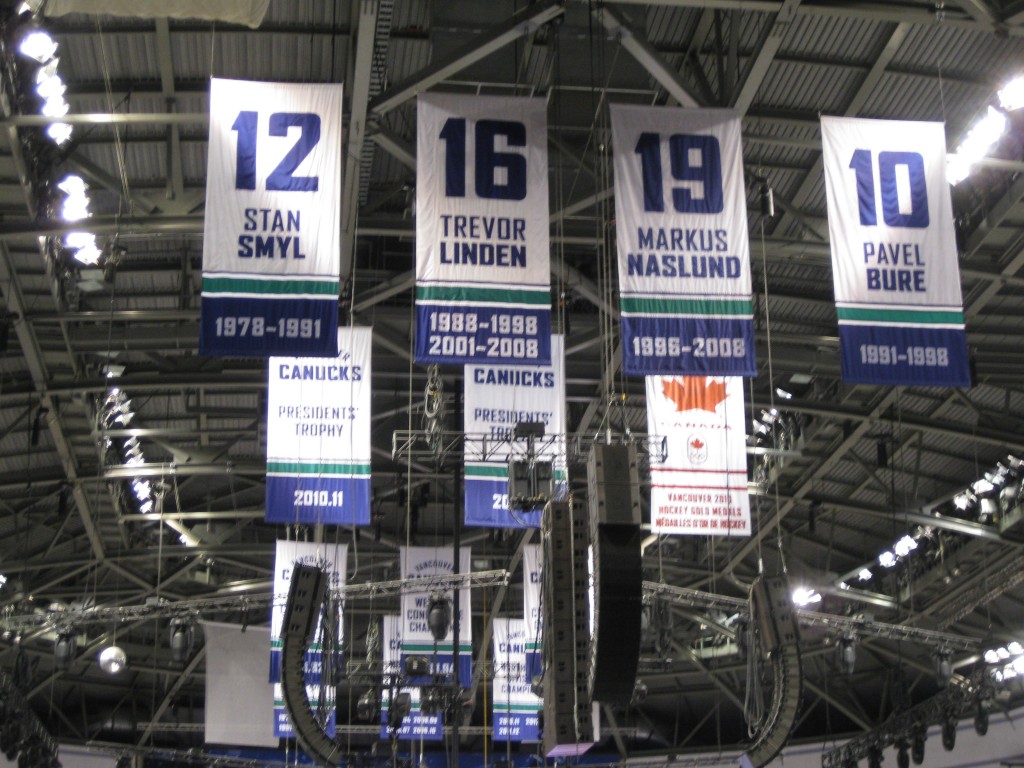 Watching a game at Rogers Arena
Considering its setting among tall buildings, you might think that Rogers Arena is a pretty big event venue, and thus must have a large seating bowl. Really, it's pretty intimate — even from the upper seating deck, just 14 rows high, the sight lines are very good, so there are few if any bad seats at Rogers Arena.
Part of the illusion regarding its size stems from how you get inside. If you approach via Georgia Street, you wind up on an elevated road, and the entrance on that side actually leads to the upper concourse.
On the other side, via Dunsmuir, you'll have to climb a staircase to access the entrance gates. So you're already getting a bit of workout before you even go in, and that naturally creates the expectation that you'll be pretty high up once you get to where you're going.
Anyway, there's plenty to check out once you're inside. The arena's biggest claim to fame to date is that it hosted the gold-medal men's hockey game in the 2010 Olympics, which of course Canada won, and there's a display dedicated to the game that includes a monitor showing the overtime period on a continuous loop.
The Canucks do a great job with their pregame theatrics at Rogers Arena, with a video projected right onto the ice and screens lowered to ice level for greater visual effect, so get to your seating area early to catch it.
Interested in a suite at Rogers Arena? Buy suite tickets on SuiteHop.
Food and drink at Rogers Arena
Rogers Arena boasts a wide food selection that includes non-traditional arena items like Asian stir-fries, grilled cheese sandwiches, curry bowls and poke. There's also a stand devoted to bacon, serving breakfast sandwiches and bacon nachos.
Vancouver's reputation as a destination for hot-dog lovers is represented at Rogers Arena in the form of the Steamers stand, named after Canucks legend Stan "The Steamer" Smyl. Gourmet dog options include the Croque dog, with ham, gruyere cheese and strawberry jam, and the Poutine dog, with cheese curds and fried potato sticks.
The upper concourse, aka 300 level, is home to a large sit-down bar called The SportsBar Live!, which gives fans a chance to sit with beer in hand in a bar environment. For more sophisticated tastes, Rogers Arena has a wine bar on the 100 level.
Original publish date: February 4, 2016
Most recent update: October 16, 2023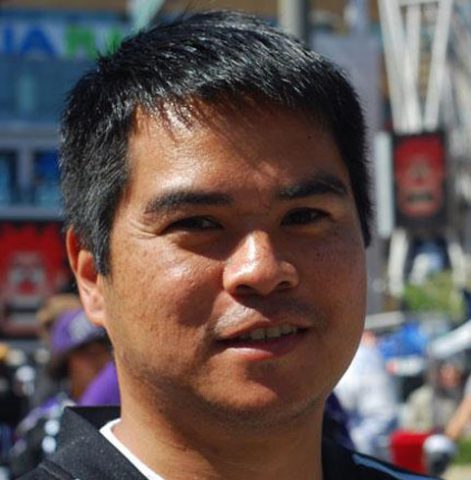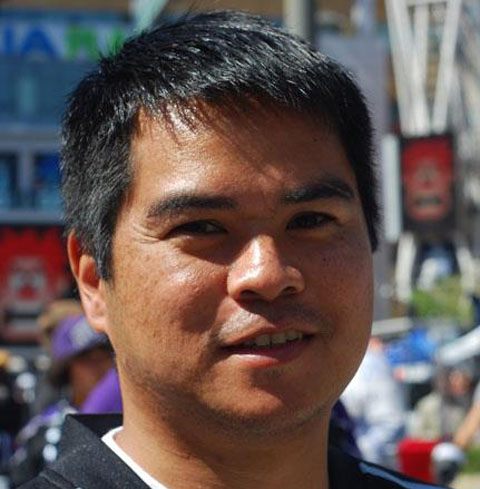 Edward de la Fuente | Itinerant Fan
I live for sports, and I love to travel. My biggest thrill is combining the two. I've been blogging about sports travel for more than a decade, and traveling for sports for twice as long.
About me | FAQ | Buy me a beer 🍺
Affiliate Disclosure
Please note that some of the links above are affiliate links, and at no additional cost to you, we earn a commission if you make a purchase. These recommendations are only for companies that we've used and have proven to enhance our sports travel experiences. To find out more about our affiliate partnerships, please read our Affiliate Disclaimer.
The Particulars
Home Teams
Vancouver Canucks
Address
800 Griffiths Way
Vancouver, BC V6B 6G1
Year Opened
1995
Capacity
18,630
Upcoming Events
All times local
Vancouver Canucks vs. Minnesota Wild
Thursday, December 7, 2023
7:00 pm
Get tickets at Ticketmaster »

Vancouver Canucks vs. Carolina Hurricanes
Saturday, December 9, 2023
7:00 pm
Get tickets at Ticketmaster »

Enrique Iglesias, Pitbull, Ricky Martin: The Trilogy Tour
Sunday, December 10, 2023
7:00 pm
Get tickets at Ticketmaster »

Enrique Iglesias, Pitbull, Ricky Martin: The Trilogy Tour
Monday, December 11, 2023
7:00 pm
Get tickets at Ticketmaster »

Vancouver Canucks vs. Tampa Bay Lightning
Tuesday, December 12, 2023
7:00 pm
Get tickets at Ticketmaster »