Estadio Azteca
Our guide to Estadio Azteca in Mexico City includes information on events, tickets, parking, public transportation, nearby hotels and restaurants, seating and more. Read on to find out how to get the most out of your gameday experience.
* * *
Any discussion of major professional sports in Mexico has to begin with the country's largest and most famous stadium, Estadio Azteca in Mexico City.
Open since 1966, the venue is just dripping with history and significance in the sports world. It was the first stadium to host the World Cup final twice, doing so in 1970 and 1986. Its place in international football is secure, as it serves as the home stadium for both the Mexican national team and Club América, perhaps the most popular club in the country's professional league.
And Estadio Azteca is well-known to American fans because it has hosted a number of NFL games as part of the league's International Series. The venue was the host of the first NFL regular-season game played outside the United States when the 49ers and Cardinals clashed in Mexico City in 2005.
While the NFL International Series will continue to include Mexico City in the future, another event is coming soon that will appeal to American and international fans: The World Cup is returning, with games scheduled for Estadio Azteca in 2026. As such, the stadium is undergoing a series of renovations and as a result will not host an NFL game during the 2023 season.
No matter what's going on at Estadio Azteca, the building is well worth a visit and a spot on the itinerary when visiting Mexico City, one of North American's most fascinating cities.
Top photo credit: Jess Kraft/Shutterstock.com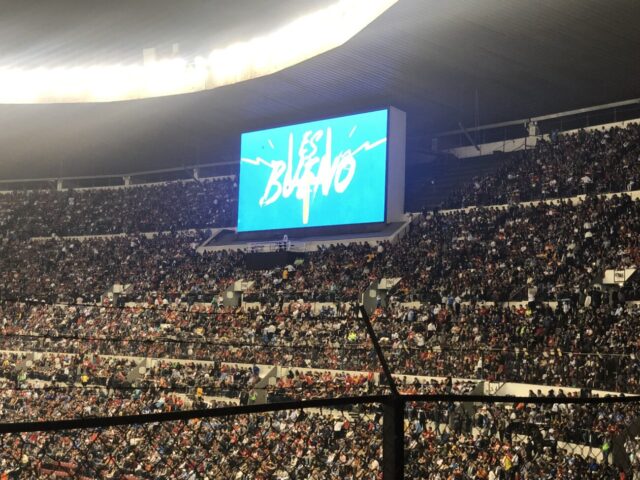 Getting to the stadium
Mexico City is a huge, sprawling city, so if a game or other event at Estadio Azteca is part of your visit, know this first: The stadium, located in the neighborhood of Coyocán, is not located near anything that would be considered a major tourist attraction.
In fact, Estadio Azteca is at least 15 kilometers south of the districts that are popular with tourists, such as La Condesa, Roma and Polanco.
So it goes without saying that if you're a visitor to Mexico City, you'll have to plan well for a trip to the stadium — and budget your time accordingly.
Estadio Azteca lies near the Anillo Periférico, the major ring highway that circles the city, so getting to the site isn't a particular challenge for drivers. However, the traffic can build the closer you get to the stadium — and the closer to game time you get — so be prepared for some frustration as you get within a couple miles.
If you're not driving or taking a rideshare, you do have a public transportation option to get to Estadio Azteca. Getting to the stadium requires using two services: the Mexico City Metro subway, and the Xochimilco Light Rail (Tren Ligero) line, which extends beyond the subway's reach and leads to the stadium.
If you go this route, you just have to be sure to make your way to the No. 2 or Blue (Azul) line toward the Tasqueña station, at which you can transfer to light rail.
Note that for the annual NFL Mexico Game, the league sets up a shuttle network that provides direct service to Estadio Azteca from several pickup points around the city. While affordable (typically around 100 pesos roundtrip), this is a popular and thus crowded option, and starting your journey to the stadium as early as possible is advised.
Parking at Estadio Azteca
Estadio Azteca is surrounded by a large parking lot, with most of the spaces located on the west side. Note that if you've used a shuttle service to get to the event, such as the NFL Mexico Game, the drop-off and pickup points are stationed on this side of the stadium.
Depending on the event, entry into the Estadio Azteca parking lot will typically cost around 100 pesos (about US$5).
There are smaller, independent parking lots nearby that you can use for Estadio Azteca events, but the stadium's own lot is big enough that auxiliary options aren't usually needed.
Mexico City hotels near Estadio Azteca
• Hotel Real Azteca – 0.3 miles away
• Hotel La Luna – 0.4 miles away
• Hotel Cuore – 0.4 miles away
Search for more Mexico City hotels on Booking.com.
Map of the surrounding area
Things to do around the stadium
The stadium grounds are largely surrounded by dense residential neighborhoods, so you'd be hard-pressed to find something to do before an Estadio Azteca event from an entertainment standpoint.
Exploring the nearby streets might be an option, as the area is filled with small restaurants and independent food vendors that serve the neighborhood. There's also a fairly large shopping mall, the Centro Comercial Perisur, about three miles to the west.
Depending on the event, the Estadio Azteca grounds can also host large pregame fairs that make it worth it for fans to arrive early.
For the NFL Mexico game, the grounds typically open up to five hours before kickoff, with sponsor exhibits, food trucks and live music present to help fans pass the time before heading inside.
Beyond that, though, you might find it more worth your while to spend your pregame time in one of Mexico City's more lively areas before taking advantage of public transit to make your way to Estadio Azteca.
Mexico City restaurants near Estadio Azteca
• Tortas Gigantes Sur 12 – Mexican, 0.2 miles away
• Restaurante Parque Asturias – Spanish, 0.4 miles away
• Cachito de Cuba – Caribbean, 0.4 miles away
Search for more Mexico City restaurants on Tripadvisor.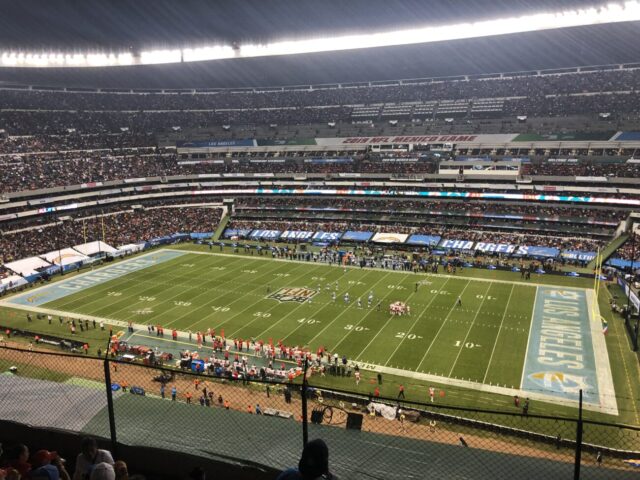 Watching a game at Estadio Azteca
Estadio Azteca was built to host some of the grandest events on the world sporting stage, such as the World Cup final – so any event you might see there, from Club América matches to the NFL International Series to El Tri matches, can feel like quite the spectacle.
However, Estadio Azteca is now more than a half-century old, and walking around the stadium during any event you might see there, you'll be able to tell.
So let's just say that the venue carries a historic feel, but the infrastructure demands a little bit of patience among fans — especially when the event is sold out and the place is jam-packed.
The perimeter of the stadium is fenced off, creating what is in essence a concourse around it, and you can find many food, drink and souvenir options by strolling this area. However, once it comes time to enter the seating area, you'll pass through turnstiles and then have to negotiate a maze of steps and ramps to get to your level.
Estadio Azteca has no less than six seating levels, numbered from 100 to 600, so if you're sitting high up, you'll be climbing ramps for a while. And keep in mind that this is Mexico City, with an altitude of more than 7,000 feet, so be sure not to overdo it as you make that climb.
The seating bowl at Estadio Azteca is majestic, and looking out at a full stadium during a big event is an awe-inspiring sight. But you'll quickly notice an interesting quirk.
The upper decks have chain-linked fences with barbed wire on top of them, ostensibly to keep fans from throwing things (or maybe even themselves) onto lower seating levels. But if you have a seat in one of the first 4-5 rows of these levels, you'll find yourself watching the game through the fence, which is less than optimal.
Meanwhile, the concourses on these upper levels are narrow to say the least, and best avoided during event intermissions (such as halftime of soccer or American football games) because they get packed with fans trying to use bathrooms, smoke or just hang out.
Food and drink at Estadio Azteca
There's very little in the way of concessions on the upper levels at Estadio Azteca, so fans in those seating areas can either make their way down to the perimeter or wait in their seats for vendors to come along — which might be the more interesting of the two options.
On the main level, food trucks are usually present and dish out tacos and other Mexican street foods, as well as American stadium fare such as burgers, hot dogs and fries.
But if you're looking for a unique stadium experience (at least compared to American venues), then wait in your seat for a vendor to come along — and there are many of them roaming the seating sections at Estadio Azteca.
Among the options available: Instant ramen cups, but accompanied by lime and hot sauce for a Mexican twist; bags of chips, but with hot sauce (the vendor will add the sauce and shake it for you); shaved ice in citrus flavors, and cups of fruit.
Nearly all of these choices run for 100 pesos or less, so they're typically light on the wallet — a nice surprise if you're an American fan used to high stadium concession prices.
Of course, beer is plentiful, with Mexican brands Corona and Tecate available as well as American options like Bud and Bud Light.
Original publish date: July 19, 2022
Most recent update: July 5, 2023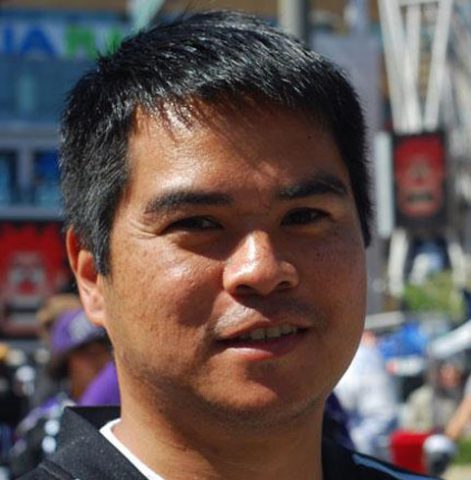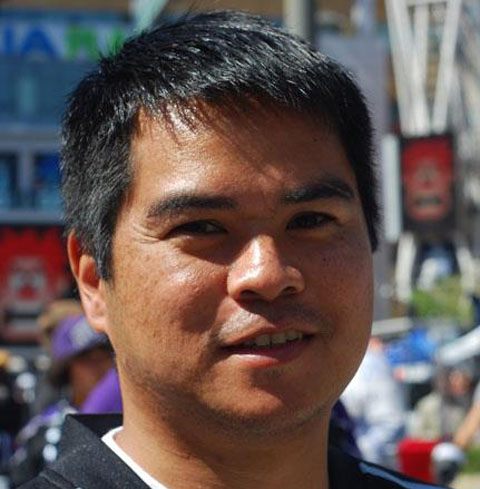 Edward de la Fuente | Itinerant Fan
I live for sports, and I love to travel. My biggest thrill is combining the two. I've been blogging about sports travel for more than a decade, and traveling for sports for twice as long.
About me | FAQ | Buy me a beer 🍺
Affiliate Disclosure
Please note that some of the links above are affiliate links, and at no additional cost to you, we earn a commission if you make a purchase. These recommendations are only for companies that we've used and have proven to enhance our sports travel experiences. To find out more about our affiliate partnerships, please read our Affiliate Disclaimer.
The Particulars
Home Teams
Club América
Cruz Azul
NFL International Series
Address
Calzada de Tlalpan 3665
Santa Ursula Coapa, Tlalpan, 04950
Mexico City, D.F., Mexico
Year Opened
1966
Capacity
87,523
Upcoming Events
All times local
América v. Pumas (Jornada 10 Torneo Apertura 2023)
Saturday, September 30, 2023
6:40 pm
Get tickets at Ticketmaster »

Dupleta América v. (Pumas J10 +Pachuca J11 AP23)
Saturday, September 30, 2023
6:40 pm
Get tickets at Ticketmaster »

América v. Pachuca (Jornada 11 Torneo Apertura 2023)
Tuesday, October 3, 2023
9:00 pm
Get tickets at Ticketmaster »

RBD en Concierto (Cancha General)
Thursday, December 21, 2023
9:00 pm
Get tickets at Ticketmaster »

RBD en Concierto (Grada)
Thursday, December 21, 2023
9:00 pm
Get tickets at Ticketmaster »


See all events »