Raymond James Stadium
Our guide to Raymond James Stadium in Tampa includes information on events, tickets, parking, public transportation, nearby hotels and restaurants, seating and more. Read on to find out how to get the most out of your gameday experience.
* * *
The Tampa Bay area has built itself into quite the sports hub over the years, boasting three major pro sports teams and becoming a destination for big-time events in both the pro and college game.
In that time, the region's residents have grown into big-time hockey and baseball fans with the success of the Lightning and Rays, respectively, but talk to a few of them and you'll quickly see that they mostly reserve their true sports love for the Buccaneers — as one visit to Raymond James Stadium will reveal.
Indeed, the Bucs were Tampa Bay's original pro franchise, debuting in 1976 with their notorious bright orange uniforms. Despite being an NFL doormat for many years — they famously lost the first 26 games they ever played — they were still a popular draw at the old Tampa Stadium, nicknamed the "Big Sombrero."
Then came a color change from orange to pewter (and red), a period of success that culminated in a Super Bowl championship in 2003, and a new venue in Raymond James Stadium, which continues to serve the Bucs and Tampa Bay well.
Today Raymond James Stadium hosts not only the Buccaneers but South Florida football and the Outback Bowl, and other large-scale events such as international soccer matches and concerts. It also has a college football national championship game under its belt and three Super Bowls in its history, the most recent coming in 2021.
Of course, that year the Tom Brady-led Bucs became the first team to ever win a Super Bowl in its home stadium. Brady's three-year stint as Tampa Bay's quarterback brought a resurgence of interest in the franchise, one that will continue to keep the Bucs in the forefront of fans' minds on the Gulf Coast for years to come.
Though the stadium has been around for nearly 20 years, it has held up well and continues to be one of the prime venues in the NFL worth checking out.
Looking for Raymond James Stadium event tickets? Search events on Ticketmaster.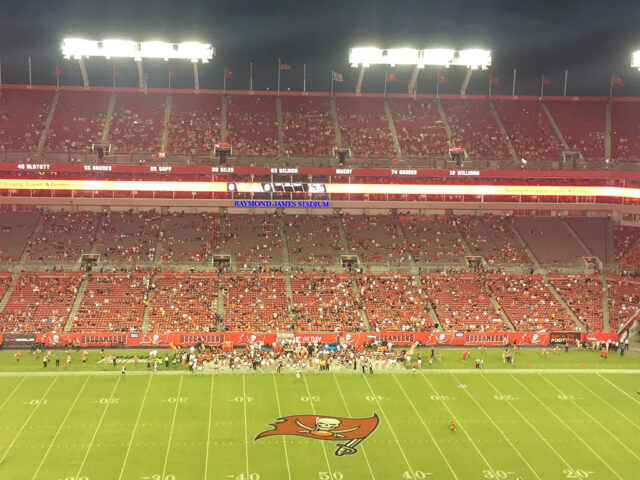 Getting to the stadium
Though it isn't downtown, Raymond James Stadium occupies a fairly prominent spot in Tampa — not far from Tampa International Airport (it's practically underneath the approach path of one of the runways), along the very busy Dale Mabry Highway and just a couple miles from Interstate 275 as it runs west toward Old Tampa Bay.
The area has added sports significance in that Steinbrenner Field, the spring training home stadium of the Yankees, is directly across Dale Mabry. The old Tampa Stadium stood just to the north of where Raymond James Stadium is now, and the site is now a grassy parking lot.
The Tampa Bay region has few public transportation options — the city of Tampa has a bus system but no special-event service for Buccaneers games — so you'll likely need a car to get there.
Parking at Raymond James Stadium
Raymond James Stadium has plenty of parking surrounding it, mostly on the east side of Dale Mabry between Martin Luther King Jr. Boulevard and Columbus Drive. Many of the lots are permit-only but others are cash lots starting at $15; just follow the traffic signs to get to the lot of your choice. You can view a detailed parking map here.
As you can imagine, traffic surrounding the venue can get gnarly as kickoff approaches, particularly on Dale Mabry heading north from I-275 and on Columbus Drive as cars try to turn onto Dale Mabry.
If you don't mind walking, there is a way to get around it: Find parking at one of the many bars and restaurants along Dale Mabry or Boy Scout Boulevard, spend a little bit of time eating or drinking there (more on that below), then walk about a mile and a half to Raymond James Stadium.
Tampa hotels near Raymond James Stadium
Out-of-towners visiting Tampa to see an event at Raymond James Stadium will find the hotels around the nearby International Plaza mall and the Tampa airport to be most convenient. Most of these hotels are a mile or more away from Raymond James Stadium, though, so you'll still need to have a car or to arrange a ride.
• Econo Lodge at Raymond James Stadium – 0.6 miles away
• AC Hotel by Marriott Tampa Airport – 0.9 miles away
• Renaissance Tampa International Plaza Hotel – 1.2 miles away
Search for more Tampa hotels on Booking.com.
Map of the surrounding area
Things to do around the stadium
There isn't much in the way of restaurants and bars in the area immediately surrounding the stadium, but if you're willing to go a little bit out of your way, there are options.
Along Boy Scout Boulevard, which turns into Columbus Boulevard as it heads east, before reaching Dale Mabry, you'll find a number of upscale restaurants, some of which offer game parking (though it's a long walk, many fans are perfectly OK with it and there'll be plenty of foot traffic). The sizable Miller's Ale House is one such option. Even farther is the International Plaza shopping mall and even more eating/drinking choices.
In fact, if you're visiting from out of town and would rather not drive to the game, it's a reasonable option to stay at one of the airport hotels that line Boy Scout Boulevard and Dale Mabry Highway and walk from there.
Don't want to deal with that walk? The Buccaneers hold a pregame tailgate party in the parking area just south of the stadium (across Tampa Bay Boulevard, which closes to traffic before games). You'll also find the liveliest tailgate scenes in these lots.
For more on visiting Tampa, check out our Tampa Bay sports travel guide.
Tampa restaurants near Raymond James Stadium

• Miller's Ale House – Tampa Airport – pub, 0.8 miles away
• La Teresita Restaurant – Caribbean, 0.8 miles away
• Happy Fish – Latin, 1.0 miles away
Search for more Tampa restaurants on Tripadvisor.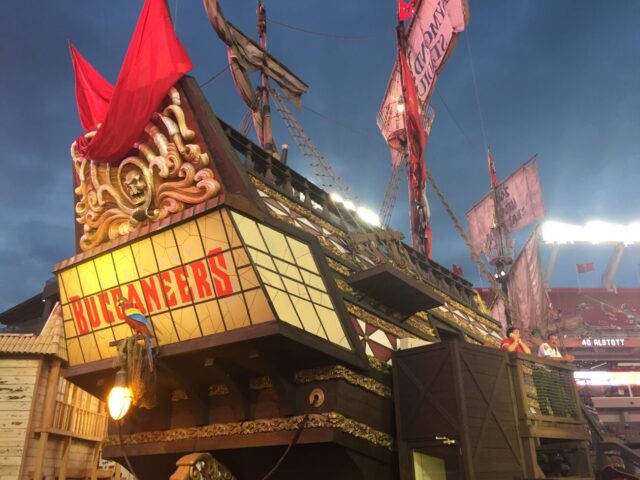 Watching a game at Raymond James Stadium
Raymond James Stadium is your prototypical football venue, designed symmetrically and to maximize the number of seats along the sidelines. Behind each end zone is one level of seats and then a large plaza behind it where fans can gather and where many of the food and beer stands can be found.
For Buccaneers games, you'll want to head straight for the plaza behind the north end zone seating area, where you can find the one feature that sets Raymond James Stadium apart from its brethren: The big Buccaneer ship, from which cannons fire whenever the home team does something positive and where actors in pirate costumes hang out, posing for pictures, brandishing toy swords and throwing beads out to the crowd.
If you're looking for a fun atmosphere from which to watch the game, this is truly it — think of it as watching the game from a beach cabana, only there's an actual live game in front of you. (In case you were wondering, fans aren't allowed on the ship itself during games.)
If you'd rather sit in your seating area for your event, no problem — sight lines are terrific from just about every angle at Raymond James Stadium. A series of ramps and escalators are positioned at all four corners of the stadium for those who need to head to the upper levels.
A word of warning, though: You'll need to take note of which side your section is on, east or west, because if you head up the wrong side and realize it afterward, you have no choice but to go back down and walk around.
New HD videoboards were installed behind each end zone several years back, as well as a set of vertical infoboards on which things like out-of-town scores are displayed.
Interested in a suite at Raymond James Stadium? Buy suite tickets on SuiteHop.
Food and drink at Raymond James Stadium
There's plenty of space on the concourses so that you can walk around and survey your eating and drinking options.
In the north end zone plaza, there are food stands stacked up next to each other with pirate-themed facing, which might make you feel a little like you're in line for Pirates of the Caribbean at Disneyland — in fact, during our visit we actually heard the pirate actors singing the "Yo Ho, A Pirate's Life For Me" song that's associated with the ride.
Around the rest of Raymond James Stadium, regardless of seating level, the food stands are a little more standard, as is most of the fare sold there.
One item you'll see a lot of is the Cuban sandwich, which Tampa claims as its own — if you've never had it, it's a pressed ham, pork and cheese sandwich worth trying at least once, and the stadium version isn't bad. You can also seek out the "Taste of Tampa" stands for more unique fare, such as yucca fries.
Original publish date: February 4, 2016
Most recent update: September 1, 2023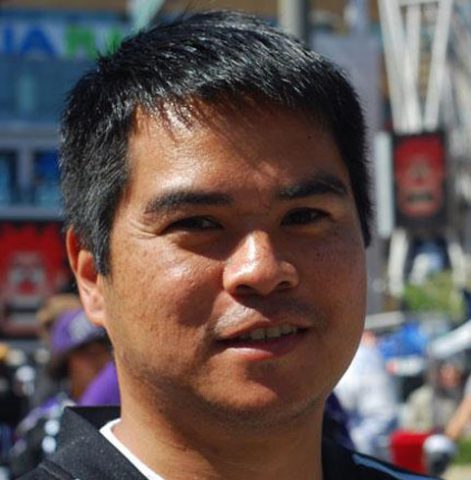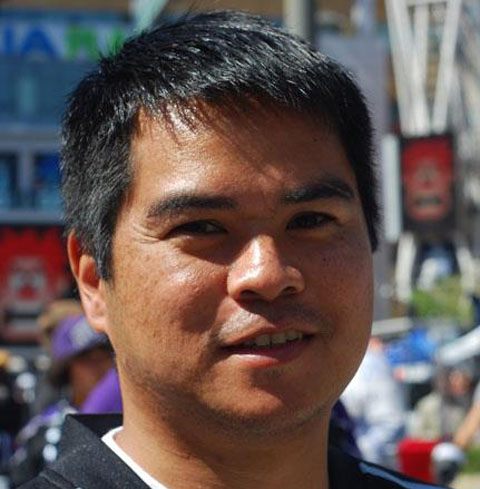 Edward de la Fuente | Itinerant Fan
I live for sports, and I love to travel. My biggest thrill is combining the two. I've been blogging about sports travel for more than a decade, and traveling for sports for twice as long.
About me | FAQ | Buy me a beer 🍺
Affiliate Disclosure
Please note that some of the links above are affiliate links, and at no additional cost to you, we earn a commission if you make a purchase. These recommendations are only for companies that we've used and have proven to enhance our sports travel experiences. To find out more about our affiliate partnerships, please read our Affiliate Disclaimer.
The Particulars
Home Teams
Tampa Bay Buccaneers
USF Bulls
Address
4201 N. Dale Mabry Hwy.
Tampa, FL 33607
Year Opened
1998
Capacity
65,890
Upcoming Events
All times local
Tampa Bay Buccaneers vs. Carolina Panthers
Sunday, December 3, 2023
4:05 pm
Get tickets at Ticketmaster »

Gasparilla Bowl
Friday, December 22, 2023
6:30 pm
Get tickets at Ticketmaster »

Tampa Bay Buccaneers vs. Jacksonville Jaguars
Sunday, December 24, 2023
4:05 pm
Get tickets at Ticketmaster »

Tampa Bay Buccaneers vs. New Orleans Saints
Sunday, December 31, 2023
1:00 pm
Get tickets at Ticketmaster »

2024 ReliaQuest Bowl
Monday, January 1, 2024
12:00 pm
Get tickets at Ticketmaster »