Nationals Park
Our guide to Nationals Park in Washington, D.C., includes information on events, tickets, parking, public transportation, nearby hotels and restaurants, seating, food and more. Read on to find out how to get the most out of your gameday experience.
* * *
Baseball has been back in our nation's capital for more than a decade, but it remains MLB's newest market, with the Expos' move from Montreal to become the Nationals representing the most recent franchise relocation.
So to the traveling baseball fan, Washington can still be something of a mystery. The same applies to Nationals Park, open since 2008.
The ballpark is located in an area of the District of Columbia not often visited by tourists, and it isn't usually thought of as a prime destination for baseball fans, in part because the home team hadn't been a contender for much of its early years in Washington.
But after the Nationals became a consistently good team, starting in 2012 when the team won its first division title, Nationals Park gained more of a positive reputation as a place to watch a game.
The park gained a higher profile after serving as host for the MLB All-Star Game in 2018, and after the home team finally broke through with a World Series championship the following season, the park has been a more happening place going forward. And it's got quite a few surprises, as well.
For more on visiting Washington, D.C., check out our Washington sports travel guide.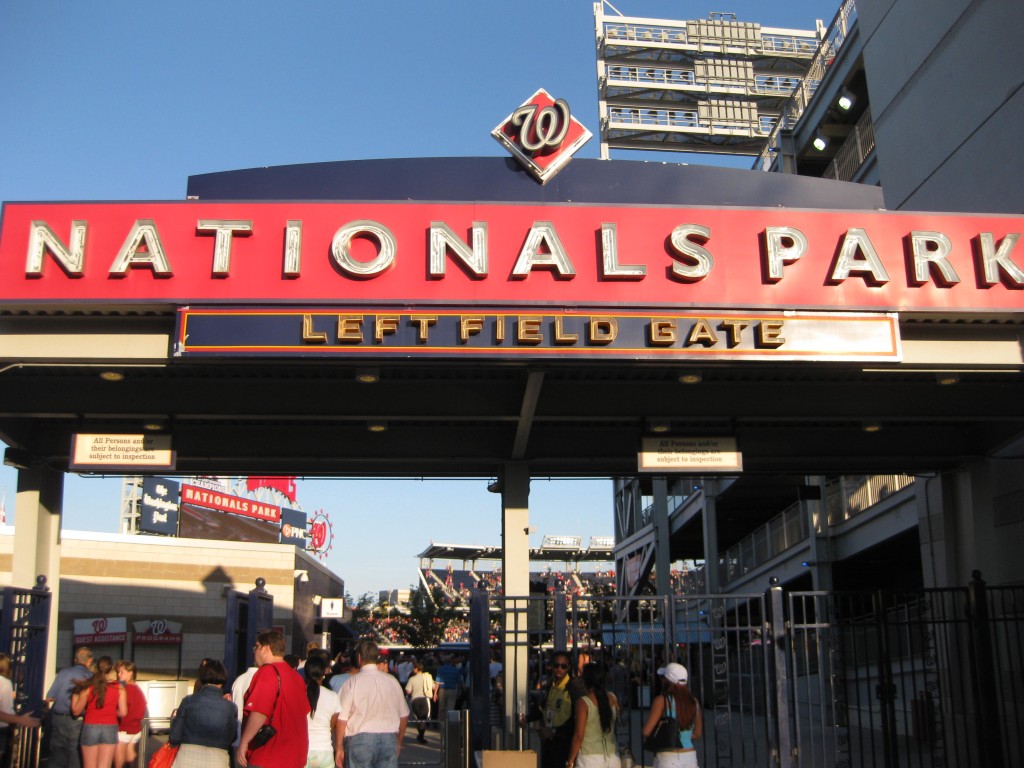 Getting to the ballpark
Nationals Park is situated in the Navy Yard neighborhood of D.C., right next to the Anacostia River. If neither of those landmarks sound familiar, you're not alone — it's not close to the National Mall, the U.S. Capitol or anything else you might feel like visiting as a normal tourist in Washington.
In fact, the area around Nationals Park was considered a run-down neighborhood before it was built, so it's easy to believe that it's not a place you want to spend much time in other than watching the game. But that's far from the case, as we'll cover in the section below.
Still, Nationals Park's location means you will probably have to go through a little bit of effort to get there, since it's not close to most hotels or tourist-heavy areas of the region. This is where Washington's subway system becomes the visiting fan's best friend; the Metro is a popular way to get to the game for tourists and locals alike.
As long as you can get to the Green Line (via transfer points at Gallery Place and L'Enfant Plaza), Nationals Park is an easy ride away via the Navy Yard/Ballpark station. Once you reach the stop and emerge to street level, the ballpark is about three blocks away via M Street and Half Street, which leads to the left-field gate.
If you plan on driving, the ballpark is alongside South Capitol Avenue — thoroughfares named Capitol Avenue radiate in all four cardinal directions from the U.S. Capitol, so if you can find the Capitol and then figure out which way south is, you'll be in good shape.
Just know, though, that Washington's street grid is notoriously confusing and driving isn't recommended for those unfamiliar with the city.
Parking at Nationals Park
There's plenty of parking just north of the venue, including two parking structures, known as the Geico Garage and Garage C, just beyond the left-field gates and along N Street.
More parking lots, albeit much smaller, can be found in the block just north of Nationals Park and the Navy Yard. Follow the link to view a map of nearby parking lots.
Washington hotels near Nationals Park
If you have come to D.C. specifically to see an event at Nationals Park, you can consider staying in one of a handful of hotels around the Anacostia area. The brand-name options will all be in the blocks north of the ballpark.
• Hampton Inn & Suites Washington D.C. – Navy Yard – 0.2 miles away
• Residence Inn Washington Capitol Hill/Navy Yard – 0.2 miles away
• Homewood Suites by Hilton Washington DC Capitol-Navy Yard – 0.3 miles away
Search for more Washington hotels on Booking.com.
Map of the surrounding area
Things to do around the ballpark
Thanks to the Metro, getting your pregame party on outside the ballpark district is absolutely an option.
You might be surprised how many bars and restaurants around downtown — particularly in the area around Capital One Arena and Gallery Place — are dressed up in Nats flags and banners, but of course you don't have to hang out at a sports bar before heading out.
You could see some of Washington's sights, such as the Washington Monument or its many museums, and during Nats homestands you'll see plenty of baseball fans doing the same thing, decked out in home team gear or the colors of whichever visiting team happens to be in town.
With a few Metro stops near most tourist attractions, the ballpark is typically no more than a 15-minute subway jaunt away.
But if you want to get the transportation out of the way before getting some food and drink pregame, the neighborhood around Nationals Park is very lively — perhaps surprisingly so.
This particular area is one of many in the District that's getting a major influx of construction, with lofts springing up practically everywhere and restaurants and hotels also being added around Nationals Park.
Audi Field, the home of D.C. United of Major League Soccer, is also in this area, about three blocks southwest of Nationals Park.
Along with that growth are quite a few restaurants and bars, which are hopping before games and stay that way well after the final out. Try walking along Half Street, or M Street between Capitol and New Jersey avenues, a couple blocks north of the park, for the largest selection of establishments.
Washington restaurants near Nationals Park
• The Salt Line – American, 0.1 miles away
• Dacha Navy Yard – American, 0.1 miles away
• Bardo Brewery – pub, 0.1 miles away
Search for more Washington restaurants on Tripadvisor.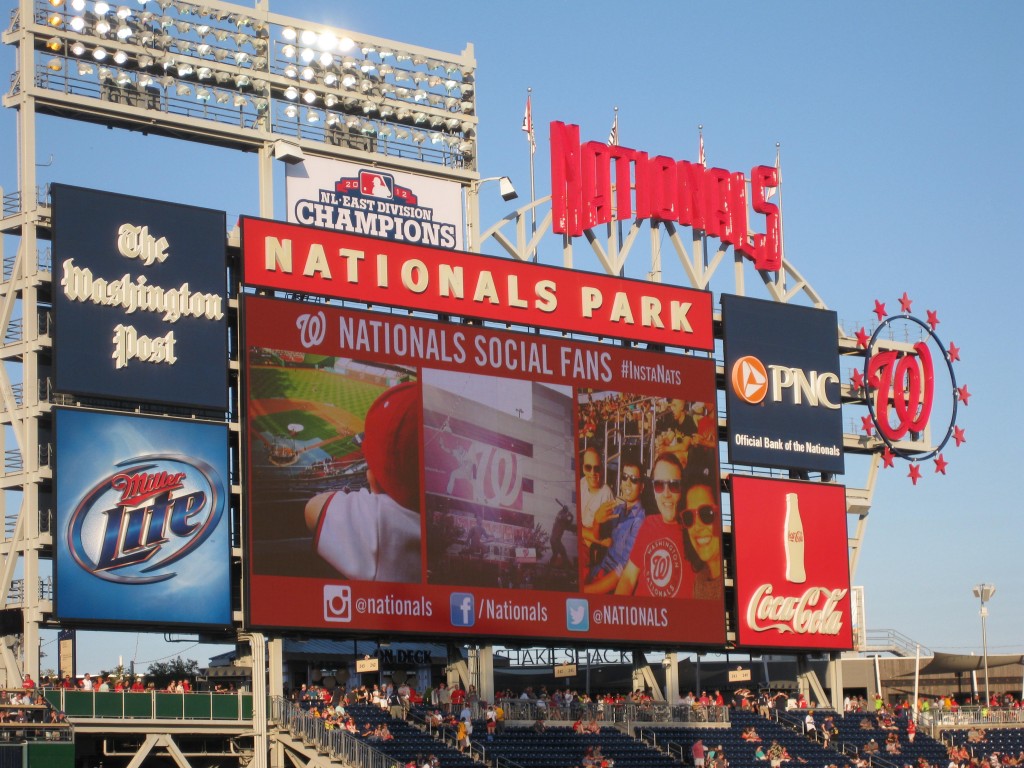 Watching a game at Nationals Park
Built at the tail end of MLB's wave of new ballpark construction, Nationals Park doesn't offer a whole lot in the way of unique architectural traits. And because the Nats have divorced themselves from the Expos' history, there isn't much in the way of tradition to soak in. But the good news is, you don't necessarily need those things to have a good time watching a game.
What Nationals Park does do well, perhaps as well as any park in the majors, is promote a party atmosphere. If you enter through the left-field gate (and if you're arriving via the Metro, the left-field gate is the closest accessible gate), you'll see this right away.
Past the turnstiles, you'll find yourself in a wide plaza lined with planter trees and with string lights hung above — it feels like walking into an outdoor bar, and it's a good starting point if you want to survey Nationals Park's food and drink options.
They take this a step further in the second deck behind center field, where there's a long, swanky bar, a couple dozen stand-up bar tables and a huge TV displaying the game to complement the the string lights and planter trees.
If you really are there to party, you might want to consider spending most of your time in this area, as many of the fans who have come via cheap tickets congregate here. It also provides access to what's known as the "Scoreboard Pavilion" (Sections 237-243), the second level of seating just below the right-field videoboard and some of the cheapest tickets at Nationals Park.
Otherwise, Nationals Park's seating bowl is pretty comparable with other major-league ballparks. The upper deck, called the Gallery Level, is divided into 300 and 400 levels, giving patrons on the concourse an opportunity to keep an eye on the game from standing-room positions.
You also might think that the first-base side of the 400 level, facing north, would offer pretty good views of the U.S. Capitol a little more than a mile away, but alas, all the previously mentioned construction north of the ballpark obscures that view — only the very top of the dome is visible from most seats.
If there's a time to be in your seating area at Nationals Park, it's the middle of the fourth inning, when the Presidents' Race takes place — it's entertaining to watch and even contains a lovable underdog in Teddy Roosevelt, who didn't win much in the race's early days.
Food and drink at Nationals Park
Nationals Park's food selection have long been full of strong options. There are Washington-area standards such as the "Half Smoke All The Way" (basically a chili dog) served by Ben's Chili Bowl and crab cakes from Chesapeake Crab Cake Company. Shake Shack, Old Hickory BBQ and Hank's Oyster Bar all have stands around the park.
For a luxury food experience at Nationals Park, head over to the 200 seating level in center field, where Harris Creek Oyster Company operates an actual oyster bar — yes, slurp on some oysters on the half-shell while watching the game.
You can also wash it all down at one of the numerous beverage stands around Nationals Park, including the Budweiser Brew House and the Left Field Lodge on the upper outfield concourse. The latter is operated by the Virginia-based Devil's Backbone brewery and offers a special ballpark-themed IPA called the Curly W.
Original publish date: February 4, 2016
Most recent update: March 22, 2023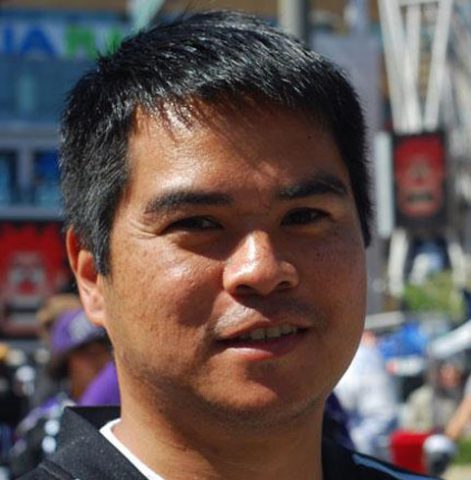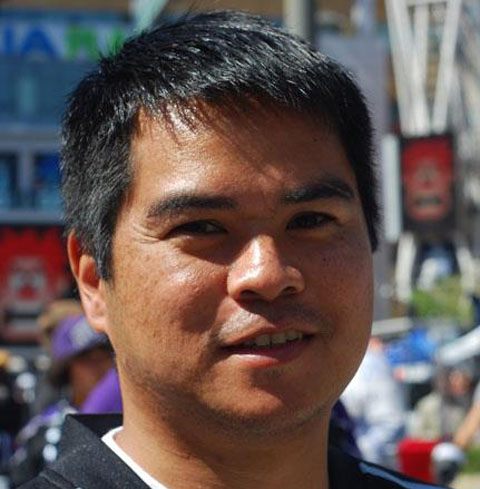 Edward de la Fuente | Itinerant Fan
I live for sports, and I love to travel. My biggest thrill is combining the two. I've been blogging about sports travel for more than a decade, and traveling for sports for twice as long.
About me | FAQ | Buy me a beer 🍺
Affiliate Disclosure
Please note that some of the links above are affiliate links, and at no additional cost to you, we earn a commission if you make a purchase. These recommendations are only for companies that we've used and have proven to enhance our sports travel experiences. To find out more about our affiliate partnerships, please read our Affiliate Disclaimer.
The Particulars
Home Teams
Washington Nationals
Address
1500 S. Capitol St. SE
Washington, DC 20003
Year Opened
2008
Capacity
41,339
Upcoming Events
All times local
Washington Nationals vs. Pittsburgh Pirates
Monday, April 1, 2024
12:00 am
Get tickets at Ticketmaster »

Washington Nationals vs. Pittsburgh Pirates
Wednesday, April 3, 2024
12:00 am
Get tickets at Ticketmaster »

Washington Nationals vs. Pittsburgh Pirates
Thursday, April 4, 2024
12:00 am
Get tickets at Ticketmaster »

Washington Nationals vs. Philadelphia Phillies
Friday, April 5, 2024
12:00 am
Get tickets at Ticketmaster »

Washington Nationals vs. Philadelphia Phillies
Saturday, April 6, 2024
12:00 am
Get tickets at Ticketmaster »