Comerica Park
Our guide to Comerica Park in Detroit includes information on events, tickets, parking, public transportation, nearby hotels and restaurants, seating and more. Read on to find out how to get the most out of your gameday experience.
* * *
Comerica Park, home of the Detroit Tigers, occupies a prime spot in the city's sports scene — it stands just off Woodward Avenue, a major thoroughfare downtown, and right next to Ford Field, home of the NFL's Lions.
Its large dimensions, wide layout and luxurious exterior complete with tiger sculptures at several entrance gates, make it sort of the anti-Tiger Stadium. While its predecessor was, in its later years, a creaky but beloved old structure, Comerica Park took a while to establish itself in the hearts of Detroit sports fans.
It surely didn't help that the Detroit Tigers were terrible in the early 2000s, the formative years of the stadium, but two American League pennants and frequent playoff contention for a good decade afterward made the ballpark a more happening place to be.
Besides, Comerica may not have the rich history that Tiger Stadium possessed just yet, but it's got plenty worth seeing on its own. And it's an easy place to get to, right in the heart of everything Detroit has to offer. Just the view beyond the outfield fence would suggest that.
For more on visiting Detroit, check out our Detroit sports travel guide.
Getting to the ballpark
Though there is a side street and a row of parking lots in between, Comerica Park's address is on Woodward Avenue, which cuts through the heart of downtown heading southeast toward the Detroit River. Just a block away is Interstate 75, aka the Fisher Freeway, which most drivers into downtown will wind up on at some point in their journeys.
Most downtown Detroit hotels are located between the river and Comerica Park. On a warm summer evening, Woodward Avenue presents an opportunity for one of the nicest walks that you could have in Detroit, with plenty going on throughout downtown.
Walking not your thing? OK, Detroit has an automated tram system called the People Mover that runs in a continuous loop through downtown and stops at most places of interest. The closest station to Comerica Park is Grand Circus Park, though there are a few other stations (namely, Cadillac Center and Greektown) within reasonable walking distance as well.
There's also the Q-Line Streetcar, which runs up and down Woodward Avenue and stops a block from the ballpark at Grand Circus. Either method is good for a quick ride if you're trying to get from a downtown hotel to Comerica Park.
Parking at Comerica Park
For a downtown venue, Comerica Park has a surprising amount of parking available, with several lots and structures surrounding the ballpark — most prominently the twin garages that stand across Montcalm Street to the north.
Numerous other private lots are available on nearby blocks, particularly around District Detroit, the area on the other side of the freeway that includes Little Caesars Arena.
There's even ample street parking depending on the day and time. Washington Street, which radiates southward from Grand Circus Park, is a particularly popular spot for free-parking seekers because of its large median that allows for parallel parking on both sides of the street, in each direction.
Parking spots would be in high demand regardless of whether a Tigers game was being played at Comerica Park, so it you're really looking for a bargain, get there early.
Detroit hotels near Comerica Park
• Aloft Detroit at The David Whitney – 0.1 miles away
• The Siren Hotel – 0.2 miles away
• Shinola Hotel – 0.3 miles away
Search for more Detroit hotels on Booking.com.
Map of the surrounding area
Things to do around the ballpark
If you do choose to make that walk up Woodward Avenue, the noteworthy things you will pass between the river and Comerica Park include the famous Joe Louis fist monument; two parks, Campus Martius and Grand Circus; the city's two most famous eateries dedicated to the coney dog, American Coney Island and Lafayette Coney Island; numerous other shops and restaurants; and the historic Fox Theatre.
Eventually, you'll see Comerica Park off to the right, across a parking lot, when you hit Grand Circus Park.
Because Comerica Park and Ford Field stand right next to each other, it makes sense that a lot of the surrounding restaurants would have a sports-fan atmosphere.
More popular options for eats and drinks lie on Woodward Avenue or in the nearby Greektown district, where many Tigers fans (and fans of Detroit's other sports teams) can be found partaking in general merriment at one of numerous establishments.
Brush Street, which cuts through Greektown before passing between Comerica Park and Ford Field, is another street worth walking to find places to eat, drink or otherwise pass the time, and a few downtown hotels are located along this route.
Detroit restaurants near Comerica Park
• Elwood Bar & Grill – American, 0.1 miles away
• Vertical Detroit – American, 0.2 miles away
• Detroit Beer Company – American, 0.3 miles away
Search for more Detroit restaurants on Tripadvisor.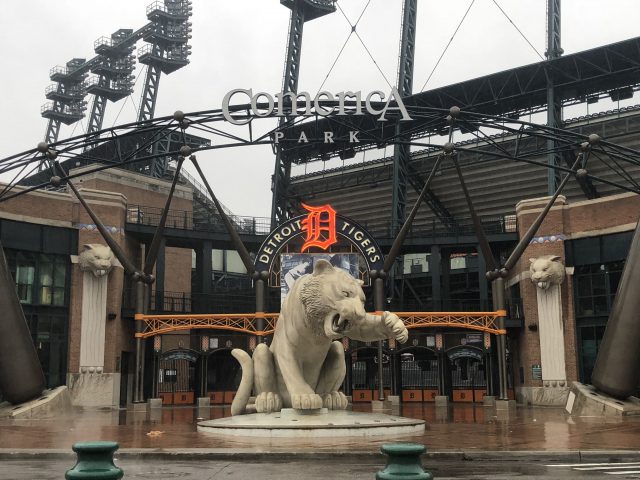 Watching a game at Comerica Park
With all the stone tiger statues around, you might think you're entering a palace — and in truth, Comerica Park does a good job conveying the palatial feel.
Once you're inside, take a stroll around the main concourse, which the Tigers have gone to great lengths to dress up with reminders of the franchise's long and rich history. Several displays, called "decade bats," cover different eras in team history.
In left field, you'll find statues of six Tigers greats, including Ty Cobb, Hank Greenberg and Al Kaline.
Also in the main concourse, you can find a ferris wheel (with cars made to resemble baseballs) and a merry-go-round in case the typical ballpark accoutrements aren't entertaining you enough.
Just like the playing field's rather large dimensions, the layout of Comerica Park's seating bowl can feel pretty large as well — but it doesn't necessarily mean the farthest seats offer a subpar view. Sight lines from the upper deck are typically fine, and if you're seated behind home plate or on the third-base site, you're treated to a splendid view of the Detroit skyline.
From upper-deck seating you'll also have a pretty good view of Comerica Park's outfield features, including the display of the Tigers' retired numbers and the fountain nestled within the ivy-covered batter's eye, which goes off whenever a Tigers player hits a home run or the team finishes off a victory.
One oddity you'll probably notice rather quickly, regardless of where your seating area is located, is the placement of Comerica Park's main scoreboard in left field. It's strangely far left, practically in line with the foul pole, though most of the pertinent info is displayed in the center, well within view from most angles. (Steps were taken before the 2012 season to address these issues, including the installation of an HD scoreboard.)
Food and drink at Comerica Park
Comerica Park's wide main concourse also includes a food court, the "Big Cat Court," located behind the home-plate seating area; this is also where you'll find the merry-go-round, aka the Comerica Carousel.
If you've entered the ballpark through Gate A at the intersection of Witherell and Columbia streets (recognizable by the two giant bats as well as the tiger sculpture in the middle), this area will be just off to the left.
If you're looking for a good overview of the food offerings, the Big Cat Court is a good place to start, with just about every concession item offered in the ballpark available either here or somewhere else nearby.
Two items easily identifiable as part of Detroit cuisine, the coney dog and the Greek gyro sandwich, are readily available as well — both, in fact, are offered at the Leo's Coney Island stand. It being Detroit and home to the powerful Ilitch family, Little Caesars Pizza also operates at the stadium.
Beer fans shouldn't miss the Beer Hall, located on the third-base side, which features a wide array of local beers. If you're sitting in the 300 level, then check out the Blue Moon Brewhouse, which also features a brewpub atmosphere within the ballpark.
Original publish date: February 4, 2016
Most recent update: March 18, 2023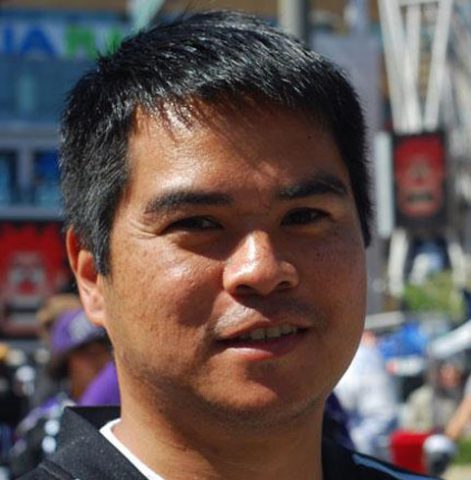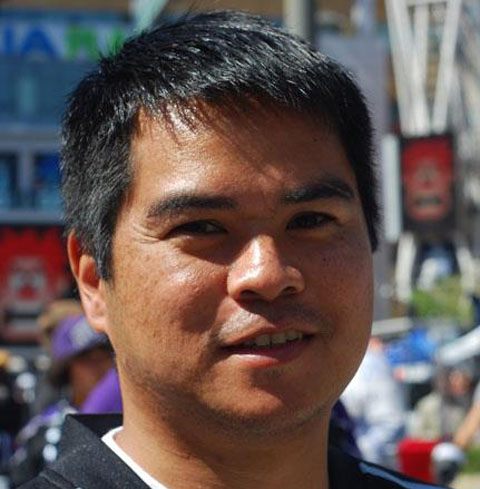 Edward de la Fuente | Itinerant Fan
I live for sports, and I love to travel. My biggest thrill is combining the two. I've been blogging about sports travel for more than a decade, and traveling for sports for twice as long.
About me | FAQ | Buy me a beer 🍺
Affiliate Disclosure
Please note that some of the links above are affiliate links, and at no additional cost to you, we earn a commission if you make a purchase. These recommendations are only for companies that we've used and have proven to enhance our sports travel experiences. To find out more about our affiliate partnerships, please read our Affiliate Disclaimer.
The Particulars
Home Teams
Detroit Tigers
Address
2100 Woodward Ave.
Detroit, MI 48201
Year Opened
2000
Capacity
41,083
Upcoming Events
All times local
Detroit Tigers vs. Oakland Athletics
Friday, April 5, 2024
12:00 am
Get tickets at Ticketmaster »

Detroit Tigers vs. Oakland Athletics
Saturday, April 6, 2024
12:00 am
Get tickets at Ticketmaster »

Detroit Tigers vs. Oakland Athletics
Sunday, April 7, 2024
12:00 am
Get tickets at Ticketmaster »

Detroit Tigers vs. Minnesota Twins
Thursday, April 11, 2024
12:00 am
Get tickets at Ticketmaster »

Detroit Tigers vs. Minnesota Twins
Friday, April 12, 2024
12:00 am
Get tickets at Ticketmaster »