Wells Fargo Center
Our guide to Wells Fargo Center in Philadelphia includes information on events, tickets, parking, public transportation, nearby hotels and restaurants, seating and more. Read on to find out how to get the most out of your gameday experience.
* * *
It doesn't seem like that long ago that Philadelphia went about revamping its Sports Complex in the south part of the city, building new venues for all four of its major sports franchises.
Indeed, though, the Spectrum and Veterans Stadium are long gone, and the first of the new venues — Wells Fargo Center, home of the Flyers and 76ers — is nearly 30 years old.
Despite coming onto the scene well before the Eagles' Lincoln Financial Field and the Phillies' Citizens Bank Park, which both opened in the early 2000s, Wells Fargo Center has held up well. The year 2019 brought some major changes, though — including a state-of-the-art center-hung scoreboard and, famously, a "Rage Room" for some of the more passionate patrons to, um, vent their frustrations.
Wells Fargo Center has yet to gain the sentimentality among hometown fans that the Spectrum had, likely because the number of memorable events held there has yet to match its predecessor. Neither of the major tenants has won a championship since moving over, though both have hosted their respective league finals there.
Add in the many name changes over the years for the building, which began life as the CoreStates Center and has had a total of four different names, and it's easy to see why getting established was such a challenge.
Meanwhile, the 76ers have started making noise about building a new, basketball-only arena in Center City, several miles from the Sports Complex. The plan has been met with controversy, and even if it comes to pass, it likely is many years away due to a number of logistical hurdles.
Besides, Wells Fargo Center isn't going anywhere soon, and it will continue to be filled with the fervent fans of Philadelphia for some time to come.
Looking for Wells Fargo Center event tickets? Search events on Ticketmaster.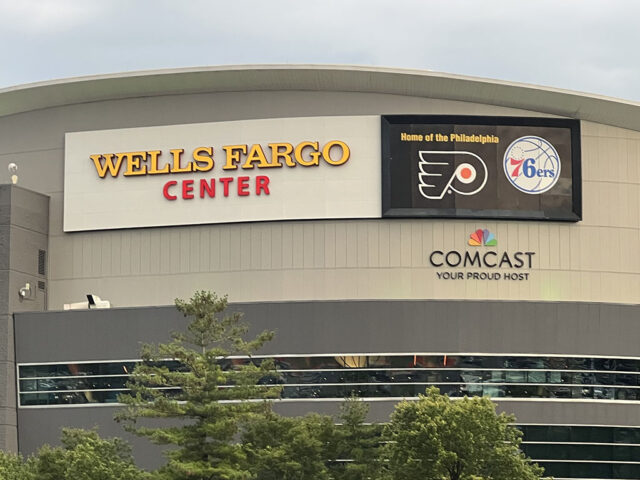 Getting to the arena
Wells Fargo Center sits in South Philly, in what's known as the Sports Complex. It shares space — and a vast ocean of parking lots — with Citizens Bank Park and Lincoln Financial Field.
Once upon a time, the old Spectrum and the Rocky statue also sat in this complex, but with the Spectrum now gone (more on what replaced it in the section below), the Rocky statue has been moved near the Philadelphia Museum of Art (appropriately, near the Rocky steps).
Getting to Wells Fargo isn't particularly difficult, as it's near Interstate 95 as it winds north from Philadelphia International Airport to Center City. Most drivers exit via Broad Street — the very same street from which the nickname "Broad Street Bullies" was derived to describe the title-winning Flyers of the mid-1970s.
If you're car-less, the SEPTA Orange Line's southern terminus is at the edge of the sports complex, at NRG Station. Any of the three venues are a short walk from this train station, though Wells Fargo is the closest of the three to the station.
Parking at Wells Fargo Center
After exiting I-95 at Broad Street, you'll encounter helpful signs and, likely, traffic cops directing you into one of the parking lots surrounding Wells Fargo Center, of which there are many.
The arena is surrounded by a large set of eight parking lots, and more parking for Wells Fargo Center events can be found around Lincoln Financial Field ad Citizens Bank Park.
Philadelphia hotels near Wells Fargo Center
• Live! Casino & Hotel – Philadelphia – 0.3 miles away
• Courtyard by Marriott Philadelphia South at The Navy Yard – 0.4 miles away
• Penrose Hotel Philadelphia – 1.0 miles away
Search for more Philadelphia hotels on Booking.com.
Map of the surrounding area
Things to do around the arena
The only problem with Wells Fargo Center, and the sports complex in general, is that there's really not a whole lot around it, as far as bars, hotels or hangouts go.
There is a spot called Xfinity Live that replaced the former footprint of The Spectrum, and that's got some eateries and watering holes. Xfinity Live is closer to Citizens Bank Park than it is to Wells Fargo Center, so you'll have to walk across the parking lot ocean to get there.
A little farther away — as in, northwest of Citizens Bank Park — along Packer Avenue is the sports bar Chickie's and Pete's, which has a strong reputation among locals and is known for its crab fries, which are also sold inside the arena. Chickie's and Pete's also has a location inside Xfinity Live.
Another option has arrived in the immediate vicinity of Wells Fargo Center in recent years, in the form of a hotel/casino complex called Live!, located just north of Citizens Bank Park. Beyond that, though, your choices mostly consist of one of the above, or hanging out in Philadelphia's bustling Center City before heading to the game.
For more on visiting Philadelphia, check out our Philadelphia sports travel guide.
Philadelphia restaurants near Lincoln Financial Field
• 1100 Social – pub, 0.2 miles away
• Broad Street Bullies Pub – pub, 0.2 miles away
• PBR Philly – pub, 0.2 miles away
Search for more Philadelphia restaurants on Tripadvisor.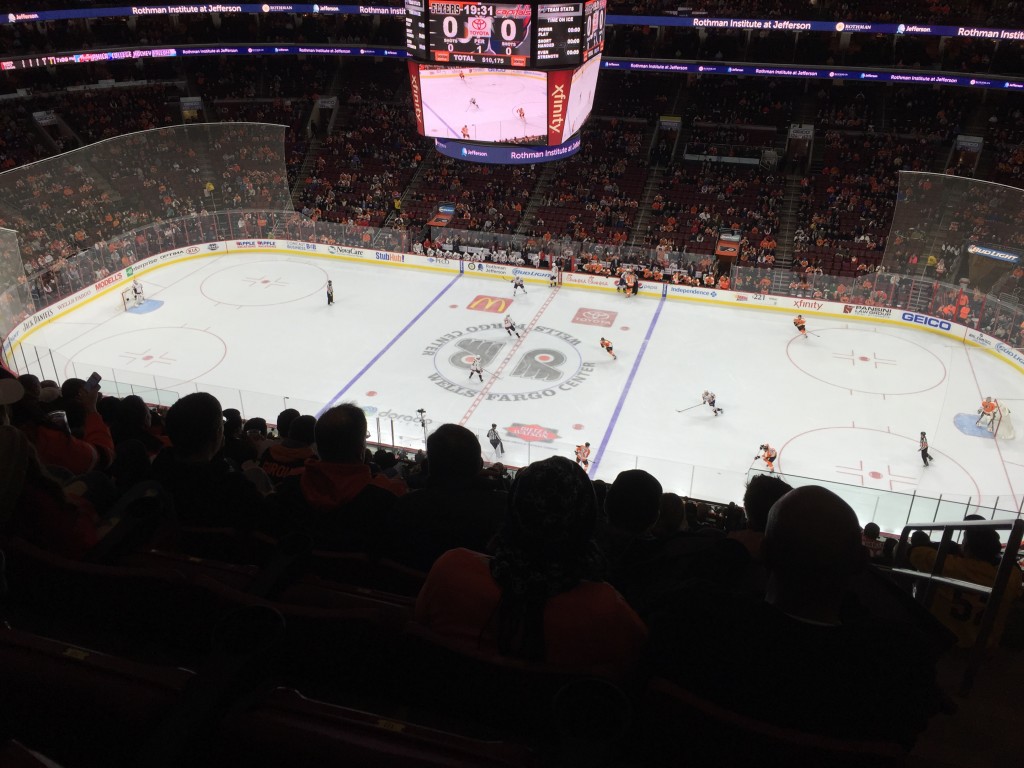 Watching a game at Wells Fargo Center
The building has been around for more than 20 years, so an ongoing renovation has been bringing even more creature comforts and an enhanced fan experience throughout the concourses and seating bowl for Wells Fargo Center events.
One of the improvements is a new videoboard, installed in 2019. It's billed as the "world's first-ever 4K kinetic center-hung entertainment system," which is a fancy way of saying it's big, clear and impressive.
The lower level has tributes to both the Flyers and Sixers scattered throughout, including a display commemorating the Sixers' last run to the NBA Finals, the Flyers' Hall of Fame, and an entire display of hats collected after various Flyers' hat tricks over the years.
You could easily spend a good chunk of time peering into the glass cases and spotting all the fun non-Flyers memorabilia that's made its way in there, including a random bra.
There are also bubble hockey machines spread throughout the concourses, particularly on the upper floor, so you can play your friends for a beer if you so desire.
Getting around Wells Fargo Center isn't too hard, as there's good signage everywhere, and for Flyers games you could hang out in the lower seating bowl for warmups — it's pretty roomy down there, whether you decide to sit in the first few rows or hang out in the aisles. There are two escalators to the upper level. (After the game, though, you'll probably want to take the stairs down because these escalators get super crowded and claustrophobic.)
Wells Fargo Center's large seating bowl, which can hold more than 20,000 for basketball, means there will be some high vantage points in the uppermost rows. If you're in the cheap seats, take advantage of Wells Fargo Center's two "Back Row Bars," which allow fans to get up, socialize and watch the game from a standing-bar position.
Food and drink at Wells Fargo Center
If you get to Wells Fargo Center early, there is a pub on the lower level with full seating if you're looking for a place to hang out. In addition, the Skyline Bar takes up a large portion of the upper concourse, called the Mezzanine Level — part of the arena renovation that increased concourse space and the number of areas for patrons to socialize.
As for other concessions options, you can find a number of Philly staples, such as the aforementioned crab fries from Chickie's and Pete's, cheesesteaks from Campo's, Rita's Italian Ice and Federal Donuts. Shake Shack, which seemingly is taking over every major sports venue on the East Coast, has set up shop here, too.
If you'd like to be surprised, head to the Line Change stands on either concourse level, which has a menu that changes with each event.
Original publish date: February 4, 2016
Most recent update: August 28, 2022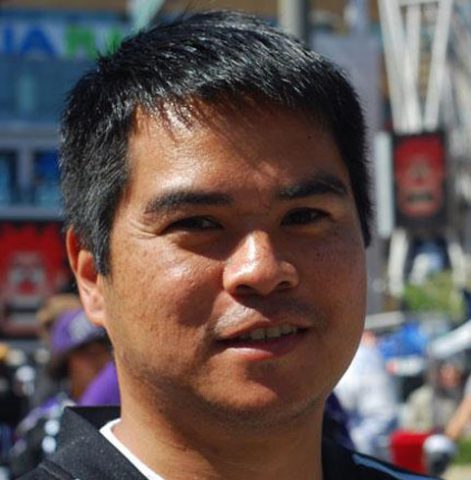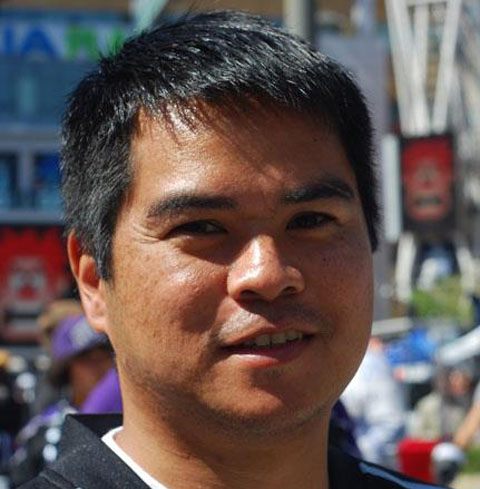 Edward de la Fuente | Itinerant Fan
I live for sports, and I love to travel. My biggest thrill is combining the two. I've been blogging about sports travel for more than a decade, and traveling for sports for twice as long.
About me | FAQ | Buy me a beer 🍺
Affiliate Disclosure
Please note that some of the links above are affiliate links, and at no additional cost to you, we earn a commission if you make a purchase. These recommendations are only for companies that we've used and have proven to enhance our sports travel experiences. To find out more about our affiliate partnerships, please read our Affiliate Disclaimer.
The Particulars
Home Teams
Philadelphia Flyers
Philadelphia 76ers
Address
3601 S. Broad St.
Philadelphia, PA 19148
Year Opened
1996
Capacity
19,541 (hockey)
20,328 (basketball)
Upcoming Events
All times local
Jonas Brothers: FIVE ALBUMS. ONE NIGHT.
Thursday, September 21, 2023
7:30 pm
Get tickets at Ticketmaster »

Jonas Brothers: FIVE ALBUMS. ONE NIGHT.
Thursday, September 21, 2023
7:30 pm
Get tickets at Ticketmaster »

SZA - SOS Tour
Tuesday, September 26, 2023
8:00 pm
Get tickets at Ticketmaster »

SZA - SOS Tour
Tuesday, September 26, 2023
8:00 pm
Get tickets at Ticketmaster »

The Reunion Tour
Friday, September 29, 2023
7:00 pm
Get tickets at Ticketmaster »