Honda Center
Our guide to Honda Center in Anaheim, home of the Anaheim Ducks, includes information on events, schedules, tickets, parking, public transportation, nearby hotels and restaurants, seating and more. Read on to find out how to get the most out of your gameday experience.
* * *
Honda Center, the home arena for the Anaheim Ducks, is nearly 30 years old now, and from the outside it doesn't look much different from its early days as the Arrowhead Pond of Anaheim. It still has the same pink and teal exterior color scheme, the same vast parking lot surrounding it and the same suburban feel befitting its location.
The facility and the Ducks have been hard at work revamping it over recent years, helping it keep up with its fellow arenas in terms of modern amenities and features. A new scoreboard and an enhanced main entrance are just some of the improvements fans will easily notice.
The Ducks have fielded a competitive squad in recent years — the franchise won the Stanley Cup in 2007 and have made several deep playoff runs since. That has kept Ducks crowds boisterous and made Anaheim an appealing destination for visiting fans, especially those looking to do the SoCal NHL double when their teams' schedule calls for visiting Honda Center and Crypto.com Arena in Los Angeles on back-to-back nights.
Meanwhile, Honda Center has a busy schedule besides the Ducks, as it has allowed college basketball, concerts and other events to come to Anaheim often. It's the regular home for the Big West basketball tournament and an occasional host of the West Regional in the NCAA men's basketball tourney.
While it still may be suburbia, and while the more attractive tourist draw in Anaheim may still be Disneyland just down the road, the Honda Center has made itself into a venue worth visiting for NHL and fans of other events alike.
Looking for Honda Center event tickets? Search events on Ticketmaster.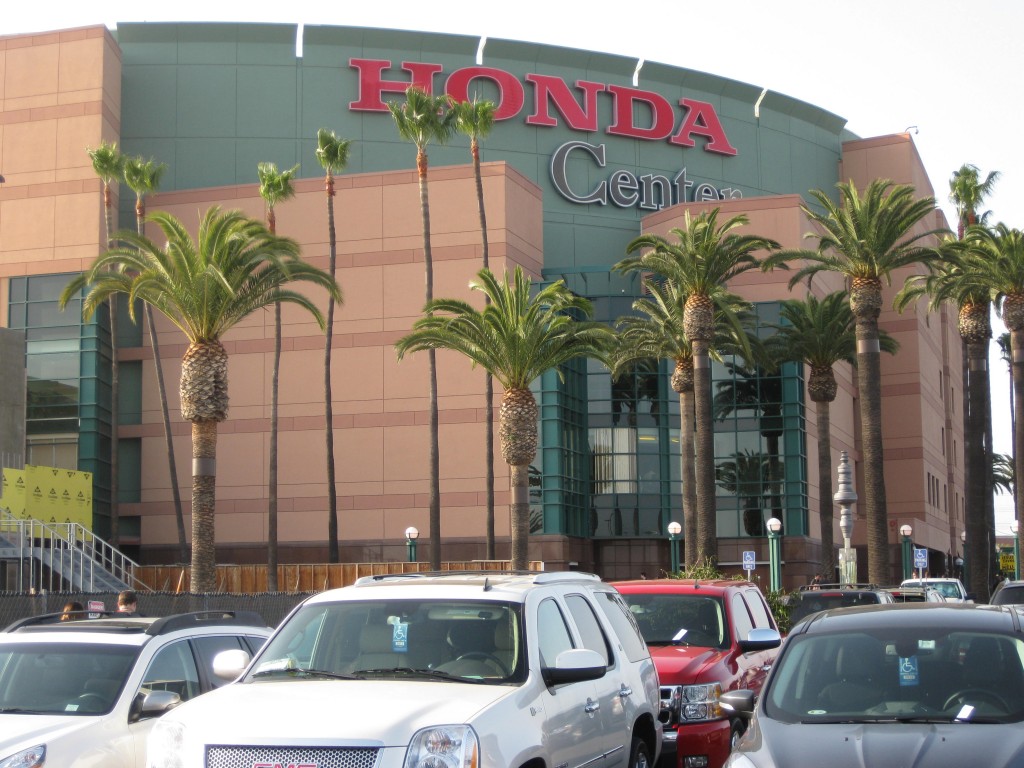 Getting to the arena
In Orange County, the car remains the most viable option for getting around. Honda Center lies just off Route 57 aka the Orange Freeway, along Katella Avenue, a major east-west street, and is part of what the city of Anaheim calls the Platinum Triangle, which includes Disneyland as well as nearby Angel Stadium of Anaheim and the Anaheim Convention Center.
Also nearby is Interstate 5, which converges with the 57 and another freeway in what locals call the "Orange Crush" (as you can imagine, it's not a positive nickname).
Public transportation is an option, though, and it's most viable for fans traveling from Los Angeles or San Diego. Amtrak as well as Metrolink, the regional commuter rail service, make stops at the Anaheim station a short walk from Honda Center (if you go this route, check out the ARTIC transportation center, a snazzy-looking building in its own right).
Though both services run fairly late into the evening, Metrolink no longer runs special-event service from Los Angeles' Union Station to Anaheim — an option that was popular with both Angels and Ducks fans. Make sure you consult train schedules before going this route to get to Anaheim for a Ducks game or any other night event at Honda Center.
Parking at Honda Center
For those who drive, the main parking lot serving Honda Center for general parking is a long, thin strip of land to the north of the arena that can be frustratingly difficult to get into and out of for events.
The parking lot can be accessed via Douglass Road, with the general entrance just north of the arena, or via Phoenix Club Drive, a small access road that extends south from Ball Road.
Expect general parking for Ducks games to start at $20, though it can vary for other Honda Center events.
More savvy fans will park for free to the arena's east, along side streets leading into one of the many industrial parks nearby or in the fairly large Stadium Promenade shopping center about a half-mile away, on Katella and Main streets. Despite large signs saying "NO EVENT PARKING," our anecdotal evidence has shown us that people do park here and get away with it — more on that in the section below.
Anaheim hotels near Honda Center
• Ayres Hotel Anaheim – 0.1 miles away
• TownePlace Suites by Marriott Anaheim Maingate – 0.7 miles away
• Embassy Suites by Hilton Anaheim-Orange – 1.2 miles away
Search for more Anaheim hotels on Booking.com.
Map of the surrounding area
Things to do around the arena
There was a time when not much existed around the arena in terms of pregame activity, but that has changed with the influx of retail along Katella Avenue both east and west of Honda Center. (There's been a dramatic increase in the number of residential buildings in the area, as well.)
The closest restaurant/bar to the arena remains J.T. Schmid's, a mainstay which is directly across Katella, but other chain sports bar types, including Hooters and The Tilted Kilt, are nearby as well.
The Tilted Kilt is in the aforementioned Stadium Promenade shopping center, which includes a giant movie theater and several other restaurants, including Lazy Dog and Chili's. As mentioned, though event parking is highly discouraged, fans do park there, visit one of the shopping center's establishments and then walk to Honda Center.
More dining and nightlife options abound in about a three-mile radius of Honda Center, including the Anaheim Packing District, a food hall that's surrounded by several popular independent breweries, and The Outlets at Orange, a more suburban, family-oriented destination that also has a few sports bars on the premises and nearby.
Another option if you're visiting the area: Go to Disneyland. In fact, a lot of locals do that well, and it's not uncommon to see parkgoers in Ducks gear (and the gear of visiting teams, of course) enjoying some time with Mickey Mouse on gamedays.
For more on visiting Anaheim, check out our Los Angeles/Anaheim sports travel guide.
Anaheim/Orange restaurants near Honda Center
• J.T. Schmidt's Restaurant & Brewery – 0.1 miles away
• Lazy Dog Restaurant & Bar – pub, 0.4 miles away
• Tilted Kilt Pub & Eatery – pub, 0.4 miles away
Search for more Anaheim restaurants on Tripadvisor.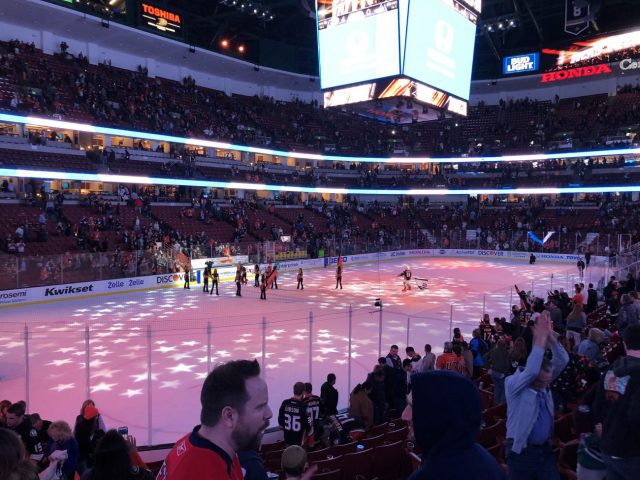 Watching a game at Honda Center
Like many venues, Honda Center has made updates in recent years to modernize the facility and bring it in line with its brethren in terms of fan amenities, seating and food.
The most obvious addition is what's known as the Grand Terrace, the atrium that faces Katella Avenue — it's the de facto main entrance to the arena and includes a full-service restaurant and patio area as well as an exclusive outdoor bar and lounge above the entrance. You'll also find the Ducks Team Store in this area, a much larger retail space than its predecessor.
Walking around the concourse, you'll likely notice the marble floors and walls, which sort of promotes the atmosphere of visiting a fancy hotel.
Strangely enough, there are no escalators to be found at Honda Center — elevators are present, but if you're not a member of the press or staff, or disabled, you'll be directed to take the stairs, and it's a not-so-insignificant climb up to the 400 level, or upper seating bowl.
Honda Center installed a new center-hung scoreboard before the 2015-16 season, and it's a dramatic upgrade over the videoboard it replaced. There are also videoboards in the rafters at each end of the ice that, during Ducks games, display secondary game information such as players currently on ice and shift times.
The digital screens are nice touches to the viewing experience in a seating bowl that doesn't feel too cavernous regardless of where your seat location is. The bowl is made of three tiers, an upper and lower seating bowl with a club level in the middle — pretty standard fare as far as arena designs go.
Though the Ducks certainly have a fervent following in the OC, Anaheim can be a magnet for visiting teams' fans when some of the more popular NHL teams are on the schedule. But the home team has enjoyed plenty of success in recent years, with several deep playoff runs. So you can expect a fun atmosphere regardless of who's on the ice.
Food and drink at Honda Center
Looking at concessions options, you might also get the sense of indulgence (with the prices to match). But the food choices have certainly been upgraded over the years, with Orange County favorite Wahoo's Fish Taco and California Pizza Kitchen among the stands currently in business.
Also, check out the Southern California stands for items like shrimp po'boy burritos and hot chicken sandwiches — the latter, a Nashville import, has become very popular around the region in recent years.
For drinks, the popular Golden Road Brewery is well-represented at Honda Center, not to mention brands like Sierra Nevada and Shock Top.
The atrium bar is a great starting point to check out your beverage options, and don't discount the cocktails — though they're pricey, the bartenders have many popular liquors at their disposal and can make a wide array of choices.
Original publish date: February 4, 2016
Most recent update: October 13, 2023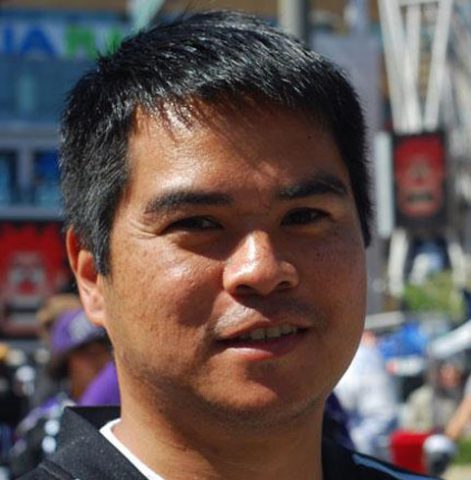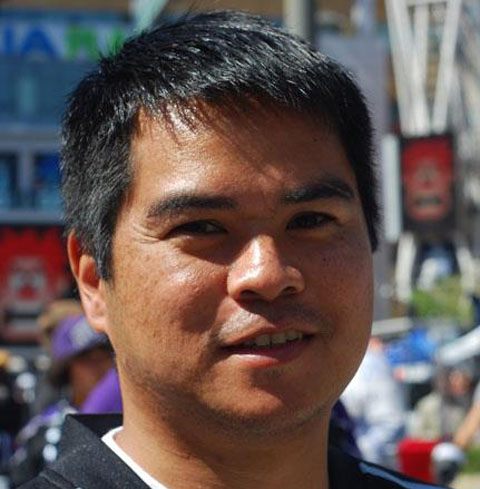 Edward de la Fuente | Itinerant Fan
I live for sports, and I love to travel. My biggest thrill is combining the two. I've been blogging about sports travel for more than a decade, and traveling for sports for twice as long.
About me | FAQ | Buy me a beer 🍺
Affiliate Disclosure
Please note that some of the links above are affiliate links, and at no additional cost to you, we earn a commission if you make a purchase. These recommendations are only for companies that we've used and have proven to enhance our sports travel experiences. To find out more about our affiliate partnerships, please read our Affiliate Disclaimer.
The Particulars
Home Teams
Anaheim Ducks
Address
2695 E. Katella Ave.
Anaheim, CA 92806
Year Opened
1993
Capacity
17,174
Upcoming Events
All times local
Anaheim Ducks vs. Colorado Avalanche
Saturday, December 2, 2023
7:00 pm
Get tickets at Ticketmaster »

FOR KING + COUNTRY's A Drummer Boy Christmas: The 2023 Tour Experience
Saturday, December 9, 2023
7:00 pm
Get tickets at Ticketmaster »

Premium Club Seats - For King & Country
Saturday, December 9, 2023
7:00 pm
Get tickets at Ticketmaster »

Anaheim Ducks vs. Winnipeg Jets
Sunday, December 10, 2023
5:00 pm
Get tickets at Ticketmaster »

Disney On Ice presents Frozen & Encanto
Thursday, December 14, 2023
7:00 pm
Get tickets at Ticketmaster »