Nationwide Arena
Our guide to Nationwide Arena in Columbus, home of the Blue Jackets, includes information on events, tickets, parking, public transportation, nearby hotels and restaurants, seating and more. Read on to find out how to get the most out of your gameday experience.
* * *
Cleveland and Cincinnati get all the attention when it comes to professional sports in Ohio, but the most populous city in the Buckeye State is its capital, Columbus, and it has a stake in the pro sports scene as well with two major franchises — including the NHL's Blue Jackets.
In a city where the attention of sports fans tends to be laser-focused on Ohio State, the Blue Jackets sometimes have to fight to be noticed on the national scene — and it hasn't helped that the franchise has only made the playoffs a handful of times in its existence.
That's not to say the Blue Jackets get overlooked in their home city. They do have a passionate fan base and a beautiful arena in which to gather to watch their team play. Nationwide Arena is located in the heart of downtown, making for a fine atmosphere to watch hockey both inside and out.
Whether you're a certified puckhead or you've come to town because of college football or basketball and are looking for more sports to pass the time, a Blue Jackets game at Nationwide Arena is worth the trip to Columbus.
And plenty of other big-time events come to Nationwide Arena, such as concerts, college basketball and more.
Looking for Nationwide Arena event tickets? Search events on Ticketmaster.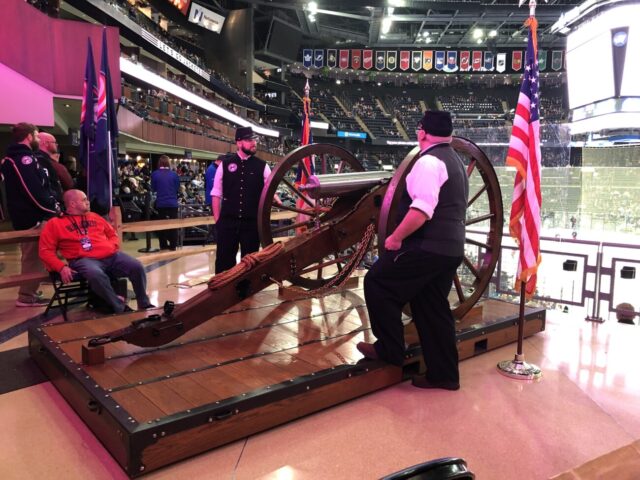 Getting to the arena
Nationwide Arena is located in downtown Columbus, not far from the Ohio Statehouse, in the burgeoning Arena District, with restaurants, bars and hotels all around.
As such, it's not a difficult place to reach via car, as major freeways surround the area. Interstate 670, which connects downtown with John Glenn Columbus International Airport to the east, runs about three blocks north of the arena.
If you're a visitor to Columbus, you may find it easiest to stay in a downtown hotel and just walk to Nationwide Arena, and for that you have many lodging choices. Several major hotels surround the nearby Greater Columbus Convention Center and are just a couple of blocks away from Nationwide Arena.
You also don't have to walk if you don't want to. The city runs a free downtown circulator called the C-Bus, which runs a north-south route along High Street, two blocks east of the arena. Get off at Nationwide Boulevard to get to the arena.
The C-Bus can also be used to get to nearby neighborhoods such as Short North, the Italian Village, the German Village and the Brewery District.
Parking at Nationwide Arena
Nationwide Arena has a dedicated parking garage just north of the building, accessible via Neil Avenue. But there are a number of structures and lots within a radius of a few blocks, since the convention center and several other points of interest are nearby.
You can also purchase parking in advance for Blue Jackets games, as well as any other event happening at Nationwide Arena or elsewhere in the Arena District, via ParkMobile.
Columbus hotels near Nationwide Arena
• Hyatt Regency Columbus – 0.1 miles away
• Crowne Plaza Columbus – Downtown – 0.2 miles away
• Courtyard Columbus Downtown – 0.2 miles away
Search for more Columbus hotels on Booking.com.
Map of the surrounding area
Things to do around the arena
If Nationwide Insurance sponsoring the arena's name wasn't enough, the building is located on Nationwide Boulevard, and the company's headquarters are just down the street. So don't be surprised if you find yourself absentmindedly humming that Peyton Manning Nationwide jingle as you're walking around.
Whether you work for Nationwide, live in Columbus or are just there to see the Jackets, hanging out in the Arena District makes for a great time and is one of the biggest draws for most fans who want to catch a game. The options for eating and drinking before and after the game are nearly endless.
You can start on the arena grounds, where there's lots of restaurant space. But it's worth walking a few blocks in any direction to find more options.
If you're interested in hanging with a younger crowd, you could consider heading north of downtown to the burgeoning Short North neighborhood. Or, a little farther north, there's the area around the Ohio State campus, which could be just as lively or even more so depending on the time of year.
Also, depending on the season, you might be able to catch a little baseball while you're in Columbus. Huntington Park, the home of the Triple-A Columbus Clippers, is located just two blocks west of the arena on Nationwide Boulevard.
Columbus restaurants near Nationwide Arena
• Rodizio Grill – Brazilian, 0.1 miles away
• Ted's Montana Grill – American, 0.1 miles away
• Nada – Mexican, 0.1 miles away
Search for more Columbus restaurants on Tripadvisor.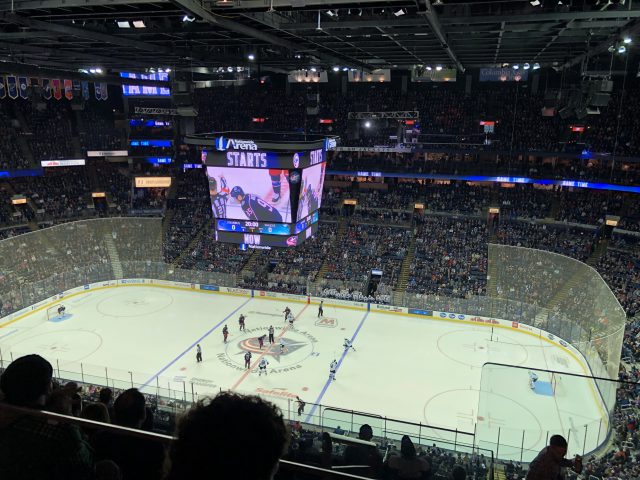 Watching a game at Nationwide Arena
Nationwide Arena presents itself to approaching fans with a brick-and-steel exterior that features a beacon tower on the southeast side. That leads patrons to the main entrance approach at the corner of Front Street and Nationwide Boulevard.
Once you're inside, Nationwide Arena has the sight lines you'd expect at a hockey arena, with good views unless you're in the uppermost rows of the seating bowl. Somewhat similarly to buildings such as Nashville's Bridgestone Arena, the upper deck at Nationwide Arena has gaps at one end, to better support a concert seating configuration.
It's a fairly distinctive arena to walk through as well, with wide concourses, marble floors, brick walls and huge windows that look out onto the city. You can see exhibits such as one dedicated to high school hockey in Ohio, as well as a collection of hats thrown onto the ice from Blue Jackets players' hat tricks over the years.
As for the game experience, be on your guard when the Jackets take the ice or score a goal, lest you be caught off guard by the very loud cannon that goes off in celebration.
For those who don't know, the nickname "Blue Jackets" refers to Ohio's role as part of the Union Army in the Civil War, thus the use of a cannon. You can get an up-close look at it over by Section 111, on Nationwide Arena's lower seating level.
In your seat, though, it's the standard arena experience. Nationwide Arena doesn't have an unusually large seating bowl, and the uppermost rows of the upper deck — where we took in our Blue Jackets game — gave us a nice, overarching view without feeling too distant.
Interested in a suite at Nationwide Arena? Buy suite tickets on SuiteHop.
Food and drink at Nationwide Arena
Concessions options for Nationwide Arena events are varied but not too spectacular. Among the more unusual things you can find are Skyline Chili, the Cincinnati-based chili specialist, where you can get coney dogs and cheese fries. Ohio-based Bob Evans serves its bratwurst at multiple stands on both the upper and lower concourses.
One fan favorite is the Arena Smokehouse, which serves up pulled pork, brisket and more.
Also, since Nationwide Arena is primarily used for hockey, Canadian favorite Tim Hortons has a presence. There's a standalone location attached to the southwest corner of the arena.
The arena's beer selection includes brews from Land Grant Brewery and North High Brewing, both based in Columbus. You can find the best craft beer selection at Nationwide Arena at the Arch City Ales stand, located near Section 117, which has a rotating set of beers on draft.
Original publish date: February 4, 2016
Most recent update: November 3, 2023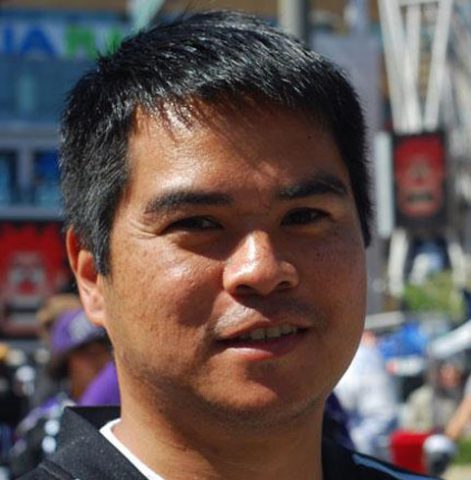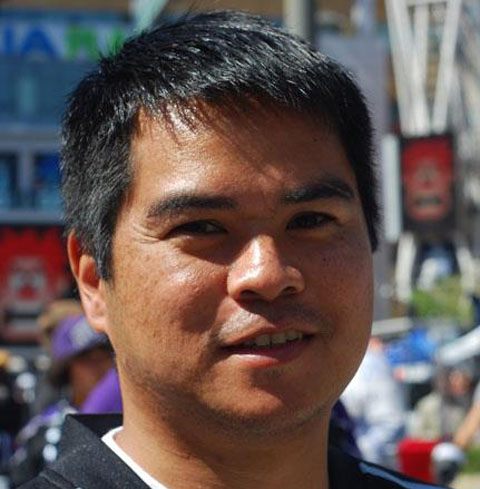 Edward de la Fuente | Itinerant Fan
I live for sports, and I love to travel. My biggest thrill is combining the two. I've been blogging about sports travel for more than a decade, and traveling for sports for twice as long.
About me | FAQ | Buy me a beer 🍺
Affiliate Disclosure
Please note that some of the links above are affiliate links, and at no additional cost to you, we earn a commission if you make a purchase. These recommendations are only for companies that we've used and have proven to enhance our sports travel experiences. To find out more about our affiliate partnerships, please read our Affiliate Disclaimer.
The Particulars
Home Teams
Columbus Blue Jackets
Address
200 W. Nationwide Blvd.
Columbus, OH 43215
Year Opened
2000
Capacity
18,500
Upcoming Events
All times local
Dispatch Family Value Pack - CBJ V. St. Louis Blues
Friday, December 8, 2023
7:00 pm
Get tickets at Ticketmaster »

Columbus Blue Jackets vs. St. Louis Blues
Friday, December 8, 2023
7:00 pm
Get tickets at Ticketmaster »

Ohio R&B Music Experience
Saturday, December 9, 2023
8:00 pm
Get tickets at Ticketmaster »

Dispatch Family Value Pack - CBJ V. Florida Panthers
Sunday, December 10, 2023
1:00 pm
Get tickets at Ticketmaster »

Columbus Blue Jackets vs. Florida Panthers
Sunday, December 10, 2023
1:00 pm
Get tickets at Ticketmaster »