Rogers Centre
Our guide to Rogers Centre in Toronto includes information on events, tickets, parking, public transportation, nearby hotels and restaurants, seating and more. Read on to find out how to get the most out of your gameday experience.
* * *
These days, Rogers Centre, home of the Toronto Blue Jays, stands out more as an anomaly in the MLB ballpark scene. It's a behemoth among intimate venues; it's round and symmetrical whereas others are often lauded for their quirks and uniqueness; and it's one of the few parks in the majors using an artificial playing surface.
So it might be easy to think of the place as outdated and not worth visiting, but let's not forget that some 30 years ago it came onto the scene as a marvel — the first in North American sports to have a retractable roof and the first to have a hotel built in with rooms overlooking the field.
And you could make a case that of all the venues of that era to have "__dome" as its name, "SkyDome" was the coolest name out there.
Then, a couple years after moving in, the Blue Jays won back-to-back titles — still the only championships in their history — and SkyDome became a happening place to be.
Times change, cooler retractable-roof stadiums have come along and corporate naming rights did away with the "SkyDome" name a while ago. But despite an ensuing dry spell that lasted more than 20 years, the Blue Jays made it back to the postseason in 2015, showing again what baseball fandom in Toronto could be like. And the current roster, full of young, exciting stars, has the town abuzz with baseball fever again.
The quality of baseball being played within its confines is just one of many reasons to visit Rogers Centre, and not just because it's the only place north of the border at which you can catch major-league ball.
For a short time, the Blue Jays' owners were contemplating the idea of replacing the stadium with a more intimate baseball facility. However, they have since scrapped that idea and instead have embarked upon a renovation that could very well keep Rogers Centre among the most interesting places to watch an MLB game.
For more on visiting Toronto, check out our Toronto sports travel guide.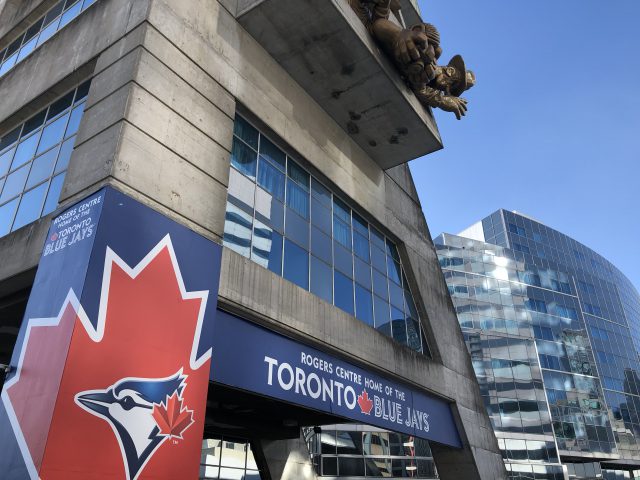 Getting to the stadium
If you're within 10 miles of downtown Toronto on a clear day, finding Rogers Centre is easy — just head toward the tall needle-like thing right next to it.
Yes, the ballpark is near the heart of downtown, in the shadow of the famed CN Tower — if you're visiting Toronto for the first time, you'll no doubt want to head up to the tower's observation deck, at which point you can just glance downward for a bird's-eye view of Rogers Centre.
As is common for a downtown venue, visitors will likely find it easy to take public transit to the game. Toronto's subway system has a stop at Union Station some four blocks away (the bottom of the "U" on the Yonge-University-Spadina line).
The stadium is separated from the rest of downtown by train tracks leading to nearby Union Station, so the most direct approach by foot is via the Skywalk, a pedestrian bridge that leads to the plaza between it and CN Tower. Or, from Front Street, turn south onto John Street, then head across the pedestrian bridge to reach Rogers Centre.
Lesser known to visitors, Toronto's extensive streetcar system can also get visitors to Rogers Centre from most downtown points. Line 510 runs along Spadina Avenue; disembark at Bremner Boulevard and then walk two blocks east to get to the stadium.
Parking at Rogers Centre
There is a parking structure underneath Rogers Centre, with multiple entrances and exits around the stadium's perimeter, though most of its capacity is reserved for permits. However, Rogers Centre is surrounded by independent parking options thanks to the numerous offices, lofts and other buildings in the area, as well as a few surface parking lots.
Depending on how far away you park, the day of the week and the popularity of the opponent, you can typically find rates of C$25 or so at lots more than a few blocks away from Rogers Centre, especially north of Front Street. However, since parking is at such high demand in downtown Toronto whether there's an event happening at Rogers Centre or not, don't expect to find too many bargains.
Toronto hotels near Rogers Centre
If you're visiting Toronto and staying downtown, many hotels in the area are a comfortable walking distance to Rogers Centre, and oftentimes the summer weather in Toronto make walking an appealing option.
Know that hotels in general get more expensive the closer you get to Rogers Centre, what with the many tourist attractions as well as businesses in the general area. This also applies to the Toronto Marriott City Centre, the hotel located within the ballpark.
• Toronto Marriott City Centre Hotel – 0.0 miles away
• Residence Inn by Marriott Toronto Downtown/Entertainment District – 0.2 miles away
• Delta Hotels by Marriott Toronto – 0.3 miles away
Search for more Toronto hotels on Booking.com.
Map of the surrounding area
Things to do around the stadium
It wasn't that long ago that there wasn't a whole lot around Rogers Centre or the CN Tower — downtown Toronto, for all intents and purposes, stopped at Front Street.
That changed with the construction of the Air Canada Centre (now known as Scotiabank Arena) a few blocks to the east, spurring construction of many high-rise residences in the area and in turn bringing restaurants, bars and other businesses to the area as well.
So there's no shortage of pregame imbibing options in the area, if not between the stadium and arena, then try north of Front Street, where numerous eateries that cater to the workaday crowd during the daytime also stand to serve hungry Blue Jays fans — or anyone else attending a Rogers Centre event — in the evening.
There's also plenty to do as a tourist in the area around Rogers Centre. In the plaza just east of the ballpark, you'll find not only the CN Tower but also the Ripley's Aquarium of Canada and the Toronto Railway Museum, as well as a handful of restaurants. Or, head south of the Gardiner Expressway to see Toronto's lakefront, where you can catch a boat to go on a harbor tour or see the nearby Toronto Islands — a favorite activity for locals and visitors alike in the summer months.
And don't forget the other major sports attraction in the vicinity: The Hockey Hall of Fame, which is a short walk away on the corner of Yonge and Front streets.
Toronto restaurants near Rogers Centre
• Mi-Ne Sushi – Japanese, 0.1 miles away
• St. Louis Bar & Grill – pub, 0.1 miles away
• The Pint Public House – pub, 0.2 miles away
Search for more Toronto restaurants on Tripadvisor.
Watching a game at Rogers Centre
Rogers Centre is a huge concrete structure with huge concrete pillars in an era where ballparks considered to have the most charm are made of brick and exposed steel. So "charming" isn't a word typically used to describe the building once known as SkyDome.
But its design was meant to inspire awe, and so rather than looking for the charm, Rogers Centre is worth seeing for such features as the retractable roof and the giant center-field videoboard that at one point was the largest in the majors.
Keep in mind that Rogers Centre was built to also hold larger-scale events such as conventions and football games — the CFL's Toronto Argonauts played here until 2015, and the NFL's Buffalo Bills played one regular-season game a year here for a six-year stretch — so it's not surprising that the seating bowl would feel large for a ballpark.
Case in point: there is a 500-level at Rogers Centre (the 100- and 200-levels being the first two levels, and 300- and 400-levels being premium seating and luxury suite areas). That, of course, would suggest the seats in the 500-level are literally sky-high — and, indeed, the seats in highest reaches of the stadium can feel impossibly far from the field — but on the other hand, you'd have a close-up view of the mechanisms that control the retractable roof.
Still, there are a few things to love — not counting the hotel, which despite its 70 rooms overlooking the playing field, isn't really part of the experience that you get when you purchase a ticket to an event at Rogers Centre.
For example, the patio located just below the center-field scoreboard, on the 200 level, is known as the WestJet Flight Deck and is essentially a standing-room party deck, open to anyone in the ballpark. Many Blue Jays fans will watch the entire game from this spot — despite having tickets for seating areas elsewhere in Rogers Centre — and thus it's often the most boisterous spot in the joint.
For the 2023 season, the Blue Jays are introducing several new social spaces in Rogers Centre's outfield sections, called "neighborhoods" — some of them have replaced seating areas that would typically be empty for lighter-attended games. The WestJet Flight Deck is also getting a "brewery-style" refresh.
While Rogers Centre's seating bowl itself can feel pretty cookie-cutter — appropriate considering the stadium used to accommodate football — make sure to sit on the third-base side for games with the roof open so you can get that view of the CN Tower hovering overhead.
Food and drink at Rogers Centre
Rogers Centre's concessions are as varied as many ballparks offer up nowadays, with such Canadian offerings as poutine, smoked meat sandwiches, Tim Horton's coffee and pizza from local chain Pizza Nova available among the standard hamburgers, hot dogs and the like.
Among the alcoholic offerings throughout the ballpark, you can find selections from Canadian brewery Alexander Keith's and Brickworks Ciderhouse. The Caesar, perhaps the most popular cocktail in Canada, is sold at most stands that sell alcoholic beverages at Rogers Centre.
Original publish date: February 4, 2016
Most recent update: March 18, 2023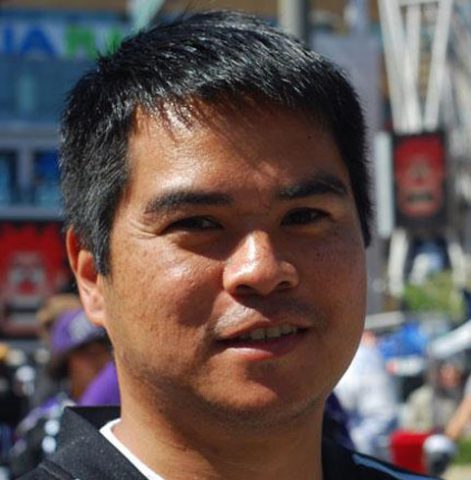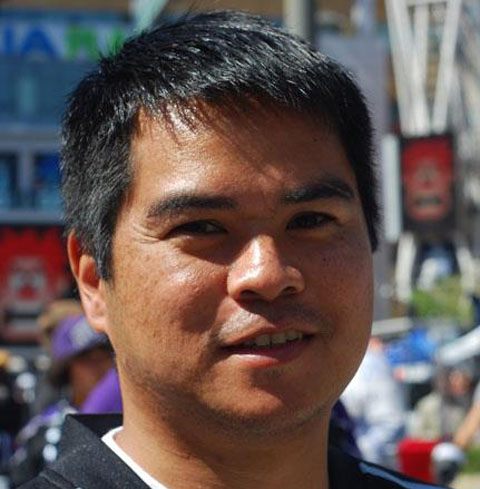 Edward de la Fuente | Itinerant Fan
I live for sports, and I love to travel. My biggest thrill is combining the two. I've been blogging about sports travel for more than a decade, and traveling for sports for twice as long.
About me | FAQ | Buy me a beer 🍺
Affiliate Disclosure
Please note that some of the links above are affiliate links, and at no additional cost to you, we earn a commission if you make a purchase. These recommendations are only for companies that we've used and have proven to enhance our sports travel experiences. To find out more about our affiliate partnerships, please read our Affiliate Disclaimer.
The Particulars
Home Teams
Toronto Blue Jays
Address
1 Blue Jays Way
Toronto, ON M5V 1J1
Year Opened
1989
Capacity
54,000
Upcoming Events
All times local
Toronto Blue Jays v New York Yankees
Tuesday, September 26, 2023
7:07 pm
Get tickets at Ticketmaster »

Toronto Blue Jays v New York Yankees
Wednesday, September 27, 2023
7:07 pm
Get tickets at Ticketmaster »

Toronto Blue Jays v New York Yankees
Thursday, September 28, 2023
7:07 pm
Get tickets at Ticketmaster »

Toronto Blue Jays v Tampa Bay Rays
Friday, September 29, 2023
7:07 pm
Get tickets at Ticketmaster »

Toronto Blue Jays v Tampa Bay Rays
Saturday, September 30, 2023
3:07 pm
Get tickets at Ticketmaster »