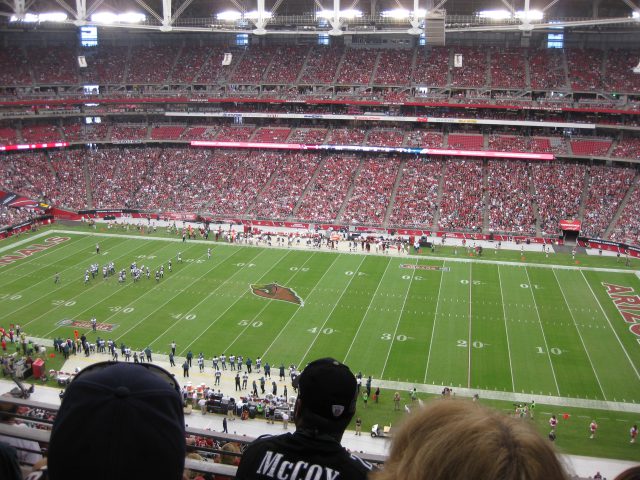 The NFL schedule is here! And with that, we can commence with coming up with ideas for NFL road trips during the 2022 season.
If you're new to Itinerant Fan, this is an annual rite around here. We love breaking down schedules to find road trip ideas in which you can see multiple games while sticking to a budget.
And while we do road trip idea posts for every other major league — MLB, the NBA and NHL — the NFL is a different beast in that most games every week are on Sundays.
So unless you have access to a private jet — or are the parent of an NFL player — you'll have to rely on the Sunday-Monday schedule to get to multiple games in any given week.
We used to ignore Thursday-Sunday ideas, reasoning that a budget traveler wouldn't want to incur two off days' worth of expense between games. But based on reader feedback, we're including these ideas this year, because let's face it: more games = more fun.
Beyond that, an added criteria for these NFL road trip ideas is that the games must be in cities within a reasonable one-day driving distance of one another (maximum 400 miles). I realize you can go to just about any game you want on Sunday and then fly to the Monday-night home city, but convenience is a major factor in formulating these itineraries.
Whether you're in it to see as many stadiums as possible or you just want to check out a few good games, I hope these will inspire you to get out there and see more sports this fall! Check out the possible itineraries below.
Note: You can look for tickets via Ticketmaster by clicking on the links for each game listed.

Week 1
Thursday, Sept. 8: Bills at Rams, 5:20 p.m. ET
Sunday, Sept. 11: Chiefs at Cardinals, 4:25 p.m. ET
The 2021 NFL season begins where the previous one ended: at SoFi Stadium in the Los Angeles area, where the Rams won Super Bowl LVI in their home stadium and thus get the honor of hosting the nationally televised season opener — what promises to be a thrilling matchup with the Bills.
You can also kick off the season of NFL road trips by attending the opener. Then, spend two days checking out the Los Angeles and Phoenix areas before attending another potential barnburner when the Cardinals host the Chiefs at State Farm Stadium (which, incidentally, is the site of this season's Super Bowl).
Distance between stadiums: 380 miles
Week 2
Sunday, Sept. 18: Jets at Browns, 1 p.m. ET
Monday, Sept. 19: Titans at Bills, 7:15 p.m. ET
OR
Sunday, Sept. 18: Dolphins at Ravens, 1 p.m. ET
Monday, Sept. 19: Vikings at Eagles, 8:30 p.m. ET
The once-a-year Monday night doubleheader was moved from Week 1 to Week 2 for the 2022 season, and it creates two opportunities for NFL road trips.
The first one takes you to Cleveland's FirstEnergy Stadium and Buffalo's Highmark Stadium for potentially big early-season AFC tilts. The second is an I-95 special, beginning at M&T Bank Stadium in Baltimore and ending at Lincoln Financial Field in Philadelphia.
Note: You can modify the second road trip by going to MetLife Stadium in East Rutherford, N.J., to see the Giants host the Panthers on Sunday. But we chose Dolphins-Ravens because the game, on paper, promises to be a better one.
Besides, if you really want to see the Meadowlands, it might be worth waiting a week — see below.
Distance between stadiums: 183 miles (Buffalo-Cleveland); 99 miles (Baltimore-Philadelphia)
Week 3
Sunday, Sept. 25: Ravens at Patriots, 1 p.m. ET
Monday, Sept. 26: Cowboys at Giants, 8:15 p.m. ET
Another East Coast NFL road trip idea begins in Foxborough, Mass., with the Patriots hosting the Ravens at Gillette Stadium. From there, make your way down to East Rutherford for the Monday-nighter, with the Giants taking on the NFC East rival Cowboys at MetLife Stadium.
This is a trip you could also potentially do by train, taking advantage of the popular Amtrak network on the Eastern seaboard.
Distance between stadiums: 215 miles
Week 4
Thursday, Sept. 29: Dolphins at Bengals, 8:15 p.m. ET
Sunday, Oct. 2: Titans at Colts, 1 p.m. ET
This Thursday-Sunday idea gives you a glimpse of the Midwest, starting in Cincinnati with the defending AFC champion Bengals hosting the Dolphins at Paul Brown Stadium. During your two days off, make your way to Indianapolis and catch the Colts in a big AFC South matchup with Tennessee at Lucas Oil Stadium.
Distance between stadiums: 112 miles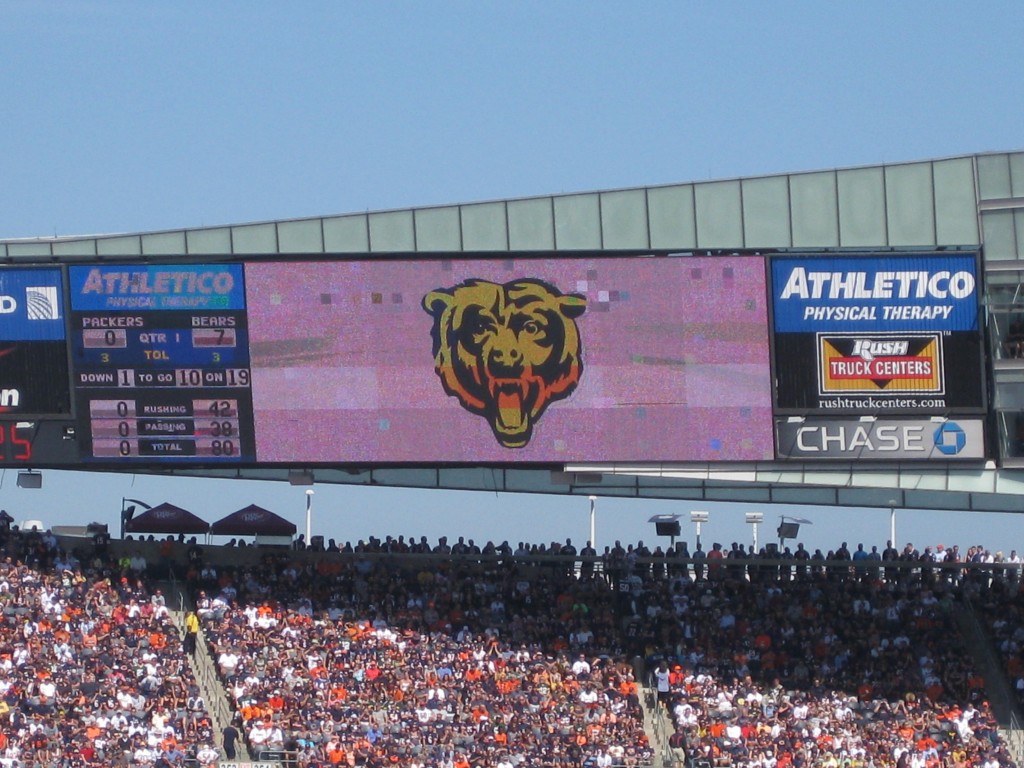 Week 5
Thursday, Oct. 6: Colts at Broncos, 8:15 p.m. ET
Monday, Oct. 10: Raiders at Chiefs, 8:15 p.m. ET
OK, I'll admit it's hard to pitch a Thursday-Monday NFL road trip idea. But Denver, considering how far it is from any other NFL destination, rarely makes it into these itineraries, so here's an opportunity to make the Mile High City part of your football travels.
Here's the setup: Catch Russell Wilson and the Broncos at home on Thursday night against the Colts at Empower Field, then spend a few days making your way across the Plains before seeing Patrick Mahomes and the Chiefs in a big AFC West showdown with the Raiders at Arrowhead Stadium.
(And before you ask, no, there are no NFL games close by on Sunday, Oct. 9. Bummer huh?)
Distance between stadiums: 609 miles
Week 6
Thursday, Oct. 13: Commanders at Bears, 8:15 p.m. ET
Sunday, Oct. 16: Jets at Packers, 1 p.m. ET
Take a tour through the NFC North with this Thursday-Sunday trip that starts in Chicago, with the Bears taking on the Commanders (formerly Washington Football Team) at Soldier Field. Then, make your way north through Wisconsin in order to catch the Packers as they host the Jets at Lambeau Field.
Distance between stadiums: 208 miles
Week 7
Sunday, Oct. 23: Browns at Ravens, 1 p.m. ET
Monday, Oct. 24: Bears at Patriots, 8:15 p.m. ET
The number of teams playing along the Eastern Seaboard means multiple NFL road trip ideas can be formed each season, and this week is no different. You can start this one in Baltimore, with the Ravens facing the division rival Browns at M&T Bank Stadium, and finish it at New England's Gillette Stadium with the Patriots battling the Bears.
Distance between stadiums: 395 miles
Week 8
Sunday, Oct. 30: Packers at Bills, 8:20 p.m. ET
Monday, Oct. 31: Bengals at Browns, 8:15 p.m. ET
Take in two nationally televised showdowns during this Halloween trek along Lake Erie, beginning with the Bills hosting the Packers on Sunday night at Highmark Stadium. From there, make your way to FirstEnergy Stadium in Cleveland to see the Browns battle the Bengals in an AFC North clash.
Distance between stadiums: 184 miles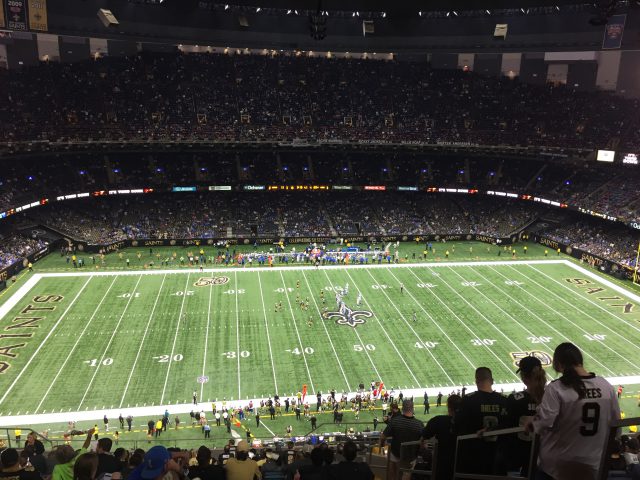 Week 9
Thursday, Nov. 3: Eagles at Texans, 8:15 p.m. ET
Monday, Nov. 7: Ravens at Saints, 8:15 p.m. ET
Here's another Thursday-Monday NFL road trip idea, but it involves another part of the country that's hard to traverse in one day. The Thursday game is in Houston, where the Texans face the Eagles at NRG Stadium, and you'll spend Monday night in the Big Easy checking out the Ravens and Saints at the Caesars Superdome. 
Distance between stadiums: 354 miles
Week 10
Sunday, Nov. 13: Texans at Giants, 1 p.m. ET
Monday, Nov. 14: Commanders at Eagles, 8:15 p.m. ET
These aren't the sexiest matchups on paper, but at least there isn't a ton of travel involved in between. Sunday's game takes you to MetLife Stadium for a Giants home game against Houston. Afterward, head down the New Jersey Turnpike for a Monday night matchup between the Eagles and division rival Commanders at Lincoln Financial Field.
Total distance between stadiums: 96 miles
Week 11
Thursday, Nov. 17: Titans at Packers, 8:15 p.m. ET
Sunday, Nov. 20: Cowboys at Vikings, 4:25 p.m. ET
OR
Sunday, Nov. 20: Commanders at Texans, 1 p.m. ET
Monday, Nov. 21: 49ers vs. Cardinals in Mexico City, 8:15 p.m. ET
The first NFL road trip idea is a traditional one, with stops at Lambeau Field and Minneapolis' U.S. Bank Stadium — with a couple days to enjoy the brisk fall weather in Wisconsin and Minnesota in between.
The second one, well, is not traditional — you'll have to hop on a plane to get from Houston to Mexico City after the first game at NRG Stadium. But I can personally vouch for the fact that the NFL's annual Mexico game, which resumes in 2022 after two seasons off, is a fun one. We were at the most recent one in 2019 and had fun not only watching the game at Estadio Azteca, but also exploring an incredible city. If you have any desire whatsoever to do this trip, I highly recommend it. 
Distance between stadiums: 276 miles (Green Bay-Minneapolis); 935 miles (Houston-Mexico City)
Week 12
Thursday, Nov. 24: Bills at Lions, 12:30 p.m. ET
Sunday, Nov. 27: Buccaneers at Browns, 1 p.m. ET
Monday, Nov. 28: Steelers at Colts, 8:15 p.m. ET
Take advantage of the Thanksgiving holiday and do a three-game weekend trip that begins in Detroit, with the Lions hosting the Bills at Ford Field. You can spend two days exploring the Midwest (one suggestion: the Michigan-Ohio State game takes place in Columbus on Saturday, Nov. 26).
You'll pick up the NFL road trip on Sunday at Cleveland's FirstEnergy Stadium when Tom Brady and the Bucs come calling, then head over to Indy's Lucas Oil Stadium for a Monday-night tilt against the visiting Steelers.
Sure, there'll be some zig-zagging involved (especially if you go to Columbus), but for this slate of events, it sure feels like it would be worth it.
Distance between stadiums: 172 miles (Detroit-Cleveland); 333 miles (Cleveland-Indianapolis)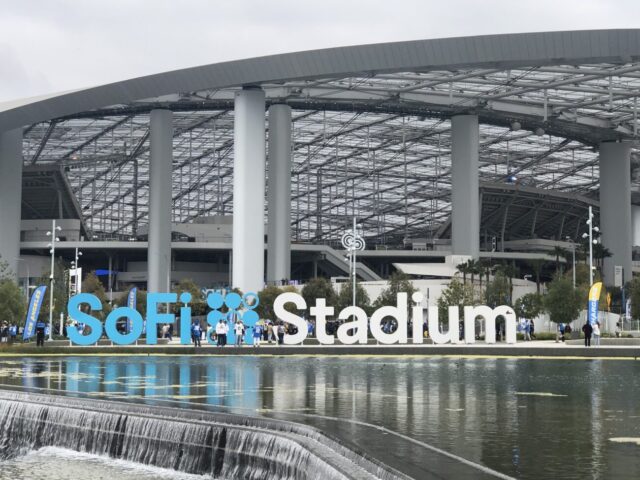 Week 13
Sunday, Dec. 4: Steelers at Falcons, 1 p.m. ET
Monday, Dec. 5: Saints at Buccaneers, 8:15 p.m. ET
Check out two NFC South venues with this trip that features the Falcons and Steelers at Atlanta's Mercedes-Benz Stadium on Sunday, followed by the Bucs hosting the division rival Saints at Raymond James Stadium on Monday. Driving between Atlanta and Tampa is a bit of a haul for a single day, but these games might mean a lot at this stage of the season.
Distance between stadiums: 460 miles
Week 14
Thursday, Dec. 8: Raiders at Rams, 8:15 p.m. ET
Sunday, Dec. 11: Buccaneers at 49ers, 4:25 p.m. ET
This all-California NFL road trip idea begins in SoCal with the Raiders and Rams in a Thursday-night barnburner at SoFi Stadium. Afterward, take your time admiring the Pacific Coast along Highway 1 before arriving in Santa Clara to see Tom Brady and the Bucs taking on the 49ers at Levi's Stadium.
Distance between stadiums: 352 miles
Week 15
Sunday, Dec. 18: Eagles at Bears, 1 p.m. ET
Monday, Dec. 19: Rams at Packers, 8:15 p.m. ET
Week 15 is tricky because five games have been set aside for potential moving to Saturday, with three of them to be selected just a few weeks prior. But at least the two games above are set in stone, meaning you can begin planning now for a double between Soldier Field and Lambeau Field. Of course, just a few days before Christmas, weather could be a factor so plan accordingly.
Distance between stadiums: 211 miles
Week 16
Saturday, Dec. 24: Texans at Titans, 1 p.m. ET
Monday, Dec. 26: Chargers at Colts, 8:15 p.m. ET
Want an idea for a holiday NFL road trip? Here's a jaunt through the AFC South, beginning with the Titans hosting the Texans at Nissan Stadium in Nashville and ending with the Colts taking on the Chargers at Lucas Oil Stadium. Hopefully you can find someplace warm and welcoming for the Christmas Day break in between.
Distance between stadiums: 286 miles
Week 17
Sunday, Jan. 1: Bears at Lions, 1 p.m. ET
Monday, Jan. 2: Bills at Bengals, 8:30 p.m. ET
Ring in 2023 in the Midwest, kicking off in Detroit with the Bears and Lions at Ford Field, followed by a trip south to Cincinnati to catch the Bills and Bengals at Paul Brown Stadium in what figures to be a critical game for the AFC playoff picture.
Distance between stadiums: 262 miles
Got a few different NFL road trip ideas in mind that you'd like to share? Drop me a line and let me know!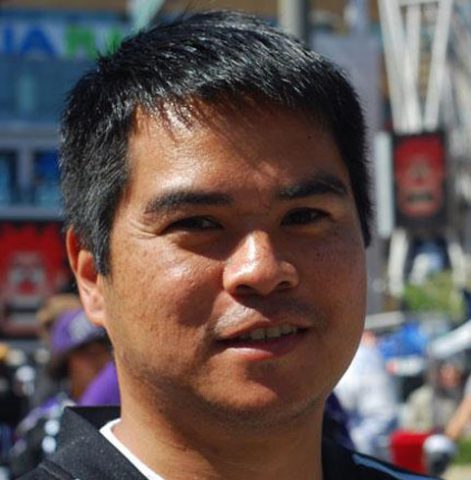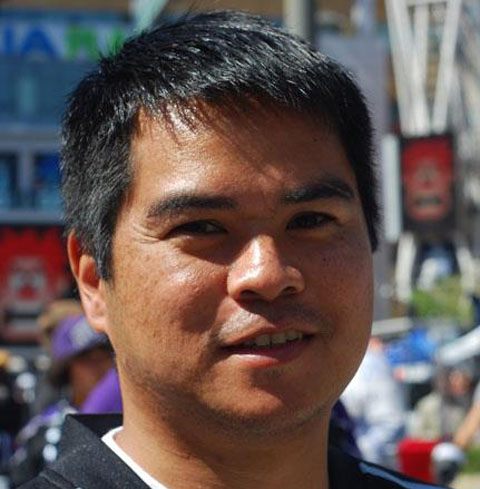 Edward de la Fuente | Itinerant Fan
I live for sports, and I love to travel. My biggest thrill is combining the two. I've been blogging about sports travel for more than a decade, and traveling for sports for twice as long.
About me | FAQ | Buy me a beer 🍺
Affiliate Disclosure
Please note that some of the links above are affiliate links, and at no additional cost to you, we earn a commission if you make a purchase. These recommendations are only for companies that we've used and have proven to enhance our sports travel experiences. To find out more about our affiliate partnerships, please read our Affiliate Disclaimer.