AT&T Stadium
Our guide to AT&T Stadium in Arlington, Texas, includes information on events, tickets, parking, public transportation, nearby hotels and restaurants, seating and more. Read on to find out how to get the most out of your gameday experience.
* * *
In its lifetime, AT&T Stadium has become a veritable sports mecca, serving as home for events like the Super Bowl, the Final Four, the NBA All-Star Game, championship boxing matches and the College Football Playoff championship game. It's why Arlington, Texas, has become a major tourist destination, with the requisite hotels, parking, entertainment and more to accommodate such large-scale events.
Oh, and don't forget the "regular" events held there — Dallas Cowboys games, regular-season college football games and college basketball games.
And Jerry Jones' creation, often called "Jerry World," is really a sight to behold. Even while watching a game on television, you can get a sense of its sheer size, its unique roof and architecture, and its giant scoreboard hanging over the playing surface.
Those things are all pretty awe-inspiring on TV, but you really do have to go there to get the true feeling of how massive everything is. And then you start to understand why so many high-profile events get scheduled there.
Because such a variety of events are held at AT&T Stadium, the opportunity exists for many more fans to find their way to Arlington whether they like the NFL or not. But of course, the Cowboys will continue to be the star attraction.
Their enduring popularity, and the propensity of other teams' fans to dislike them, means that football fans throughout the league will consider AT&T Stadium to be a preferred destination for quite some time to come.
Looking for AT&T Stadium event tickets? Search events on Ticketmaster.
Top photo credit: sandler482 / Pixabay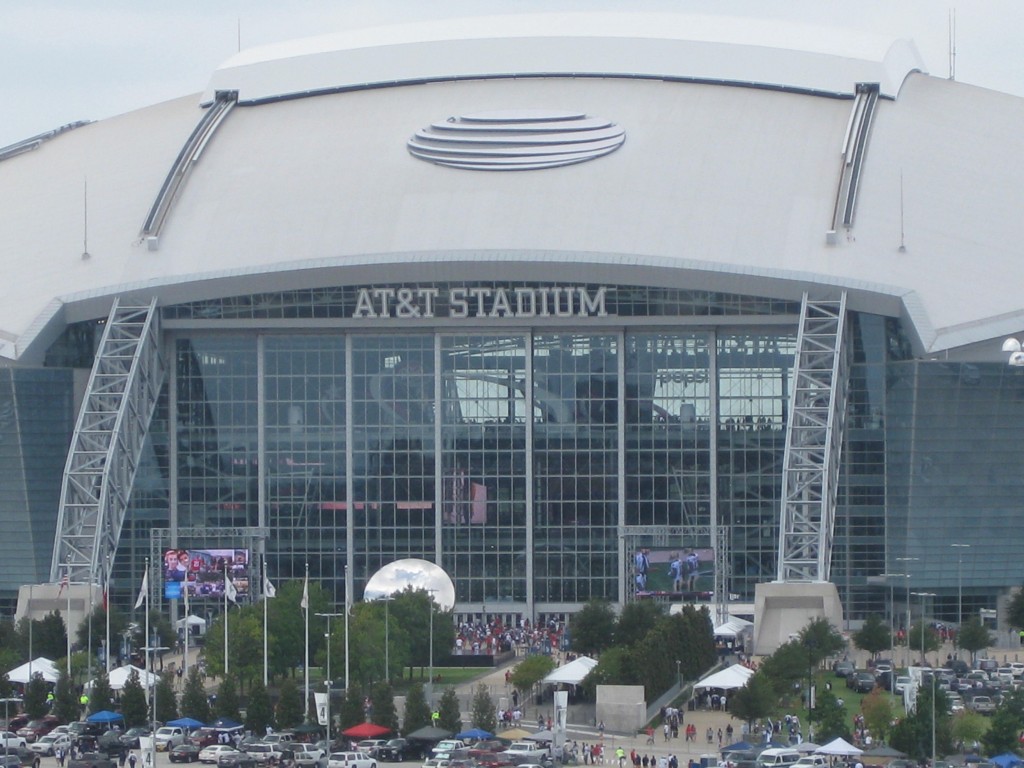 Getting to the stadium
Like most locales in the Dallas Metroplex, Arlington is not an easy place to get to if you don't have access to a car. The city is situated between Dallas and Fort Worth (though slightly closer to Fort Worth), and while Dallas has a light-rail system, it goes nowhere near Arlington.
So if you're flying in from out of town, you're left with either renting a car or taking a cab or rideshare. The stadium sits about a mile south of Interstate 30, aptly named the Tom Landry Freeway, with exits at Collins Street or Ballpark Way. And it's difficult to get lost as long as the day is clear, because the stadium is visible for miles.
I took a cab directly from Dallas-Fort Worth International Airport, a journey of almost 15 miles, and as soon as we exited the airport grounds heading south, I could already see the stadium in the distance. It's that big.
Parking at AT&T Stadium
Once you've reached AT&T Stadium, there are many lots around, but be prepared to pay a pretty penny for parking — up to $75 depending on the lot. AT&T Stadium is surrounded by neighborhoods, strip malls and a Walmart, and some of those residences and businesses offer up parking for a little cheaper — but still expensive as far as sports event parking goes.
If you're willing to walk, you can find cheaper parking options a mile or more away from AT&T Stadium, as many independent businesses will happily offer you a spot to park in the $10-20 range.
Looking for parking at AT&T Stadium? Buy parking on SpotHero.
Arlington hotels near AT&T Stadium
There are a handful of hotels close by AT&T Stadium, but the bulk of Arlington's tourist and entertainment district is a mile or more away, closer to I-30. So it's possible that even if you're staying in an Arlington hotel, you'll find it more convenient to hop in your car and park at the stadium for your AT&T Stadium event.
• 817 Hotel Days Inn by Wyndham – 0.2 miles away
• Live! by Loews – Arlington, TX – 0.5 miles away
• Executive Inn of Arlington – 0.5 miles away
Search for more Arlington hotels on Booking.com.
Map of the surrounding area
Things to do around the stadium
The tailgate scene is strong at AT&T Stadium, and the vast parking lots that surround the venue give people ample room to spread out. So if you've got an RV or just a portable grill, have a few friends ready to join you and don't mind ponying up the money, the opportunity is there for you.
On this particular day, with a 3:25 p.m. Central time kickoff for the Cowboys' game against the 49ers, there was ample time to tailgate, too. (Of course, this meant a huge logjam at the turnstiles in the final half-hour before kickoff as folks scrambled to get inside in time.)
If that's not your thing, there are more than a few restaurants nearby — particularly across Collins Street to the west of the stadium, while a handful of restaurants a little farther away offer shuttle service to the game if you choose their establishments. If you've got kids in tow, you can also hit up Six Flags Over Texas, an amusement park about two miles away (just at the edge of reasonable walking distance to the stadium).
And in 2018, the Texas Live! entertainment complex opened up about a half-mile east of AT&T Stadium and includes numerous restaurants, bars and nightlife destinations, as well as a Loews hotel and convention space.
Because of the proximity of AT&T Stadium, Globe Life Field (the ballpark for MLB's Texas Rangers), Six Flags and various restaurants in what is essentially Arlington's entertainment district, many fans were emerging from the numerous hotels as kickoff approached for this game.
Depending on the weather (on this day, the first Sunday in September, it was hot and humid but not unbearably so), the walk to the stadium can actually be quite pleasant, with pathways from the northeast passing through a park and alongside a lake.
For more on visiting Arlington, check out our Dallas/Fort Worth sports travel guide.
Arlington restaurants near AT&T Stadium
• Boiling Tails Co. – seafood, 0.2 miles away
• Cicis – pizza, 0.2 miles away
• Eddie Deen's Crossroads Smokehouse – barbecue, 0.3 miles away
Search for more Arlington restaurants on Tripadvisor.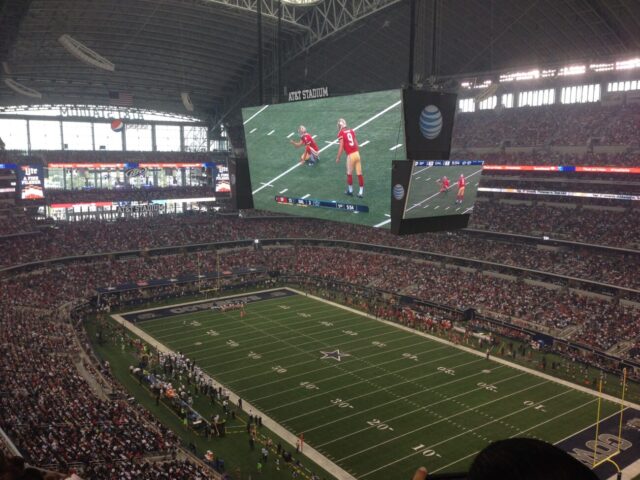 Watching a game at AT&T Stadium
When you're attending an event with 80,000 of your closest friends at AT&T Stadium, you can't help but get caught up in the atmosphere. And it's easy to be festive at this place, with wide concourses and large plazas both inside and outside the stadium for fans to congregate without it feeling too claustrophobic.
The ends of the stadium are particularly good spots to just hang out — particularly on the west end, there's a huge bar and big TVs for fans to sit, imbibe and watch other games. With all those amenities, why even go inside?
In the past, the Cowboys sold tickets to standing-room only sections in these areas, called the "Party Pass." But reviews about the fan experience for these ticket holders were mixed at best, and largely negative unless you arrive early and are able to snag the best viewing spots.
By the 2021 season, the Cowboys did away with standing-room tickets, and all patrons are now entitled to a seat.
Even if you're in the upper deck, though, the giant videoboard affords you a glorious view. It is likely the first thing you heard about the stadium from people you have been there, and it truly is worth a visit to see how humongous and crystal-clear the thing is.
The videoboard stretches from 20-yard-line to 20-yard-line, and when the game isn't in progress it sure shows a lot of commercials and other nonsense. But just try peeling your eyes off it for more than 30 seconds at a time, no matter where in the stadium you're sitting. It's pretty difficult.
Though football stadium videoboard technology has improved in recent years, as evidenced by the 360-degree displays found at Mercedes-Benz Stadium in Atlanta and SoFi Stadium outside Los Angeles, AT&T Stadium's board is still worth marveling at.
Interested in a suite at AT&T Stadium? Buy suite tickets on SuiteHop.
Food and drink at AT&T Stadium
If you're looking for interesting food options, there's a few to be had at AT&T Stadium events. As befitting a venue in Texas, tacos and beef brisket are prevalent, but there are also more interesting offerings like pork belly burgers, hand pies with Korean bulgogi, mac and cheese balls and chicken fried steak sandwiches.
Also, if you're in the mood for an adult beverage, the stadium has expanded its craft beer offerings in recent years. Don't forget to check out the "Cowboyrita," a frozen margarita that's very popular among Cowboys fans.
Original publish date: February 4, 2016
Most recent update: August 18, 2023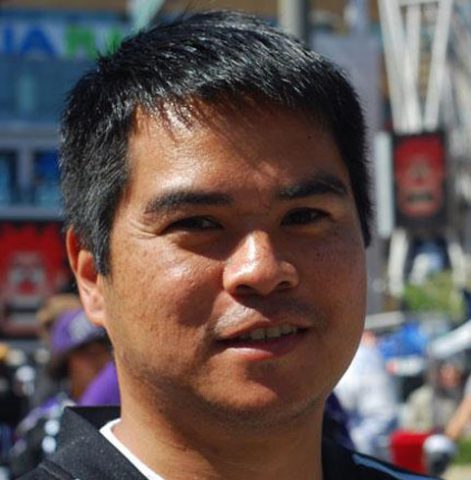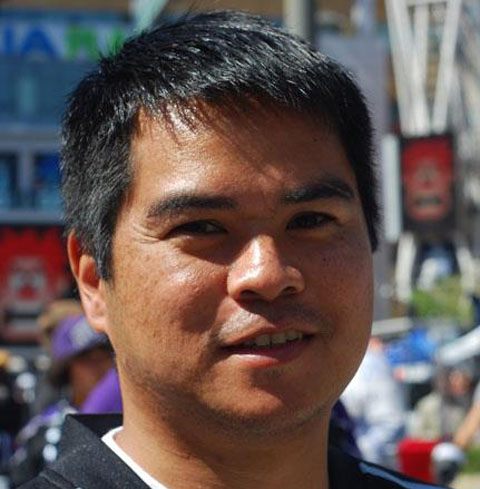 Edward de la Fuente | Itinerant Fan
I live for sports, and I love to travel. My biggest thrill is combining the two. I've been blogging about sports travel for more than a decade, and traveling for sports for twice as long.
About me | FAQ | Buy me a beer 🍺
Affiliate Disclosure
Please note that some of the links above are affiliate links, and at no additional cost to you, we earn a commission if you make a purchase. These recommendations are only for companies that we've used and have proven to enhance our sports travel experiences. To find out more about our affiliate partnerships, please read our Affiliate Disclaimer.
The Particulars
Home Teams
Dallas Cowboys
Address
1 AT&T Way
Arlington, TX 76011
Year Opened
2009
Capacity
80,000
Upcoming Events
All times local
Dallas Cowboys vs. Philadelphia Eagles
Sunday, December 10, 2023
7:20 pm
Get tickets at Ticketmaster »

Goodyear Cotton Bowl Missouri Tigers vs Ohio State Buckeyes
Friday, December 29, 2023
7:00 pm
Get tickets at Ticketmaster »

Dallas Cowboys vs. Detroit Lions
Saturday, December 30, 2023
7:15 pm
Get tickets at Ticketmaster »

Monster Energy AMA Supercross Championship
Saturday, February 24, 2024
5:30 pm
Get tickets at Ticketmaster »

Monster Jam
Saturday, March 2, 2024
6:00 pm
Get tickets at Ticketmaster »