Yankee Stadium
Our guide to Yankee Stadium in New York City includes information on events, tickets, parking, public transportation, nearby hotels and restaurants, seating, food and more. Read on to find out how to get the most out of your gameday experience.
* * *
There are two sides to Yankee Stadium, the ballpark in the Bronx borough of New York City that hosts one of Major League Baseball's most popular and successful franchises.
On one hand, the stadium does as much as it can to honor its historic predecessor, which stood across the street. From the distinctive frieze that lines its canopy to the Monument Park in the outfield, "new" Yankee Stadium contains many reminders of both the Yankees' glorious franchise history and the ballpark it called home for 85 seasons.
Then there's the new side, the one that presents all the creature comforts and luxury amenities you'd expect from a modern sports venue. Yankee Stadium has all those things and more — in fact, it has received plenty of criticism for focusing too much on the "luxury" part of it.
So for fans attending a game at Yankee Stadium, should you focus more on the heritage or the luxury? The ballpark tries, perhaps a little too hard, to meld the two and satisfy both sides.
In short, if you arrive in the Bronx expecting that ethereal, tradition-steeped experience you get from, say, Fenway Park or Wrigley Field, you might be a little bit disappointed. But as a functional entertainment experience, Yankee Stadium delivers in plenty of ways.
The stadium has shown plenty of versatility over its decade-plus of existence. It's currently the home of MLS club New York City FC (although the team is looking to build a permanent home, possibly nearby) as well as the annual Pinstripe Bowl college football game. It has also played host to numerous international soccer matches as well as two NHL Stadium Series games.
Looking for Yankee Stadium event tickets? Search events on Ticketmaster.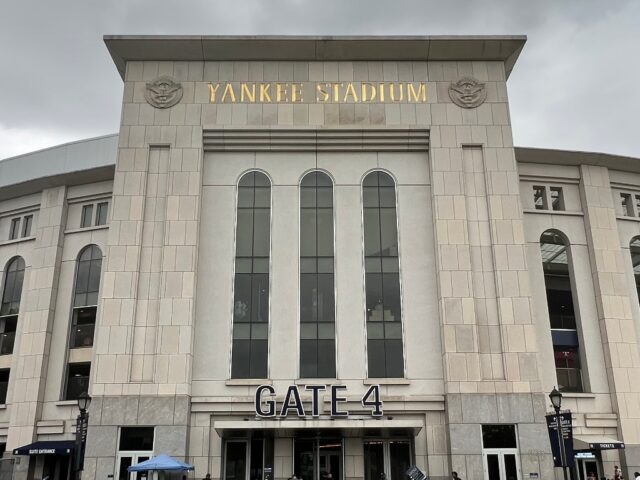 Getting to the ballpark
If you're a visitor to New York, the subway is the way to go — whether it's Yankee Stadium or just about any other destination you're heading to. This is especially true if you're staying in a hotel; although a handful of hotel options exist within a short distance of Yankee Stadium, you'll likely want to stay in Manhattan if you prefer to stay central to other attractions around the region.
The D and 4 lines all run to the 161st Street/Yankee Stadium station from Manhattan, while the B line also serves the station on weekdays. The station is located southeast of the ballpark, behind right field. Gate 6 into the stadium is directly in front of the subway platform.
If you're coming from the New York suburbs, or larger trains are just your thing, MTA's Metro-North line runs reasonably close to the stadium as well with a stop at 153rd Street. You'll be able to see Yankee Stadium from the station, but getting there requires a quick walk across a pedestrian bridge and then through the park in between (more on that in the section below).
A note on the subway: From our experience, we've noticed that service to the 161st Street station tends to be timed to the progress of the game, especially if you're coming from or heading to Manhattan. That is, service becomes drastically limited after first pitch, and then ramps up again as soon as the game ends.
So if you think it would be advantageous to leave before the game ends to beat the rush to the subway, that isn't always the case. If you're visiting New York, best to stick with the crowds.
Parking at Yankee Stadium
If you've got a car, know that getting to Yankee Stadium and parking is just as difficult and expensive as most popular attractions around the city. The Major Deegan Expressway (Interstate 87) runs along the Harlem River that separates the Bronx from Manhattan, and the East 161st Street exit from either direction will get you closest to Yankee Stadium and its primary parking options. Or, use the Macombs Dam Bridge to get across from Manhattan.
Parking structures are located just south of Yankee Stadium and just beyond the outfield gates, and additional surface lots can be found along the river, on the west side of the expressway. Spots in all of these lots are in high demand and often sold as part of season-ticket packages, but advance parking can also be purchased online.
All parking lots around Yankee Stadium are controlled not by the team but by an independent company called City Parking, which is responsible for setting rates and rules.
New York City hotels near Yankee Stadium
• Best Western Plus Stadium Inn – 0.4 miles away
• Ramada by Wyndham Bronx Terminal – 0.5 miles away
• Holiday Inn Express – Bronx NYC – Yankee Stadium – 0.8 miles away
Search for more New York City hotels on Booking.com.
Map of the surrounding area
Things to do around the ballpark
If you're looking the right direction, the first thing you'll see when you descend from the elevated 161st Street station is not the stadium but Heritage Field, a public complex of athletic fields that sits where the old Yankee Stadium once stood.
Pass through the park, or even look out from a distance, and it'll be hard not to notice the little tributes to the old House that Ruth Built — most prominently a portion of the old frieze that adorned the stadium's rooftop.
You'll also see "The Bat," an exhaust stack that stood outside the old ballpark and was decorated to resemble a giant baseball bat. If you're arriving via a Metro North train, you'll pass by The Bat as you descend the pedestrian walkway leading toward Yankee Stadium.
Otherwise, unless you know the Bronx well, you may find it difficult to find places to get food and drink near Yankee Stadium, as the nearby train tracks and brick residences give off that typical New York neighborhood look. But if you look just east, along River Avenue or one block away at Gerard Avenue, you'll find a few modest blocks of taverns, eateries and food stops that fill up with baseball fans on Yankee Stadium game nights.
One prominent pregame food option is attached to Yankee Stadium: The Hard Rock Cafe, which is open to ticketholders and the general public alike. To honor Mariano Rivera's retirement, the Hard Rock Cafe declared that his entrance song, Metallica's "Enter Sandman," would be retired at all of its locations — except this one.
For more on visiting New York City, check out our New York City sports travel guide.
New York City restaurants near Yankee Stadium
• Hard Rock Cafe Yankee Stadium – American, 0.0 miles away
• The Dugout – American, 0.1 miles away
• Yankee Tavern – pub, 0.1 miles away
Search for more New York City restaurants on Tripadvisor.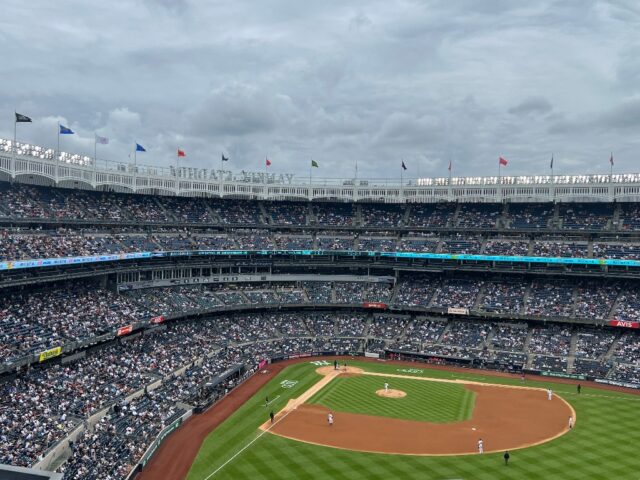 Watching a game at Yankee Stadium
If you've visited (and remember) the old Yankee Stadium, you'll find that they went to some great lengths to replicate certain parts of the experience in the new ballpark.
It begins outside the stadium, where, if you're approaching from the subway station and crossing 161st Street, you'll enter Babe Ruth Plaza and get your first close-up look at the granite exterior. But after that, most of the tributes and mementos that decorate the stadium can be found after you pass through the turnstiles.
You may notice that, unlike most major-league parks, nary a statue can be found outside the stadium. There's a good reason for that, as the many hallowed figures in Yankee history are already honored at Monument Park, inside the stadium. Located behind the center-field fence, Monument Park holds the plaques that were on display at the old stadium, plus new ones added since the new ballpark's opening.
Be aware, though, that Monument Park closes 45 minutes before the start of Yankees games, so get to the ballpark early if seeing it is an important part of your Yankee Stadium experience.
For other attractions, head to the Yankees Museum near Gate 6 in right field, where you can find exhibits such as a "Ball Wall" containing balls autographed by hundreds of Yankee players, statues of Don Larsen and Yogi Berra commemorating Larsen's perfect game in the 1956 World Series, and mementos from the old stadium.
The museum, and the adjacent Yankees team store and Hard Rock Cafe, are at the end of what's known as the Great Hall, a large concourse lined with huge Yankees banners. It's on the first-base side of the seating bowl, on Yankee Stadium's main concourse.
As for seating at Yankee Stadium, there's a definite class division between the haves and have-nots, which fans and media alike have taken notice of over the years. The prime seating areas near home plate and the dugouts at Yankee Stadium are known as Legends seats and rank as some of the most expensive in sports, though of course they come with plenty of perks.
If you're on a budget at Yankee Stadium, you're likely headed to the 400 seating level or the outfield bleachers, but there are plenty of amenities to enjoy for regular fans also.
From numerous terraces and party porches in the outfield, including one directly above Monument Park in center field, to a pair of party decks with bars on the 300 level, there are quite a few socializing spots around Yankee Stadium for you to get out of your designated seating area and get a different vantage point on the game.
Food and drink at Yankee Stadium
Yankee Stadium's food options aren't quite as diverse as its crosstown counterpart, Citi Field, but there are a few interesting items to be found. New York brand names such as Nathan's Famous hot dogs, Lobel's steak and Mighty Quinn's BBQ are available.
Recent additions include Buffalo Wild Wings, Haru Sushi and Benihana. Or, just sidle up to a hot dog cart on one of Yankee Stadium's concourses for a quintessential New York food experience.
The beer selection at Yankee Stadium includes the NY Pinstripe Pilsner from New York's Blue Point Brewing Company.
Original publish date: February 4, 2016
Most recent update: August 25, 2023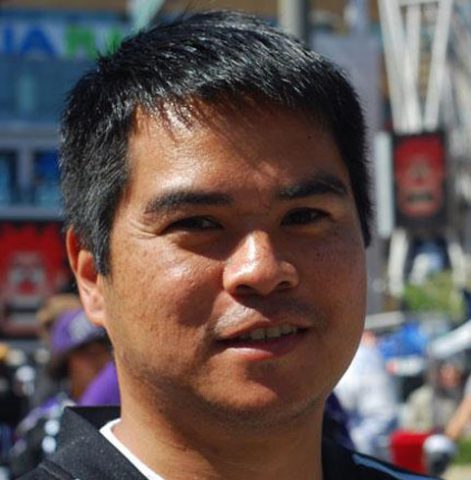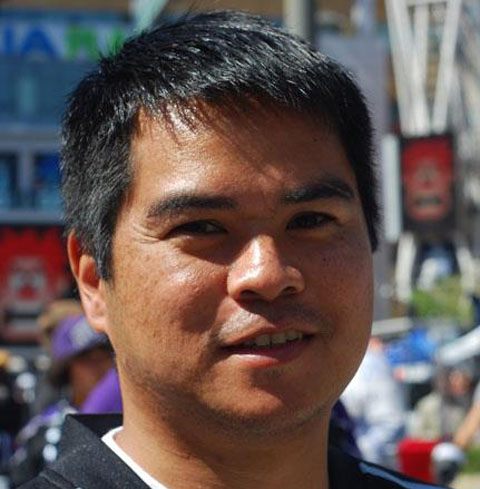 Edward de la Fuente | Itinerant Fan
I live for sports, and I love to travel. My biggest thrill is combining the two. I've been blogging about sports travel for more than a decade, and traveling for sports for twice as long.
About me | FAQ | Buy me a beer 🍺
Affiliate Disclosure
Please note that some of the links above are affiliate links, and at no additional cost to you, we earn a commission if you make a purchase. These recommendations are only for companies that we've used and have proven to enhance our sports travel experiences. To find out more about our affiliate partnerships, please read our Affiliate Disclaimer.
The Particulars
Home Teams
New York Yankees
New York City FC
Address
1 E. 161st St.
Bronx, NY 10451
Year Opened
2009
Capacity
49,642
Upcoming Events
All times local
Classic Tour at Yankee Stadium
Monday, September 25, 2023
12:00 am
Get tickets at Ticketmaster »

New York Yankees vs. Arizona Diamondbacks
Monday, September 25, 2023
1:05 pm
Get tickets at Ticketmaster »

Pinstripe Pass * New York Yankees v. Arizona Diamondbacks
Monday, September 25, 2023
1:05 pm
Get tickets at Ticketmaster »

New York Yankees v. Arizona Diamondbacks * Premium Seating *
Monday, September 25, 2023
1:05 pm
Get tickets at Ticketmaster »

Classic Tour at Yankee Stadium
Tuesday, September 26, 2023
12:00 am
Get tickets at Ticketmaster »