Darrell K. Royal-Texas Memorial Stadium
Our guide to Darrell K. Royal (DKR)-Texas Memorial Stadium in Austin includes information on events, tickets, parking, public transportation, nearby hotels and restaurants, seating and more. Read on to find out how to get the most out of your gameday experience.
* * *
The city of Austin, Texas, has established itself as a fine place to visit for a great many reasons. Let us count the ways: The annual South by Southwest and Austin City Limits festivals, incredible live music and nightlife, world-renowned barbecue and Tex-Mex cuisine, a flourishing tech scene and the seat of government in Texas.
But the largest gatherings in town happen at Darrell K. Royal-Texas Memorial Stadium, home of the Texas Longhorns football team.
From a sports perspective, Austin is absolutely a college town. The University of Texas (officially, the University of Texas at Austin) dominates the conversation, and to say that the Longhorns' steer-head silhouette logo and burnt orange color are visible just about everywhere you look in the city is only a slight exaggeration.
On fall Saturdays when the Longhorns' football team is at home, the center of focus in the city is the on-campus stadium named after the program's legendary former coach, which is capable of hosting more than 100,000 patrons and recently received a facelift that helped upgrade the fan experience.
A gameday visit shows that the environment measures up as one of the great live experiences in college football, as we experienced for ourselves on a Saturday in September.
Looking for DKR-Texas Memorial Stadium event tickets? Search events on Ticketmaster.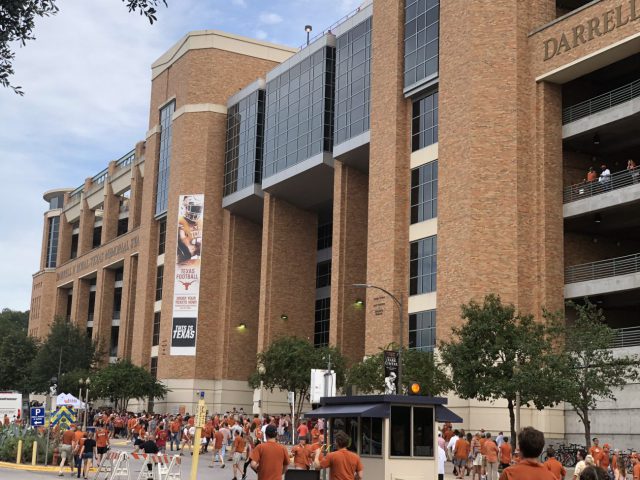 Getting to the stadium
The UT-Austin campus is situated just a couple miles north of downtown Austin, and DKR-Texas Memorial Stadium itself is visible from Interstate 35 running nearby. Which is to say the stadium is pretty easy to find.
If you're a visitor staying in a downtown hotel, getting there can be as simple as walking — that is, if you don't mind a little bit of a stroll. It will take you at least half an hour depending on your pace, but at least there's plenty to see if you're heading there via San Jacinto Boulevard, which leads directly to the stadium.
You'll pass by the Texas State Capitol, at which point you'll begin to see more and more parking lots and structures and more tailgate parties taking place within.
Austin's light-rail system, known as Capital Metro Rail, travels north through the city from its downtown starting point near the Austin Convention Center, but it surprisingly does not pass by the UT campus. The closest station is located about a mile to the east on Martin Luther King Jr. Boulevard; on gamedays, Capital Metro offers bus service from this  station to the stadium. You can find more information on this service at this link.
The university also runs a "Longhorns Express" shuttle from two pickup points around the city at a roundtrip fare of $10. (Update: As of the 2022 season, this shuttle is no longer running.)
Parking at DKR-Texas Memorial Stadium
Parking in lots and structures close to the stadium are largely permit-only; however, there are a handful of cash lots available at an entry fee of $30. Follow this link for a parking map and information; advance-purchase parking permits are also available.
Austin hotels near DKR-Texas Memorial Stadium
• AT&T Hotel and Conference Center – 0.5 miles away
• DoubleTree by Hilton Austin-University Area – 0.6 miles away
• Hampton Inn and Suites Austin University Capitol – 0.6 miles away
Search for more Austin hotels on Booking.com.
Map of the surrounding area
Things to do around the stadium
If you aren't part of a tailgate party, you can head to the portion of San Jacinto Boulevard that runs by the stadium — it gets closed off to vehicle traffic and is rechristened "Bevo Boulevard" for pregame activities that include live music, food carts and games.
It's also here, at the intersection of San Jacinto and DeLoss Dodds Way at the northwest corner of the stadium, that you can see the Longhorns team make its entrance.
Otherwise, if you'd rather visit an establishment for pregame dining or drinking, there are a handful of spots surrounding the campus. Scholz Garden on San Jacinto, a few blocks south of the stadium, is convenient proximity-wise but, unsurprisingly, jammed with football fans as kickoff approaches. Haymaker is one of several popular bars on Manor Road, on the other side of I-35 from the campus.
If you're a visitor to Austin and are looking for more variety, try staying in the downtown area and surveying the always-lively Sixth Street, the center of the city's nightlife scene, for a place to stop in. If not before the game, definitely consider checking out the scene afterward.
And if you're an early riser, don't mind sitting in a long line and the kickoff you're attending isn't until late afternoon or the evening, consider making a stop at Franklin Barbecue, perhaps the city's most revered of its many, many BBQ establishments. It's on 11th Street just east of I-35, about equidistant from downtown and the UT campus.
Austin restaurants near DKR-Texas Memorial Stadium
• Hat Creek Burgers – fast food, 0.1 miles away
• Scholz Garten – pub, 0.5 miles away
• Gabriel's Cafe – American, 0.5 miles away
Search for more Austin restaurants on Tripadvisor.
Watching a game at DKR-Texas Memorial Stadium
For a venue that seats 100,000-plus, DKR-Texas Memorial Stadium doesn't appear imposingly big — from the outside or the inside.
In fact, the game in which we visited set the stadium attendance record, but the stadium still gives off a slightly more intimate feel than that. Perhaps it's because the vast majority of the seating consists of aluminum benches, thus allowing fans to pack more tightly in than other stadiums.
The recently completed renovation created a new seating area on the venue's south end, completely enclosing the bowl. This created more high-end seating options. Get to the stadium early to catch the cool visual of the Longhorns' logo imprinted in the seats behind the south end zone. Also behind the renovated portion of the stadium is a massive video screen.
The south end is where the Texas band and student section can be found, and where the team's steer mascot, Bevo, takes up "residence." Fans of visiting teams tend to sit in the upper levels at the northeast corner of the stadium — specifically, sections 120-124.
Still, sight lines are great in all but the uppermost rows, and if you're sitting at the north end of the stadium, you have the benefit of seeing Austin's ever-growing skyline in the distance. It remains to be seen how the stadium expansion will affect that, though.
Food and drink at DKR-Texas Memorial Stadium
The stadium's food selection is wide and varied, ranging from familiar chains such as Chick-fil-A, Quizno's and Krispy Kreme to local favorites in Salt Lick BBQ and Torchy's Tacos.
There's also a beer garden (something you don't necessarily see a lot of at college football stadiums) and a stand dedicated to state fair food (though Texas' state fairgrounds are in Dallas).
Original publish date: November 8, 2018
Most recent update: September 1, 2023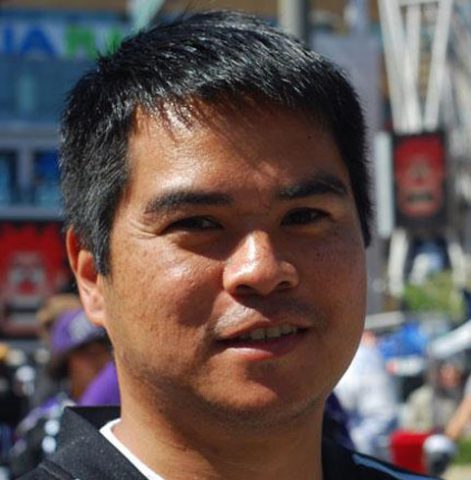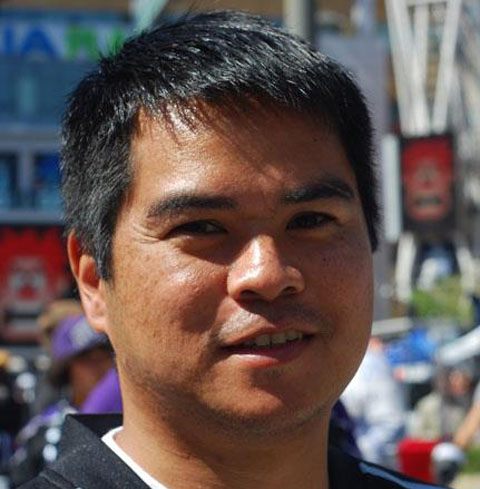 Edward de la Fuente | Itinerant Fan
I live for sports, and I love to travel. My biggest thrill is combining the two. I've been blogging about sports travel for more than a decade, and traveling for sports for twice as long.
About me | FAQ | Buy me a beer 🍺
Affiliate Disclosure
Please note that some of the links above are affiliate links, and at no additional cost to you, we earn a commission if you make a purchase. These recommendations are only for companies that we've used and have proven to enhance our sports travel experiences. To find out more about our affiliate partnerships, please read our Affiliate Disclaimer.
The Particulars
Home Teams
Texas Longhorns
Address
405 East 23rd Street
Austin, Texas 78712
Year Opened
1924
Capacity
100,119
Upcoming Events
All times local
Texas Longhorns Football vs. Colorado State University Rams Football
Saturday, August 31, 2024
12:00 am
Get tickets at Ticketmaster »

Texas Longhorns Football vs. Texas San Antonio Roadrunners Football
Saturday, September 14, 2024
12:00 am
Get tickets at Ticketmaster »

Texas Longhorns Football vs. Louisiana Monroe Warhawks Football
Saturday, September 21, 2024
12:00 am
Get tickets at Ticketmaster »