FLA Live Arena
Our guide to FLA Live Arena in Sunrise, Florida, includes information on events, tickets, parking, public transportation, nearby hotels and restaurants, seating and more. Read on to find out how to get the most out of your gameday experience.
* * *
If you think hockey is a curious fit in South Florida, you're far from alone. Many hockey fans have thought that for years, and the Florida Panthers franchise is seemingly under constant relocation watch.
Years and years of crummy teams haven't helped endear the franchise to the community, and attendance at their home rink, FLA Live Arena, tends to catch the eyes of observers for all the wrong reasons.
But the Panthers have been working their way back to prominence, with a handful of playoff appearances and star players to their name in recent years, and the team's fan base remains a boisterous one. And the team does play in a nice arena on the edge of the Everglades, as FLA Live Arena is located in the suburb of Sunrise, not far from Fort Lauderdale.
If you're visiting South Florida you'll have plenty of competition for your entertainment dollar, but if you're a hockey fan there are plenty of good reasons why you'd want to trade in the sunshine for ice for just a few hours.
Besides, FLA Live Arena (recently renamed from BB&T Center) has made a name for itself on the South Florida entertainment scene, as it's often the chosen stop for major concert tours, family shows and other events.
For more on visiting South Florida, check out our Miami sports travel guide.
Getting to the arena
One challenge that the pursuit of watching hockey in South Florida presents is that the FLA Live Arena isn't really close to where most tourists hang out when they visit the region.
FLA Live Arena is located in the suburb of Sunrise. about 12 miles west of Fort Lauderdale and a good 30 miles north of downtown Miami proper. Sunrise is definitely suburban, with mostly homes and a giant mall, Sawgrass Mills, nearby.
Look at the location of FLA Live Arena and Sunrise on a map and you'll quickly notice that on the other side of the Sawgrass Expressway from the arena is … nothing. The building is truly on the border of the Everglades.
If you're going to the game, you'll need to drive there, or hail a taxi or rideshare; don't even think about public transportation (and don't be fooled by the existence of a "595 Express Bus" that picks up/drops off at FLA Live Arena — that line is meant for workday commuters and operates only in the daytime).
From Fort Lauderdale, take Interstate 595 west to NW 136th Avenue, then head north about a mile and a half — this route allows you to stay off the Sawgrass Expressway, a toll road. If you're coming from Miami, allow yourself at least 45 minutes to make the trip without traffic.
Parking at FLA Live Arena
The worst-kept secret about attending an event at FLA Live Arena is that you don't have to pay for parking if you don't want to. Many, many patrons just park across the street at the Sawgrass Mills mall and walk over.
You'll see plenty of fans do this for Panthers games, and clusters of cars will form in the northernmost reaches of the Sawgrass Mills parking lot, closest to FLA Live Arena. Traffic control cops will be on hand to ensure people walking across the street to the arena can do so safely. Note that "across the street" is still about a good quarter-mile — nothing unreasonable, but the distance is something to take into consideration.
If you'd prefer to park in FLA Live Arena's sizable lot, the rate will vary based on the event. For Panthers games it also varies based on the day of the week and the popularity of the opponent, but expect the rate to begin at $20.
There is one advantage to paying for parking at FLA Live Arena besides proximity: After the game, traffic control focuses on egress from the arena lots. For drivers trying to get onto the Sawgrass Expressway, there's an easy-access on-ramp via Salerno Drive. There won't be the same traffic priority given to motorists exiting Sawgrass Mills, but it's not likely that the volume of cars departing will be the same, either.
Sunrise hotels near FLA Live Arena
• DoubleTree by Hilton Sunrise – Sawgrass Mills – 1.0 miles away
• La Quinta by Wyndham Sunrise – 2.5 miles away
• Vacation Village at Bonaventure – 3.7 miles away
Search for more South Florida hotels on Booking.com.
Map of the surrounding area
Things to do around the arena
If you've ever been to a shopping center with "Mills" in its name, and there are quite a few around the country, Sawgrass Mills is basically the same — a huge complex of stores and restaurants, many of the chain variety, where you can entertain yourself for more than a few hours.
If your intention is to park for free at the mall but you don't want to feel guilty about it, do a little shopping and/or eating at the mall before the game. And if you're coming from a long way away, the mall could make it worth your while to show up a little bit early.
Sawgrass Mills makes it easy for sports fans in particular, as many of their sports bar-type establishments are located in the north wing of the mall closest to FLA Live Arena. So even if you've parked in the arena lot, it's worth a walk over if you're looking for something fun to do before the game.
There are a couple other shopping and eating options a little farther away — for example, there's an Ikea down the street — but if you're a visitor to South Florida and looking for something more unique or touristy, well, you're probably best off hanging out at the beach before driving over.
Sunrise restaurants near FLA Live Arena
• Texas de Brazil – Brazilian, 0.3 miles away
• Yard House – pub, 0.3 miles away
• Shake Shack – fast food, 0.3 miles away
Search for more South Florida restaurants on Tripadvisor.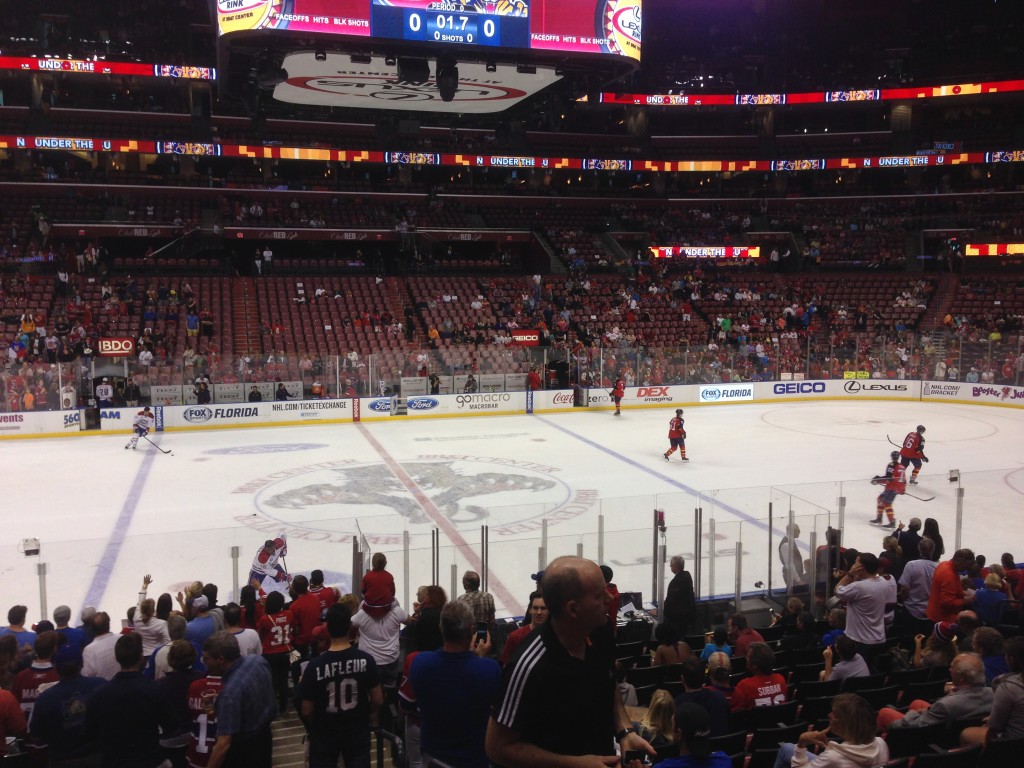 Watching a game at FLA Live Arena
FLA Live Arena is a nice building as arenas go. It has a strong reputation as a concert venue and is often the South Florida stop for a lot of big-name acts.
As for Panthers games, the attendance problem the franchise has had in recent years caused the team to curtain off parts of the upper deck to reduce capacity, which is an indication of how big it is. Indeed, FLA Live Arena is the largest arena capacity-wise in Florida, with nearly 20,000 available seats for hockey games.
When you enter the arena, you're doing so via the main plaza, at the top of a set of stairs on the south side. The Panthers fill it with the usual promotional booths and interactive games.
Once inside, you'll find wide concourses and a generally organized layout, with three food courts on each level. The sizable Pantherland team store is on the main concourse level, adjacent to the entrance.
FLA Live Arena's seating bowl offers no real surprises. Sight lines aren't bad no matter where you're sitting, but it helps if you look for tickets in the sections adjacent to the press box (sections 314-322). The rows in these sections are only nine rows deep, as opposed to 16 and up in many of FLA Live Arena's other 300-level seating areas.
Food and drink at FLA Live Arena
The food-court sections on both of the primary seating levels at FLA Live Arena give fans plenty of space to survey their options, but they won't find a ton of surprises.
Tacos, burgers and chicken sandwiches are prevalent, but you can also get items like stir-fry bowls, chicken and waffles and even poutine.
Philadelphia-based eatery Chickie's and Pete's, a major presence at Philly sports venues like Citizens Bank Park and Lincoln Financial Field, also has a stand at FLA Live Arena serving its famous crab fries.
FLA Live Arena also has a sit-down restaurant on the suite level called the Sin Bin, and a brewery on the Plaza seating level. The Funky Buddha Brewery Tap Room features beers from Funky Buddha Brewery, based in nearby Boca Raton, and the beer lineup includes the Gloves Off IPA, brewed especially for the Panthers.
Original publish date: February 4, 2016
Most recent update: May 24, 2022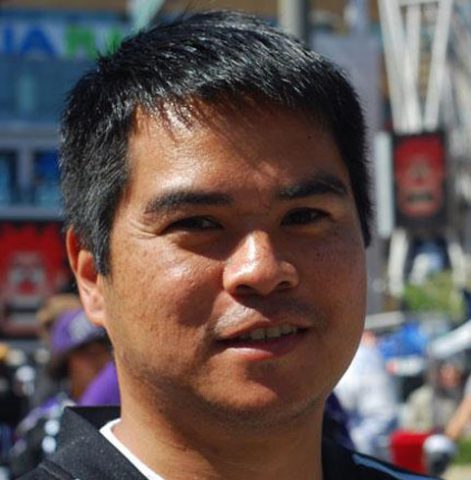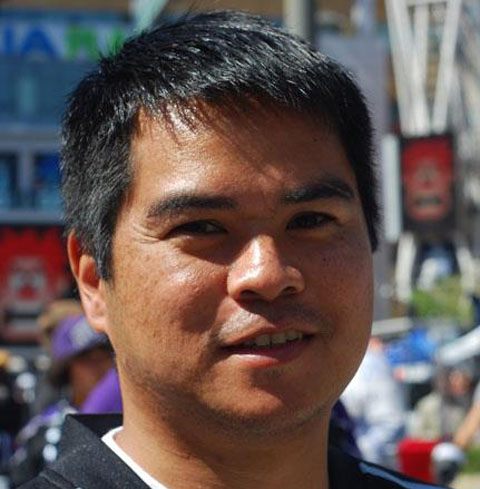 About Edward de la Fuente | Itinerant Fan
I live for sports, and I love to travel. My biggest thrill is combining the two. I've been blogging about sports travel for more than a decade, and traveling for sports for twice as long. To find out more, check out our About page.
Affiliate Disclosure
Please note that some of the links above are affiliate links, and at no additional cost to you, we earn a commission if you make a purchase. These recommendations are only for companies that we've used and have proven to enhance our sports travel experiences. To find out more about our affiliate partnerships, please read our Affiliate Disclaimer.
The Particulars
Home Teams
Florida Panthers
Address
1 Panther Pkwy.
Sunrise, FL 33323
Year Opened
1998
Capacity
19,250
Upcoming Events
All times local
2023 NHL All-Star Skills presented by DraftKings Sportsbook
Friday, February 3, 2023
7:00 pm
Get tickets at Ticketmaster »

2023 Honda NHL All-Star Game
Saturday, February 4, 2023
3:00 pm
Get tickets at Ticketmaster »

Florida Panthers vs. Tampa Bay Lightning
Monday, February 6, 2023
7:00 pm
Get tickets at Ticketmaster »

Florida Panthers vs. San Jose Sharks
Thursday, February 9, 2023
7:00 pm
Get tickets at Ticketmaster »

Florida Panthers vs. Colorado Avalanche
Saturday, February 11, 2023
6:00 pm
Get tickets at Ticketmaster »