NFL teams averaged about 69,444 fans at their home games in 2022. It's important to note that the most popular NFL teams don't have to be Super Bowl winners or even contenders to build a strong fan base.
In this league, the most loyal NFL fans turn out for a good underdog story as well. The best NFL fan bases stick by their teams through the darkest times and separate themselves from the bandwagoners.
So which NFL teams have the best fan bases? Of course, the answer is quite subjective. Here's one opinion based on our travels to different stadiums over the years.
Remember, the following list isn't based on a number of championships or the best stadiums, it's all about fan dedication. Read on to see if your favorite team made the cut!
Best overall: Kansas City Chiefs
The Kansas City Chiefs had some of the loudest NFL fans well before the days of Patrick Mahomes. With their recent playoff and Super Bowl victories, it's easy to forget the decades of struggle that came before.
But Chiefs fans haven't forgotten the struggle, as some even still have a Matt Cassel or Todd Blackledge jersey laying around. Now that the team is on top, K.C. fans have a deep appreciation for their winning ways.
Visiting fans often mention how hospitable the Chiefs faithful are when they visit Arrowhead Stadium. They keep the stadium's massive parking lot lively with the smoke from various tailgate BBQs, and usually don't mind sharing if you ask nicely. Hey, even if you're a Raiders fan, they still might spare a burnt hot dog.
If you plan to visit K.C. on a Friday during football season, expect a "Red Friday" in and around the city. Fans of all ages don their favorite Chiefs gear as somewhat of a pep rally for the coming game.
You might even find the many fountains around the city flowing with red water. At night, you'll see several buildings lit up bright red in support of the Chiefs. It's impossible not to feel the presence of the team and its importance to fans.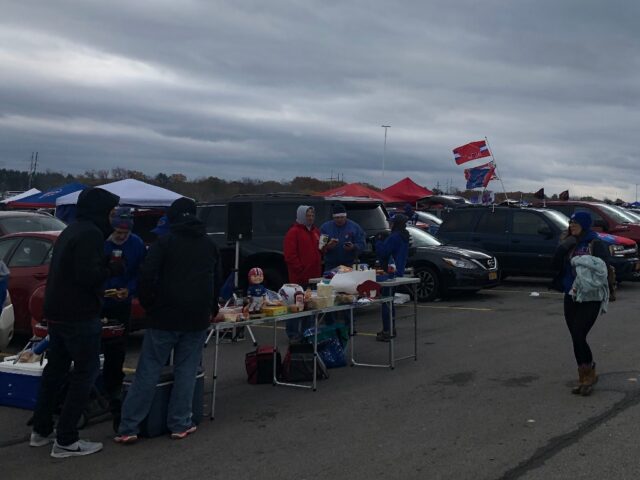 Best tailgating: Buffalo Bills
If you ever plan to attend a game at Buffalo's Highmark Stadium, prepare to party in the parking lot. You might even want to dress for a spontaneous food fight to break out because it would not be the first time! After all, the "Bills Mafia" has not built a rowdy, table-breaking reputation for no reason.
Buffalo is a small market team and the stadium sits in a suburban area. So it's a tight-knit group of loyal fans that likely see familiar faces while tailgating. It's not uncommon to stumble across a karaoke party or a beer pong table while making your way to the gate.
Much like the BBQ in K.C., you must try some chicken wings at a Bills tailgate to get the full experience. Of course, there isn't a better place in the world to eat Buffalo wings than the city that invented the dish.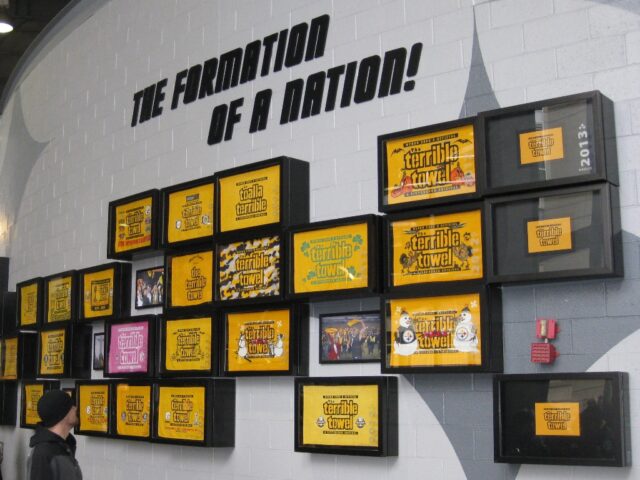 Best prop: Pittsburgh Steelers
Steelers fan or not, you can't deny that all those terrible towels make for an impressive visual. It's also a bit more intimidating than say, a cheesehead.
The tradition dates all the way back to a Steelers playoff game in 1975. It was invented by Steelers broadcaster Myron Cope as a way to fire up fans for the game. He instructed Pittsburg fans to bring a yellow dish towel from home to wave in the air, and the rest is history.
You'll still see plenty of Steelers fans waving their towels this season and keep the tradition alive. You'll also see many of them in other stadiums when the Steelers are on the road, because visiting Pittsburgh fans are known to pack their towels.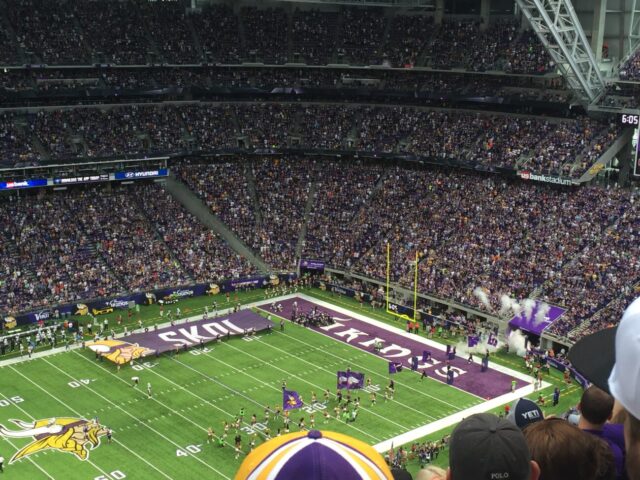 Best chant: Minnesota Vikings
The best NFL chant going today belongs to Vikings fans. However, they weren't the first to do the "Skol" chant. It was first associated with Iceland's national soccer team, and it rose to prominence when the team surprisingly reached the knockout stage at the 2016 UEFA European Championship.
The Vikings, who moved into U.S. Bank Stadium the same year, asked for permission to use the chant and incorporated it into their game presentation.
Once the Vikings' war drum bangs, the fans respond by clapping their hands above their head and chanting "Skol" in unison. Historically, "skol" was the Viking way of saying "cheers."
The fans reserve the chant for after touchdowns and before the game starts. It's a new tradition but one that seems poised to stick around and strengthen over the years.
Most famously, quarterback Case Keenum led the fans in the "Skol" chant in the moments after the iconic "Minneapolis Miracle" play in the 2017 NFL playoffs.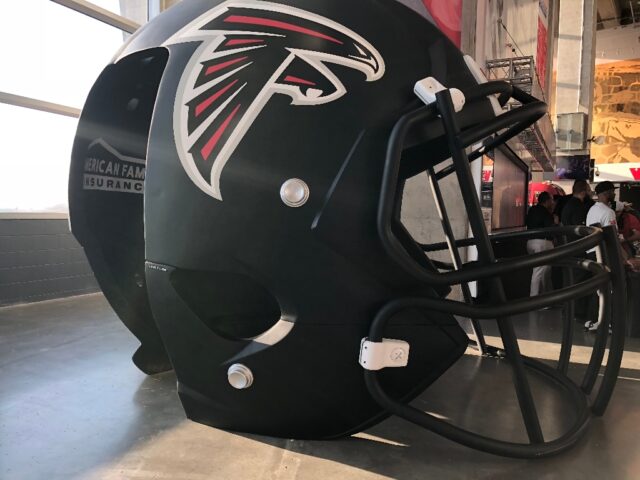 Best dance: Atlanta Falcons
Since 1998, Falcons fans have been doing the Dirty Bird Dance. Through ups and downs, triumph, and heartbreak, ATL fans continue to pack Mercedes-Benz Stadium and dance onward.
The whole thing started in the 1990s after running back Jamal Anderson used the dance as his touchdown celebration. He hopped from one foot to the other and raise his arms in the air, and then flap them like a "dirty bird" for the grand finale.
Fans and fellow players liked Anderson's dance so much that they started doing it as well. While it's not required to know the dance to be a Falcons fan, it definitely puts you on a higher level.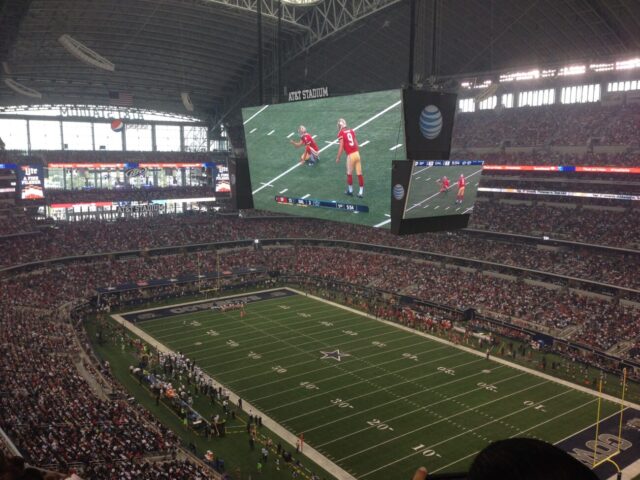 Biggest fan base: Dallas Cowboys
For this particular category, we're throwing loyalty out the window and going with quantity. As of this writing, the Cowboys have a staggering fan base of over 8 million supporters. They also have the most popular NFL team Facebook page to boot.
All of those supporters mean a high demand for tickets and a chance to see the team play. That's a big reason why they've sold out 190 regular season and playoff games in a row. As you might assume, they also sell more merchandise than any other team.
Sure, bandwagoners probably account for some of those fan base numbers, but they're called America's Team for a reason. It looks fun to be a Cowboys fan and others want in on it.
There's more to a great, devoted, passionate fanbase than just quantity. But in the case of the Dallas Cowboys, the numbers don't lie.
Best NFL fan bases
Now you know about some of the best NFL fan bases and their unique traditions. Of course, determining who the absolute best fans are can be subjective. So go visit some NFL stadiums and judge for yourself!
You can subscribe to our Itinerant Fan newsletter for more sports updates, stadium guides, and city guides. While you're at it, make sure to check out our site's blog for more on the pursuit of sports travel.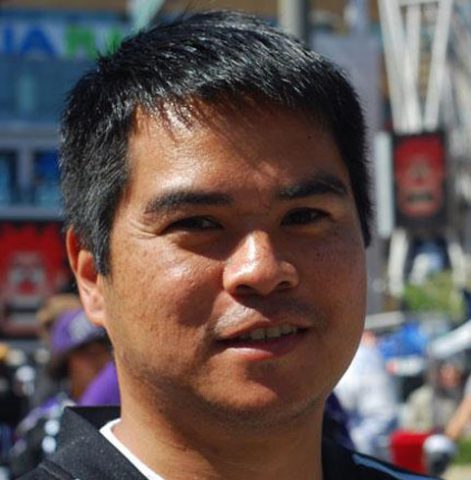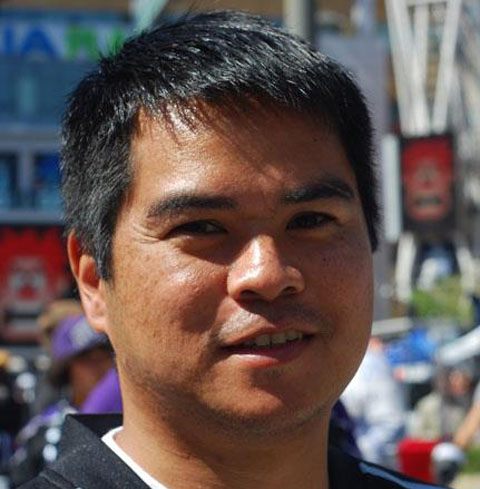 Edward de la Fuente | Itinerant Fan
I live for sports, and I love to travel. My biggest thrill is combining the two. I've been blogging about sports travel for more than a decade, and traveling for sports for twice as long.
About me | FAQ | Buy me a beer 🍺
Affiliate Disclosure
Please note that some of the links above are affiliate links, and at no additional cost to you, we earn a commission if you make a purchase. These recommendations are only for companies that we've used and have proven to enhance our sports travel experiences. To find out more about our affiliate partnerships, please read our Affiliate Disclaimer.