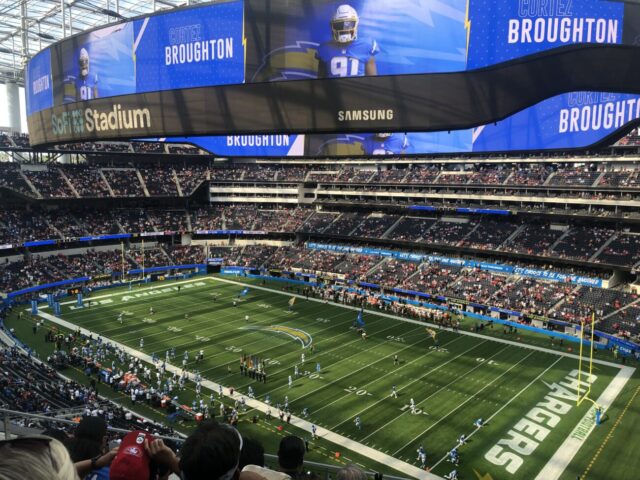 Football, the United States' most beloved sport, has come a long way since the first game was played all the way back in 1869, and the sight of packed stadiums every NFL season stand as an obvious sign of the game's enduring popularity.
What once began as an adaption to football in the United Kingdom is now the most attended sport in the U.S. In recent years, the game has even grown to Europe and afar, thanks in large part to the NFL's International Series.
With an hour of action from passionate fans, it is no wonder you want to witness the best football stadiums. Since football is so popular, choosing which arenas to visit can be challenging.
But if you are a die-hard fan of football games, you have come to the right place. Below are seven iconic and unmissable NFL stadiums to put on your bucket list this year!
1) Arrowhead Stadium
A good starting point for a list of the best NFL stadiums in the United States is GEHA Field at Arrowhead Stadium, home of the Kansas City Chiefs.
Built in 1973, Arrowhead might lack some of the bells and whistles of newer NFL stadiums, with a standard, largely rectangular design. But the venue has built a reputation as one of the most raucous environments in football,
Instead, the building is famed by locals and away fans for its raucous atmosphere inside and out. Arrowhead has a place in the Guinness Book of World Records for the loudest roar ever at an outdoor stadium!
The record was set in 2014, but of course the Chiefs have given their fans plenty more reasons to roar lately, with two Super Bowl titles in a four-season span.
A trip to Arrowhead is a once-in-a-lifetime opportunity for NFL fans. But to make the most of this venture, you must experience tailgating — a ritual in the BBQ capital of the world.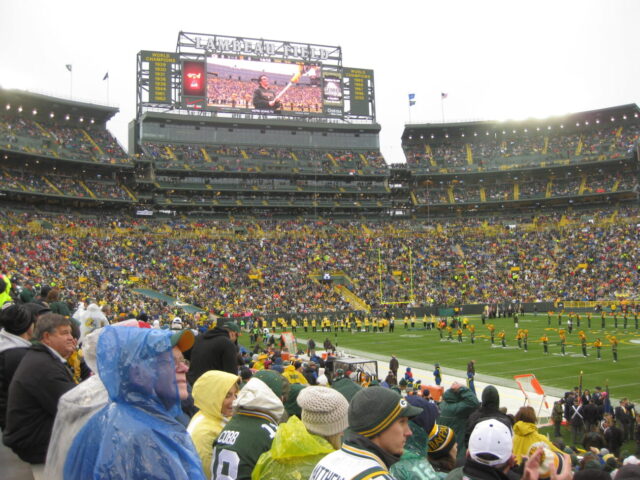 2) Lambeau Field
Lambeau Field in Green Bay, Wisconsin, is considered by many to be the holy grail of NFL stadiums thanks to its history and its location. The Packers attract fans from all over the state as well as visiting fans who consider Lambeau a bucket-list stadium visit.
The old-school venue is one of the biggest football stadiums, with a capacity of over 80,000. Packers fans might exude typical Midwestern politeness, but of course that changes when the home team is in action.
Lambeau Field opened in 1957, making it the oldest stadium in the NFL. Although it is closing in on its 70th birthday, it has seen plenty of upgrades since then, from improvements to the seating bowl to a football-themed retail district next door. But most importantly, the stadium retains its old-school vibe and charm.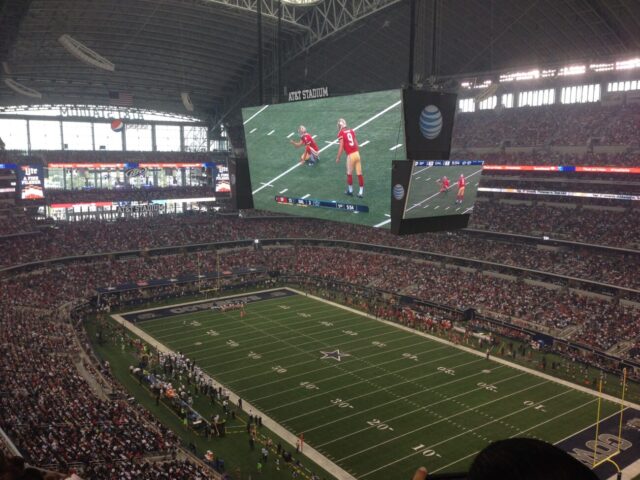 3) AT&T Stadium
The saying "Everything is bigger in Texas" might be most embodied by the home of the Dallas Cowboys, the colossal AT&T Stadium.
The 80,000-seat venue was finished in 2009 at a cost of more than $1.3 billion. Though several venues have since surpassed that price tag, Cowboys owner Jerry Jones' palace continues to exude a feel of opulence.
Located in suburban Arlington, AT&T Stadium is located about 20 minutes from downtown Dallas, but on a clear day it can be seen from as far away as Dallas-Fort Worth International Airport. So there's no mistaking its presence in the DFW "Metroplex" area.
You don't have to come to see the Cowboys, either, as AT&T Stadium routinely hosts major events such as international soccer and college football.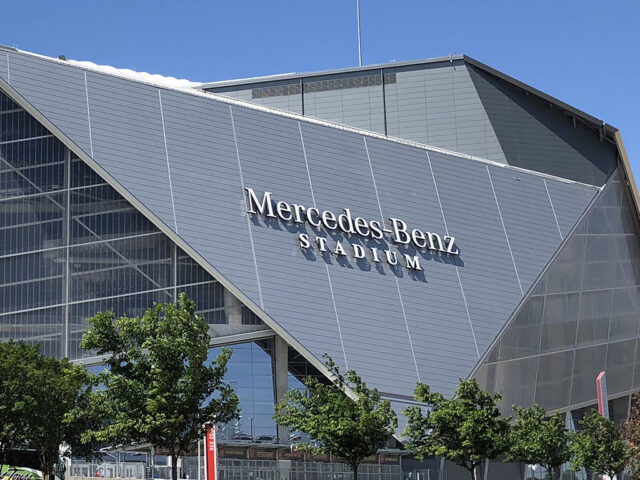 4) Mercedes-Benz Stadium
Atlanta's Mercedes-Benz Stadium has helped usher in a new era of stadium innovation and fan comfort. The average stadium attendance in the NFL is over 67,200 each year. Many of these fans are putting the home of the Atlanta Falcons at the top of their bucket list.
The stadium has an innovative design and cutting-edge technology, from an impressive retractable roof design consisting of moving "petals" that create a circular opening to the ring-shaped videoboard that hovers over the playing surface.
Beyond serving as the home of the Falcons, Atlanta United of Major League Soccer and college football's Peach Bowl, Mercedes-Benz Stadium hosts an array of world-class events such as high-profile concerts.
In addition, the stadium is committed to sustainability and also serves the fan in the form of its low-cost concessions menu featuring prices well below the norm set by most stadiums.
5) Levi's Stadium
Levi's Stadium is the home venue of the San Francisco 49ers, and over its short history has proven to be a capable stadium for big-time events like the Super Bowl, college football's national championship, major international soccer matches and even an NHL Stadium Series game.
The stadium is located in Santa Clara, next door to a major Bay Area population center in San Jose but almost an hour's drive from San Francisco proper. Many fans were angered by the 49ers' decision to replace their longtime home, Candlestick Park, with a venue so far south, but over the years the fan base has largely warmed to the new building.
It helps that the 49ers have become a consistent title contender in recent years, making Levi's Stadium one of the more happening places to be in the NFL.
Its most striking feature is the SAP Tower, the structure on one side that holds luxury suites, eateries, press boxes and more.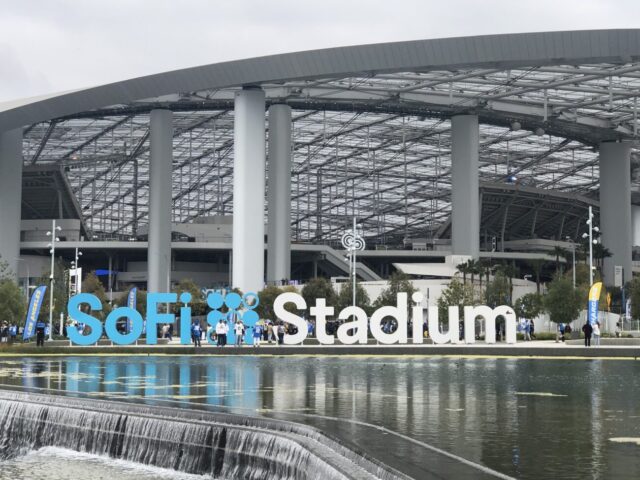 6) SoFi Stadium
SoFi Stadium tends to dominate the conversation these days when it comes to extravagant NFL stadiums, and why not? The building only cost $5 billion, the most expensive sports stadium ever built.
It seems to be money well spent, both in terms of the awe many fans feel upon entering the stadium for the first time and the types of events held within its walls.
SoFi Stadium has already hosted a Super Bowl and a College Football Playoff national championship game, as well as concerts by such big-name acts as Taylor Swift, The Weeknd, Bad Bunny and more. And it also has the World Cup and Summer Olympics to look forward to.
The home of the Los Angeles Rams and Chargers is also a leader for the most visually appealing NFL stadium, with a sloping roof (that serves more as a canopy than an enclosure) and a massive oculus board hanging over the field.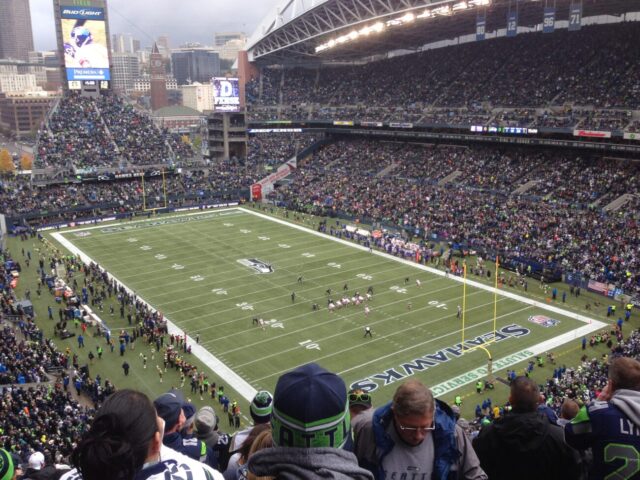 7) Lumen Field
Lumen Field, home of the Seattle Seahawks as well as Seattle Sounders FC of Major League Soccer, also is a frequent contender for most raucous stadium atmosphere in the NFL.
With a seating capacity of more than 68,000, the stadium is renowned for its distinctive design. It features a cantilever roof that provides excellent acoustics and shelter to fans in the upper deck.
The atmosphere within Lumen Field is electric, with passionate fans known as the "12th Man." Overall this creates a cacophony of noise you can hear throughout the stadium. And in fact, Lumen Field typically competes with Arrowhead Stadium for loudest venue in the NFL every year.
The venue has hosted numerous high-profile events, including NFL playoff games, MLS Cup Finals, international soccer matches and concerts.
See the best NFL stadiums this year
Of course, we believe all 30 current NFL stadiums are worth a visit. Each one has its pros and cons and offers a different perspective on the live pro football experience.
If you are fortunate enough to travel the country cheering on your team , , make the most of it. Visit the best venues from our list this year!
To ensure a memorable journey, subscribe to our newsletter for more tips and resources in your email!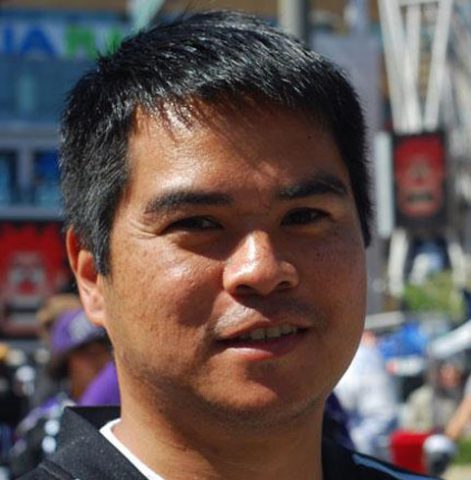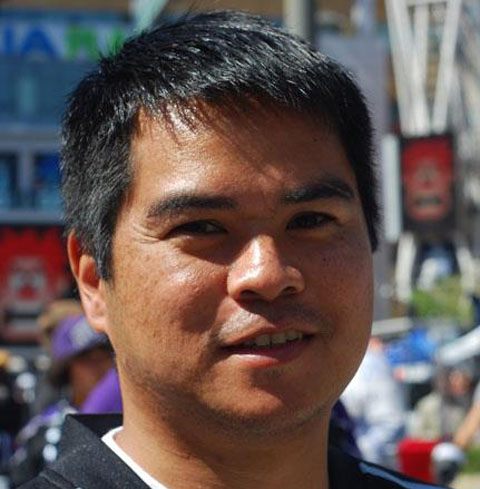 Edward de la Fuente | Itinerant Fan
I live for sports, and I love to travel. My biggest thrill is combining the two. I've been blogging about sports travel for more than a decade, and traveling for sports for twice as long.
About me | FAQ | Buy me a beer 🍺
Affiliate Disclosure
Please note that some of the links above are affiliate links, and at no additional cost to you, we earn a commission if you make a purchase. These recommendations are only for companies that we've used and have proven to enhance our sports travel experiences. To find out more about our affiliate partnerships, please read our Affiliate Disclaimer.