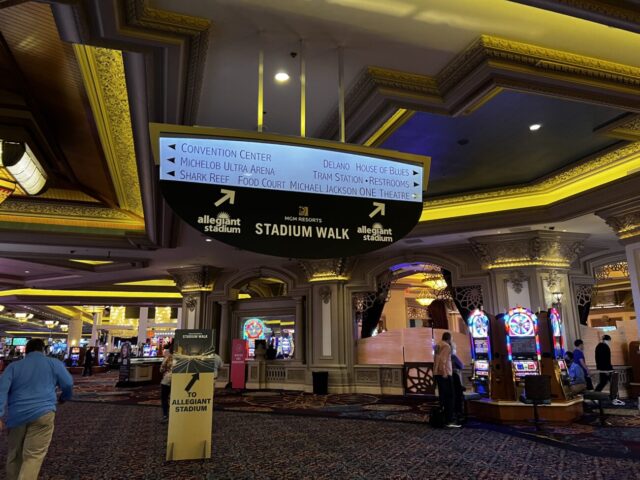 Las Vegas makes it very easy for visitors to be entertained, and that goes for sports fans as well.
And now that two major pro sports teams are part of the equation, Las Vegas has become a prime candidate city for sports travelers to enjoy what I like to call the daily double: Seeing two games in one day.
Of course, the schedules for the two teams in question — the Las Vegas Raiders and the Vegas Golden Knights — have to line up, and considering one is an NFL team, your opportunities to do this each year are few, and limited to the fall months.
But when the chance does arise … well, the Vegas sports daily double is as fun as any you can do. And yes, for reasons that are obvious.
Here's how my double-sports day in Sin City went, and hopefully you can use it for inspiration and planning for the next time the Golden Knights and Raiders play on the same date!
For more on visiting Las Vegas, check out our Las Vegas sports travel guide.
Figuring out the Las Vegas sports layout
The big reason why a Las Vegas sports daily double is doable — and enjoyable — is that the Raiders' Allegiant Stadium and the Golden Knights' T-Mobile Arena are about a mile apart, making it reasonable to walk from one to the other. Yes, it does mean walking along large, well-trafficked streets, but on game days most of these paths are closed and turned over to pedestrians (more on that below).
But of course, the Las Vegas strip is meant to be highly walkable, so you're probably on your feet a lot no matter what you're doing during your visit. 
If you're staying on the Strip, particularly the southern end near the intersection of Las Vegas Boulevard and Tropicana Avenue, all you need is your own two feet to get from venue to venue.
It gets more complicated if your starting point is farther away, but if you have your own car or can use rideshares or taxis, your need for it will actually be fairly limited.
In my case, I began the day at a hotel near McCarran Airport, about two miles from Allegiant Stadium. With the Raiders game first on tap, I called a Lyft to get me to Mandalay Bay on the southern edge of the Strip, a ride that cost me about $12 and took me 10 minutes.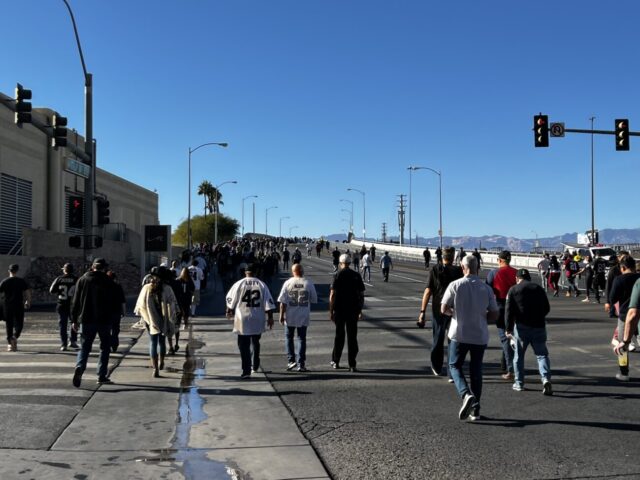 Game 1: Raiders vs. Washington at Allegiant Stadium
If you start at either Mandalay Bay or Luxor, the two major resorts closest to Allegiant Stadium, finding your way there is quite easy thanks to prolific signage around the resorts pointing to a "Stadium Walk." 
All of these signs direct you out of the casino/entertainment areas and onto Hacienda Avenue, which runs between the two resorts. On event days at Allegiant Stadium, the road is closed to vehicular traffic — which is a good thing because fans need a way to get across Interstate 15. And with the number of fans attending a sold-out event, a high-volume walking path is definitely needed.
Walking from the front entrance of Mandalay Bay to the stadium took about 20 minutes, a pleasant stroll made more entertaining by all the football fans — a few of whom had clearly gotten an early start on their festive drinking — making their way across.
Allegiant Stadium doesn't have a huge parking lot, and I arrived late enough that I didn't have time to check out the scene outside. However, for anyone approaching on foot via Hacienda, they're basically funneled into the team's pregame party with live music, sponsor booths and more. 
For the 2021 season, the Raiders required all fans to show proof of COVID-19 vaccination for their home games. That in and of itself wasn't surprising, but the preferred manner was: Fans were required to download the Clear app onto their phones, upload their vaccination card and fill out a questionnaire.
It made for a gaggle of fans clustered close to the entrance, trying desperately to get enough reception on their phones to complete the Clear registration. I spent about 10 minutes doing it myself, but I finally got the necessary green checkmark on my phone and, after all that, made my way inside the stadium just in time for kickoff.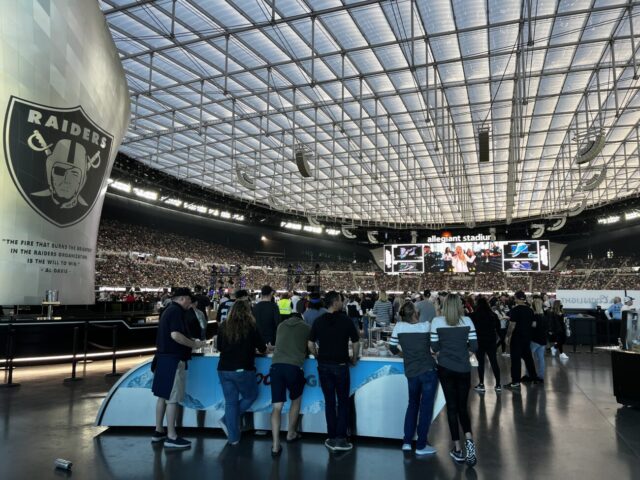 While Allegiant Stadium is impressive in a number of ways, to me the feature that makes it unique is the Torch Bar on the 200 level.
It's called that, of course, because it centers around the Al Davis Torch, installed as a permanent memorial to the Raiders' longtime owner. Surrounding it is a bar and a pretty sizable plaza for fans to hang out. While you can't view the field from there, you can see the videoboard on the other side of the stadium pretty clearly, as well as take in a nice view of the Strip through the windows on the other side.
I had pretty decent seats for the game, in the 400 (upper-most) level at midfield, but I found myself wandering down to the Torch Bar area and watching most of the fourth quarter from a standing-room position there.
Although the stadium was filled with plenty of Raiders die-hards as well as Washington fans, I was amused by the sheer number of fans wearing gear of NFL teams who weren't involved in the game, including Raiders rivals like the Chiefs, Chargers and Broncos. 
It's as though football fans who would normally be spending their Sundays at the sportsbooks are choosing to go to Raiders games when the opportunity is there. There's nothing wrong with that, but it certainly makes for a more, let's say, genteel atmosphere than fans who have experience attending Raiders games in Oakland might be used to.
As it turned out, the Raiders sent their fans home unhappy, losing to Washington on a late field goal. It made for a somewhat subdued but still upbeat walk back across the Hacienda Avenue overpass, which was so crowded with fans a half-hour after game's end that it took nearly twice as long to cross as it had before the game.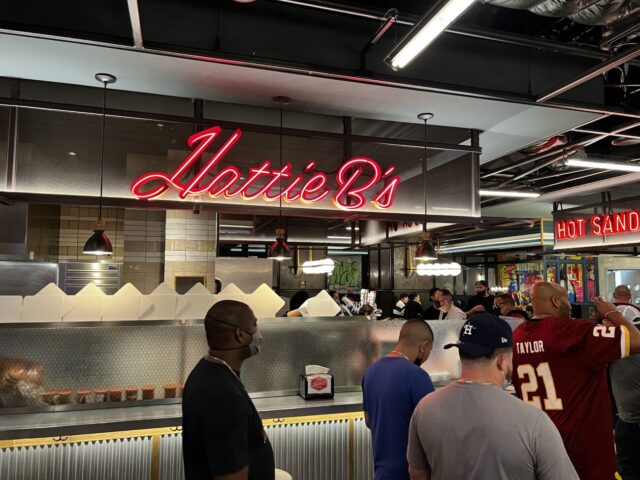 Intermission: Spending time on the Las Vegas Strip
Once you've crossed the bridge and wound up outside Mandalay Bay or Luxor, the Strip is your oyster. You can grab yourself a bite, drop some coin on a slot machine, do some shopping, or just hang out and people-watch.
I had about 90 minutes to kill before heading over to T-Mobile Arena, on the north side of Tropicana Avenue behind New York New York, so I figured an early dinner would be in order.
The thing is, of the hundreds of choices I had in that area of the Strip, I wanted to go somewhere specific: Hattie B's, the Tennessee-based hot chicken joint that had a location inside the Cosmopolitan resort. Looking at it on a map, I figured a quick walk over and then half an hour spent noshing was reasonable, and I'd make it back to the arena in plenty of time.
As it turned out, though, I underestimated — by a lot — how far I'd have to walk to reach the Cosmopolitan. It was more than a mile from the Luxor and nearly ¾ of a mile past T-Mobile Arena.
By the time I reached Hattie B's, waited out a 10-minute line to order and received my food, it was approaching 6 p.m. — meaning I still had time, but not enough to make me feel comfortable about missing the start of the Golden Knights game. So I scarfed down my food a little more quickly than I would've preferred and headed out.
Of course, if time is a serious consideration, there are many places you can consider, including numerous options at the foot of T-Mobile Arena and within New York New York.
What can I say? I really wanted my hot chicken fix that day, and judging by the number of football fans in line with me, I was far from the only sports fan who had settled on that as part of the Las Vegas experience.
Game 2: Golden Knights vs. Flames at T-Mobile Arena
I made it back to T-Mobile Arena by about 6:30, just over half an hour before puck drop, so my worries about being late were unfounded.
Really, the biggest obstacle to getting in is the amount of foot traffic as you approach. Not only are the sidewalks along the Strip super-crowded in the early evenings, but so is "The Park," the small strip of restaurants that leads from Las Vegas Boulevard to T-Mobile Arena.
And if it's your first time visiting, especially for a Golden Knights game, then it's worth coming early to check out the scene. The plaza in front of the arena, called Toshiba Plaza, is teeming with activity, from musicians to sponsor booths. The large videoboard at the front of the arena gives off a Times Square feel, too.
There were plenty of Flames fans around, many of them taking in the scene around the arena. And it was about as big a game as you could get for early in the NHL season, what with Calgary being in first place in the division at the time and the Knights, who everyone expects will win the Pacific, closing in after a slow start.
It goes without saying that when you attend a Knights game, you want to be in your seat early for the pregame show, which is customized for the opponent and usually involves an actor or two on the ice, including one dressed as a knight, of course. 
The show takes on a Medieval Times-like feel, which might be cheesy to some, but it also involves some cool light arrangements and projections onto the ice, which truly makes it worth the watch.
Meanwhile, no matter how you feel about the Golden Knights and their success since joining the NHL in 2017 (full disclosure: as a fan of a division rival, I can't stand 'em), you have to admit that the fan base is as boisterous as any in the league.
The home team came away with a big win on this night, sending most of the crowd home happy. As I exited the arena, I looked back at the big videoboard outside the arena, which was displaying the Knights logo and, in huge type, "Victory Is Ours" — their equivalent of the Cubs' W flag, I guess.
Hey, victory was mine, too. I had a fantastic day in Vegas and didn't lose a cent gambling. Who's the real champion?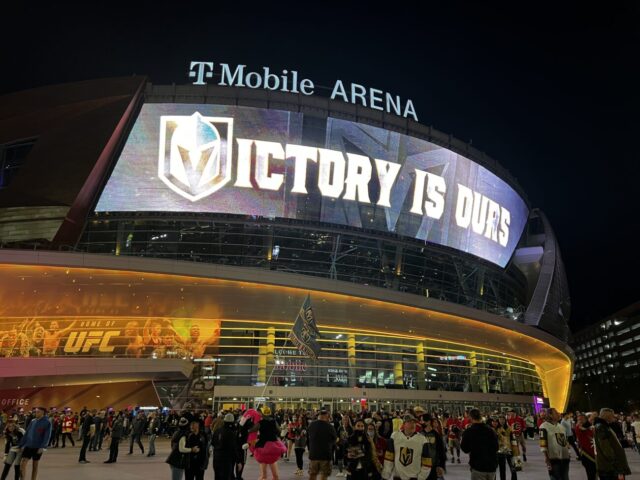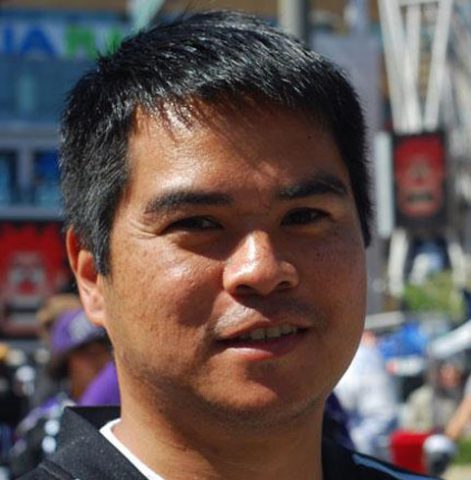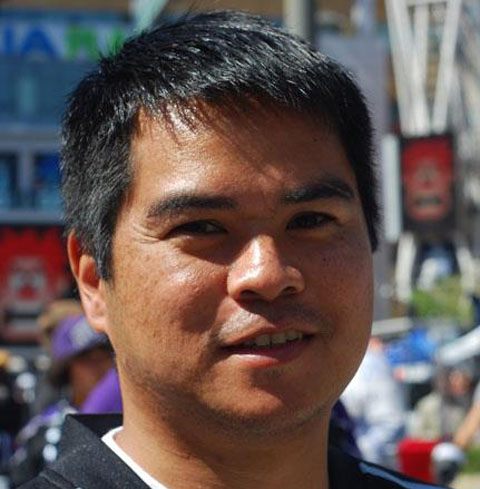 Edward de la Fuente | Itinerant Fan
I live for sports, and I love to travel. My biggest thrill is combining the two. I've been blogging about sports travel for more than a decade, and traveling for sports for twice as long.
About me | FAQ | Buy me a beer 🍺
Affiliate Disclosure
Please note that some of the links above are affiliate links, and at no additional cost to you, we earn a commission if you make a purchase. These recommendations are only for companies that we've used and have proven to enhance our sports travel experiences. To find out more about our affiliate partnerships, please read our Affiliate Disclaimer.