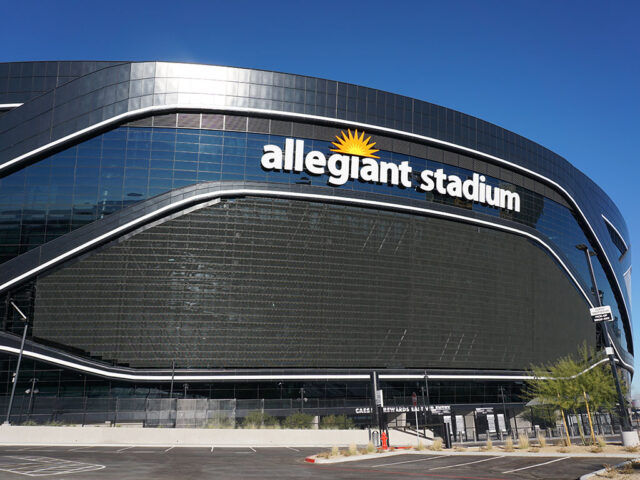 In my mind, one of the big disappointments of the 2020 NFL season is the fact that two beautiful new stadiums opened up and fans aren't allowed to watch games in either. Those two stadiums, of course, are Allegiant Stadium in Las Vegas and SoFi Stadium in Inglewood, California.
Until those venues open to fans — hopefully for the 2021 season — we're left with taking peeks into the grounds from the outside and using our imaginations to think of what the atmosphere will be like on the day of a big game.
I did this for SoFi Stadium, the home of the Rams and Chargers, last month, when the team store opened on a by-appointment basis and I got to steal a glimpse inside. Though fleeting, it was something worth savoring during this fall without the ability to watch games.
Recently, I went on a road trip to Utah to visit two of its national parks, Bryce Canyon and Zion. On my way back to Southern California, I spent a night in Las Vegas and took the time to take an early-morning stroll around Allegiant Stadium, peeking through locked gates and walking around the deserted perimeter and parking lots to get a feel of the Raiders' new home.
This I can say for sure: It's certainly impressive on the outside, and looks even cooler lit up at night. And despite being separated from the Las Vegas Strip by the always-busy Interstate 15, I think it's clear that its proximity to some of the Strip's most well-known hotels will prove to be a major advantage on game days.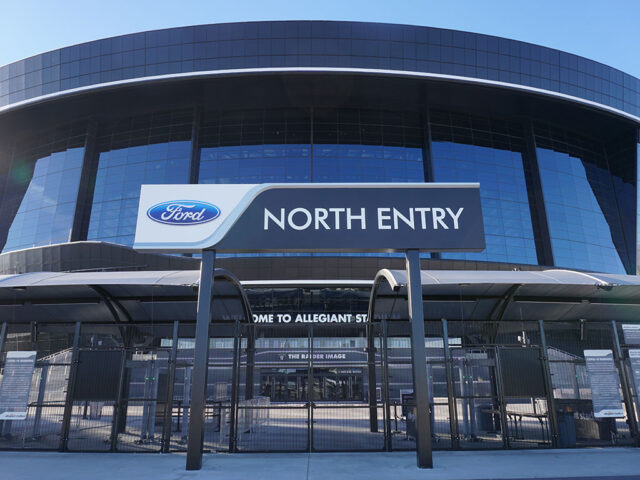 Pulling up to Allegiant Stadium
Despite the fact that it's clearly visible from the freeway, actually getting to the stadium grounds is something of a mystery to the uninitiated. It's just off the Russell Road exit on I-15; a more well-known street to visitors, Tropicana Avenue, runs about a mile to the north. 
If you're trying to get to the stadium via Russell Road, the frontage road that runs next to Allegiant Stadium, called Dean Martin Drive, is not accessible — drivers have to proceed further west to a parking lot entrance or to Polaris Avenue, a smaller industrial street that represents the western edge of the stadium property.
I was coming from the Strip, aka Las Vegas Boulevard, as I was staying at a hotel a couple miles south. The stadium is only partially visible behind the high-rise resorts such as the Mandalay Bay and Luxor (though if you're south of there, you've got a clear view since high-rises are prohibited due to the proximity of McCarran Airport).
I arrived by using Hacienda Road, the street just north of the stadium. After crossing over I-15, I made a quick left on a side street and then onto what's known as Al Davis Way, and found a parking lot that was mostly empty save for about 10 or so cars.
At that point, I was practically in the stadium's shadow, so I got out of my car, camera in hand, and started walking around.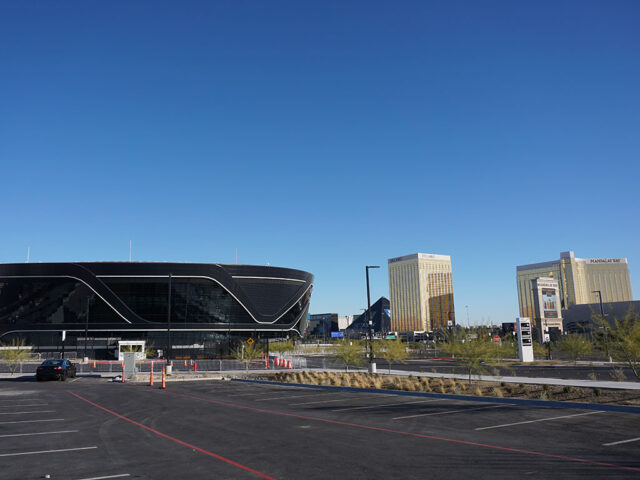 Strolling the stadium's perimeter
The plan for Raiders games and other events at Allegiant Stadium, once fans are allowed to return, is to close off Hacienda Avenue in order to give people a nice, wide footbridge to cross the freeway from Mandalay Bay, Luxor and other points along the Las Vegas Strip.
I'd imagine that will be the way the majority of fans will get to games, as the stadium grounds are actually pretty small and I would expect parking to be at a major premium. 
The gate fans will see first as they approach from Hacienda Avenue — and the gate that turned out to be directly in front of me when I parked my car — was labeled "North Entry," and I could see that just beyond the gates is The Raider Image, the stadium team store.
My understanding was that the store recently had its own opening for fans, similar to my opportunity to visit SoFi Stadium, but on this day it was closed and the gates were locked. Oh well — I snapped my image of the gate and moved along.
Walking south, I made my way around a plaza that was pretty wide at points, but Dean Martin Drive was also right there. Surely there's enough room to move around on game days, but I also don't imagine that Dean Martin will be closed to traffic, either. Should make for quite the bustling scene.
I also saw a few people in construction gear inside the gates, no doubt wondering what some fool with a camera was doing walking along outside.
Across the freeway, the facade for the Mandalay Bay Convention Center is clearly visible. On it was a Raiders billboard that read: "You're in Raider Nation now. (Good luck.)"
That definitely made me chuckle. Good to see the Raiders' marketing team is on its game, despite not being able to draw fans to their new stadium.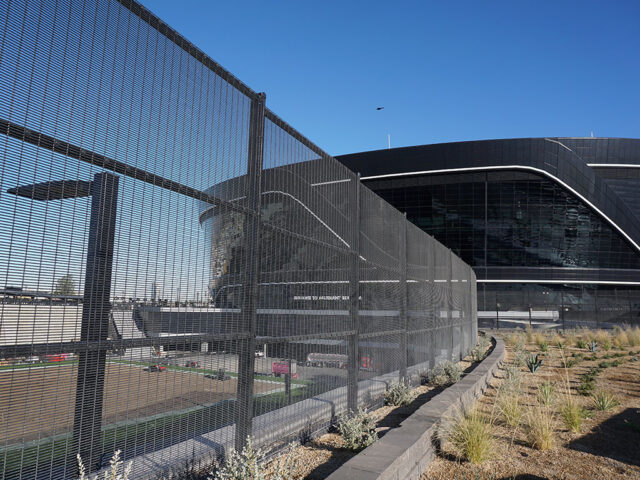 Catching a glimpse of the field
Though I couldn't look inside Allegiant Stadium, I was still able to see the field in all its glory.
How? Because Allegiant Stadium is one of two venues in the NFL in which the playing surface can be moved outdoors — State Farm Stadium in Arizona, home of the Cardinals, is the other. This, of course, allows for a natural grass field despite the fact the stadium is domed.
The area in which the field rests when not in use inside the stadium is clearly visible from the plaza at the south side of the venue. The Raiders had played a home game three days before my visit, and when I saw the field, everything inside the boundary — aka anything that would be considered inbounds in a game — was completely brown, with no markings visible.
I don't know enough about groundskeeping to know why that was, but even at that early hour, the grounds crew was hard at work on the field, doing whatever they needed to do for the next event.
I continued along, almost to Russell Road, and then went around to get back to the north side of the stadium where my car was parked. There's not a whole lot to see along Polaris Avenue — once you've seen one side, you've pretty much seen everything.
But I was able to catch a nice shot of the sun rising above the stadium (see below). And with the Allegiant Stadium logo clearly visible, and an image of a rising sun integrated in it, it felt pretty appropriate to me.
Though I'll have to wait a bit, I'm looking forward to seeing this stadium in the full throes of a game. If the outside of it is any indication, it should be quite an experience.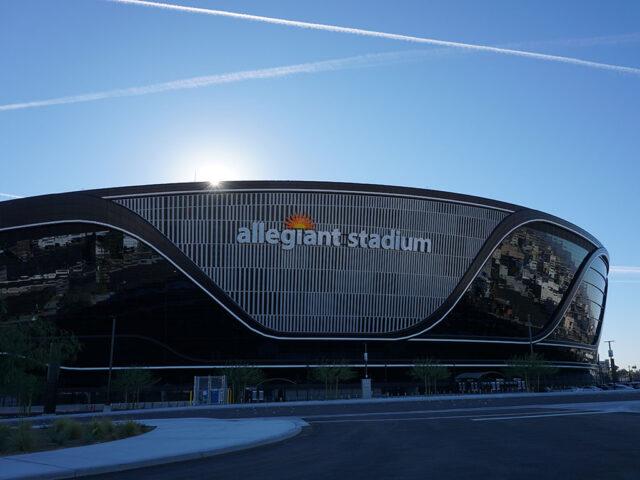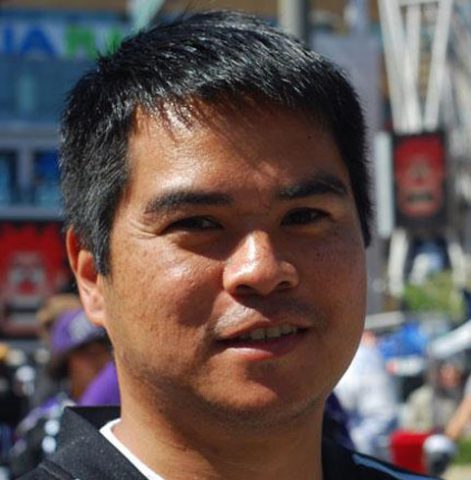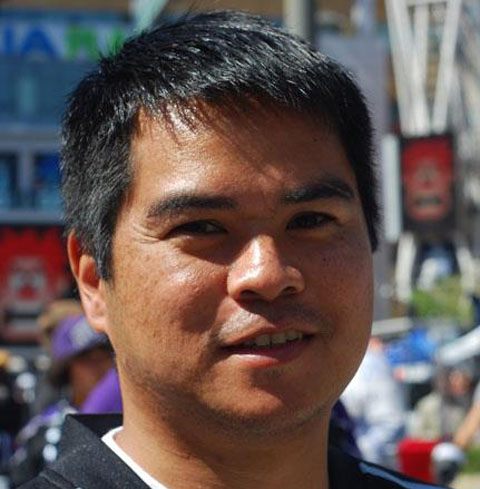 Edward de la Fuente | Itinerant Fan
I live for sports, and I love to travel. My biggest thrill is combining the two. I've been blogging about sports travel for more than a decade, and traveling for sports for twice as long.
About me | FAQ | Buy me a beer 🍺
Affiliate Disclosure
Please note that some of the links above are affiliate links, and at no additional cost to you, we earn a commission if you make a purchase. These recommendations are only for companies that we've used and have proven to enhance our sports travel experiences. To find out more about our affiliate partnerships, please read our Affiliate Disclaimer.