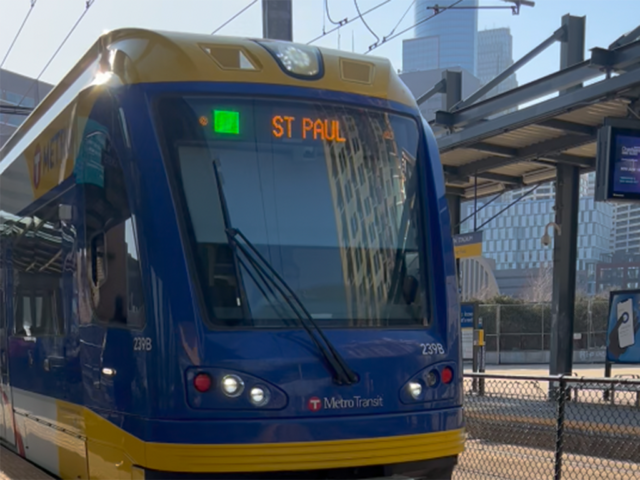 With teams in nearly every major league, a visit to Minnesota for sports is well worth it. Especially when you have the opportunity to see two games in one day.
Of course, league schedules will dictate when those opportunities arise. But if you're able to take advantage of one, it's well worth it. The Minneapolis/St. Paul region, also known as the Twin Cities, is an enthusiastic sports town — I'd go so far as to say it's underrated.
Or at least, it flies under the radar because, let's face it, it's not often that one of Minnesota's sports teams enjoys enough sustained success to enjoy the national limelight.
Despite this, the region's sports scene is just as boisterous as any in the country, and while the teams' fans might exude "Minnesota nice," don't mistake that for a lack of passion.
I had the chance to experience this during a weekend in which I saw three games in the Twin Cities, including two on the same day. Here's how I did it, and how you can take advantage whenever the schedules align in your favor!
For more on visiting the Twin Cities, check out our Minneapolis/St. Paul sports travel guide.
Figuring out the Minnesota sports layout
Depending on which two teams you're looking to see on the same day, the logistical difficulty factor in doing a Minnesota sports daily double can range from incredibly easy to moderately hard.
For example, if you're able to watch the Twins at Target Field and the Timberwolves or Lynx at Target Center, you're in luck. The two venues are right next to each other in downtown Minneapolis, meaning you can park in the same place all day if you have a car, and you just need your own two feet to get from stadium to stadium.
If you're able to pair up either a Twins or Timberwolves game with a Vikings game at U.S. Bank Stadium, that means you'll have to get from one side of downtown Minneapolis to the other. It's walkable, with a little more than a mile separating the venues, but it's also an easy drive or ride on public transit. Not too tough.
However, my Minnesota sports daily double was the highest on the difficulty scale: A Twins game, followed by a Wild game at Xcel Energy Center. Of course, that's because the Wild is one of two Minnesota sports teams that play their games in St. Paul, not Minneapolis.
If you're not from the area, you might not appreciate how far apart the two cities' downtowns are from each other. Sure, you can mitigate this if you've got a car, but I went without one. Luckily, I was able to take advantage of a public transportation option to get between the two stadiums, which I'll detail below.
Which two teams you see during your Minnesota sports visit will likely influence where you stay as a visitor to the Twin Cities. I chose to stay in a hotel in central Minneapolis — specifically, in the Mill District two blocks north of U.S. Bank Stadium — and that had an influence on how I mapped out my sports day.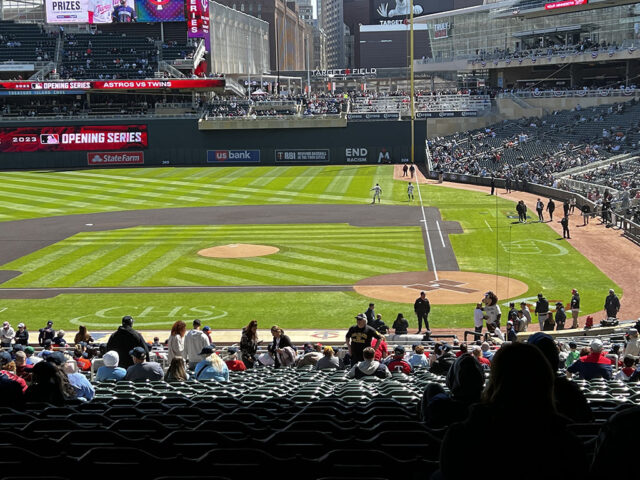 Game 1: Twins vs. Astros at Target Field
Getting from the Mill District to Target Field is pretty easy no matter which way you slice it. As someone who generally likes to walk as much as I can, I had fully planned to take in a nice, leisurely stroll to the ballpark. After all, it was a sunny but cool Saturday morning in April.
However, knowing I'd have to take light rail later, I purchased a transit day pass in advance and had it on my phone before I left my hotel room. That influenced my eventual turn toward laziness, as I decided to hop on a light rail train at U.S. Bank Stadium and ride it four stops to Target Field.
That's one beautiful thing about watching the Minnesota sports teams on their home turf: Each of the major venues has its own light rail stop, including Minnesota United's Allianz Field in St. Paul as well as the University of Minnesota campus east of downtown.
The Target Field stop is the western terminus of both the Blue and Green lines, and passengers exit the train in a plaza just behind the ballpark's left-field stands. Though it was about an hour before the 1:05 p.m. first pitch, I went inside quickly to check out the scene.
I believe Target Field is one of Major League Baseball's very best ballparks, and certainly one of its most underrated. It feels like there is something new to experience there whether it's your first visit or your 50th.
For me, it was my second time watching a Twins game at Target Field, and first time since 2010, the year the ballpark opened. So I made sure to get a fresh look at the place, watching the game from various vantage points (which you can certainly do thanks to the many different standing-room areas around the park).
The game was filled with action, with several home runs, and the Astros threatened to make a big rally in the ninth inning before the Twins put the game away for a 9-6 win. Best part? The game lasted a brisk 2 hours, 37 minutes. Thank you, pitch clock.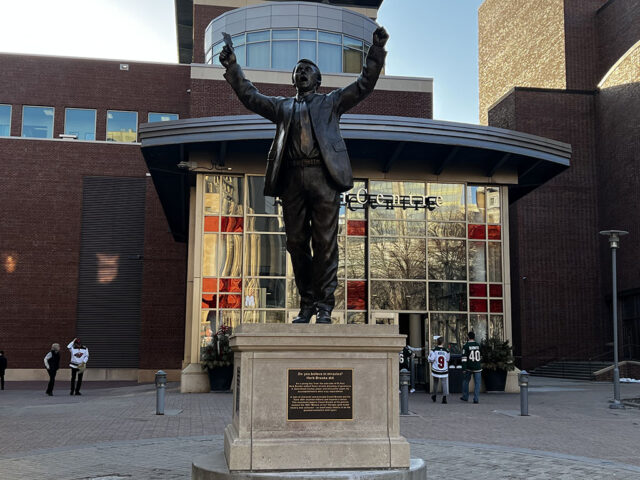 Intermission: How to get to St. Paul?
Following the Twins game, I decided to make the stroll back to my hotel that I was a little too lazy to take in the morning — in part because I didn't want to deal with crowds of people boarding the light rail.
I didn't stay for long, though, because I wanted to get to St. Paul, a city that, despite multiple visits to the Twin Cities over the years, I had never taken much time to explore. The light-rail ride promised to be about 45 minutes, and I wanted to get to Xcel Energy Center in plenty of time to walk around before the 7 p.m. puck drop.
Taking Metro Transit, which is the name for the Twin Cities' public transit agency, from Minneapolis to St. Paul for a Wild game was not feasible as recently as 10 years ago, but that changed when the Green Line linking the cities' downtowns was opened in 2014.
I again boarded the train at the U.S. Bank Stadium stop, and figured that maybe I'd run into a Wild fan or two at the station and that the train would slowly fill up with hockey fans during the journey. After all, I'm used to seeing that in other cities I visit for sports.
But that wasn't the case at all here. In fact, I didn't see a single hockey fan (or at least one wearing a piece of Wild gear or of any other hockey team) on the train, and when I finally got off in downtown St. Paul, not one person appeared to be on their way to the game.
Was I too early? Or do fans simply not take the train to Wild games? It's hard to draw solid conclusions based on one game night, but perhaps fans find the train too inefficient. Or perhaps no Wild fans live in downtown Minneapolis.
At any rate, it's a walk of several blocks from the light rail station to Xcel Energy Center. It took a few minutes of strolling through largely quiet downtown blocks before I started seeing any evidence that there was an event going on.
Finally, I reached the entrance to the city's RiverCenter convention center, and a statue of Minnesota native son Herb Brooks. And finally, I saw my first congregation of hockey fans, all looking for pictures of the statue — or themselves in front of the statue. Now it felt like hockey night in Minnesota.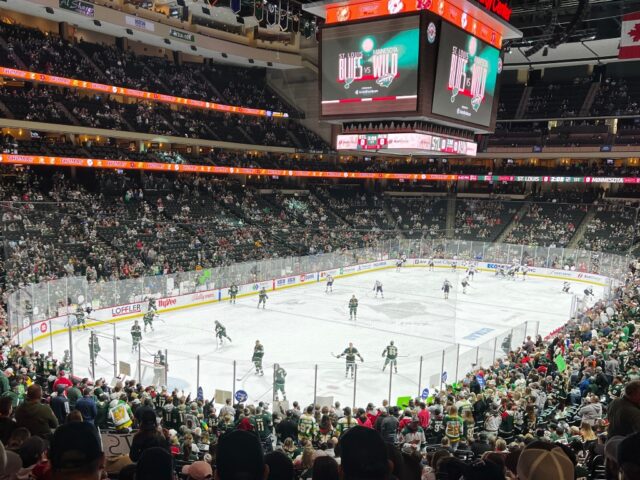 Game 2: Wild vs. Blues at Xcel Energy Center
Turned out, most of the action was happening on the west side of Xcel Energy Center, whereas I was approaching from the east. Duly noted for the next time I visit.
Anyway, I was thrilled to visit this arena, which was the last of the current NHL arenas I had yet to see. Not sure there's a whole lot unique about Xcel Energy Center as hockey barns go, but the Wild were in the midst of completing a largely successful regular season and so there was plenty of excitement in the air.
Not to mention, the University of Minnesota's hockey team was competing in the NCAA championship game that night, and attention was split among sports fans.
I sat in the upper deck at center ice, and got a first-hand look at the fans' joy as the Wild built a 4-1 lead through two periods — including two short-handed goals on the same penalty. From there, I got up out of my seat to explore other vantage points, and wound up watching the third from an area near a bank of TVs showing the NCAA title game, which several people were congregating near.
The Wild ended up winning the game 5-3, but those rooting for the Gophers as well wound up stunned at the end when their team lost the championship in overtime.
Meanwhile, as I trudged back to the light rail station, I watched all the hockey fans I had spent the evening with peel off, and again I saw no one boarding the train who had clearly attended the game. Oh well, I'm glad to have the option, and I hope more fans who visit Minnesota to watch the sports teams in action discover it.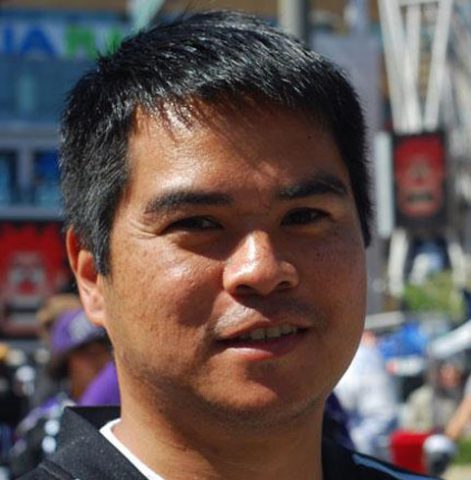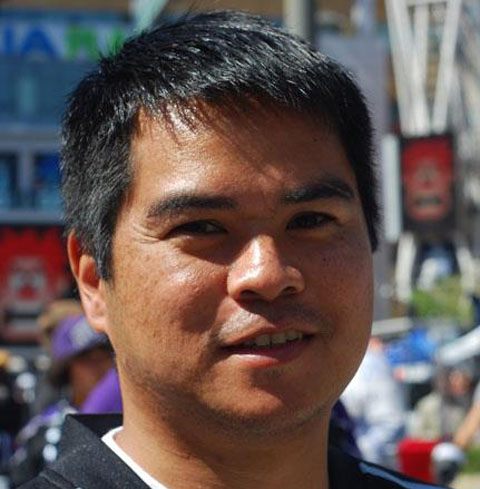 Edward de la Fuente | Itinerant Fan
I live for sports, and I love to travel. My biggest thrill is combining the two. I've been blogging about sports travel for more than a decade, and traveling for sports for twice as long.
About me | FAQ | Buy me a beer 🍺
Affiliate Disclosure
Please note that some of the links above are affiliate links, and at no additional cost to you, we earn a commission if you make a purchase. These recommendations are only for companies that we've used and have proven to enhance our sports travel experiences. To find out more about our affiliate partnerships, please read our Affiliate Disclaimer.